Food + Drink
'Find Your Lucky Star' at Sheraton Imperial KL: A magical pop-up dining experience
Out of this world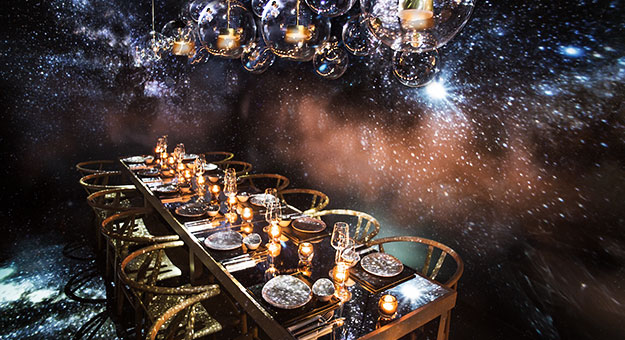 If there's one thing Malaysians can be proud of, it's our insatiable appetite for good food. If the experience that comes with it matches the impressive level of the taste, it's a huge bonus. Getting in the holiday spirit, 'Find Your Lucky Star' is one of those dining experiences: Mesmerising, enchanting and unforgettable. Presented by Sheraton Imperial Kuala Lumpur, the conceptualisation for the pop-up began only three weeks ago and it was sparked from a simple question:"How do we make our dreams come true?" This is multi-award-winning global interior designer, Emma Maxwell's answer.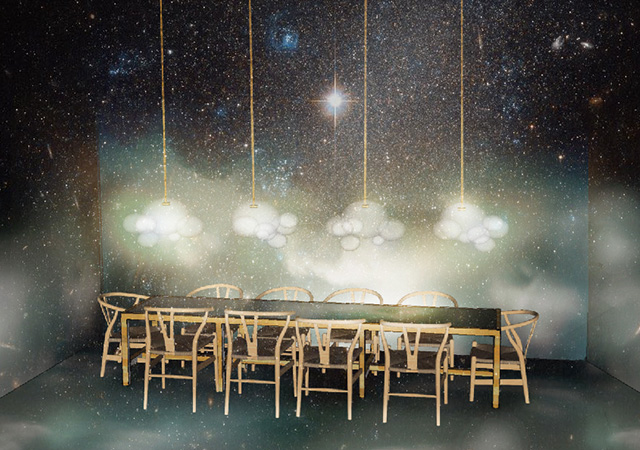 My question, in turn, was "How?" As I approached the stairs leading to the Pavilions Lounge, I saw the intriguing black box with gold embossed constellations on its walls. Well, that wasn't what I was expecting when I received the invitation. When all 12 guests have assembled (each session is only limited to that number of people), they slid the door open and before our eyes was a long candlelit mirror table with equally candlelit bubble glasses hanging above. Shadows of clouds and treetops were cast on the walls and taking that first step into the black box felt almost like walking through the doors that led to Narnia—sci-fi version.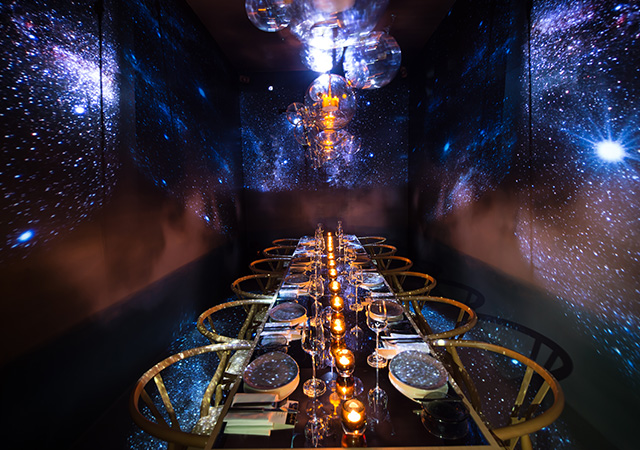 Once we were all seated, the door was slid back shut and everyone held their breaths in anticipation, sitting in the darkness with only the flickering candle lights for companion. The music slowly faded in while the shadows became more opaque, replaced by a canvas of the galaxy—a shimmering star field. It was breathtaking.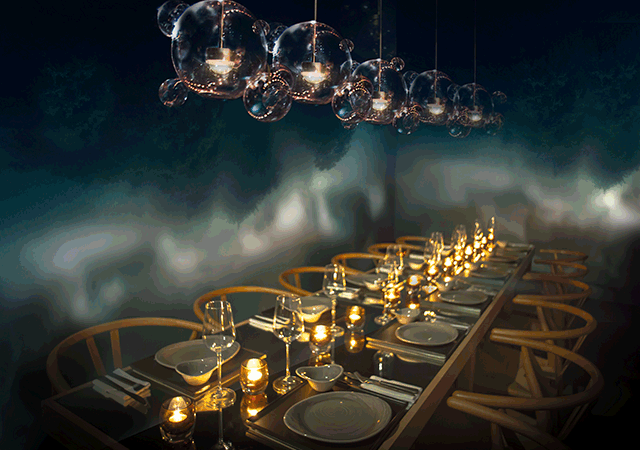 I could have stared at the stars all-day long but the first course soon arrived. No complaints there though. The menu for 'Find Your Lucky Star' is divided into two parts. From now till 16 December, it's a taste of contemporary French fare by Chef Francois Mermilliod of Singapore's Bar-A-Thym. After that, Chef Gaetano Di Stefano of Villa Danieli, the signature Italian restaurant at Sheraton Imperial Kuala Lumpur will take over the reins till 29 December.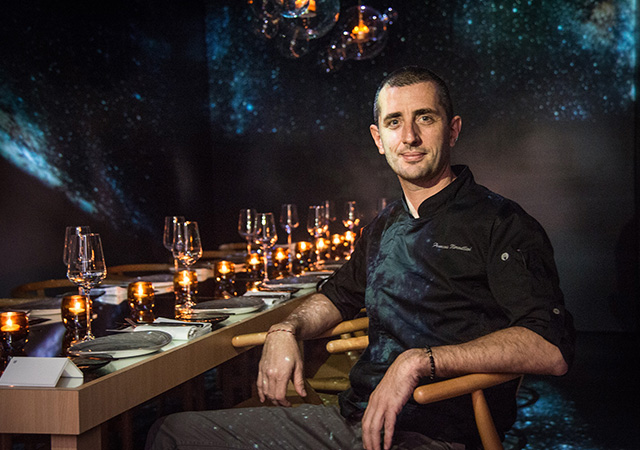 The best way to describe Chef Francois' six-course dinner menu is that every dish is a favourite until the next one is served. Chef is evidently attentive to even the minute detail. It's not just the combination of ingredients used, but the concept and the presentation. And unlike stiff French cuisine, his vision is modern and almost casual, with hints of Asian influence. I knew this by the second course, Chilled Lobster Ravioli. The lobster pieces are wrapped in a soft rice paper with a slight citrusy tinge from the lime sabayon. Stuffed with finely sliced guava strips and hints of nahm jim dipping sauce, it's entirely refreshing. The first course, Ceviche of Yellow-Fin Tuna, too incorporated a fruit—apple fennel salad and yuzu ponzu dressing—to further bring out the freshness of the seafood.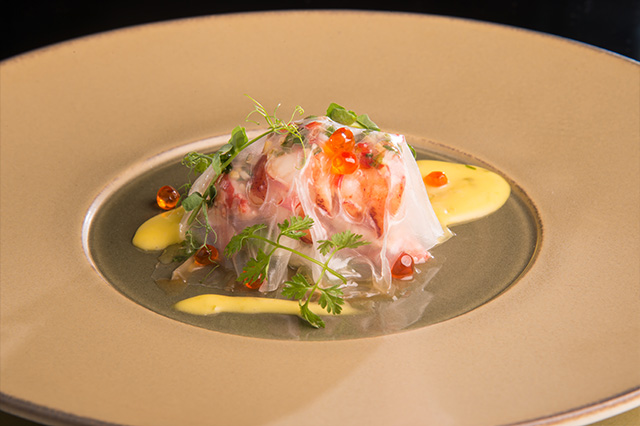 While the menu is curated to fit with the atmosphere of 'Find Your Lucky Star', Chef Francois had also included some of his signature dishes on the menu. The third course came in the form of a roll of angel hair delicately placed within a seared scampi and topped with Hokkaido sea urchin and sakura ebi. Just a mouthful of the combination is enough to leave me wanting for more. The scampi is incredibly fresh and it goes so well with the chosen wine to pair with it—2015 J. Moreau & Fils Chablis. If you choose the wine pairing menu, every course has its individual wine companion.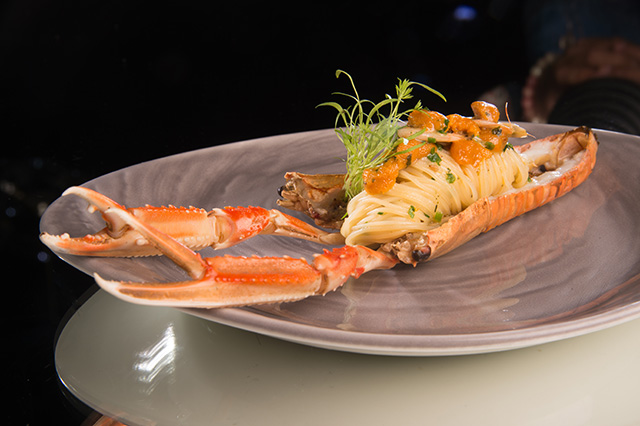 My ultimate favourite, however, is the Wild-Caught NZ Grouper, Saffron Risotto, Razor Clams and Smoked Eel Broth. Everything about it is flavourful and as a meat-person choosing this over the veal tenderloin, that's saying something.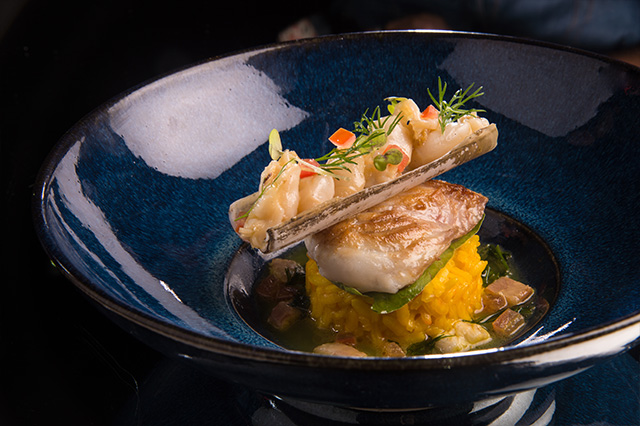 Dessert is a Warm Pear and Raspberries "Bourdaloue" with a scoop of vanilla ice cream to complement. For the curious, "Bourdaloue" is a type of French tart. While some menus feature a smaller dessert to end, Chef Francois' is a portion similar to its preceding courses. But it's the kind of dessert that leaves a warm, fuzzy feeling inside. Or maybe it was the projection of stars on the walls (which by then included shooting stars). Or maybe it was the chill music. Or maybe it's the entire 'Find Your Lucky Star' dining experience.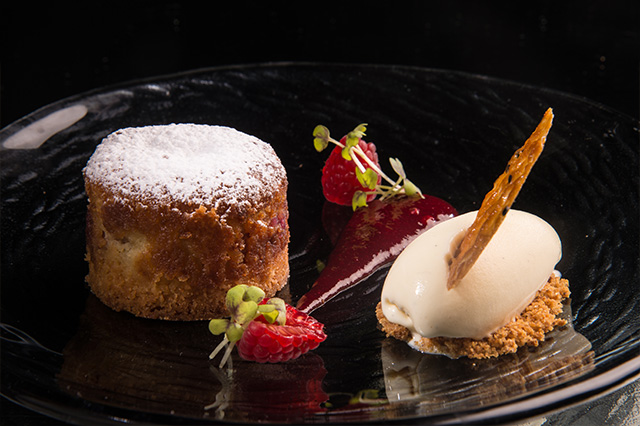 Apart from the memories of the experience you'll have, you can take home another piece of the pop-up: The playlist, which you can listen to here (on repeat).
Each session is limited to only 12 persons. The 'Find your Lucky Star' experience is available till 29 December 2017; at RM 238 nett for a 4-course lunch with wine pairing or RM 188 nett with mocktail, and RM 438 nett for a 6-course dinner with wine pairing or RM 388 nett with mocktail.
For any further inquiries or reservations, please call 03 2717 9027, e-mail to [email protected] or visit the website.