Ingredients:
200gm quinoa, rinsed before cooking
1 vegetable stock cube
3 cups of water
50gm raisins
50gm pomegranate seeds
50gm nuts (walnuts, almonds or cashews), slightly toasted and crushed
4 tbsp olive oil
1 large onion, sliced
1/4cup mint leaves, roughly chopped
1/4 cup fresh basil leaves, roughly chopped
1 cup rocket leaves
For the dressing: (mix well until combined):
Juice of 1 lemon
4 tablespoons of olive oil
1 tablespoon of English mustard
1 tablespoon of honey
Directions:
1. In a pot, add in rinsed quinoa, vegetable stock cube and water. Bring to a boil then simmer until quinoa is cooked.
2. Once the quinoa seeds have curled up and is cooked, drain excess water, placed hot quinoa back into the pot and cover with a lid. Let it sit for 10 minutes and leave to cool.
3. In a small pan add in the olive oil and sauté the sliced onions over medium heat until caramelized. Drain the oil and set onions aside.
4. In a big bowl add in cooked quinoa, raisins, pomegranate seeds and nuts. Toss in the dressing, chopped herb and rocket leaves. Mix well and season with salt and pepper.
And there you have it, Ili's Christmas quinoa, ready to serve.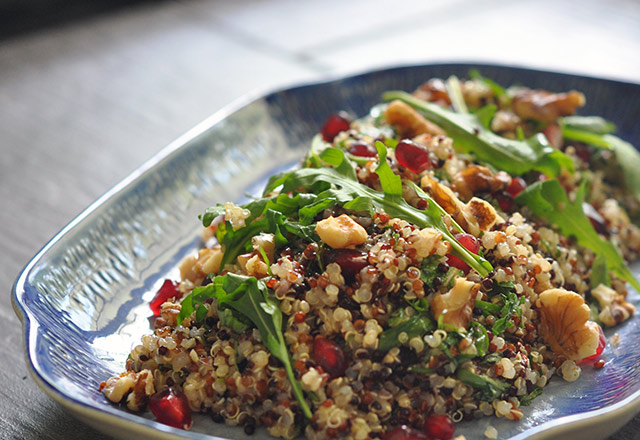 For the upcoming festive season, Dish by Ili will be taking in orders for Roast Chicken, Roast Beef and Leg of Lamb for selected dated beginning on 18th December. Orders need to be made at least 2 days prior to delivery date and can be placed through www.yumcious.com/dishbyili. For any inquiries, please email orders.dishbyili@gmail.com.
Related stories:
Friday indulgence: Gourmet nachos recipes
DIY Health Tip: Protein bar recipe
Naughty but nice: Quinoa and shrimp stir fry
| | |
| --- | --- |
| SHARE THE STORY | |
| Explore More | |