For a nation that is so fiercely proud of our food, one has to admit that the local modern cuisine scene is rather stagnant. Yes, anytime is a good time for a fragrant plate of nasi lemak, or a hearty bowl of laksa; but what's new, what's disruptive, what's forging the way forward, yet is quintessentially Malaysian?
The answer lies in a nondescript part of town, nestled within the complex of KDU University's Glenmarie campus—Dewakan.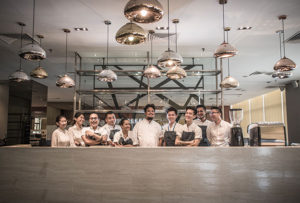 Since its foray into the local fine dining scene three years ago, Dewakan has successfully carved a unique modern Malaysian gastronomic identity for itself, pairing indigenous ingredients and experimental techniques ingeniously for an exciting dining experience.  Just recently, Chef Darren Teoh unveiled two new menus: the Kayangan and Nusantara—a reflection of his establishment's unrelenting pursuit of new ingredients and techniques.
An exclusive tasting session at the restaurant opened our eyes to four new dishes and great insight into a variety of unassuming and interesting Malaysian produce:
Prawns warmed in starfruit juice and herbs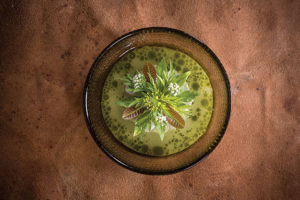 Do you ever find yourself staring at a beautiful presentation of ingredients in a dish and wonder where do you start? At Dewakan, the best way to enjoy your food is to mix them all together and enjoy the medley of flavours at one go—even if it means pulling apart the pretty bouquet of herbs and leaves that sits atop the prawn slices in this dish. The undersides of the prawn slices are coated with a paste of coriander stem and salted lime skin before being cooked under very low temperature. The fresh, almost sharp taste of the herbs work well to strike a wonderful balance with the subtly savoury and brininess of the prawns and the tart starfruit juice with kaffir lime leaf oil.
Banana heart & kerdas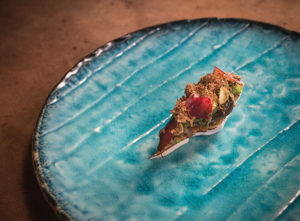 Where the first dish is relatively light on the palate, the next introduction certainly pulled no punches in terms of flavour and texture. One bite into the sushi-like ensemble offers a harmony of flavours with a playful contrast in textures as you savour the tender banana heart—steamed in a vacuum packed bag with kerdas oil and brushed with tao cheo—hand in hand with the crunch that comes from the bed of garlic shoots, fiddlehead ferns (pucuk paku), kerdas chips, smoked daikon and pickled roses on top.
Roast eggplant with keluak& candlenut oil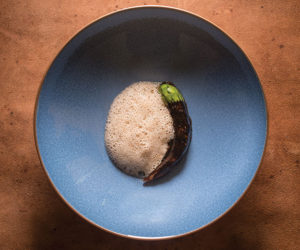 The intensity in taste goes up a notch once more with the next dish. Here, the oven-roasted eggplant is brushed with keluak paste, giving it a strong umami flavour. Take a closer look and you'll see that the "stem" is actually composed of meticulously arranged little petai belalang pods. Completing the dish is a dollop of foam made with button mushroom stock and candlenut oil, making up the more familiar and comforting part of a tasty, boundary-pushing equation.
Sweet leaf sorbet & nam nam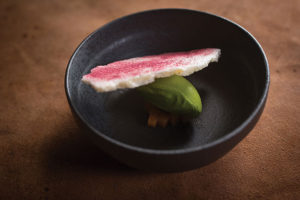 The unfamiliar ingredient names just keep coming, don't they? But that is exactly what makes Dewakan's plight in championing local produce so commendable, and a meal here a novel experience. Nam nam, it turns out, is a fruit with a taste profile similar to guava and pear. For this dessert, cubes of poached nam nam is served with sweet leaf (sayur manis) sorbet and topped with dehydrated milk and roselle powder. Sweet with just the slightest hint of bitterness from the refreshing sorbet, it made for a lovely finale to a gratifying meal.
Dewakan
Lower Ground Floor
KDU University College, Utropolis Glenmarie
Jalan Kontraktor U1/14, Seksyen U1,
40150 Shah Alam, Selangor
Opens for dinner from 6.30pm to 10pm, Monday to Saturday.
Telephone:03-5565 0767
For bookings, email [email protected] or make a reservation at the website.
Website | Facebook | Instagram
| | |
| --- | --- |
| SHARE THE STORY | |
| Explore More | |