We all need a little variety now and then. Probably more so throughout the fasting month, where every meal is a practise in mindful eating. Food choices at this time should definitely revolve around keeping you energised for longer, but it's a plus if you can treat your taste buds too. So why not have the best of both?
Below are three recipes you can make for suhoor or iftar. They vary in serving size, so you can have your family over or save the leftovers for another day.
Chef Aeada's Musakhan Roast Chicken
Contributed by PichaEats
Makes: 1 whole chicken with 4 pieces of taboon bread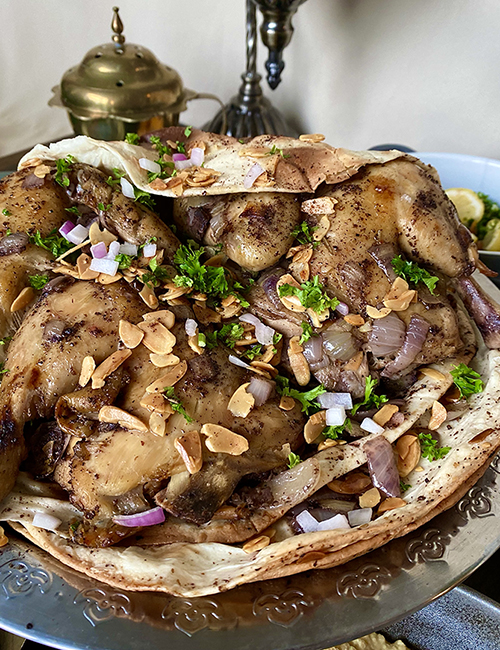 INGREDIENTS:
---
1 tbsp Cardamom
½ tbsp Black peppercorn
½ tbsp White peppercorn
1 tsp Clove
5-6 pcs Bay leaves
½ tbsp Dried rosemary
1 Carrot
4 Taboon bread
1.8kg Whole chicken
750g Onions
60g Sumac
250ml Olive oil
100g Almond flakes
METHOD:
---
1. Pour 1 cup of oil into a pot. Add in cardamom, black peppercorn, white peppercorn, clove, bay leaves, dried rosemary, and carrot. Heat up till fragrant.
2. Cut a cleaned whole chicken into half. Place both halves of the chicken skin-side down into the pot, on top of the bed of spices. Cook for 5 minutes.
3. Add in enough water to fully cover the chicken and leave to boil for 30 minutes at medium heat.
4. While waiting for the chicken to cook, pour 250ml of olive oil into a pan. Stir-fry diced onions together with sumac till onions are caramelised.
5. On a baking tray, lay out a piece of taboon bread and spread caramelised sumac onion over the bread's surface. Top the onion with a layer of toasted almond flakes.
6. Place another piece of taboon bread on top of the onion and almond flakes. Repeat steps 5 and 6 twice.
7. You will now have 3 layers of bread, onion and almond flakes.
8. Place cooked chicken on top of the layered taboon bread. Cover the chicken with more caramelised onions and almond flakes.
9. Preheat the oven to 180 degrees Celsius and bake the chicken for 15 minutes till golden.
10. Place one piece of taboon bread on top of the chicken and bake for 5 more minutes.
View this post on Instagram
We hear Chef Aeada excels at cooking authentic Arabic dishes! However, don't just take our word for it. Try her recipe for musakhan, a signature Palestinian dish featuring a whole roasted chicken seasoned with sumac. It's best eaten with taboon bread that's baked together with the chicken and sautéed onions to soak up all the flavourful juices.
Another way to taste Chef Aeada's cooking is by ordering her Pesta Palestine with Chicken Musakhan set meal (RM280) through PichaEats. The meal feeds five and comes with homemade satay meatballs, spiced ground beef classic hummus, Palestinian bamia with garlic and tomato, toubulleh parsley salad, and basbousa coconut cake.
PichaEats also offers cuisine from Pakistan and Syria as part of their Ramadan Specials this year. A selection of light bites, snacks and desserts can be ordered a la carte by the solo at-home diner or small groups!
Visit PichaEat's website for more details and to order.
Mee Bandung
Contributed by HealthifyMe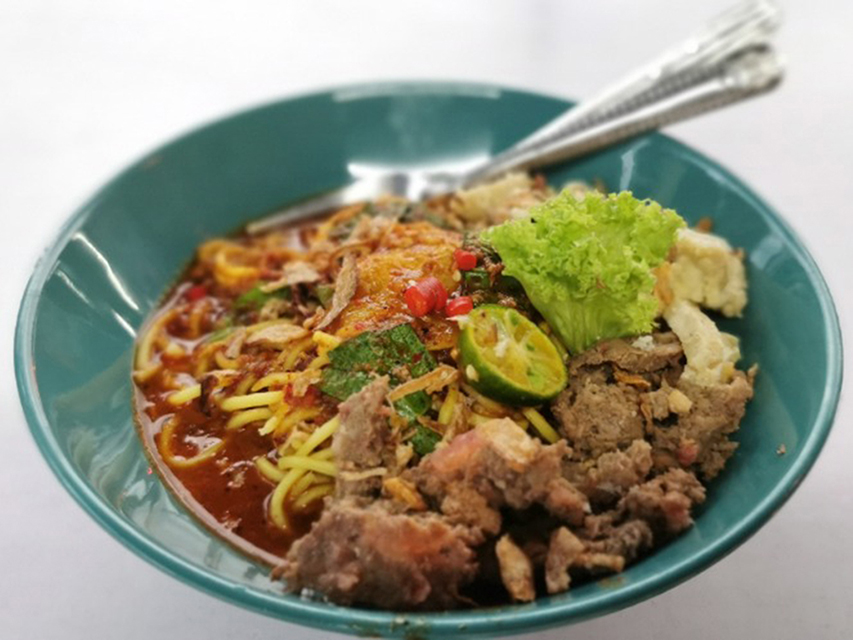 Prep time: 15 minutes
Cooking time: 15 minutes
Serves: 8-10 pax (half the recipe for smaller groups)
Calories per serving: 368kcal
INGREDIENTS:
---
Oil, for frying
15 Shallots, blended
8 cloves Garlic, blended
100-150g Dried prawns, blended
4 tbsp Chilli paste
350g Beef, sliced
2L Water
1-1½ cups Tomato sauce
8 stalks Mustard greens (sawi)
5pcs Beancurd, each cut into 6
4 Tomatoes, quartered
600g Yellow mee, rinsed and drained
5 Eggs
A dash of pepper
Salt, to taste
METHOD:
---
1. In a large pot, heat oil and fry blended ingredients.
2. Add chilli paste and sliced beef, then stir.
3. Add water, tomato sauce, mustard greens (stalks only), beancurd and tomatoes. Stir to combine.
4. Add mee. Break eggs into different parts of the pot and leave to cook.
5. Add mustard green leaves and cook until a little wilted, then season with pepper and salt. Serve hot.
HealthifyMe is a one-stop digital health and fitness platform offering localised health content, calorie tracking, meal plans, fitness workouts and health advice. Users are able to get personalised solutions from a team of online nutritionists, trainers and Ria, the app's artificial intelligence coach.
For this fasting month, the free virtual Ramadan festival on the app has daily fitness challenges you can join, with a chance to win exciting prizes. Users will also enjoy a free trial of HealthifyMe Studio and its library of home-based workouts led by fitness coaches.
With over 20 million downloads worldwide, HealthifyMe has become one of Asia's largest and fastest-growing healthcare apps. It's been the top-rated health and fitness app on Google's Play Store for the past three years, and a recipient of Google's prestigious 'Editor's Choice' badge.
Visit HealthifyMe's website to know more, and download the app on the Google Play Store or Apple App Store.
Spaghetti Aglio e Olio
Contributed by HealthifyMe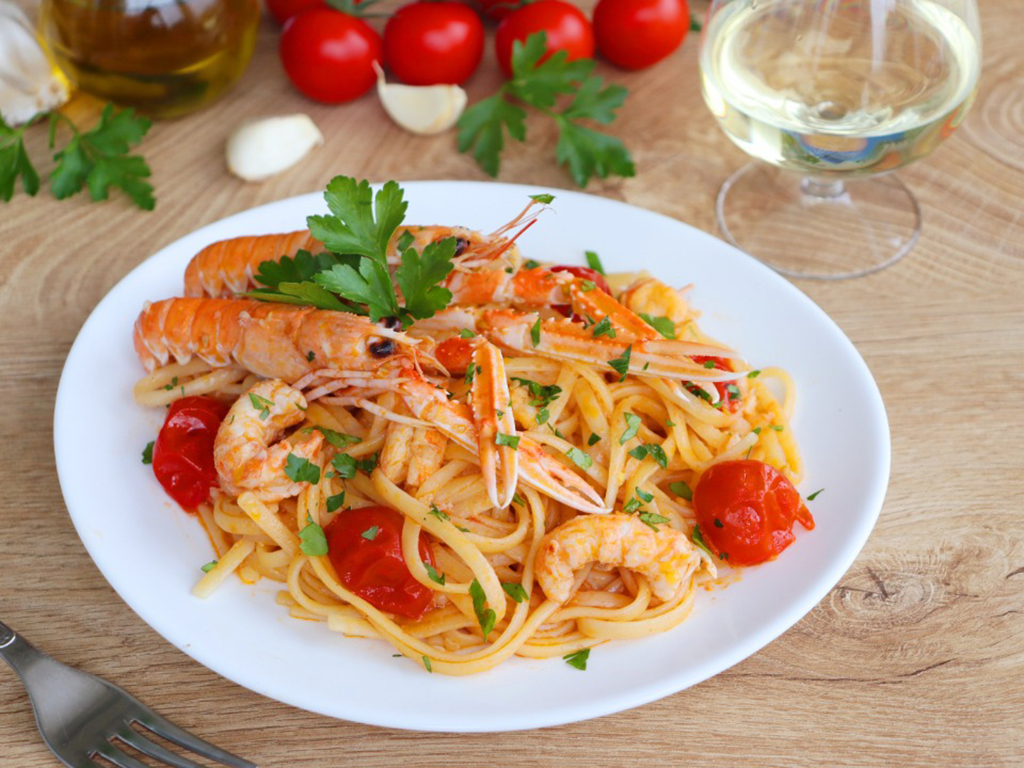 Prep time: 10 minutes
Cook time: 20 minutes
Serves: 2 people
Calorie per serving: 333kcal
INGREDIENTS:
---
Water, for boiling
226g Spaghetti
2 tbsp Extra-virgin olive oil
4 cloves garlic, minced
226g Tiger prawn or medium-sized shrimp, tail-on, shelled and deveined
½ tsp Red pepper flakes
½ tsp Salt, or to taste
1 tbsp Parsley, chopped
3 tbsp Parmesan cheese, freshly grated
METHOD:
---
1. Bring a pot of water to boil. Cook spaghetti according to the package instructions.
2. Drain cooked spaghetti and set aside. Save 3 tablespoons of the pasta water.
3. Heat a skillet over medium heat and add the olive oil. Add garlic and sauté for 30 seconds.
4. Add shrimp, chili flakes and salt. Cook the shrimp until both sides turn white, then add the spaghetti and water into the skillet. Stir to combine well.
5. Add parsley and stir to distribute well. Turn off the heat and add Parmesan cheese. Dish out and serve immediately.
For more Ramadan recipes, click here.
| | |
| --- | --- |
| SHARE THE STORY | |
| Explore More | |