Did you notice the multitude of dalgona coffee mentions throughout your socials during the past few days? Whether you're on TikTok, Facebook, Instagram, or Twitter, dalgona coffee is everywhere and there's a reason for that! The new centre of everyone's attention is a frothy, creamy coffee drink and it is the latest trend to spawn from South Korea.
Is this a response to social distancing and self-isolation due to the COVID-19 pandemic? Countries such as the United States, Germany, Hong Kong, Japan, Vietnam, and even Malaysia have started to take hold of the trend. For example, #dalgonacoffee has 21.6 million views on TikTok so far. It appears that, as news begin to spread to every corner of the globe (just like the virus but better), more and more people are adding dalgona coffee to their lists of things to do while staying at home. Dalgona coffee became what it is today due to the need to find solutions to norms that are now affected by coronavirus—such as the closing of dining establishments and the call to practise social distancing.
There's nothing difficult about the beverage. Three main ingredients are all you need to make dalgona coffee: instant coffee, sugar, and water. Pretty simple, right? With either a mixer or your hand, mix equal parts of each ingredient—preferably in a bowl—so you get a caramel-coloured frothy mixture. Once you're done the mixing part, all you have to do is pour the mixture on your milk of choice. It appears that the trending drink received its name from its topping that looks similar to dalgona or ppopgi (a candy created by heating baking soda, oil, and sugar). That is South Korea's version of a coffee-flavoured toffee.
It is said that the closest thing to real "dalgona coffee" is being served out of Cafe Cha, a milk tea bar in Seoul. Their Signature Dalgona Milk Tea is made using a special brewing method—in a unique teapresso machine, Cafe Cha subjects crushed assam black tea leaves to high temperatures. What this does is extract a maximum amount of concentrated tea in less than a minute; mixed with milk and topped with crushed dalgona. If you're thinking of making the real honeycomb toffee dalgona at home, check out Cafe Cha's traditional recipe below.
It is also widely accepted that dalgona coffee first became popular in South Korea on 22 February 2020 when YouTuber 뚤기ddulgi posted a three-and-a-half minute video about the drink. It now has 3.3 million views on YouTube. Whether you're into coffee or not, you have got to admit that this is really, really fascinating.
There are many ways to up the ante based on your preferences. You can make dalgona milk tea, chocolate dalgona, and matcha dalgona latte among many other possible concoctions. Make it an iced drink if that's what you like. You have all the time in the world right now—experiment and be your own master barista!
Cafe Cha's traditional dalgona recipe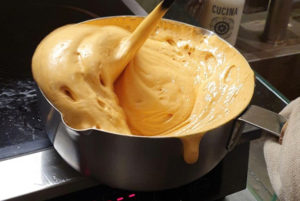 Photo by Cafe Cha
Tools you require are:
Pan
Parchment paper
Scrape
Metal press
Cookie cutters
Wooden chopsticks
Ingredients you require are:
1 tablespoon of sugar
1 pinch of baking soda
Steps:
1. Begin by melting sugar in the pan over low fire. Make sure to adjust height to avoid burning it.
2. Add baking soda once melted and proceed to whip it with a pair of chopsticks. Do this until it becomes thick and foamy.
3. Pour the concoction onto the parchment paper and press metal press onto it to flatten into a circle.
4. Press a shape into the surface and attach a lollipop stick before it hardens.
Making it is really simple now that you know what dalgona coffee is. With so many tutorials on YouTube and other social media platforms, you'll probably master making your own coffee by the time quarantine ends. It's perfect, really—because you will have *infinite* ways to change things up. Relax and have a cuppa.
For more things to do during self-isolation, click here.
| | |
| --- | --- |
| SHARE THE STORY | |
| Explore More | |