Quick and easy: Chicken Noodle Soup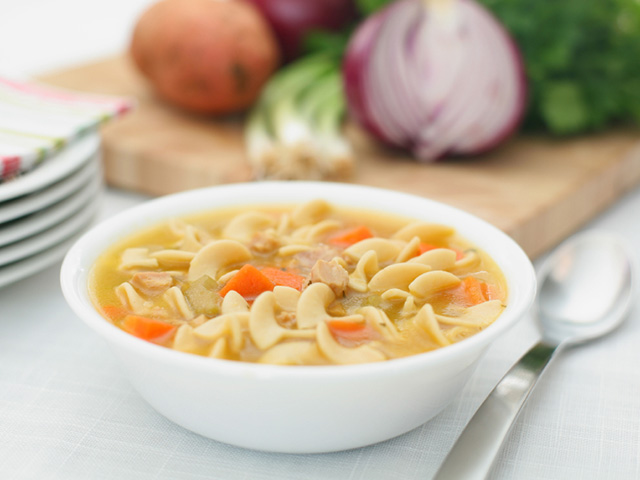 Ingredients:
1 tablespoon butter
1/2 cup chopped onion
1/2 cup chopped celery
4 cans chicken broth
1 can vegetable broth
1/2 pound chopped cooked chicken broth
1 1/2 cups egg noodle
1 cup sliced carrots
1/2 teaspoon dried basil
1/2 teaspoon dried oregano
Salt and pepper to taste
Directions:
1. Melt butter in a large pot over medium heat.
2. Cook onion and celery in butter for around 5 minutes, until just tender.
3. Pout in chicken and vegetable broth and stir in chicken, noodles, carrots, basil, oregano, salt and pepper.
4. Bring to a boil, then reduce heat and simmer 20 minutes before serving.
Mmm bacon: Potato Gratin with Cheese and Bacon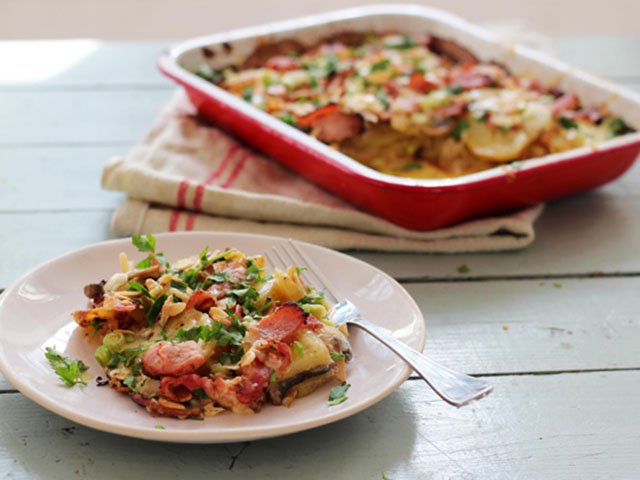 Ingredients:
Butter for greasing
175ml (3/4) cup double (heavy) cream
4 cloves of garlic, minced
Sea salt
Freshly ground black pepper
1kg potatoes, thinly sliced
200g white mushrooms, thinly sliced
4-6 rashers bacon, chopped into small pieces
1/4 cup Cheddar, grated
2 tablespoons flaked almonds
4 spring onions, thinly sliced
Directions:
1. Preheat oven to 200˚C. Generously butter a deep 10″ x 7″ ovenproof dish with the butter and set aside.
2. In a heavy saucepan, bring the cream and garlic to a boil over medium-high heat, then allow to simmer for a couple of minutes. Remove cream from the heat and add the potatoes and mushrooms. Season with salt and pepper then stir thoroughly to coat.
3. Carefully pour the potato and mushroom mixture into the prepared baking dish. Cover with lightly greased foil and bake for 50 minutes.
4. While the potatoes are cooking, lightly fry the bacon pieces in a heavy skillet over medium heat. You don't want to cook the bacon until it's crispy because it will cook again in the oven. Drain on a paper towel and set aside.
5. Remove the foil from the potato bake and sprinkle the Cheddar, flaked almonds and most of the bacon and spring onion on top, reserving a little for a garnish
6. Bake, uncovered, until the cheese is melty, bubbling and starting to brown a little, probably 10-15 minutes. Check the potatoes are done with a skewer, then remove the potato bake from the oven and allow it to sit for a few minutes. Top with remaining spring onion and bacon, then serve.
Not too tricky: Mac 'n' Cheese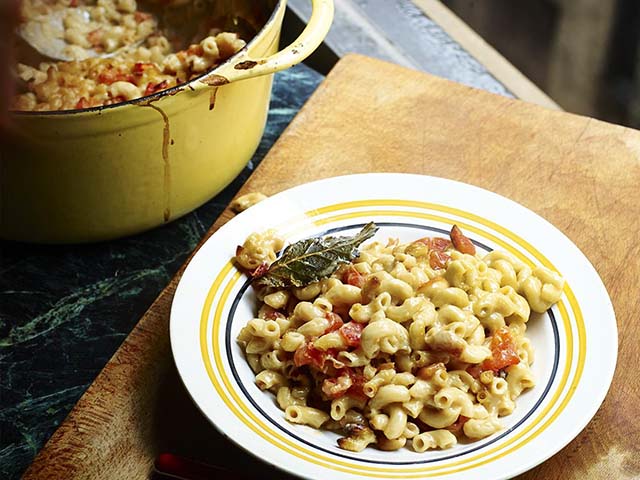 Ingredients:
Sea salt
Freshly ground black pepper
45g butter
3 heaped tablespoons plain flour
10 cloves garlic, peeled and finely sliced
6 bay leaves
1 litre semi-skimmed milk
600g dried macaroni
8 tomatoes
150g Cheddar cheese, freshly grated
100g Parmesan cheese, freshly grated
A few sprigs fresh thyme, leaves picked
2 splashes Worcestershire sauce, optional
1 grating nutmeg, optional
3 big handfuls fresh breadcrumbs
Olive oil
Directions:
1. Get a large pan of salted water on the boil. Melt the butter in a large ovenproof saucepan over a low heat, then add the flour and turn the heat up to medium, stirring all the time, until you get a paste – this is your roux. Add all the sliced garlic. Keep cooking and stirring until golden and the garlic is nice and sticky. Add the bay leaves and slowly whisk in the milk a little at a time to ensure you get a nice smooth sauce. Bring the mixture to the boil, then leave it on a low heat to simmer and tick away, stirring occasionally. Preheat your oven to 220ºC.
2. Add the pasta to the pan of boiling salted water and cook according to the packet instructions. Meanwhile, roughly chop the tomatoes on a board and season them well with salt and pepper. Drain the pasta and add it immediately to the sauce. Give it a good stir and take the pan off the heat. Stir in your grated cheeses, chopped tomatoes and thyme leaves. A little Worcestershire sauce added now is nice, and so is a little grating or two of nutmeg. Now work on the flavour – taste it and season it until it's hitting the right spot. You want it to be slightly too wet because it will thicken up again in the oven, so add a splash of water if needed.
3. If you've made your sauce in an ovenproof casserole-type pan, leave everything in there; if not, transfer it to a deep earthenware dish. Bake it for 30 minutes in the oven, until golden, bubbling, crispy and delicious.
4. While it's cooking, put your breadcrumbs and thyme into a pan with a few drizzles of olive oil over a medium heat. Stir and toss the crumbs around until crunchy and golden all over. Remove from the heat and tip into a nice bowl. Serve your macaroni cheese in the centre of the table, with your bowl of crispy breadcrumbs for sprinkling over, and a lovely green salad.
Warm indulgence: Hot Chocolate Milkshake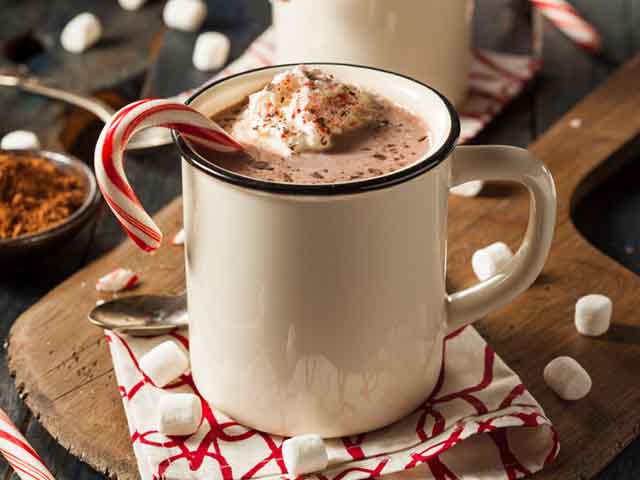 Ingredients:
200g plain chocolate
600ml full-cream milk
Vanilla ice cream
Mini marshmallows
A nip of rum or brandy for the adults (optional)
Directions:
1. Break 200g plain chocolate into cubes and put into a pan with 600ml full-cream milk. Gently heat until the chocolate melts, then bring almost to the boil, whisking regularly until even and smooth. Can be made ahead, then chilled for up to 2 days.
2. Re-heat if necessary, whisking, then ladle or pour into heatproof glasses or mugs. Top with scoops vanilla ice cream and mini marshmallows. Add a nip of rum or brandy for the adults, if you like.
Related stories:
#FestiveFeast recipe: Ili's Christmas quinoa
Friday indulgence: Gourmet nachos recipes
| | |
| --- | --- |
| SHARE THE STORY | |
| Explore More | |