Before the elections earlier this year, Malaysians far and wide, regardless of our political alliances, united under a cause that was far from politics—we are of course talking about that time Masterchef UK contestant Zaleha Kadir Olpin received criticism from the judges of the show Gregg Wallace and John Torode saying her chicken rendang wasn't "crispy" enough. It wasn't long before Wallace and Torode felt the wrath of angry Malaysians—with support from our neighbouring countries of Singapore, Indonesia and Brunei, who are just as attached to the dish as we are—over their ignorance and unfounded criticisms on social media.
View this post on Instagram
Olpin may have been eliminated for her non-crispy chicken rendang, but she has emerged from the competition a stronger voice than ever for authentic Malaysian cuisine.
Born and raised in Pahang, Olpin's cooking journey really began after she moved abroad more than 10 years ago. Not having easy access to Malaysian food meant that she had to make them herself, igniting a love for cooking that has been burning bright ever since. Now, she co-runs the Malaysian Kitchen Supper Club in Bristol where she's based, and has a cookbook in the works.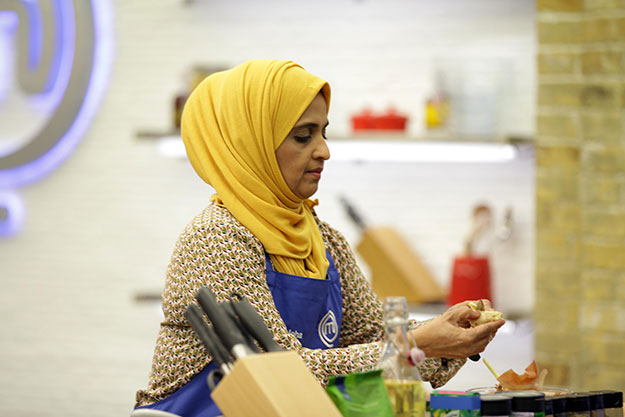 Zaleha Olpin on MasterChef UK Season 14
Yesterday, you learnt how to make fried chicken. Today, pick up tips on how to whip up a hearty chicken rendang dish from Olpin herself. Fun fact: her recipe was largely inspired by a recipe from Tengku Puan Pahang's cookbook, with a few tweaks here and there to suit her family's taste. Enjoy!
A basic recipe to making Chicken Rendang by Zaleha Olpin:
Serves 6
INGREDIENTS
1 whole chicken cut into 8 or 12—depends on size
500 ml of coconut cream
½ cup of roasted and grinded desiccated coconut (santan)
2 pieces of turmeric leaves*
1 tsp turmeric powder
½ cup of vegetable oil
2 pieces of tamarind juice
Salt and sugar to taste
SPICE PASTE
15 dried chillies—cut, de-seed and soak in hot water.
5 shallots
3 garlic cloves
2 candle nuts
3 stalk of lemongrass
3 inches ginger
3 inches galangal
100 ml coconut cream
METHOD
Blend ingredients for spice paste with some water (to loosen mixture).

Heat ¼ cup of oil and fry the blended spices for 2 minutes, then add the coconut cream. Cook them till oil separates and sauce thickens.

Add in the chicken, desiccated coconut, salt, sugar, tamarind skin and cover to cook for 20 to 30 minutes or till chicken cooked thoroughly.

Add in the finely sliced turmeric leaves and taste accordingly.
* You can use kaffir lime leaves as substitute to turmeric leaves.
Last bit of advice from Olpin: "The perfect chicken rendang might be subjective, as it depends on your taste, but I think the main key is to balance the flavours. And practice!"
MasterChef UK Series 14 premieres in Asia on Thursday, 30 August, 8.20pm on BBC Lifestyle (unifi TV ch 512). Catch up with the series on BBC Player at www.bbcplayer.com. 
| | |
| --- | --- |
| SHARE THE STORY | |
| Explore More | |