I must be getting rather long in the tooth because I still remember a time when Malaysians had this ugly habit of behaving like lemmings. If Mat Rempit opened a successful motorbike repair store somewhere, it was only a matter of time before he would soon be surrounded by motorbike repair stores opened by fellow Malaysians keen to capitalise on a success similar to the one he had hitherto enjoyed. Ditto food: literally all it took was a few successful hawker stallholders to soon enough a flourishing food market make.
While that behaviour still manifests itself—remember the burger craze that swept through Malaysia with the feverish fervour of hay fever in spring, folks?—at least nowadays, bandwagon jumpers are endeavouring to give their product a USP, so that not every single burger eatery winds up slavishly proffering the formulaic meat patty and limp vegetables between two buns to customers.
Arguably poised to be as infectious a food trend as its burger predecessor is the breakfast cafe. Where once queues would form outside Antipodean (Jalan Telawi Two, Bangsar Baru; Menara Tan and Tan, Jalan Tun Razak) and La Bodega Deli (18, Jalan Telawi Two, Bangsar Baru) at the weekends while diners patiently waited for their big breakfast fix, now apparently there's an all-day breakfast eatery at virtually every corner.
Interviewing Ampersand's (first floor, 19 Jalan SS21/37, Damansara Utama, +603-7732 9711) Steven on this very topic on BFM Feeding Time with Fay, I asked him how many breakfast restaurants had opened in his 'hood (Damansara Uptown) since he first launched the now-defunct Ecole P a couple of years ago. The answer? 30 compared to six within a period of less than two years!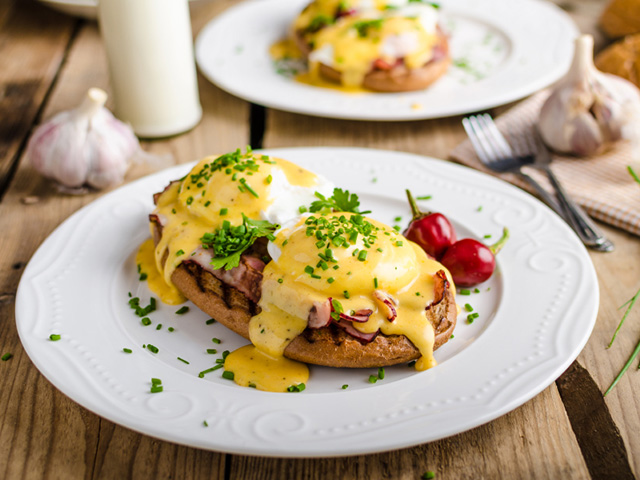 Now, correct me if I'm wrong, but haven't we Malaysians banged on ad nauseam about how much we love our local breakfasts? Haven't we, short of thumping our chests Tarzan-style, proclaimed to the world how nothing compared to the Malaysian breakfast experience? What then this faithless exodus from nasi lemak to—shudder—eggs Benedict? Have we lost our collective culinary minds, or have we truly become so anglocised that we now prefer 'white' food over 'brown' (disclaimer: this distinction, in no way racially driven, is purely mine, and used to easily identify western from Asian food)?
The purists amongst us have no cause to worry—yet—because apparently the madness for western breakfasts is largely limited to the weekends, when time yawns languorously before us, ergo what better than to open wallets and splash out for a western-style breakfast that you can savour with loved ones for a couple of hours? With the plethora of breakfast choices that are now available however, how does the aspiring restaurateur distinguish his product from the rest of the gastronomic madding crowd?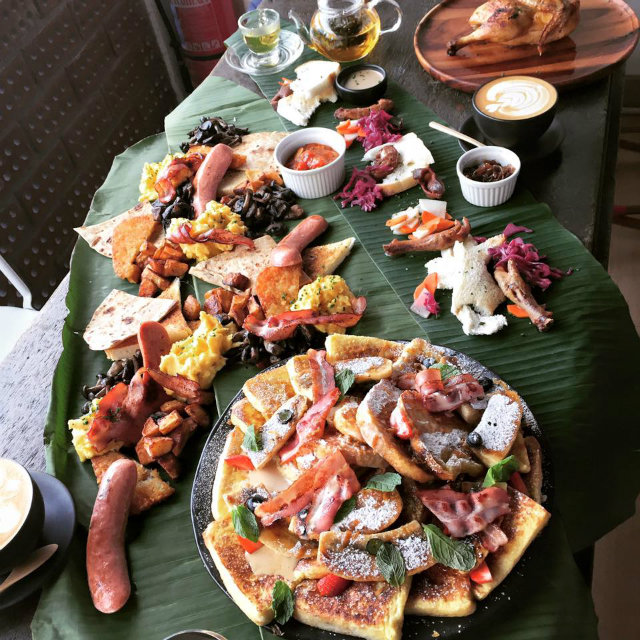 Ampersand's solution, whilst ostensibly not original, has a whimsical appeal that shows the owners have given due thought and consideration so that their product, though not radically different, is different enough to make it a talking point, and that's as good a door opener as any, really. Serving their breakfasts on banana leaves—"to introduce an integral Malaysian custom of communal eating with banana leaves and to use hands if they so desire"—is just one of their USPs.
It's emotionally more than valid: the notion of incorporating so Malaysian a concept but with largely western ingredients, and the attendant informality and conviviality that prevails at banana leaf joints transposed into a trendy contemporary setting. And then there's the element of fusion in their food, so that an oeufs en cocotte aren't just baked eggs but baked eggs Thai style with pork bits woven through it. Suddenly, the idea of enduring a western breakfast with friends becomes a lot less painful for such Asian breakfast stalwarts as yours truly.
That more all-day breakfast restaurants will continue to open is indubitable, but let's hope these burgeoning restaurateurs will take a leaf from Steven et al's book and take the time to create a product that is distinctively, and memorably, theirs. Now, that would be a reason to get dressed for breakfast, weekend or not!
Follow Fay on Twitter and Instagram at @misskhoo.
Source:https://www.buro247.my/lifestyle/food-and-drink/come-on-burger-light-my-fire.html
Related stories:
Which restaurants in town pay attention to the details that matter
The reason for our fatal attraction to fast food
| | |
| --- | --- |
| SHARE THE STORY | |
| Explore More | |