1. Royal Cuisine of Pahang buffet at the Mandarin Oriental Kuala Lumpur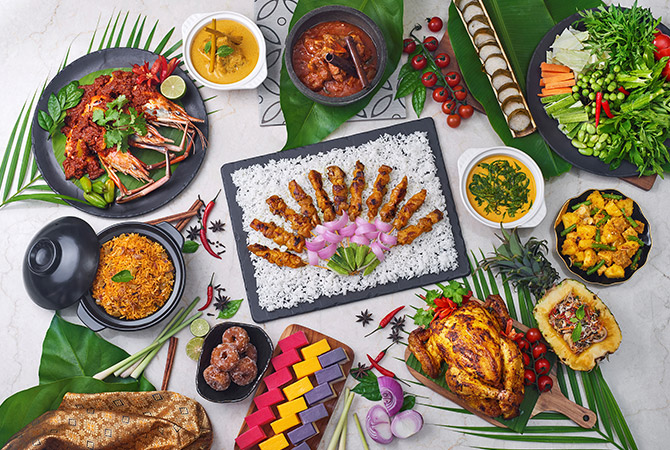 ramadan buffet mandarin oriental kl 2019
Ever wondered what it's like to dine at the palace of a Malaysian royal? You're in luck. This festive period is your chance as Chef Saiful and his team will be preparing a feast featuring recipes from Her Majesty Seri Paduka Baginda The Raja Permaisuri Agong Tunku Hajah Azizah Aminah Maimunah Iskandariah Binti Almarhum Al-Mutawakkil Alallah Sultan Iskandar Al-Haj, The Queen of Malaysia. Guests at Mosaic are in for a treat as it'll be a grand showcase of traditional Malaysian dishes—with a selection of Pahang cuisine—and some are pretty uncommon to find these days.
Highlights: Savour an array of kerabu such as Kerabu Daging, Kerabu Pucuk Paku, and Kerabu Pucuk Pegaga as well as Ketupat Pulut Sotong (the best!) and Patin Pais Tempoyak.
Price: RM218 nett per person
Availability: 13 May – 4 June 2019
Contact: [email protected] | 03 2330 8798
2. Puttin' On A Festive Feast buffet at The Ritz-Carlton Kuala Lumpur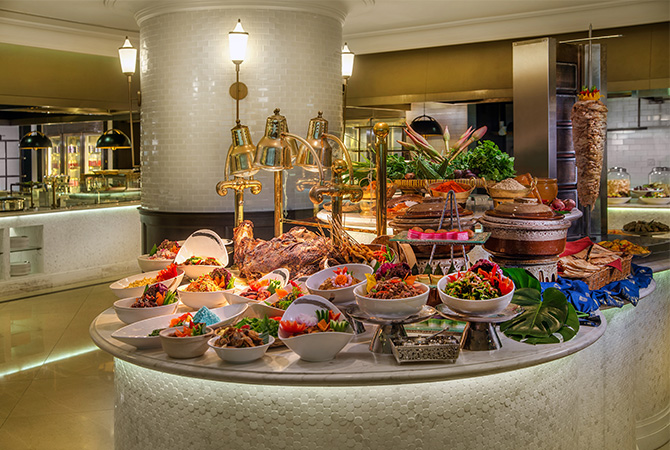 Most of us can agree that one of the best ways to truly understand one's culture is through food. It can highlight the history of a specific place and Malaysia, with its 13 states, is no different. This Ramadan season will see the Cobalt Room transform into a setting for a culinary adventure throughout the country. Guests will be able to revel on dishes from Malacca, Pahang, Kedah, and Terengganu, such as asam pedas ikan tenggiri, ikan patin masak tempoyak, laksa, and nasi kerabu, respectively. Head over to enjoy the ride and satisfy your palate at the same time.
Highlights: Treat yourself to dishes from all 13 Malaysian states, including Pahang's ikan patin masak tempoyak, Penang's rojak, Johor's lontong, Negeri Sembilan's lemang, Kelantan's cik mek molek, and Sabah's talam pandan.
Price: RM118 nett per adult, RM59 nett per child
Availability: 8 May – 31 May 2019
Contact: [email protected] | 03 2782 9122
3. Barakat & Syukur buffet dinner at The St. Regis Kuala Lumpur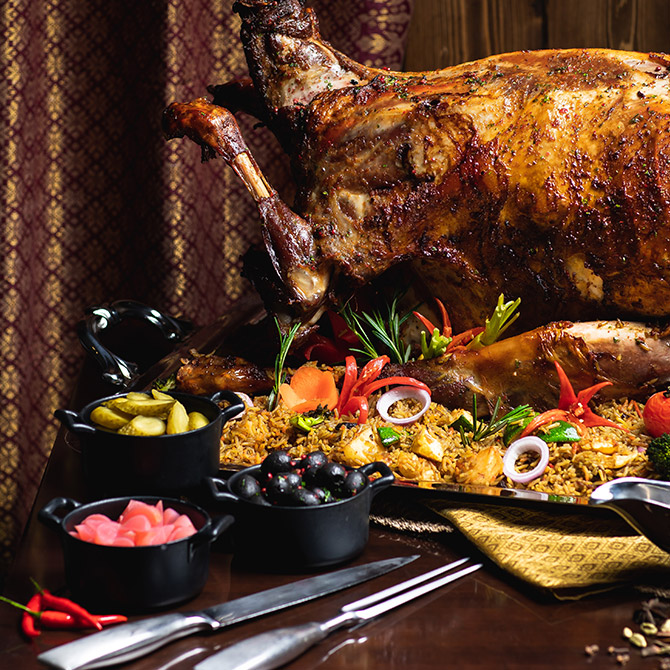 st regis kl ramadan buffet 2019
Similar to last year, The Astor Room will be revamped to pay homage to the legacy of modern Malaysia. Themed "Warisan Melayu", you can feast on the "Mambau" Smoked Lamb with Fresh Turmeric, "Batu Pahat" Basmati Moghul Gam Biryani, Bird's Eye Chilli, "Sri Menanti" Chicken Kalio, and many more. Immerse yourself in the essence of the multi-ethnic culture of Malaysia, and without a doubt, you will leave satisfied.
Highlights: Served with roasted coconut tamarind sauce, mustard black pepper sauce, mint sauce, and a selection of pickles, the "slow-roasted" grass-fed Australian spring lamb marinated with Malay spice is definitely a sought-after dish. Oh, also, the Classic Malay Chicken Bubur Lambuk that's superbly done.
Price: RM228+ per person
Availability: 10 May – 2 June 2019
Contact: [email protected] | 03 2727 6696
4. Majestic Festive Banquet and Festive Variety Dinner at The Majestic Hotel KualaLumpur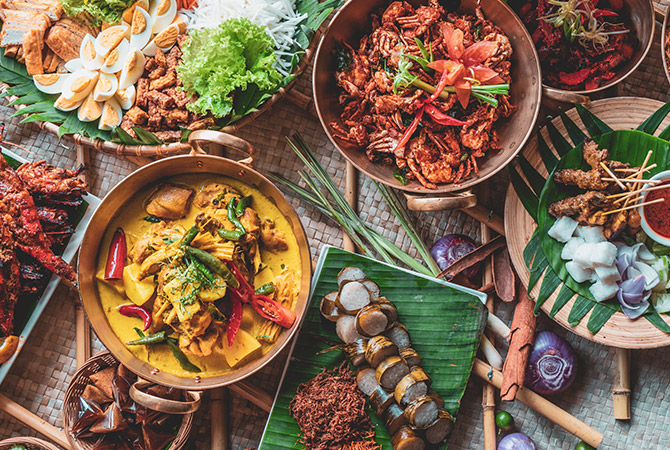 majestic hotel kl ramadan buffet 2019
Nothing beats breaking fast The Majestic way. This year, Chef Zaidi and his team have specially prepared a culinary feast comprising of over a hundred classic Malay recipes from all over the country. Guests can expect timeless dishes such as rendang kambing and sambal udang galah at the Majestic Function Room. At Contango, guests can indulge in that and additional international cuisines ranging from Thai to Japanese to Italian to Western Grill. With two open kitchens, this will be a unique dining experience.
Highlights: The rendang kambing, ketam lemak cili padi, and sambal udang galah are some of the dishes to indulge.
Price: RM125 nett per person for Majestic Banquet, RM150 nett per person for Contango
Availability:
Majestic Banquet: 11 May – 2 June 2019
Contango: 3 May – 6 June 2019
Contact: [email protected] | 03 2785 8000
5. Sajian Nusantara at Four Seasons Hotel Kuala Lumpur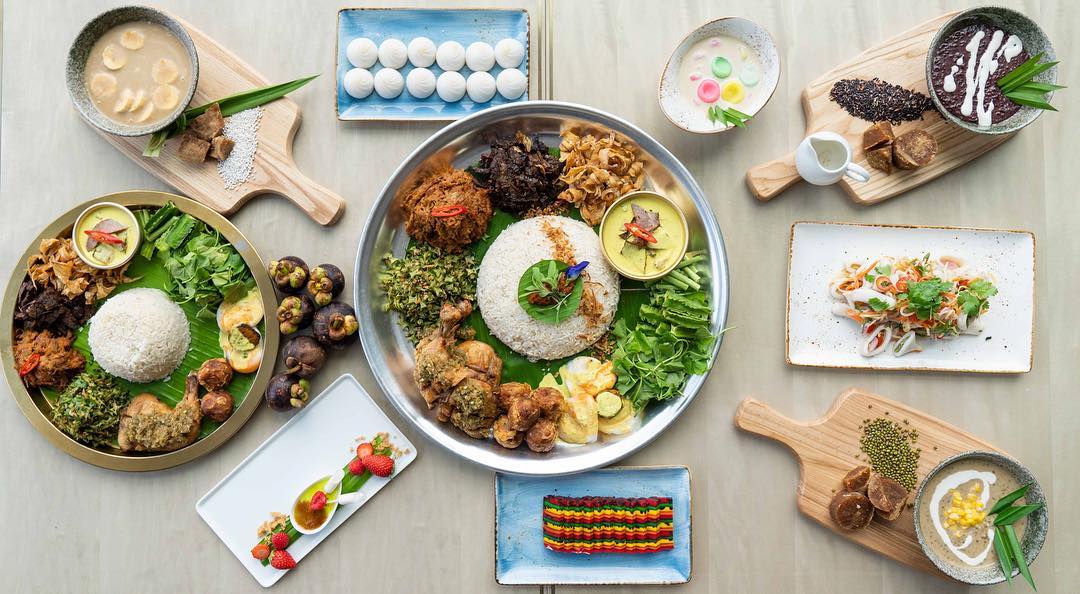 ramadan buffet 2019 four seasons hotel kl
There are so many reasons to check out Curate at Four Seasons Hotel Kuala Lumpur during the month of Ramadan. For starters, the menu is whipped up in partnership with guest celebrity Chef Dato' Fazley Yaakob. The buffet spread will feature some of his signature dishes, many of which are rare traditional Malay dishes. Look out for the teh tarik station where it'll certainly pull in quite a crowd.
Highlights: The wide variety of rendangs and curries. The dessert station is also a personal favourite.
Price:
6 – 12 May: RM178 nett per person
13 – 30 May: RM208 nett per person
31 May – 4 June: RM208 nett per person
Contact: 03 2382 8630
6. Festive Celebration buffet at the Hotel Stripes Kuala Lumpur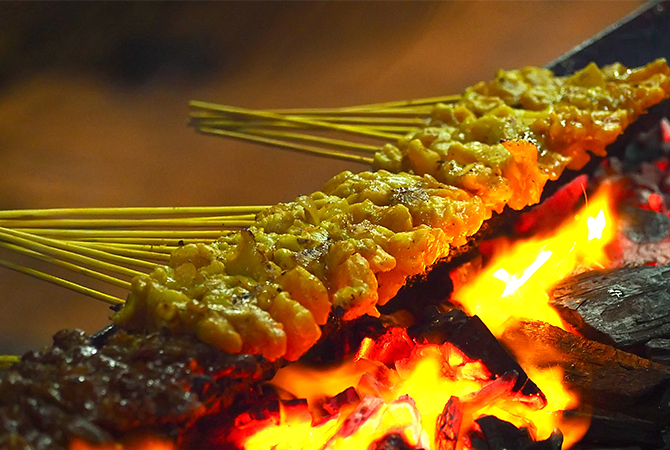 The hotel's Brasserie 25 is one of the best spots to be at this festive period. Guests will not only be able to experience traditional Malay cuisine, but the dining experience will be elevated with specialities from Hotel Stripes' Jalan Kamunting Neighbourhood Friends.
Highlights: The assam pedas, beef rendang, sup ekor, and sup ayam are some of the specialties particular to the area.
Price: RM88 nett per person
Availability: 10 May – 6 June 2019
Contact: [email protected] | 03 2038 0000
7. Hidangan Tradisi at The RuMa Hotel and Residences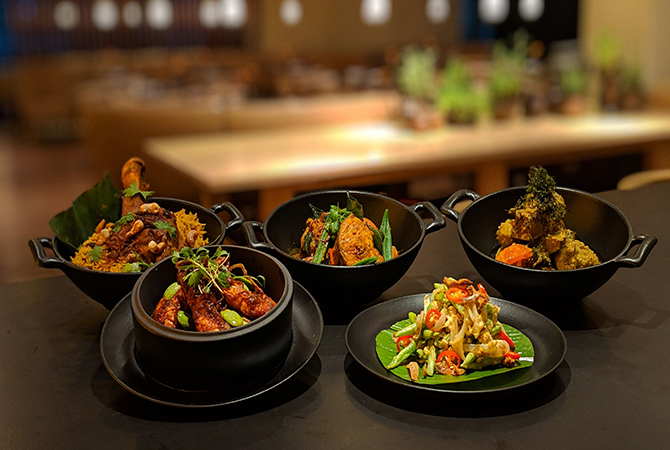 Imagine feasting on dishes prepared by the hands of an alchemist. Diners of ATAS Modern Malaysian Eatery, the hotel's signature restaurant, will rediscover nostalgic and classic flavours through a series of traditional dishes with a touch of Executive Chef Tyson Gee's unique approach. The semi-buffet style dining experience especially highlights the restaurant's signature Mibrasa Charcoal Oven—used to prepare a variety of grilled meats and fish as well as different kinds of rice dishes such as nasi minyak, nasi biryani, and nasi tomato. So fragrant, you would not want to leave.
Highlights: Enjoy the daging salai masak lemak, udang sambal petai, and kari ikan with bendi. Finish off with fresh dodol and creamy durian kampung.
Price: RM168 nett per person
Availability: 5 May – 3 June 2019
Contact: [email protected] | 03 3277 808 88
8. Bazaar Malam buffet dinner at the W Kuala Lumpur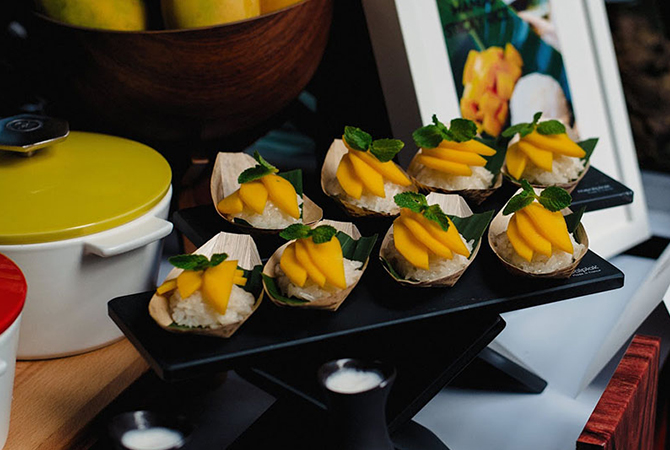 This is no ordinary buffet. Flock, W's all-day dining restaurant, will be converted into a bazaar-like setting, evoking a sense of familiarity from the Ramadan bazaars in the country that are often popular during this season. With the Malaysian icon as its theme, guests can expect an opulent variety of tantalising dishes. The buffet spread consists of Malaysian flavours such as ulam-ulaman (using organic greens from Weeds and More), rendang tulang awan, daging masak hitam, and wok fried buttermilk chicken. For the brave, there are a variety of sambals to experience—sambal cincalok, sambal budu, sambal tempoyak, and sambal cili, to name a few. Here, you will be able to feast on one of the best iftar spread of the year.
Highlights: The ketam nipah masak lemak cili padi and fish head curry made with fresh salmon and snapper.
Price:
5 – 12 May: RM168+ per adult, RM84+ per child
13 May – 5 June: RM188+ per adult, RM94+ per child
Contact: [email protected] | 03 2786 8888
9. Muhibbah Feast buffet at The Pavilion Hotel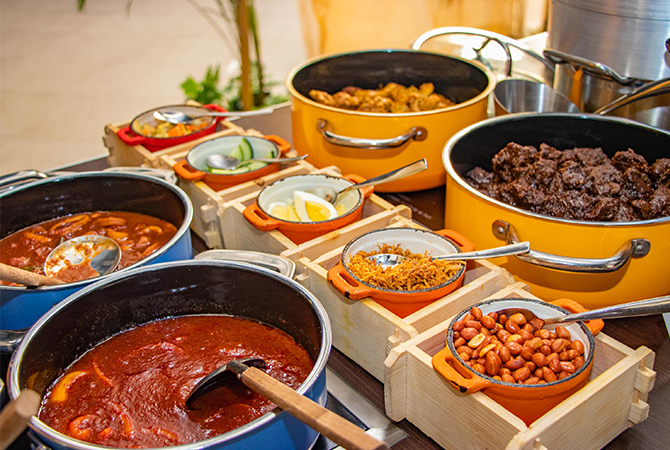 Expect finesse and flair when you step into The Courtyard as chefs showcase their skills at live cooking stations for you and your family to admire. Throughout the month of Ramadan, guests can enjoy the finest cuisine from Malaysia that highlights the unity and cultures that shape the country. Along with dates flown in from the Middle East, there will also be Penang rojak, gado-gado, satay, roasted lamb and apam balik. Come break fast with family and friends while immersing yourself in a buffet that's truly Malaysian.
Highlights: Feast on nasi lemak and apam balik from the Local Favourites Corner, roasted lamb from the Malaysian Street Hawker stalls, and top everything off with traditional desserts such as ais kacang, and Hari Raya biscuits.
Price: RM135 nett per adult, RM68 per child
Availability: 9 May – 2 June 2019
Contact: [email protected] | 03 2117 2821
10. Citarasa Harmoni buffet dinner at Le Méridien Kuala Lumpur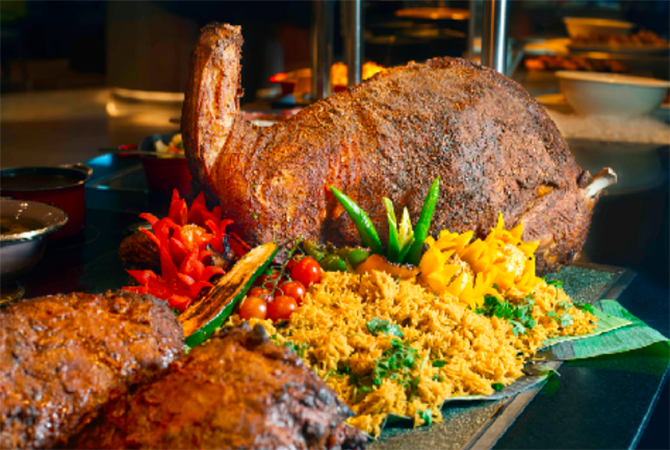 If you're looking for traditional Malaysian dishes with a twist, Chef Budiman from the hotel's Latest Recipe, has it sorted with special recipes that include daging pesamah utara with rebung and kerisik, ayam kalio with potatoes, and rendang kambing. Classic Malay snacks such as aneka pisang and keropok lekor will even be fried on the spot to ensure its fresh- and crispiness. As with most buffets, Latest Recipe will also be serving international dishes such as sushi, lamb tandoori, and freshly-cooked pasta for extra variety.
Highlights: The berbiri panggang with rempah al kausar and sos barak, ikan tongkol berlado hijau, and bubur lambok are some of the must-try dishes.
Price: RM180 nett per adult, RM90 nett per child
Availability: 6 May – 4 June 2019
Contact: [email protected] | 03 2263 7434
11. Berbuka Puasa dinner at Saint Pierre Kuala Lumpur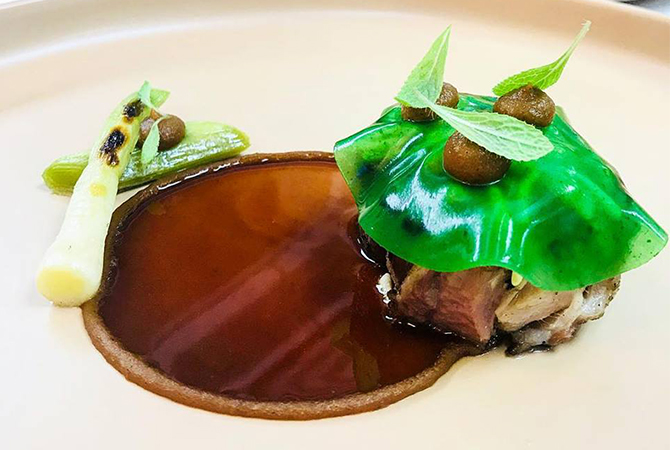 For something a little different, break fast with a fusion of Malaysian and French flavours in the form of Saint Pierre KL's Malaysian-inspired 6-course Berbuka Puasa function menu (with an additional non-alcoholic beverage pairing as an option). Helmed by Chef de Cuisine KimKevin de Dood, guests can enjoy Malaysian flavours that are not usually found in French cuisine. Start with Medjool dates before proceeding with achar and then, pan-fried sea bass. Finish off with nasi lemak, satay, and a choice between kari ayam kapitan or kari kambing. Non-alcoholic beverages include Bunga Kantan, which is an infusion of clove, anise, and ginger flower; and Serai Ais, an infusion of lemongrass and calamansi. Don't miss out on this opportunity to immerse in the best of both worlds.
Highlights: The nasi lemak, satay, and kari kambing are definite stars to look forward to.
Price: RM448++ per person, RM98++ per person for non-alcoholic beverage pairing
Availability: 5 May – 4 June 2019
Contact: [email protected] | 03 2732 5008
12. Twilight Symphony dinner at Nobu Kuala Lumpur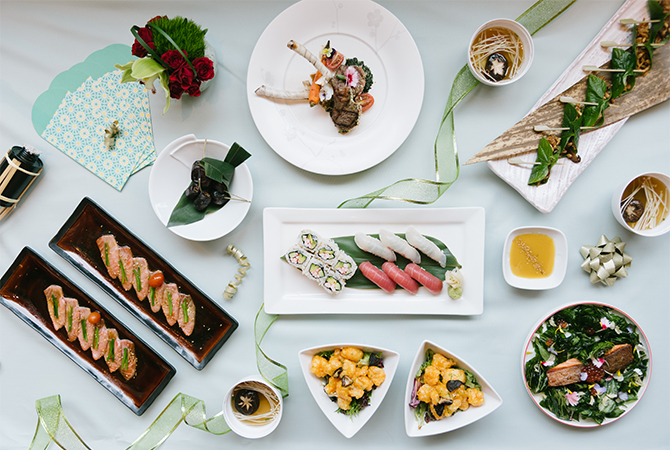 This year, break fast with Japanese-Peruvian flavours that come with Malaysian qualities as Executive Chef Philip Leong and his team will be preparing a 4-course menu suited for families. Begin with a cold platter consisting of clear soup, crispy shiitake with Betel leaf, and dates, before moving on to the assorted sushi, mushroom yuzu, and baby tiger shrimp. As for the main course, you can choose the Chicken Truffle Teriyaki, Salmon Yuzu Butter, or Shiso Crusted Lamb. Furthermore, you'll definitely have room for the dessert moriawase.
Highlights: The Salmon Yuzu Butter with Crispy Leaves, and Shiso Crusted Lamb stand out among the mains whereas for dessert, the Crispy Sago with soy caramel banana and coconut mousse is a clear feature.
Price: RM280++ per person
Availability: 6 May – 4 June 2019
Contact: [email protected] | 03 2164 5084
13. Aneka Rasa buffet dinner at Grand Hyatt Kuala Lumpur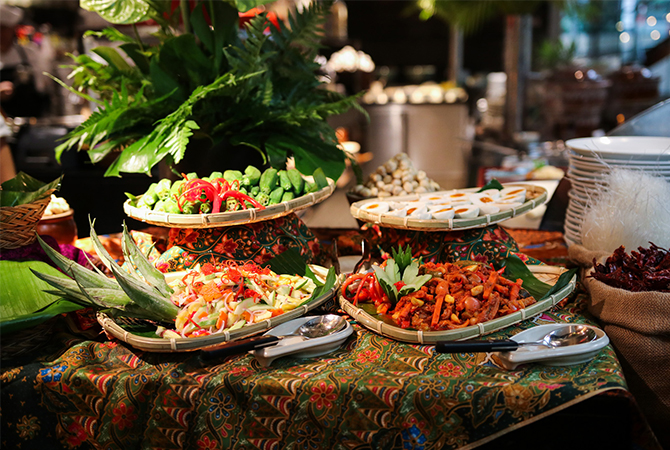 Authenticity is always favoured when it comes to food and that's what you can expect from JP teres' Chef Nazib and Chef Sanjay. Devour more than 150 Malaysian dishes while the Sireh Pinang Colony entertains you and your loved ones with Malaysian visual arts. During the weekends, immerse yourself in the Barbecue Nights with a collection of meats and seafood.
Highlights: The slow-cooked Kambing Golek, roasted duck pancake, and chicken varuval are distinct stand-outs.
Price:
6 – 12 May: RM158 nett per adult, RM79 nett per child
13 – 31 May: RM178 nett per adult, RM89 nett per child
Contact: [email protected] | 03 2182 1234
14. Nostalgia Nipah buffet at EQ Kuala Lumpur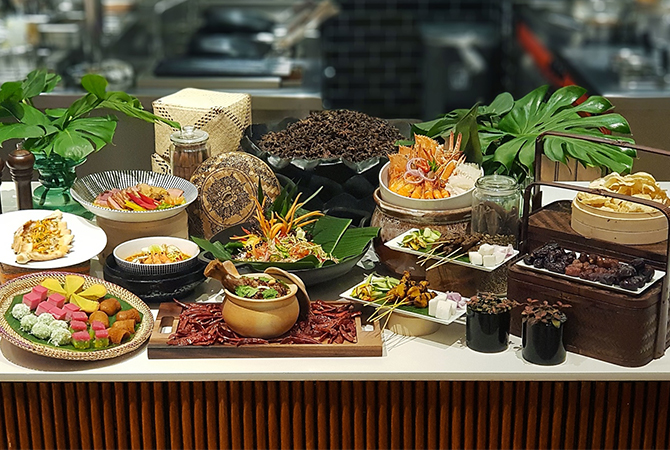 Walk into the iconic Nipah and prepare to be swept away by aromas reminiscent of home. This year, with EQ's return to the Malaysian hospitality scene, why not revisit one of the market leaders of buka puasa? Throughout the month of Ramadan, expect signature Malaysian fare that you can get in big Malaysian joyous events. There will be over 100 dishes for you to choose from. Talk about dilemma! Apart from local delicacies, indulge on the seafood-on-ice, with baby scallops, fresh mussels, and tiger prawns. Are you salivating yet?
Highlights: There are many winners, from the whole roasted lamb to Daging Salai Masak Lemak to Kerabu Mangga. Feast on!
Price: RM178 nett per person
Availability: 6 May – 2 June 2019
Contact: 03 2789 7777
| | |
| --- | --- |
| SHARE THE STORY | |
| Explore More | |