Food + Drink
8 Best hotpot restaurants in the Klang Valley to satisfy your soup cravings
Hotspots for hotpot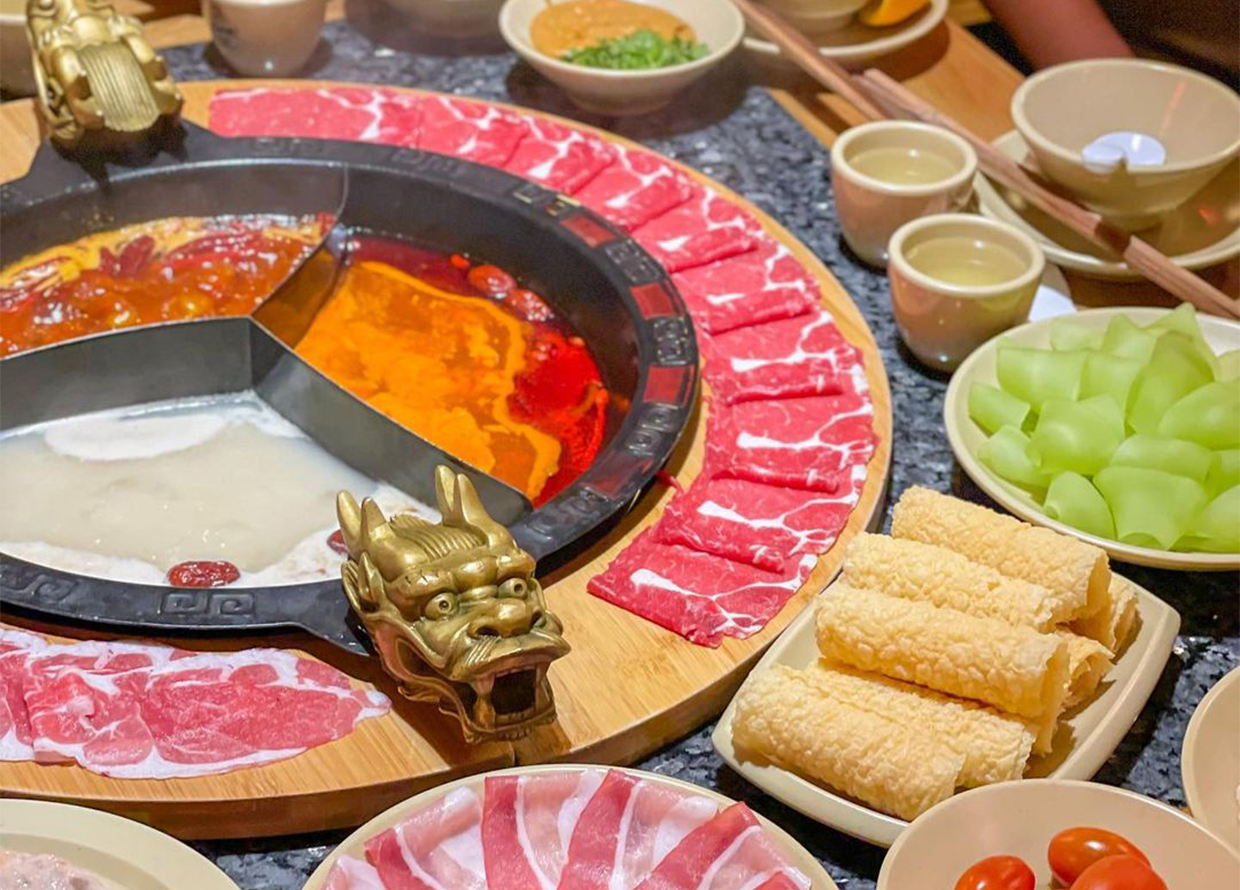 There's nothing like a simmering bowl of hot soup to warm the body (and soul) on a rainy day—or any other day, for that matter. It's no wonder why hotpot is such a popular dining experience in Malaysia and many other countries around the world.
With a history dating back more than 2,500 years ago in China, the hotpot business has seen massive growth over the past decade with large hotpot chains mushrooming around the globe. If you're looking for the best places in the Klang Valley for hotpot, take a gander at these crowd-favourite spots (in no particular order).
1. Beauty in the Pot
View this post on Instagram
Since launching in Malaysia in 2018, Beauty in the Pot has made its name as one of the hottest places for hotpot in the country (pun intended). The Singaporean hotpot chain now has three outlets in Malaysia, including SkyAvenue (Genting Highlands), The Gardens Mall, and Tropicana Gardens Mall. There are six soup bases on the menu, with the most popular options being the Signature Beauty Collagen Broth (Scallop and Pork Broth soup) and the Signature Spicy Nourishing Soup (Pork Bone). (Editor's note: The Cooling Coconut Broth is a personal favourite too!).
Address:
Lot T-201B, The Gardens Mall
Lot CC-53-56, Tropicana Gardens Mall
Lot T3 – 25 – 30, Genting Highlands
Opening Hours: 11am to 2am
Contact:
The Gardens Mall: 03 2201 1366
Tropicana Gardens Mall: 03 7680 4990
Genting Highlands: 03 6101 1623
Website | Facebook | Instagram
2. Haidilao
View this post on Instagram
As China's biggest hotpot chain with more than 1,000 outlets around the world, Haidilao is synonymous with quality soup bases and ingredients. Take your pick from the best-selling Tomato Soup, Classic Spicy Soup, or Three Delicacy Hot Pot, among other bases. You can also opt for the double or quadruple hotpot to try out more types of broths. Aside from their famous "Hai Di Lao-style noodles" (which are served by way of a theatrical display at your table), they also have a wide range of seafood, meats, vegetables, and classic hot pot dishes. Don't forget to try the DIY dipping sauces too!
Address & contact:
Sunway Pyramid: 03 5611 5188
Sunway Velocity: 03 9770 0070
IOI City Mall: 03 8683 1298
IOI Puchong: 03 8080 1254
Bangsar Village III: 03 2202 2070
Website | Facebook | Instagram
3. Feng Wang Fu
View this post on Instagram
Originating during the Guangxu period in China, Feng Wang Fu (or FWF in short) prides itself in Chengdu-style hotpot. What's special about this hotpot brand is its interior design, which draws inspiration from the Emperor's Palace in ancient China. Customers can choose up to three soup bases per pot, with the most popular options being the Mala, Tomato, and Pork Bone soup bases.
Address:
C1213-G, Fahrenheit Bukit Bintang, 55100 Kuala Lumpur
Lot LG610, Lower Ground Floor, 1 Utama Shopping Centre
G9 & G10, MTBBT2, The Landmark, Persiaran Bantu Nilam 16, Bandar Bukit Tinggi 1, 41200 Klang
Opening Hours: 11am to 3am
Contact:
Fahrenheit: 011 3984 1230
Klang: 011 2102 4921
1 Utama: 011 5638 5267
Website | Facebook | Instagram
4. Diao Yu Tai
View this post on Instagram
Diao Yu Tai is the latest addition to this list, having just opened its doors in April 2022. Located in Menara Lien Hoe in Petaling Jaya, this authentic Chengdu style hotpot restaurant boasts 9,430 square feet of space—adorned with traditional Chinese roof beams, round archways, screen dividers, and ornate decorations that altogether create a zen-like dining experience. It even has 18 private rooms to accommodate large groups and 12 KTV rooms for fans of karaoke. Chef Reno Foong Keng Yew helms the kitchen, bringing with him 18 years of experience in cooking Chengdu, Cantonese, and Szechuan cuisine. His signature dishes include Deep Fried Pork Belly, Glutinous Rice with Brown Sugar, Miyazaki A5 Wagyu Beef, Iberico Pork Belly, and Homemade Fish Paste and Shrimp Paste. As for the essence of hotpot (the broth), there are three main options: Mala Soup, Pork Bone Soup, and Tomato Soup.
Address: Menara Lien Hoe, 8, Persiaran Tropicana, Tropicana, 47410 Petaling Jaya, Selangor
Opening hours: 3pm to 12 am (weekdays) | 12–3pm, 6pm–12am (weekends)
Contact: +010 303 1888
5. Xiao Long Kan
View this post on Instagram
Established in Chengdu, China in 2014, Xiao Long Kan has since expanded its hotpot experience to several countries around the world, including Malaysia. The Sichuan-style soup bases here are known for incorporating traditional recipes that have been passed on from hundreds of years ago. Customers can also select from a reasonable selection of meats, fresh vegetables, handmade meatballs, innards, and offals to enjoy with the broths.
Address: Lot 03, Block D, 179, Fahrenheit88, Jalan Bukit Bintang
Opening Hours: 12pm to 12am
Contact: 010 220 9618
6. Fei Fan
View this post on Instagram
Fei Fan is best known for its all-you-can-eat hotpot, with multiple locations all over the city. Unlike many on this list, Fei Fan offers Hong Kong-style hotpot with signature white pork bone broth and addictive Sichuan mala soup. Among the fan-favourite dishes to try are the homemade meatballs and shrimp dumplings, as well as the springy udon noodles that are made fresh daily. If you're not a big eater, set orders are also available, which typically include all of their specialties.
Address: 163 Retail Park | 1 Utama | SS15 Courtyard Mall | Paradigm Mall | IOI Puchong | Setia City Mall
Opening hours: 11am to 11pm
Website | Facebook | Instagram
7. Shu Da Xia Hotpot
View this post on Instagram
Originally from Chengdu, Shu Da Xia specialises in Sichuan-style mala hotpot. Famous for its adorable panda mascot and imperial dining atmosphere, this hotpot chain promises to transport diners to ancient China as soon as they enter its outlets. Options for soup base here include Traditional Sichuan Mala Soup, Beauty Collagen Bone Soup, Tomato Soup, or Mushroom Soup. One of the most unique dishes to try is the Imperial Princess Beef, which is served with a bowl of milk that is said to enhance the texture of the beef.
Address: 
Tun Razak: 340, Jln Tun Razak, Kampung Datuk Keramat, 55000 Kuala Lumpur
Bandar Sunway: No. 52, Jalan PJS 11/28BSunway Metro, Bandar Sunway, 47500, Selangor
Hartamas: Hartamas Shopping Centre, P23C & P23D, Plaza Ground Floor, 50480 Kuala Lumpur
Opening Hours: 12pm to 12am
Contact: 011 1204 1268 (Tun Razak)
Website | Facebook | Instagram
8. Da Long Yi Hotpot
View this post on Instagram
Da Long Yi is another Chengdu-based hotpot chain which has over 300 restaurants all across the globe. The popular chain opened their first Malaysian outpost in Kota Damansara in 2020, before adding two more locations in Bukit Bintang and Sutera Mall in Johor Bahru. Those who enjoy that tongue-tingling mala experience should definitely give their Sichuan-style hotpot a try.
Address:
74, Jalan Imbi, Bukit Bintang, 55100 Kuala Lumpur
C-GF-01 Sunway Nexis, 1, Jalan PJU 5/1, Kota Damansara, 47810 Petaling Jaya, Selangor
Opening hours: 12pm to 3am
Contact:
Bukit Bintang: 011 3889 9669
Kota Damansara: 011 3863 3336
Website | Facebook | Instagram
Find more food and drink stories here.
| | |
| --- | --- |
| SHARE THE STORY | |
| Explore More | |