Food + Drink
6 Beautiful flower-inspired cakes by Malaysian bakers that your Mum will love
Cakes in bloom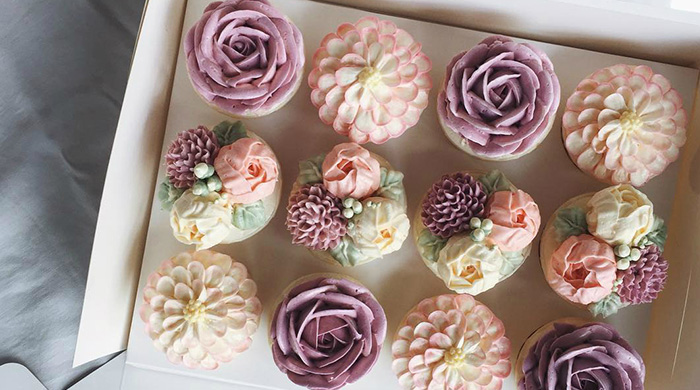 Some mothers appreciate the beauty of a bouquet of flowers while others might prefer something more 'long-lasting'. We say adapt that floral imagery onto something edible and everyone will be happy! We round up some of the prettiest flower-inspired cakes made by Malaysian Instabakers for your kind consideration.
1. Bitter/Sweet
Just looking at owner/baker U-Mae's Instagram, you may just feel like ordering every single of her cake creations. Whether the flowers are by buttercream piping or added as a topper, every design is elegant and flawless.
2. Keik by Li San
Li San clearly has a unique eye for designing cakes — they can be minimal, feminine or dramatic. Recently, the baker has been experimenting a new style inspired by Japanese pottery so you can be sure she'll be open to any of your wild ideas.
3. Frost & Flourish
Like its name, Frost & Flourish is the place to go if you're into feminine, colourful cakes. One of their classic offerings is The Lady that's topped with strawberries and rose petals.
4. Septemberbakes
The cake bit is delicious and cherry on top can be a gorgeous stalk of hydrangeas. Her colour combinations are simple yet chic.
5. Favory Flavor
Scroll through Favory Flavor's feed and you'll find most of her cakes to be inspired by flowers and succulents. She's relatively new to the local Instabaker scene but her intricate buttercream piping skills shows it's the result of a lot of practice.
6. Bakes & Inks
Whether you (or rather, dear Mumsy) prefer a simple or an elaborative cake, Bakes & Inks will definitely churn out something worthy for the occasion. A self-taught baker who uses premium ingredients, she also does private workshops on making Korean buttercream flowers should you rather DIY.
Related stories:
5 Malaysian Instabakers to hire for your wedding cake
#BuroEats: 5 Places to get healthy cakes in Kuala Lumpur
Buro Tries: Paint That Cake Workshop with The Buttercake Factory & ArtSeni Gallery
| | |
| --- | --- |
| SHARE THE STORY | |
| Explore More | |