Let's be honest. Italian food isn't a cuisine you can just easily put into a box. Just the mention of it illicit numerous responses. Perspectives come into play as different backgrounds have differing views on what exactly Italian food is. One thing's for sure—whether you're from provincial Italy, New York, or Kuala Lumpur—the cuisine is well-loved all over the world. Growing up in Kuala Lumpur, I have many fond memories of going to Italian-centric joints with my family. Pastas, pizzas, and bruschettas. The usual affair. Based on my time spent in Italy (including Rome, Milan, and Venice), I have come to know that its food is way more than just spaghetti and mozzarella. Instead, I came to understand that Italians themselves treat their food differently depending on where they're from. Grazie.
Chef Riccardo with Ken Wong a'Roma dinings
Since my return to Malaysia, authentic (yes, the 'A' word) Italian cuisine is no longer a norm, and more of a rarity. When I was given the opportunity to try out the new a la carte menu from a'Roma dinings in Petaling Jaya , I took it—and that was one of the best decisions I've ever made! (Cue doubt and disbelief) I actually love eating, and let me just say that a'Roma dinings' new menu in collaboration with Italian Chef Riccardo Milone just ticks all the right boxes. These are some of my favourites from the menu that you should definitely check out.
1. Insalata Nizzarda Rivisitata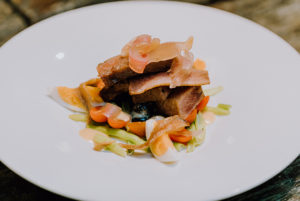 a'Roma dinings salad dish with tuna
If there's one way to start a brilliant culinary adventure, this is it. When you're served classical Nicoise salad, kampung eggs, tuna, anchovies, and mustard vinnaigrette, you know this isn't just any salad. Chef Riccardo Milone said that he isn't here to create ultra-authentic Italian food but to fuse them with Malaysian elements—and it shows. Anyone who knows me knows that I live the salad life, and this is one of my favourite dishes. Extraordinary. What makes a simple salad dish stand out? For me, it's the inclusion of anchovies. While the crunch from the lettuce and the fresh succulent tuna are brilliant and perfect, the saltiness and texture of the anchovies take this to a whole new level. Acerbic? It sure was! It's appetising, it's palatable, and it's the beginning of a great meal to come.
2. Prosciuto Burrata E Carpione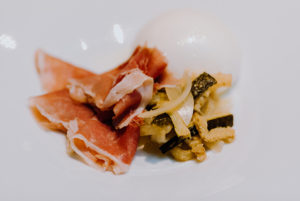 a'Roma dinings prosciutto
Off to a second starter! What's the best policy? Some say honesty, but I say honesty with great food. When this dish was served, I was in awe—it was plated so beautifully. My eagerness to dig into the dish was apparent. It's a dish that exudes—not just sweet memories of Italy—but an aftertaste which I can only describe as pure heaven. The prosciutto di Parma is exquisite, full-bodied, divine, and zesty. It has been a long time since I had prosciutto and what a way to get back on that carriage! Burrata and zucchini accompany the prosciutto to add depth and dimension to an already immensely flavourful appetiser.To say I adore this dish would be an understatement; you just have to sink your teeth in to find out. Tens, tens, tens across the board.
3. Tagliolini Di Polenta Con Pesto Alla Genovese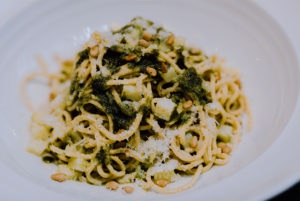 aroma dinings tagliolini dish
Homemade pasta? Yes, please. After all, you don't go to an Italian restaurant for store-bought servings. If you recall, I mentioned earlier that pasta always to mind at the thought of Italian cuisine and oh, how apt. Polenta tagliolini, basil, pine nuts, extra virgin olive oil, potato, and green beans come together to form one of my favourite dishes from the menu. You get the soft, almost silky texture from the house-made tagliolini; the crunch from the nuts that adds depth; the potato and green beans that give it volume; and last, but not least, Malaysian basil for the light, palatable sauce to go with the pasta. What I love most about this tagliolini dish is how toothsome it is. There's an airy aura that comes with every bite, almost like a sensation of floating amongst the clouds. Am I describing an aphrodisiac? The pasta is on the lighter side and therefore, would be a hit with the health-conscious (and vegans). Definitely a must-try.
4. Tentacolo Di Polpo Arrostito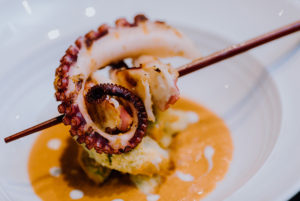 a'roma dinings octopus dish
Remember that article on some of the best seafood restaurants in Kuala Lumpur? Add this to the list. Where do KL-ites even get fresh seafood? Just ask Chef Riccardo Milone and Ken Wong, Director of a'Roma dinings and they will tell you (if they want to). As a child, I had a certain fondness towards octopus dishes that cannot be described. You can imagine how excited I was to see octopus on the menu. Served with Spanish octopus tentacle, avocado, and cumin gazpacho, no time was wasted before I jumped on the dish placed right in front of me. The octopus was heavenly. It was fresh (definitely important), crispy at some parts, and seasoned adequately. Oh, by "adequately", I mean "lightly". Chef Riccardo explained that authentic Italian cuisine allows the natural taste of the ingredients to take centre stage rather than over-seasoning the dish. The result? A top-notch serving. The coldness and lightness of the gazpacho adds just a hint of flavour, but in my opinion, the octopus is better on its own. What can I say—I like it raw (without gravy, I mean). The octopus is juicy, succulent, and most importantly, scrumptious. It was literally screaming "eat me". And I did, of course.
5. Costolette D'Agnello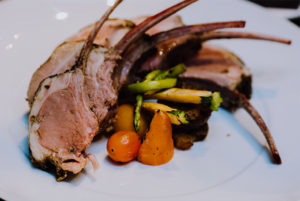 aroma dinings lamb rack
This is another main you should definitely try. If you want the best, then know that this is the best. Il meglio del meglio. What do you get? Lamb rack from New Zealand, black olive crust (you read that right), thyme scented jus, and seasonal vegetables (potatoes on the night I was there). Malaysians are used to feasting on lamb, regardless of occasion. What they are not used to, though, is lamb prepared by Chef Riccardo. Remember what I said about seasoning "adequately"? This is another clear example. The rich, luscious meat takes the spotlight without being oversaturated with seasoning. The black olive crust adds texture and elevates the dish to a gustatory state. Specifically, I adore the lamb's mellow flavours. It's not often I get to taste the meat without gravy and this one bombs (in a great way, of course). If you love lamb and authenticity, this is the dish for you. Pure class.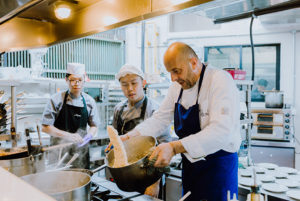 Chef Riccardo Milone cooking a'Roma dinings
Italian food is mouthwatering. I know that. You know that. Everyone knows that. With an upgraded look and refreshed menu, a'Roma dinings mean serious business. The family-run business aims to continue bringing authentic Italian fare to Malaysians and the collaboration with Chef Riccardo Milone (who has more than 30 years of culinary experience) does exactly that. I can honestly say I've experienced one of the best establishments in the city for Italian cuisine. The dishes above are my favourites from the new a la carte menu and I sincerely hope that they wow you too. Buon appetito.
The new menu debuts in mid-July. For more information, visit this website.
| | |
| --- | --- |
| SHARE THE STORY | |
| Explore More | |