Known to be a great source of probiotics, more and more Malaysians have started drinking kombucha—contributing to its increased popularity and consumption. Although the health drink isn't new in the country, the switch to a healthier lifestyle can be largely credited for the booch's newfound fame. Food trends come and go but kombucha has definitely stuck around; leading to the formation of these Malaysian kombucha brands.
1. Alchemy Micro Brewery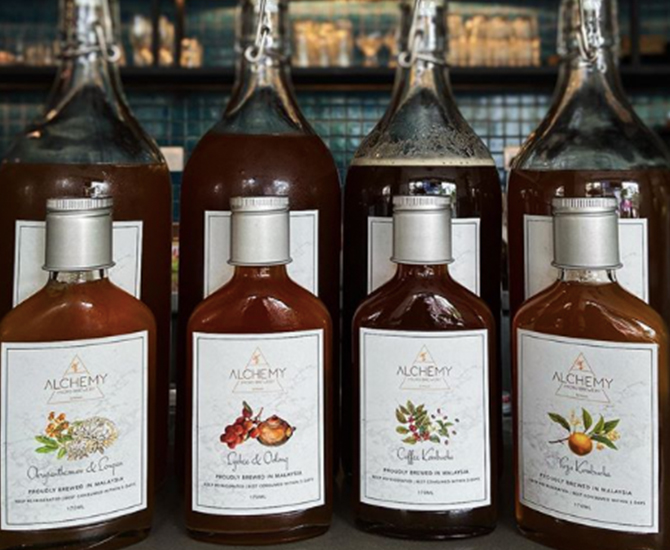 Meet the newest kombucha brand in town—established by the brewers from Wizards. They currently have four unique flavours: Coffee Kombucha, Yuzu Kombucha, Chrysanthemum and Longan, as well as Lychee and Oolong. They are available in two sizes, 170 millilitres and one litre. Expect the finest ingredients with bottles that look just as fine (and adorable).
2. Zenboocha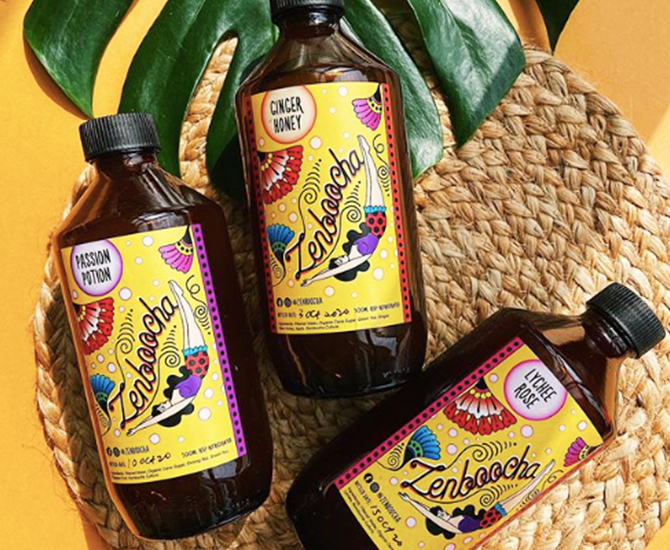 This new homemade kombucha brand currently has three interesting flavours to choose from. They are Ginger Honey, Lychee Rose, and Passion Potion. The label on the bottle is designed by Petra, a tattoo artist in Prague, and completed by Jamie Hendricks. If you're looking for something refreshing, Zenboocha's the one for you.
3. Belly Good Kombucha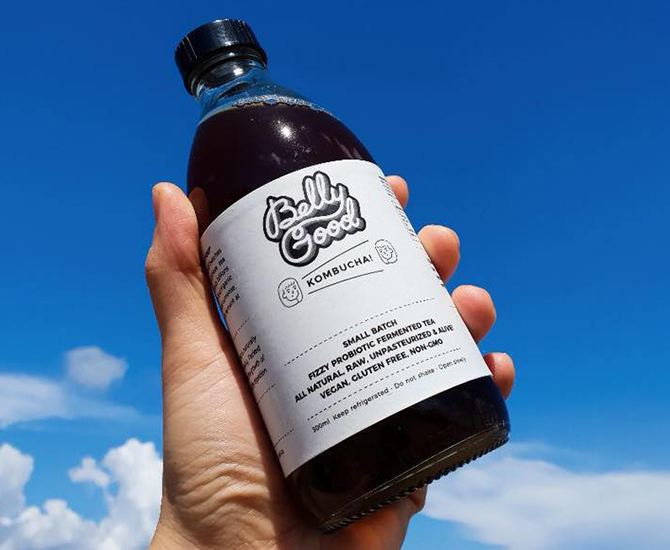 Brewed and bottled in Kuala Lumpur, Belly Good uses premium tea biscuits for all their concoctions. Giving life to the culture is organic evaporated cane juice—that is converted into beneficial acids, enzymes, and probiotics by the kombucha culture of bacteria and yeast. The available flavours at the moment include Golden Goddess (Ginger, Lemongrass, Turmeric, and Pu Er Tea), Lululemonade (Lemon, Ginger, and Green Tea), First Love (Lychee and Pu Er Tea), and Piña Colada (Pineapple, Coconut, and Green Tea).
Website | Facebook | Instagram
4. Wild Kombucha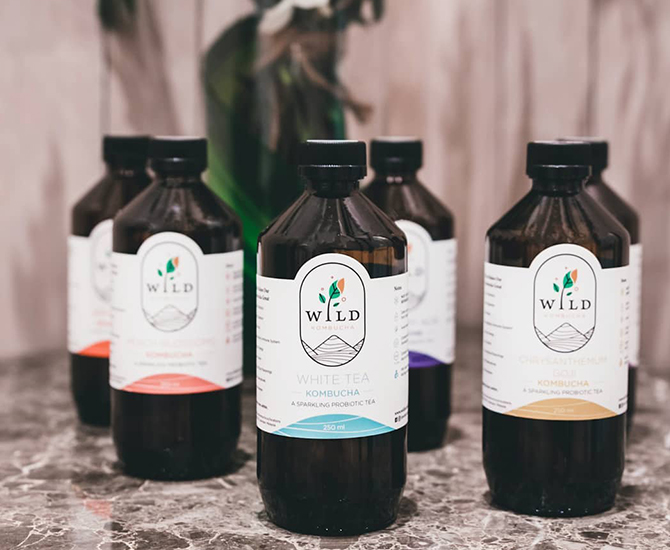 Creating the right balance of tang and tart, the Malaysian artisanal kombucha brand uses fruits and floral in its drinks. Brewed in small batches, Wild Kombucha is concocted the traditional way. Flavours include White Tea, Peach Blossoms, Lavender Lemonade, Chrysanthemum Goji, Blueberry Acai, Black Tea, and Apple Aid. Retailers include Babel TTDI, Oxygen Cycle, and Botanica+Co Alila Bangsar.
Website | Facebook | Instagram
5. WonderBrew Kombucha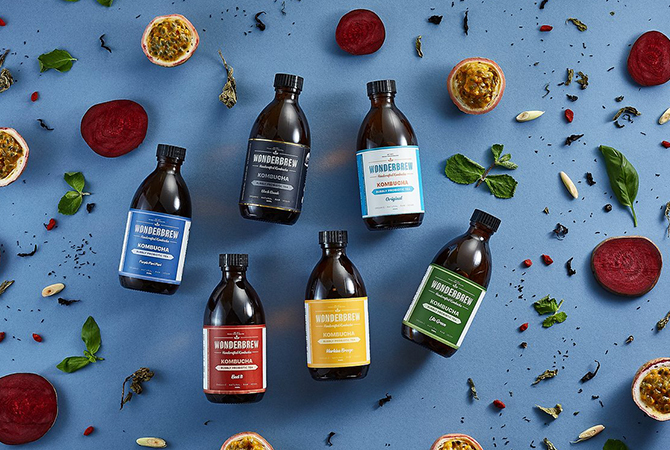 Aiming to protect the environment and support local farmers, WonderBrew utilises organic and natural ingredients from sustainable sources. The Original Flavour consists of the signature blend of oolong and premium black tea whereas Purple Pari Pari is made with organic green tea, organic butterfly pea, and organic lemongrass. Other unique options include Black Booch, Markisa Breeze, Lite Green, and Beet It.
Website | Facebook | Instagram
6. ChaCha Kombucha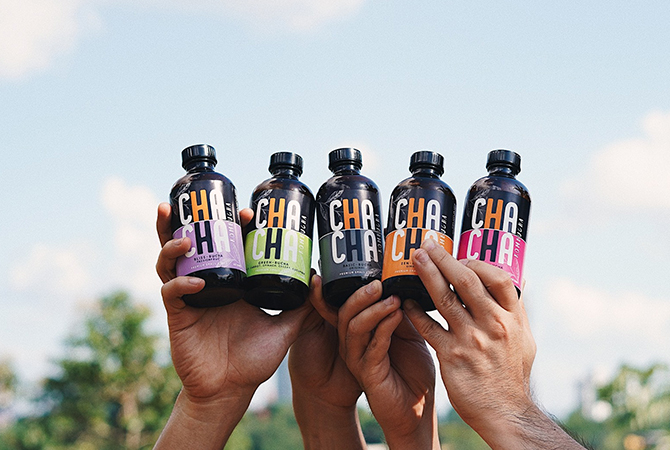 Made with 100 per cent natural ingredients for guilt-free drinking pleasure, ChaCha is founded by Matthieu Morisset (a plant-based chef) and Ishaq Vadillo (a health and fitness Trainer). Brewed right here in Malaysia, ChaCha has something for everyone. The Original—or Basic Bucha—is made with dark ripe Pu-Er Tea while the Buzz Bucha is concocted using vanilla beans.
Website | Facebook | Instagram
7. Boocha
Using fresh fruits with premium tea, this local brand home-brews its kombucha. Notable flavours include Pineapple, Mango, Bentong Ginger with Lemon, and Any Berry, To order, you can contact 012 2202 110.
8. Wizards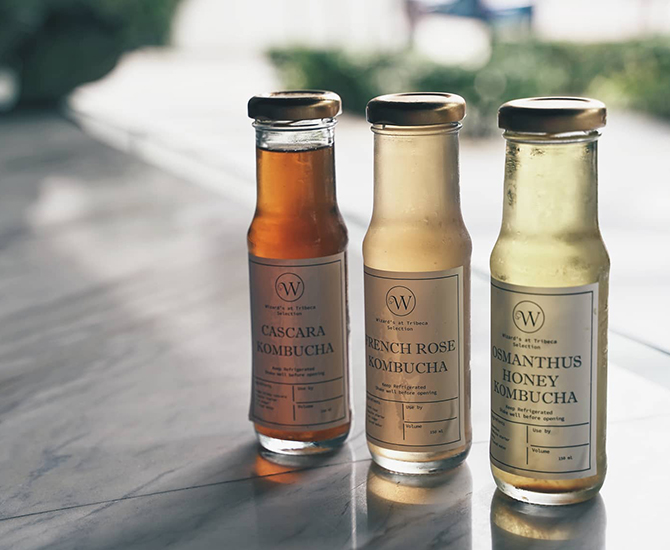 Although not a traditional kombucha-brewing company, the popular cafe has a variety of unique concoctions—all handcrafted by Team Wizards. They include Cascara Kombucha, Mixed Berries and Mint, Osmanthus and Honey, as well as French Rose.
Website | Facebook | Instagram
What are your favourite kombucha flavours? These local brands are definitely making Malaysia proud (and healthier) with their respective creations.