It's hard to miss Cupid's arrow when delicious food is involved. We've got you covered with eight restaurants that will serve up a memorable meal for two this Valentine's, from Shangri-La Kuala Lumpur to Knowhere Bangsar, Maria's SteakCafe and more
For some, food is the unspoken language of love. It brings people together and unites them in an intimate way. That's what celebrating Valentine's Day is all about. It's a time to show appreciation to the special people in our lives. It could be the affection displayed from cooking a meal and setting a dinner table and/or the conversation we have over a glass of wine. Isolation during MCO for many has been a time to look inward. A time to be more self-sufficient and independent. But it is also a time to acknowledge the ones who mean the most to us. A parent, a sibling, or a secret crush, there aren't many ways you can go wrong with a delectable dish or a sweet dessert. As we approach the third day of the Lunar New Year, (a.k.a Valentine's Day), here are some menu selections to consider if you're keen for a relaxed, stress-free, romantic meal at home.
1. Shangri-La Kuala Lumpur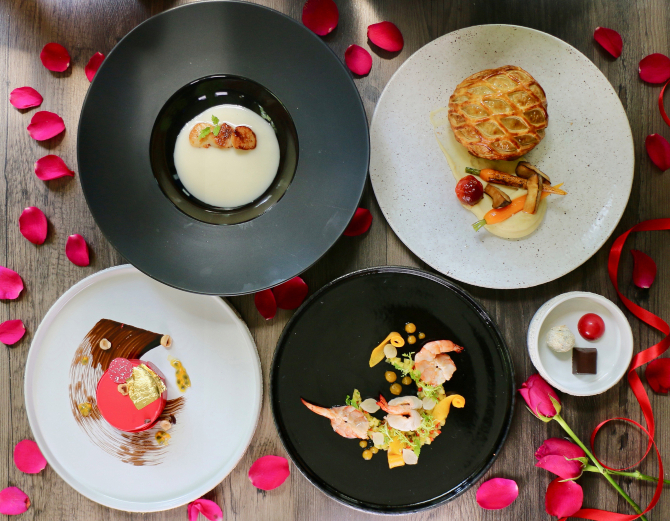 Does it get any better than a four-course meal from one of KL's premier five-star hotels? For Valentine's Day 2021, Shangri-La Kuala Lumpur is serving up a delicious feast for two. Available for both delivery and takeaway, the Valentine's Dinner Set Menu includes succulent Tiger Prawns for starters. The dish comprises a delectable prawn ceviche marinated with mango and Yuzu juice with a dash of habanero chilli for an element of spice. Next, the entrée. A decadent portion of seared scallop and truffle cream for the Celery Root Velouté followed by your choice of main course between the Beef Wellington or the Salmon Phyllo Parcel. The Beef Wellington is cooked with a red wine reduction and served with mashed potatoes, Bouchon Ceps mushroom, and heirloom carrots. The salmon is prepared with a citrus Beurre Blanc sauce and served with a side of mashed potatoes, heirloom carrots, and balsamic glazed vine tomatoes. What is Valentine's without some delicious desserts to end the meal on a sweet note? The Golden Red Caramel Chocolate Box is filled with all sorts of goodies, from milk chocolate "Bavarois," to passionfruit jelly and dark chocolate Petit Fours.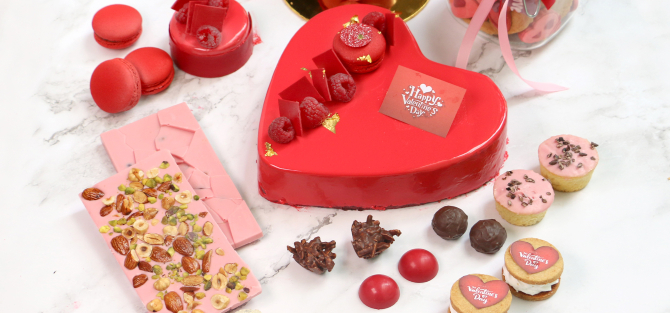 Price:
Dinner Set Menu: RM398 nett per couple
Dinner Set Menu with a bottle of Champagne: RM786 nett per couple
---
Availability: 12th - 14th February
Address: 11, Jalan Sultan Ismail, 50250 Kuala Lumpur
Contact: 03 2074 3900 or 019 390 2257
Email: [email protected]
Instagram | Facebook | Website
2. Le Méridien Kuala Lumpur
Le Méridien Kuala Lumpur is set to deliver a dynamic four-course gourmet dinner for two right to your doorstep. The hotel is presenting a Valentine's Day box containing everything you need for an immaculate fine dining experience for you and your other half at home. Each course is even named after a cute phrase that seemingly represents the "commandments" of love. The appetiser or the "Love Is Patient" kickstarts the meal with an asparagus orange salad with crabs, prawns and fennel terrine green pea cream. For the intermediate portion of the menu or the "Love Is Kind" dish, it's the Cream of Wild Mushroom Soup with blue cheese gnocchi and brioche croutons. The main course is titled "Love Does Not Envy" which is a Harissa-Spiced Chicken Roulade and the Smoked Duck Breast Pot Au Feu with truffle gyoza. Last but not least, the "Sweet Endings" for dessert: Sweet hazelnut mixed with zesty lemon in the White Chocolate Pudding, topped off with the Yuzu Honey Shooter Tube and a side of strawberry mascarpone cream.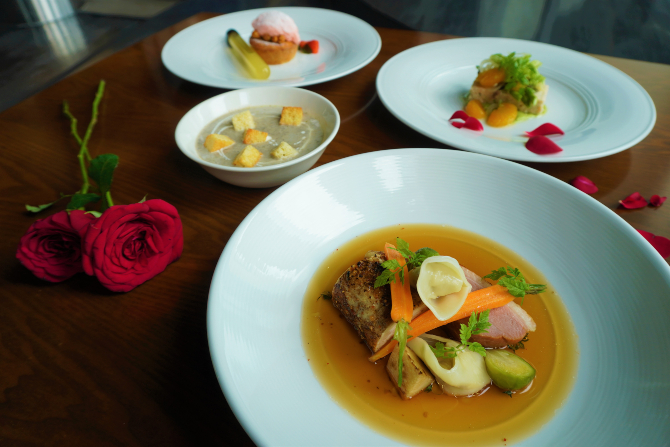 Price:

Valentine's Day box: RM198 per couple
Valentine's 4-Course Set + a bottle of G.H. Mumm Cordon Rouge Brut Champagne, France + a pair of champagne flute: RM698
Valentine's 4-Course Set + a bottle of Matua Sauvignon Blanc, Malborough, New Zealand: RM320
Valentine's 4-Course Set + a bottle of Finca La Linda Malbec, Mendoza, Argentina: RM320
---
Availability: 12th - 15th February (Pre-order it here at least one day before)
Address: 2, Jalan Stesen Sentral, 50470 Kuala Lumpur
Contact: 03 2263 7888
Email: [email protected]
Instagram | Facebook | Website
3. St. Regis Kuala Lumpur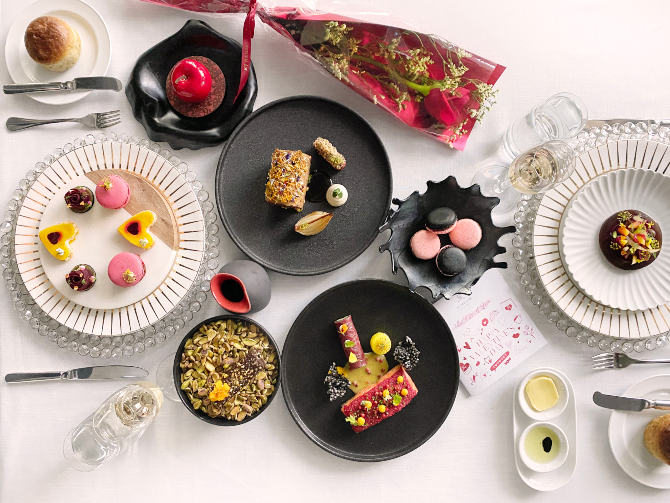 For Valentine's Day, St. Regis Kuala Lumpur has prepared a luxurious feast, and it's one for the meat lovers! The three-course menu consists of a hearty Dark Chicken Consommé soup, which has pickled shallot, sumptuous red meat dumplings and it's topped off with garlic croutons. Next, the Black Angus Prime Beef Tenderloin consists of caramelised onion, celeriac puree, and 62 per cent Valrhona dark chocolate. For dessert, a lovely Pommes D'Amour, which is a vanilla mousse with apple compote, sable and apple ginger gel. The difference between the three-course meal and the five-course meal is the addition of the Foie Gras Magnum as a starter and the Amuse Bouche. Honestly, you won't regret the addition of the Amuse Bouche—it's not only elegant on the palate, but it's also a sight for sore eyes. You have the Beetroot and Apple Flower, a gorgeous Savoury Pink Macaron with Fig Chutney and the Melon and King Crab Salad.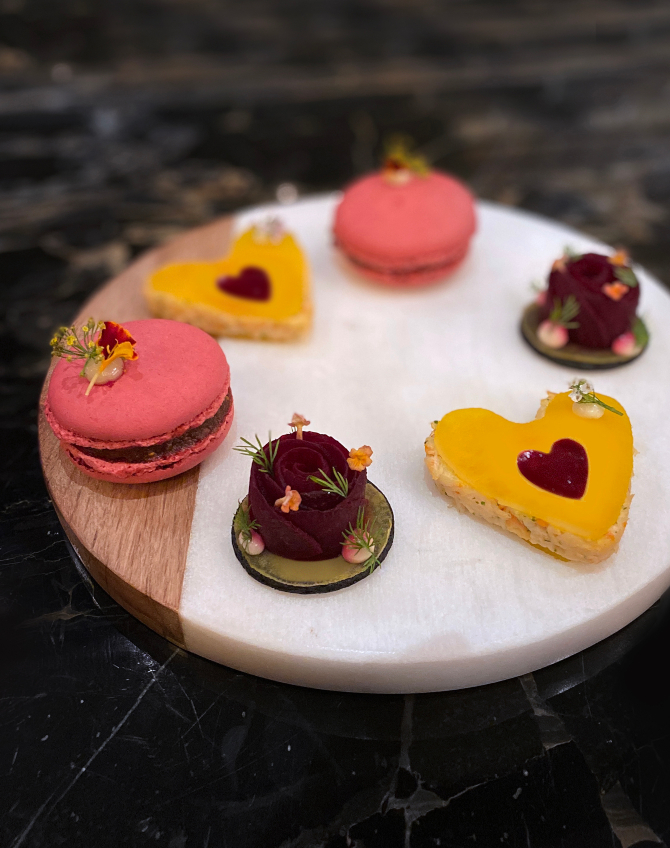 Price: 
3-Course Menu: RM580 per couple
5-Course Menu: RM780 per couple
---
Availability: 12th - 14th February 
Address: No 6, Jalan Stesen Sentral 2, 50470 Kuala Lumpur
Contact: 012 2801 303
Email: [email protected]
Instagram | Facebook | Website
4. W Hotel Kuala Lumpur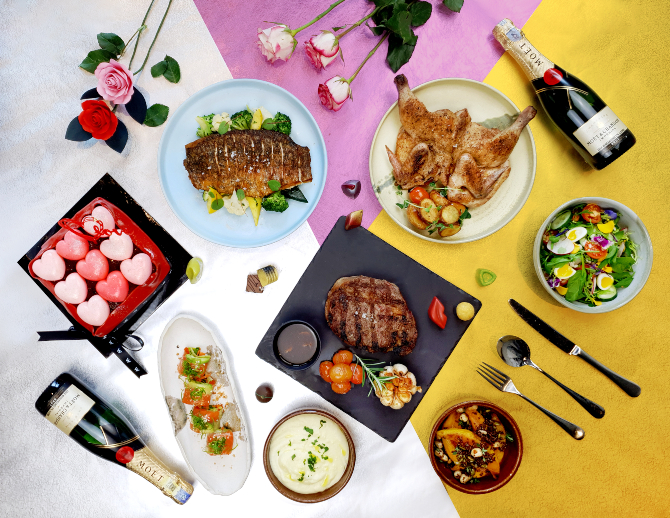 While dining in an intimate restaurant during MCO may be out of the question, dinner at home can be just as exciting with a romantic meal for two, courtesy of W Hotel Kuala Lumpur. Here's a quick rundown of the menu. The starters incorporate a mix of local flavours with a Japanese twist. The first is the Dale Kekurub Salad; featuring Sarawak Job's Tears (a tropical plant native to Southeast Asia), quail eggs, heirloom tomatoes, Kyuri sunflower seeds with a zesty lemon vinaigrette. Next, the Fresh Salmon Rice Paper Rolls comprised of sea grapes, fresh avocado, scallions, refreshing watermelon radish and Yuzu finished with Shaoxing wine. For mains, you have a choice of two from the selection of three. You may choose the Roasted Spring Chicken with fresh coriander sauce, the Grilled Australian Beef Rib Eye or for a seafood option, the Baked Barramundi Fillet with capers sauce. Then there's the dessert. We recommend the Pop! Goes My Heart, a French Framboise Cream and Vinalla génoise cake sandwich with fun white chocolate popping candy.
Price:
"Just The Two Of Us" meal: RM369 per couple
Moët Chandon Brut 375ml add-on: RM158
---
Availability: 13th - 14th February 
Address: No. 121, Jalan Ampang, 50450 Kuala Lumpur
Contact: 03 2786 8888 or 012 347 9088
Email: [email protected]
Instagram | Facebook | Website
5. Maria's SteakCafe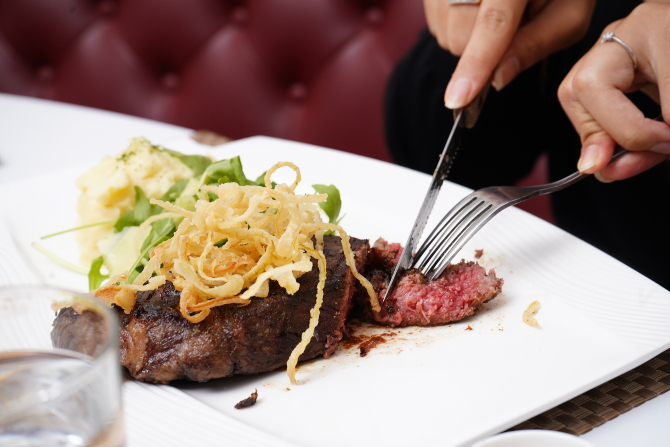 Maria's SteakCafe is offering a four-course home delivery menu for Valentine's Day with main course options that range from Australian or Japanese Wagyu to Atlantic White Cod to New Zealand Lamb. We had the opportunity to try this menu and trust us when we say they didn't disappoint. The Atlantic White Cod, in particular, was sensational. This melt-in-your-mouth main had a robust sake sauce, and a side of roasted potatoes and sautéed vegetables. The main course is accompanied by a delicate smoked salmon—as one of the appetisers—which was flavourful with every bite. The salmon portions were rich, tender and cooked to perfection, without the flesh being over-tenderised. The appetisers include a mushroom soup as well as a pumpkin soup. Both were a savoury delight, but between the two, the pumpkin stands out for its flavour. The soup was both thick and creamy with a velvety smooth texture. Then, there is the moist chocolate cake. The word 'moist' is apt here as every spoonful had a correct balance of spongy, rich chocolate cake with an indulgent dose of chocolate icing.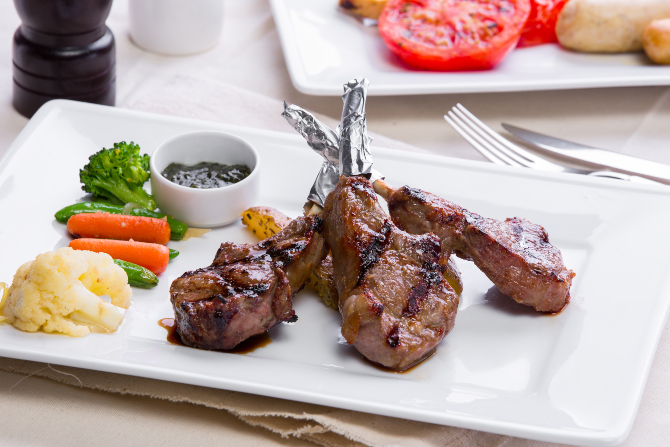 Price:
Valentine's Day Delivery four-course set menu: Prices differ according to your choice of the main course. You may view the full menu and/or order online here.
Valentine's Day Meal Kit three-course set menu: RM280++ per couple* (beef top up options are available)
---
Availability: 6th - 21st February
Address: 58, Jalan Maarof, Bangsar, 59100 Kuala Lumpur
Contact: 03 2282 2220
Address: Jalan PJU 8/1, Damansara Perdana, 47820 Petaling Jaya, Selangor
Contact: 03 7725 2313
Address: 5A, Jalan PJS 11/7, Bandar Sunway, 47500 Subang Jaya, Selangor
Contact: 03 7496 6415
Instagram | Facebook | Website
6. Knowhere Bangsar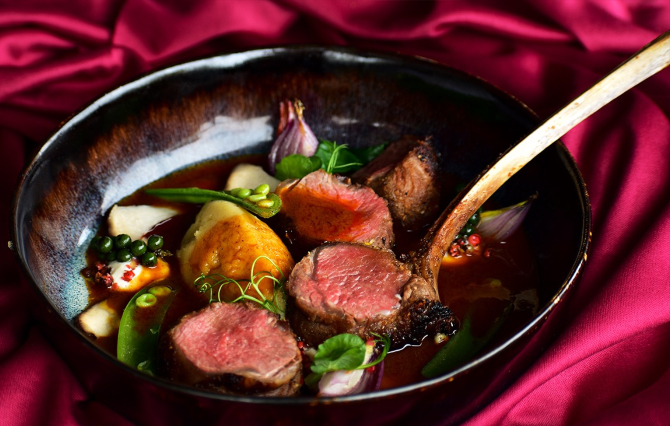 What do you get when you combine a juicy, spice-marinated French Lamb Rack alongside a gorgeous Belgian Cheese Cakesicle, placed in front of some sexy red satin fabric? You get a romantic dining experience for two thanks to Knowhere Bangsar. The curated Valentine's Day menu by Knowhere gives you three choices for the main course. One, the Whole Roasted Chicken Leg, cooked with a sumptuous soy au jus and shiitake scallion risotto. Two, the Red Emperor Fish Fillet with ginger soy, mustard and cherries. Last but not least, the spice-marinated French Lamb Rack, cooked with a delicious Szechuan au jus, served with a healthy portion of mashed potatoes, greens and king oyster mushrooms. Then, we get to dessert. There is the Belgian Cheese Cakesicle (yes, that's a combination of cake and popsicle), topped off with caramelised hazelnut and the Strawberry & Peach Cakesicle. Each with its own decadent crunchy shell that's a bite away from revealing the sweetness within. The best part is, you get both. So it all boils down to you and your partner's preference between chocolate or strawberry.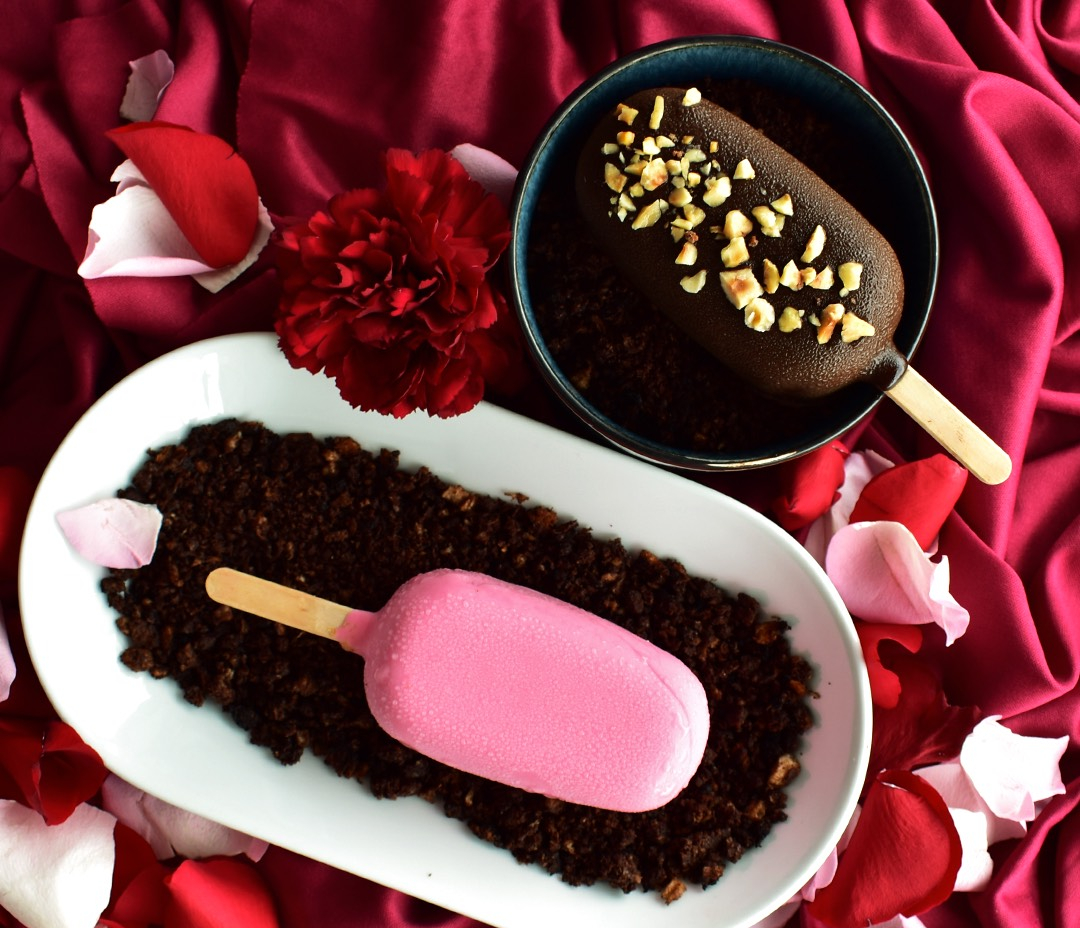 Price:
In The Mood for Knowmance for two: RM288++ (delivery only)
---
Availability: From 12th - 15th February (pre-order by the 9th)
Address: 50, Jalan Maarof, Bangsar, 59100 Kuala Lumpur
Contact: 010 220 2358
Instagram | Facebook | Website
7. Champignons by Gary Chang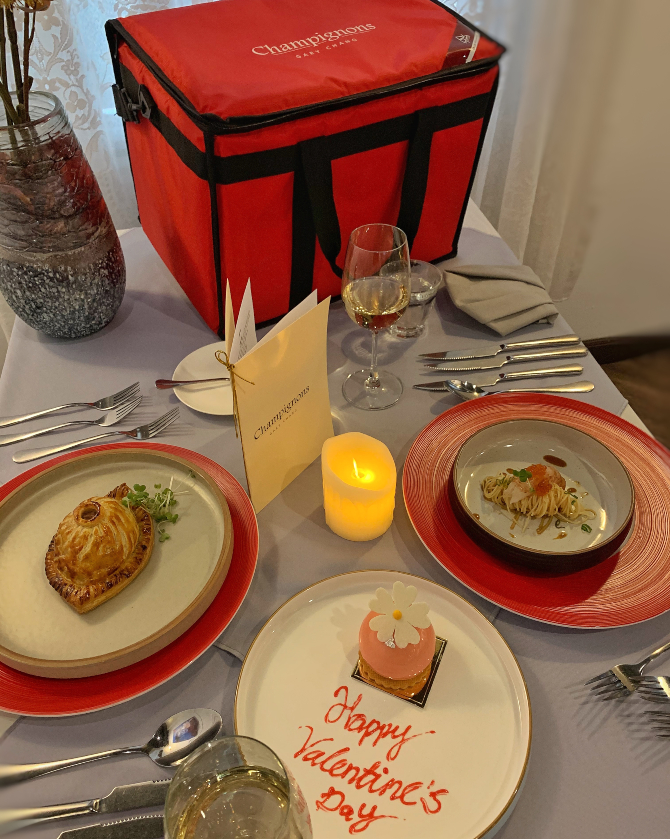 Champignons by Gary Chang provides a contemporary take on European-style cuisine while also incorporating some Asian influences and modern preparation techniques. So what's on the menu for Valentine's Day? You have a luxurious Blue Fin Tuna Tartar with Kaviari Caviar followed by the second starter; the Argentinian Red Prawn served with somen noodles, ikura, and spring onions and finished with a honey sesame soy dressing. The main course is a Baked Duck Pie with Foie Gras and the Baked Salmon in Puff Pastry. The foie gras is not one to be missed. Plus, the flavours of the sautéed baby spinach complement the Baked Duck Pie well. For dessert, there's the heavenly Daisy and Mont Blanc Cake Platter. It's romantic and perfect for sharing.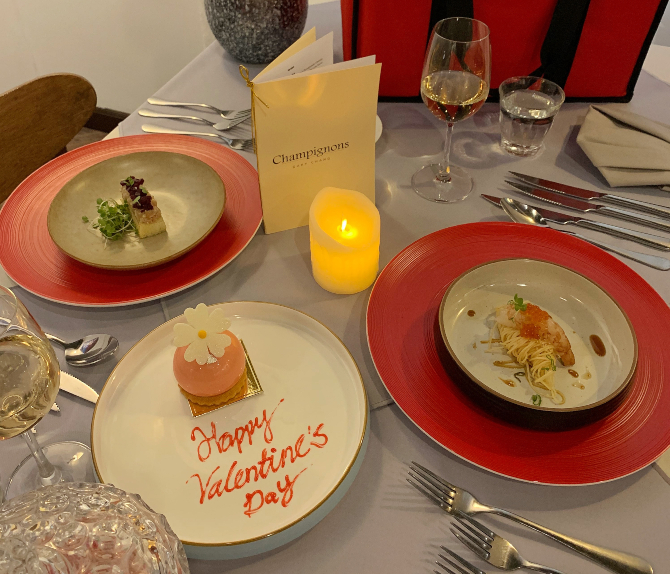 Price:
Valentine's Day Menu: RM288 (+10% per person)
---
Address:  B-G-02, Oasis Square, Ara Damansara, 47301 Petaling Jaya
Contact: 03 7832 2629
Email: [email protected]
8. Sitka Studio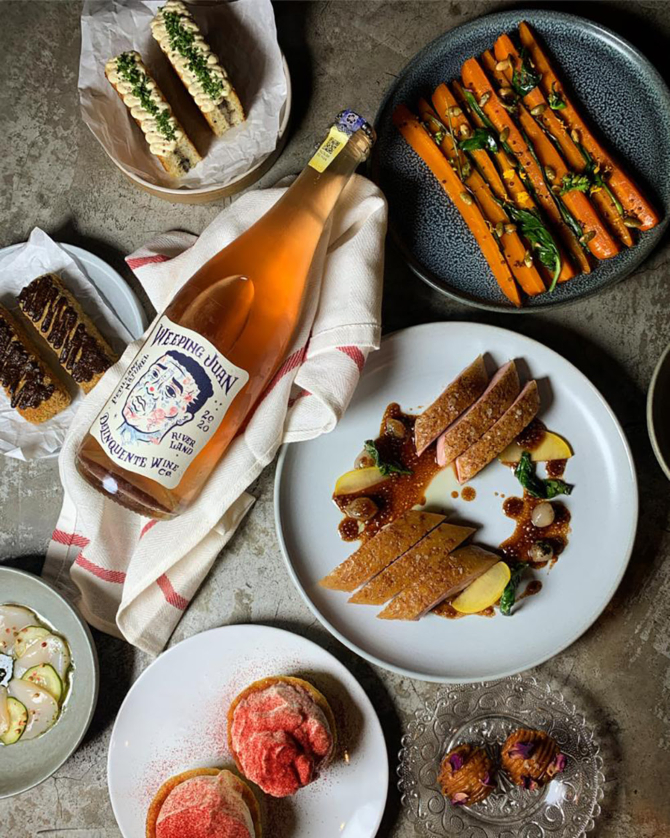 Sitka Studio's Valentine's Day home boxes stand out for several reasons. Like how it's a six-course menu for two (includes two snacks, a raw dish, their signature aged duck and a dessert). And the fact that they are collaborating with Delinquente to offer delicious bubbles with a refreshing spin. Think urban wine meets millennials—it's unlike any traditional drink you might have had before. As for the savouries, there's the Black Truffle Toasty, Kombu Cured Japanese Scallops, Braised Duck Croquette, 28 Day Aged Duck Hibiscus, Brown Butter Financier and Rice Pudding Cake, to name a few. With just this order, you'll be all set for a romantic dinner at home with some sparkling wine to get you into the Valentine's Day mood.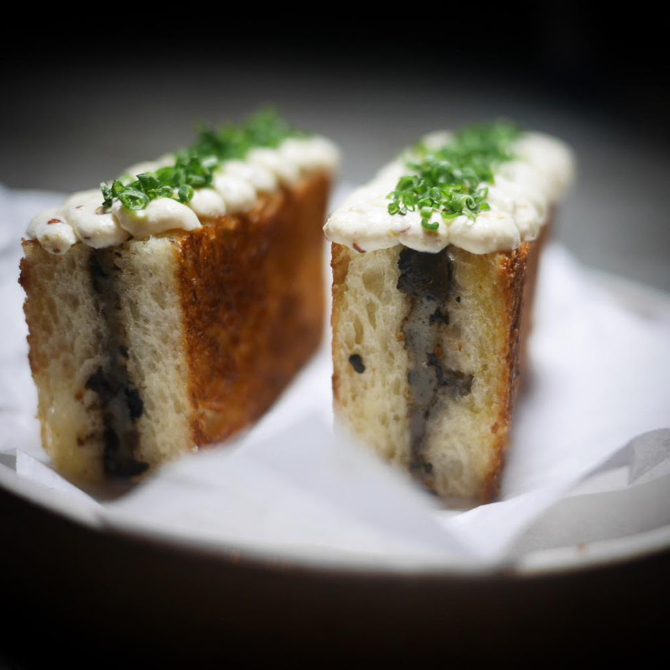 Sitka and Alta both remain open for takeaway and deliveries, from 11am - 9.30pm.
Price: 
Studio At Home Valentine's Box:
RM650 (with wine)
RM500 (without wine)
You can also place your orders here
---
Availability: From 12th February onwards
Address: 8-5A, Jalan Batai, 50490 Kuala Lumpur
Contact: 010 986 9832
Email: [email protected]
Instagram | Facebook | Website