Featuring steak, cheese and a whole lot of delicious flavours!
What do chefs cook at home? It's a thought that we often wonder. In our new series 'Malaysian Chefs Cook at Home', we invade visit the houses of a few prominent names in the food industry and got them to cook up a simple dish that they enjoy making when the soul calls for it. No frills, simply delicious!
Kicking off our new series is Chef Chai of Copper Restaurant. Chef Chai is trained in Switzerland and he relishes in European cuisine mixed with Mediterannean flavours for his restaurant that he co-runs with his wife, Zeehan Zahari. Located at Menara Shell, Copper has been around since 2015 with a menu that's ever-changing every few months. Chai's cooking philosophy is to source local whenever and wherever they can. And sustainably too if he can help it.
Now back to an afternoon in Chai's home. A particular dish that he loves to make is a steak sandwich that was first created by Zeehan years ago. It's a meal that he craves for when not cooking himself. Happy to report that Chai's result below got two thumbs up from the lady of the house herself. Enjoy!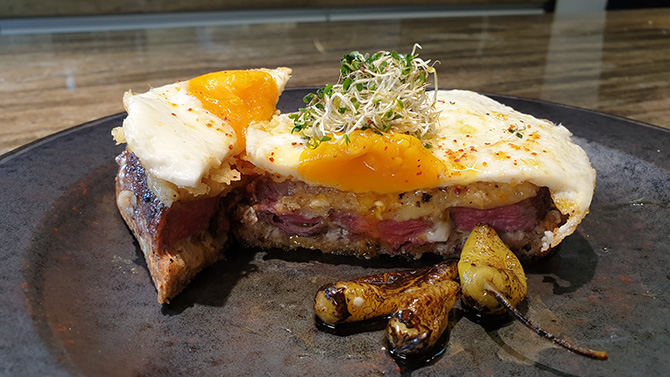 OPEN-FACE STEAK SANDWICH
Ingredients:
Olives with pimento + juice
Mayo
Bega extra tasty cheese
Mozzarella shredded
Pecorino Romano cheese
100g 'day-old steak' or fresh steak
Sarawak crack pepper
Turkish pickled chillies
Aop French espelette peppers / chilli flakes
Fresh humane-certified eggs
Alfalfa
Sea salt flakes
Multigrain toast
Methods:
Start off with preheating pan and air fryer.
Same time turn on the convection oven around 200c with top heat funtion.
Season the steak lightly and evenly on both sides.
Add oil to pan, once lightly smokey, sear till caramelised on both sides, turn every 2 minute till medium rare – medium according to preference, let rest.
Wipe clean pan and add oil, heat up, make a sunny side egg, once ready remove and place on a baking tray, set to the side.
Meanwhile mix mayo and olive brine till light and spreadable, fold in chopped olives, mix well and spread on toast.
Slice the beef and lay on top of mayo olive mix, top it up with grated Bega cheese (you can add on shredded mozzarella), grate Sarawak black pepper generously over the cheese.
Slide into pre-heated air fryer for 2-3 minutes till cheese are melted and lightly gratinated.
Make a sunny side egg and bake in oven with top heat to lightly cook the the surface of the egg yolk to reach a thicker viscosity, you can skip this step if you like runny yolks.
Place on top the gratinated cheese, add a small mount of alfalfa, extra virgin olive oil and a side of Middle Eastern chilli pickles.