When your loved ones call for a heart-warming pasta meal, be sure to give this simple recipe a try
Over the last few years, contemporary dining has been a source of joy for many diners here in Klang Valley. And more so, for the chefs who get to share their creativity on plate. It was precisely this opportunity to cook from the heart that drove chef and restaurateur, Lim Heng Kit to start up Li Restaurant in 2016 together with co-founders, Lim Yee Rui and Lee Ziyan. Li Restaurant is best known for its modern interpretation of Malaysian favourites such as sous vide kaya on sourdough, pork toast and hearty rice bowls. Good, quality food that pay homage to our heritage and traditions.
An offshoot of Li is a new café called Provisions that has popped up beside the restaurant, where the founders can now focus more on baked goods and coffee. You can say Heng Kit has his hands full. But it's something he wouldn't trade for anything as he finds cooking a way for him to create and share what he enjoys himself. Lucky for you, we managed to convince him to share one of his personal favourite pasta dishes for our final episode in the Malaysian Chefs Cook at Home series. This spaghetti with cherry tomato sauce is so simple yet flavourful. Enjoy!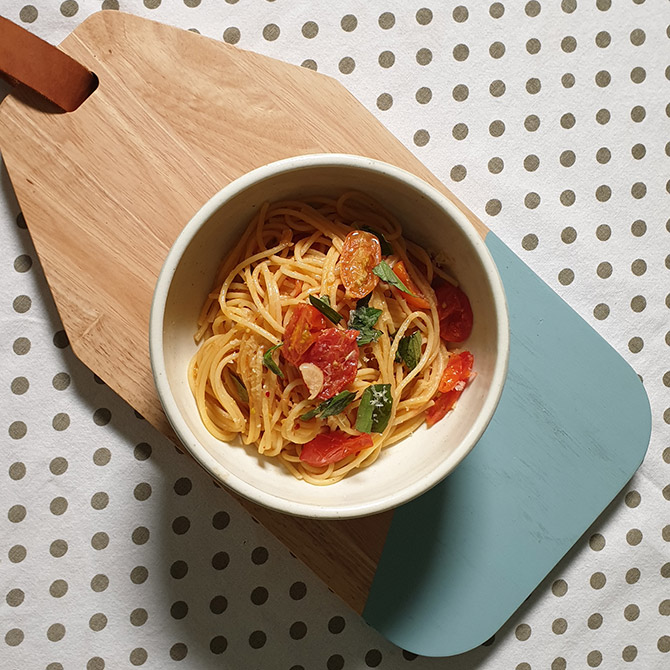 SPAGHETTI with CHERRY TOMATO SAUCE
Ingredients:
300g spaghetti
15 nos cherry tomatoes
6 cloves of garlic
1 sprig of Thai basil
1 tbsp of chilli flakes
½ cup of olive oil
Parmesan cheese, season to taste
Salt and pepper, season to taste
Methods:
Cook pasta in a large pot of boiling salted water, stirring occasionally, until al dente or according to preference. Keep pasta water.
Heat ½ cup of oil in a large heavy pot over low heat. Add garlic and cook, stirring until fragrant but not browned, about 2 minutes.
Add tomatoes, red pepper flakes, basil sprigs and 1½ teaspoon salt on a medium heat. Cook, stirring to coat, until tomatoes start to burst, about 4 minutes. Smash some tomatoes with the back of a wooden spoon to help create a sauce, then continue to cook, stirring occasionally, 10 – 12 minutes.
Drain pasta, add to pot with sauce along ½ cup of pasta water, and cook over medium heat, stirring, until coated, 1 – 2 minutes. Remove from heat and stir in 1 oz. Parmesan.
Divide pasta among bowls. Top with more Parmesan and 1 cup of basil leaves. Drizzle with oil. Enjoy.