Fasting doesn't just reward you spiritually, it offers a range of health benefits too—if done right, of course, and that includes your food choices. From better weight management to lowered blood lipids and blood pressure to improved blood sugar control, it's possible by planning your sahur and buka puasa meals to include complex carbs, lean protein, high-fibre grains, veggies and fruits, low-fat dairy and healthy fats; all so that the energy from them will be released slowly and steady while ensuring your body gets all the vitamins and minerals it needs.
One good tip is to add superfoods to your food intake, and chia seeds, for example, come highly recommended as they contain heart-healthy Omega-3, protein, fibre, antioxidants and essential nutrients such as calcium, magnesium and vitamin B3.
"With its nine essential amino acids, chia seeds are considered the 'complete' protein. Combine that with its high fibre content (10g per two tablespoons), chia seeds give you long-lasting energy throughout your fast, making it ideal for sahur. Just add a tablespoon to your food or drink, and you're good to go," says Hendry Cheah, founder of Spoon Health.
Together with Rawsome, Spoon Health has shared four easy delicious recipes using chia seeds that you can try during (and after) Ramadan.
Strawberry chia seed jam
Make a big batch of this at the start of Ramadan, and enjoy this at every sahur with whole wheat bread.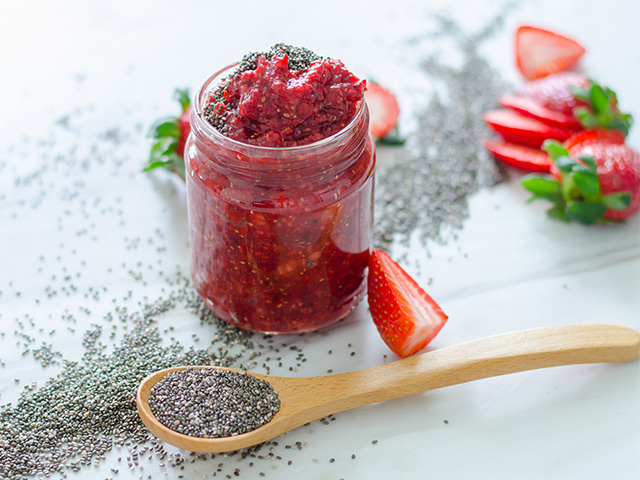 Ingredients
500g fresh strawberries (or ½ fresh + ½ dried)
2 tbs chia seeds
1/4 cup pure maple syrup (or sweetener of choice), or to taste
Elderflower cordial (optional), to taste
Method
1. Chop strawberries into cubes and cook on medium heat with maple syrup and elderflower cordial. Stir occasionally, until soft.
2. Carefully mash with a fork until it reaches the consistency of your liking.
3. Stir in the chia seeds, and cook for another minute.
4. Remove from heat, and let it sit until it becomes thick.
Coconut chia seed pudding
A delightful sahur and buka puasa treat.
Ingredients
200ml coconut milk
2½ tbsp chia seeds
2 tsp honey (or gula Melaka/sweetener of choice)
1 knot of pandan leaf
2 mangoes, cubed
Method
1. Mix coconut milk, honey and chia seeds in a bowl.
2. Stir until smooth, and add pandan leaf. Keep in the refrigerator overnight.
3. Remove pandan leaf from pudding.
4. Serve pudding chilled, with cubed mangoes.
Cashew Chia
Snack on these post-iftar, to sneak in more chia goodness.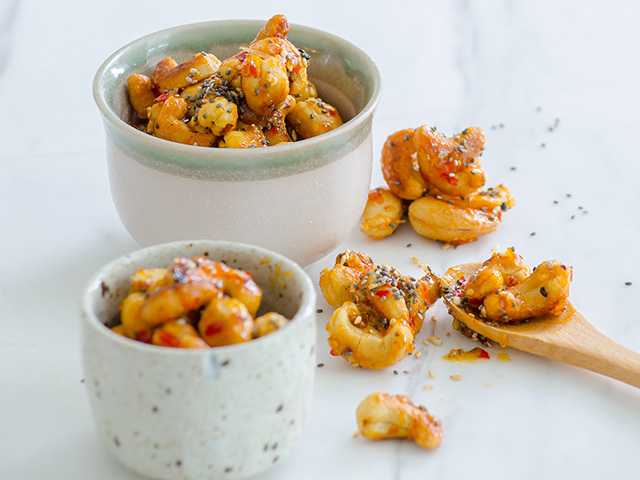 Ingredients
2 cups raw cashew nuts
1 tbs chia seeds
½ tsp salt
1 tsp chilli flakes
2 tbs Thai Chili sauce
Method
1. Preheat oven to 140˚C.
2. Spread cashews evenly on a baking tray, and place in oven. Bake for 10 minutes.
3. In a large bowl, mix chia seeds, salt, chilli flakes and Thai chilli sauce together.
4. Once the cashews are ready, toss them into the bowl and mix well.
5. Bake for another  2 minutes or until golden brown.
Chrysanthemun Chia Tea
A calming, yet refreshing drink after a day of fasting.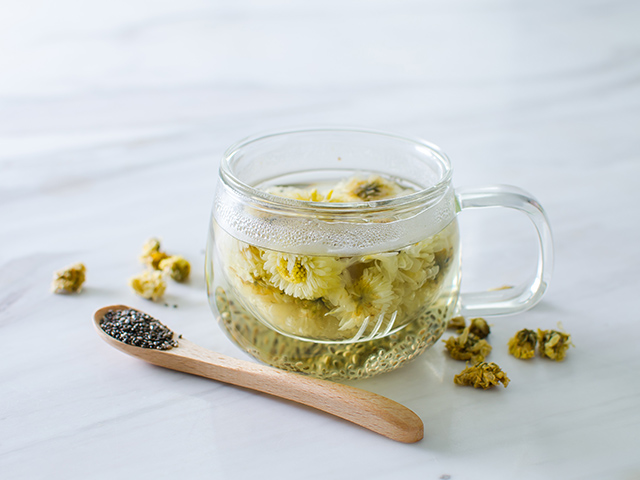 Ingredients
Dried chrysanthemum blooms
1 tbs chia seeds
Boiled water
Sweetener of choice, to taste
Method
1. Steep a few dried blooms in a cup of boiled water for a few minutes.
2. Add chia seeds and sweetener of choice.
3. Serve hot or cold.
Related stories:
Where to eat this Ramadan season in KL
Healthy snacking: Vegetable chips
| | |
| --- | --- |
| SHARE THE STORY | |
| Explore More | |