You've read on things to know if you want to open a cafe like Jaslyn Cakes; being a female politician in Malaysia; starting a snack food company; or even being a wedding planner. Here's another sweet career change advice if you've ever considered starting your own gelato business. Take it from founder and gelato maestro of Whimsical Gelateria, Ong Kee Win. He has been crafting gelato since 2011 and has even won the Gelato World Tour!
Tell us what's unique about the gelato by Whimsical Gelateria.
At Whimsical, we don't take shortcuts. Our gelato is built from the ground up. No industrial powder mixes, no pastes, no flavourings, no colourings—you get it. We puree fresh fruits, roast nuts, temper chocolate, cook sauces, infuse herbs, and grind spices. It is our passion and determination to extract the finest flavours from every ingredient we use. We churn our gelato in small batches to keep them fresh. As far as we know, we are the only gelateria in town who craft gelato the true artisanal way.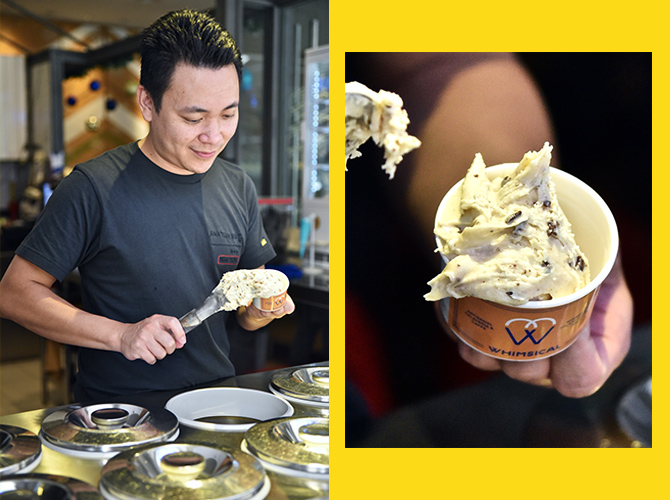 whimsical gelato kl founder
What was your original background and did it help to start Whimsical Gelateria?
My previous career was sort of like Captain Planet. I was an environmental science graduate from the United States. I was saving the earth by working on carbon emission reduction projects for five years prior to starting Whimsical. Now I'm saving the world by serving truly artisanal desserts to keep mankind happy! My previous career did help me in terms of budgeting as well as project planning when I was starting up Whimsical.
Where or how did you learn to make gelato?
A trip to Italy many years ago—where I first encountered gelato—has imprinted the taste and texture of gelato in my mind. I had pistachio gelato which carried such an intense nutty flavour with cloud-like smoothness. It lingered in my mind ever since and lured me into trading my environmental science career with a gelato-making course in Italy. That's where I learned the art of making gelato from scratch as well as the science and math behind it. I then returned to Malaysia and spent another year to source for ingredients, research and develop both classic Italian and locally inspired flavours.
View this post on Instagram
Any tips for those aspiring to start their own gelato business in KL?
Don't. (laughs) Many who have not been in the F&B industry have only seen the façade of the business. For example, a busy establishment during lunch/dinner hour, the fun of creating a new beverage/dish, etc. But in fact, a lot of hard work goes behind the scene: long hours, dealing with customers, suppliers and staffs—the list goes on. It's an industry that's not for the faint-hearted. So my best advice for those who really want to get into F&B, talk to the people who are in the industry first to be sure that's what you want to do.
How often are new flavours introduced at Whimsical Gelateria?
We can whip up new flavours at any given moment. There are at least a few new ones every month.
And where do you get the inspiration? 
My inspiration comes from everywhere. A nasi lemak meal has inspired me to create our famed nasi lemak gelato back in 2012. A childhood memory of pandan layer cake has inspired me to create my award-winning gelato, Vanilla of the East, which is a pandan and vanilla beans gelato with gula Melaka and basil seeds. A bite of sourdough bread during breakfast has led me to create sourdough and French butter gelato.
View this post on Instagram
How long does it take before a flavour is approved to be sold at the cafe?
It depends. Every flavour has its own personality. Some flavours develop a more complex flavour profile with time while some fade away. Some flavours are achieved at the first attempt while others require months.
We hear you'll be creating a special Buro. gelato flavour for our #BuroLovesGiving! Care to share a little about it to tease our readers on what to expect?
That's right! It's our pleasure to be a part of the #BuroLovesGiving campaign. I have created a flavour based on cranberry which evokes the Christmas festivities in me. It would be a cranberry gelato with brown butter streusel, topped with Chantilly cream with a sprinkle of Ceylon cinnamon, crowned with a Christmas tree meringue. At first bite, you taste a fruity and floral fragrance from the cranberry gelato. Then the nutty fragrance from the brown butter comes into play while the cinnamon Chantilly cream marries everything together, ending with a lingering sweetness.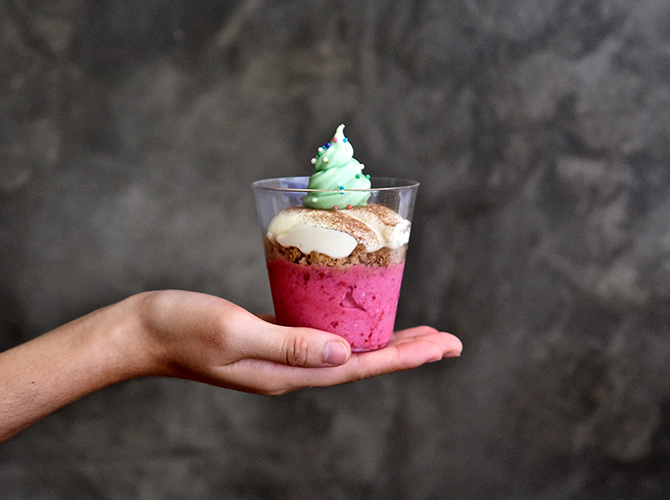 whimsical gelato kl buro christmas flavour
That's right! This special Buro gelato, which we have named Merry Berry, is available at Whimsical Gelateria for RM13 throughout the month of December. RM1 from every sale will go to the Dignity for Children Foundation so that's double the sweetness. 
Merry Berry will also be sold during Buro at Riuh. See you there!
| | |
| --- | --- |
| SHARE THE STORY | |
| Explore More | |