With the surge in popularity for Formula One and MotoGP, the motorsport industry is clearly having a moment. Though Europe and the United States are the leading markets in terms of viewership, there is also growing interest in motorsports throughout Asia. 
Malaysia is no exception, and we have local talents to show for it too. One emerging Malaysian racing driver is Nazim Azman, who started racing in 2012. He went on to join formula racing on international circuits in 2016, clocking in over 190 races around the world—including the FIA Formula 3 Championship and the Euroformula Open Championship. 
This year, the 22-year-old made his professional debut with Sime Darby Racing Team in the Porsche Carrera Cup Asia 2023, which flagged off in April of this year. Ahead of Rounds 7 and 8 in Thailand, we caught up with Nazim on his journey as a racing driver and how he gears up for life on the fast lane.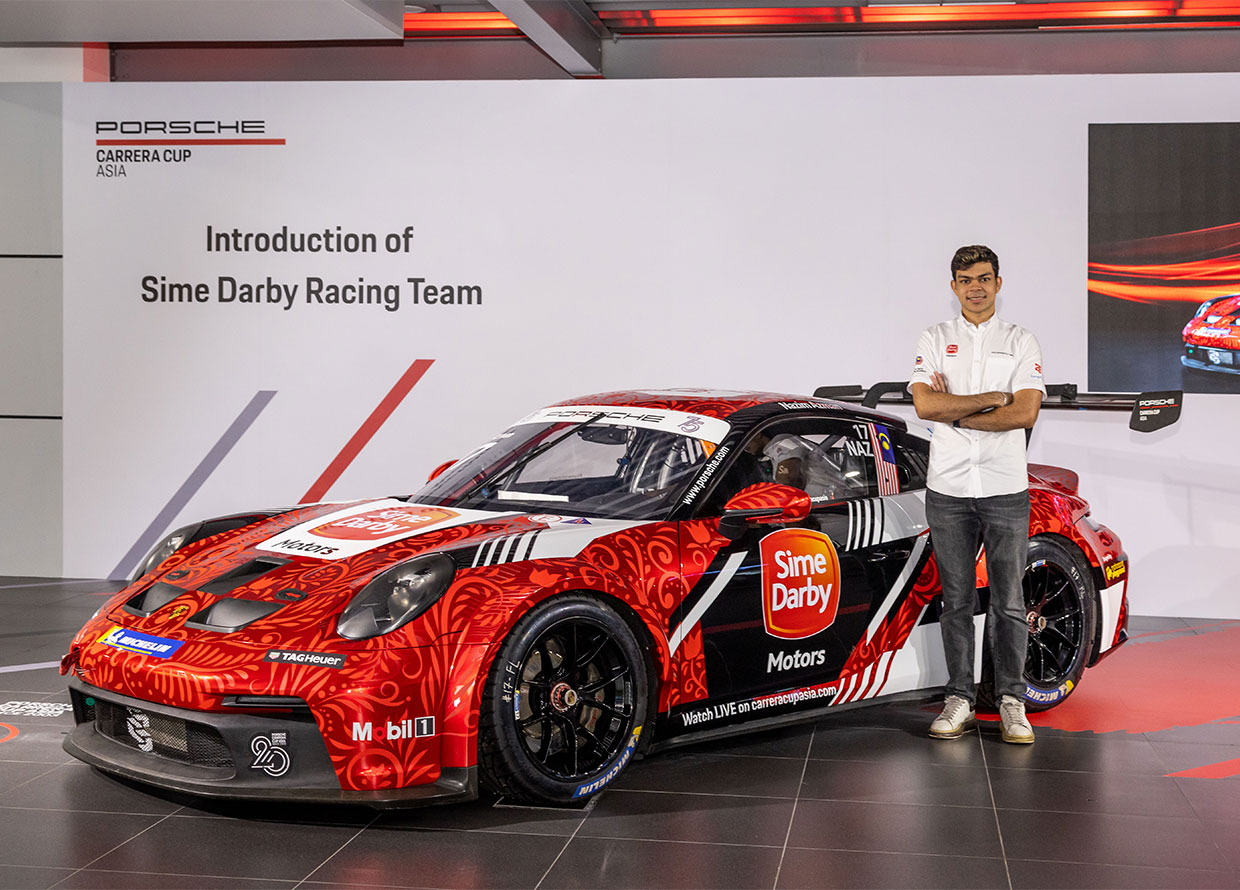 Tell us about yourself and how you got into racing. 
NA: I started in professional karting at an early age and slowly progressed up the ladder, eventually racing in FIA Formula 3 in 2022. It has been my dream to further pursue GT racing and it was my next step in my career progression. I am also grateful to have the support from my family, especially my dad who is a role model in my career, as he once raced in Porsche Carrera Cup Asia representing the Sime Darby Team 11 years ago.
Racing isn't a common sport in Malaysia. What made you decide to race competitively?
NA: I enjoy the thrill and fascination of racing, hence that motivated me to further pursue motorsport professionally. With Sime Darby Auto Performance's plan to pursue motorsport through the Porsche Carrera Cup Asia and its talent pool programme for young drivers, it was a great opportunity and stepping stone for me to enter the world of international motor racing under the Porsche umbrella.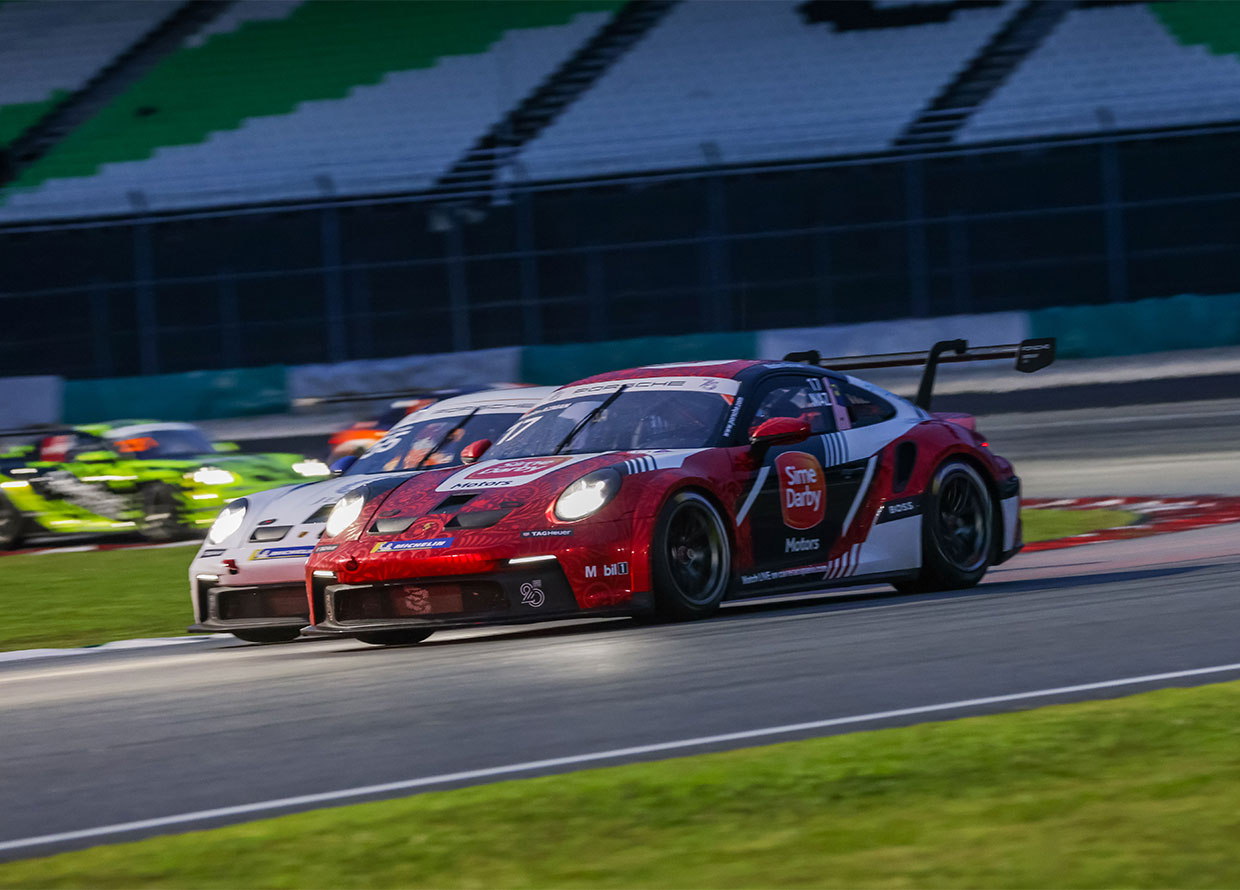 How does racing challenge you and what do you enjoy most about it?
NA: Racing poses multifaceted challenges, both physically and mentally. There's an intense pressure to make split-second decisions on the track, like the weather condition and track surfaces. The adrenaline rush, the art of perfecting each corner, and the exhilaration of competing against skilled drivers are aspects that I enjoy most about racing. Being a part of the Sime Darby Racing Team with great guidance and support from mentors and team members, I've learnt a lot to step up as a professional race driver.
This is your first year competing in Porsche Carrera Cup Asia. How did you feel at the start versus now? 
NA: The Porsche Carrera Cup Asia is a one-make race series, where every race driver competes in the same model and specifications which is the 911 GT3 Cup car. It is one of the most competitive sprint races and this season comprises a lot of top seasoned GT drivers. I enjoy the competitiveness as it helps to sharpen my racing skills and knowledge in the GT category.
In the beginning of the season, it was a mix of excitement and anxiousness. But as the season progressed, I felt more confident in handling the cup car and determined to strive for continuous improvement in my performance at the different race tracks. Keeping a positive mindset and trusting in the Sime Darby Racing Team to unleash the fullest potential and every little detail counts on the track.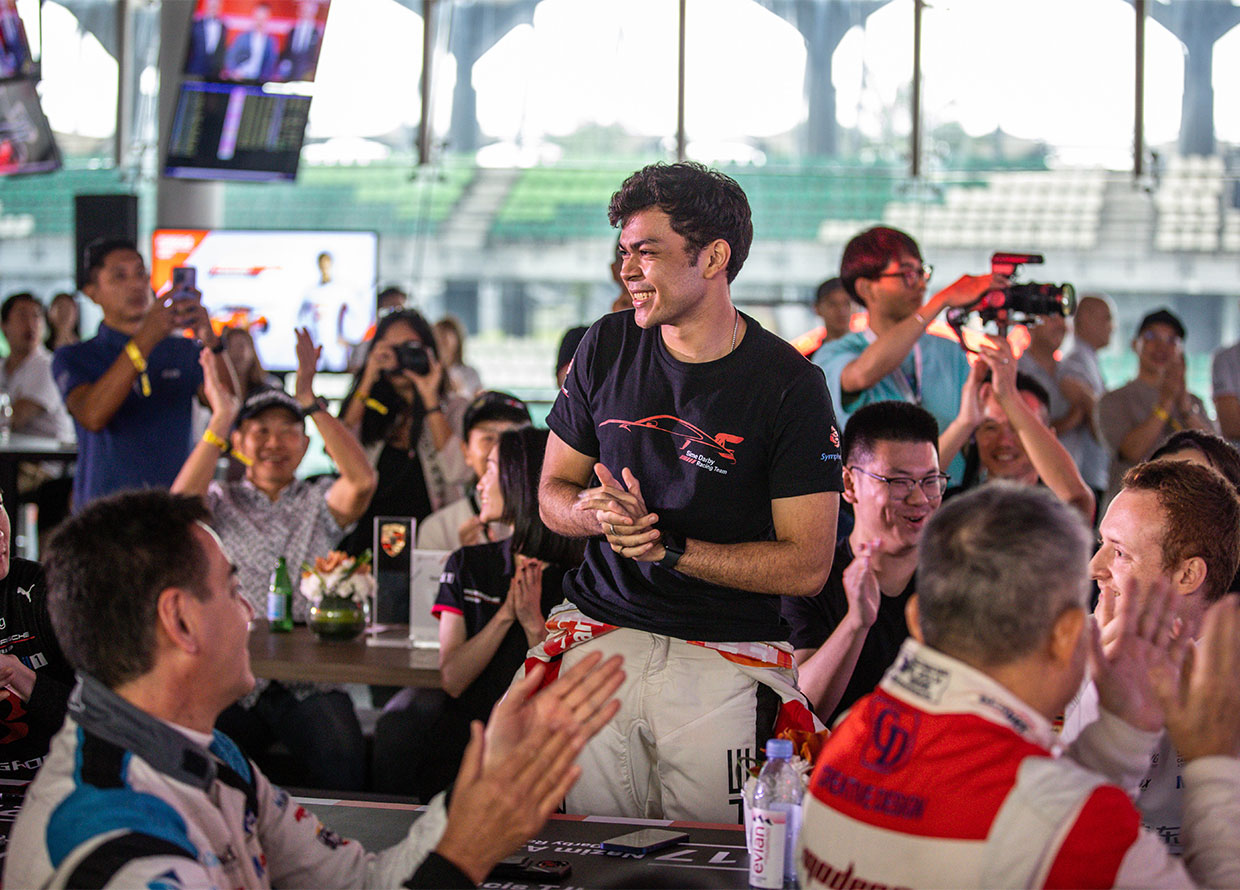 Describe a typical day in your life in preparation for each round of the competition. 
NA: Ahead of each competition round, I follow a disciplined daily routine especially during the Carrera Cup Asia Talent Pool Programme training. The preparation includes physical training to ensure peak fitness, simulator sessions for track familiarisation, and mental conditioning to stay focused during races.
What are your goals with regards to PCCA and racing in general?
NA: My goal is to strive to do my best in every round of the race throughout the season. Representing Sime Darby Racing Team, I hope to set an example or serve as a role model to elevate motorsport amongst the youth in professional racing. [I hope to] broaden my horizon in racing and aspire to upcoming opportunities to step up the game in international motorsport racing, representing the nation.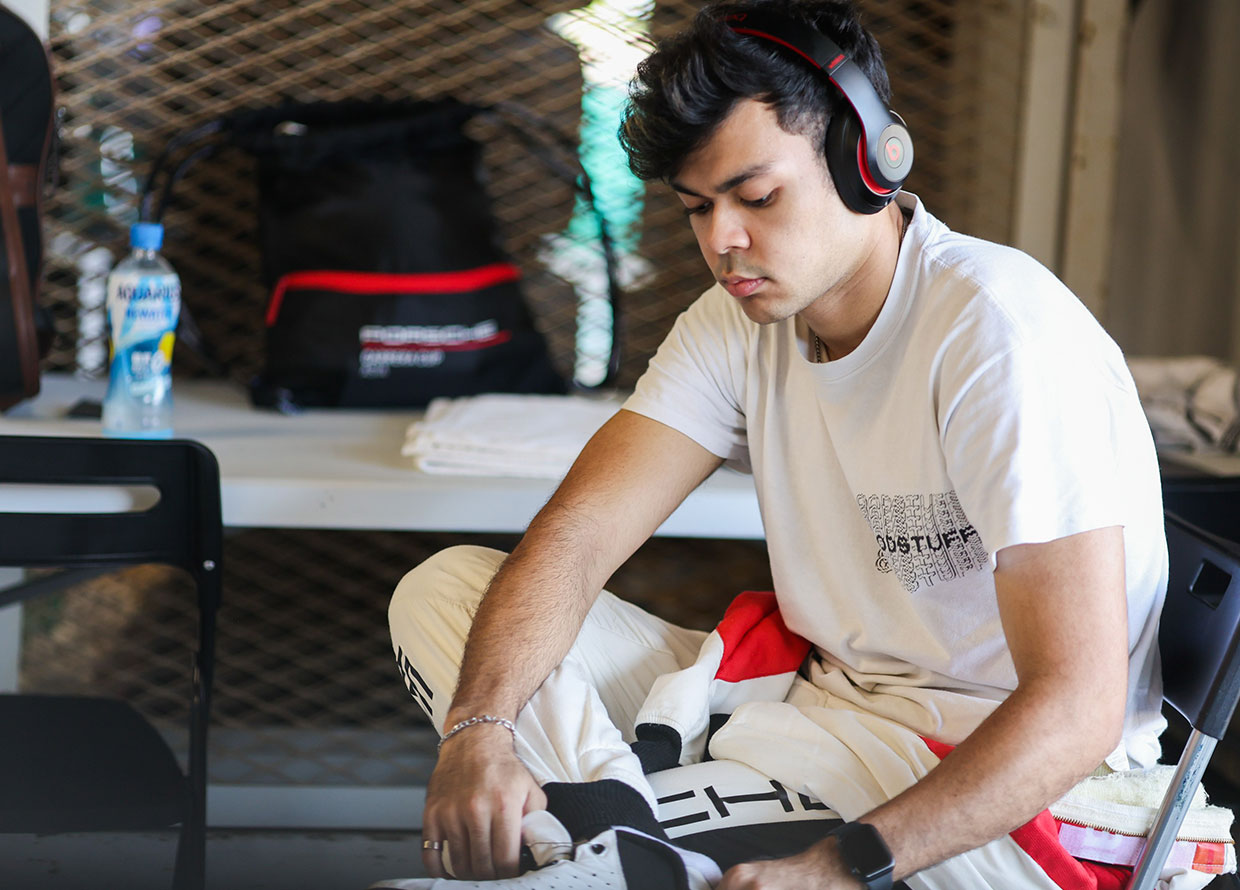 Do you have a routine right before each race to help you stay mentally prepared? 
NA: I would prepare for the race weekend by studying and learning about the racetrack to understand the landscape. Through practices using the racing simulator, it helps me to familiarise myself with the track, such as the racing lines and braking points references, to get ready for the actual race.
What would you say are the most important characteristics to have as a racing driver?
NA: Crucial traits for a race driver include exceptional determination, quick adaptability, precise decision-making, and the ability to embrace challenges. A relentless drive to learn and improve is vital in such a competitive sport. Having a positive mindset in every race is the winning formula.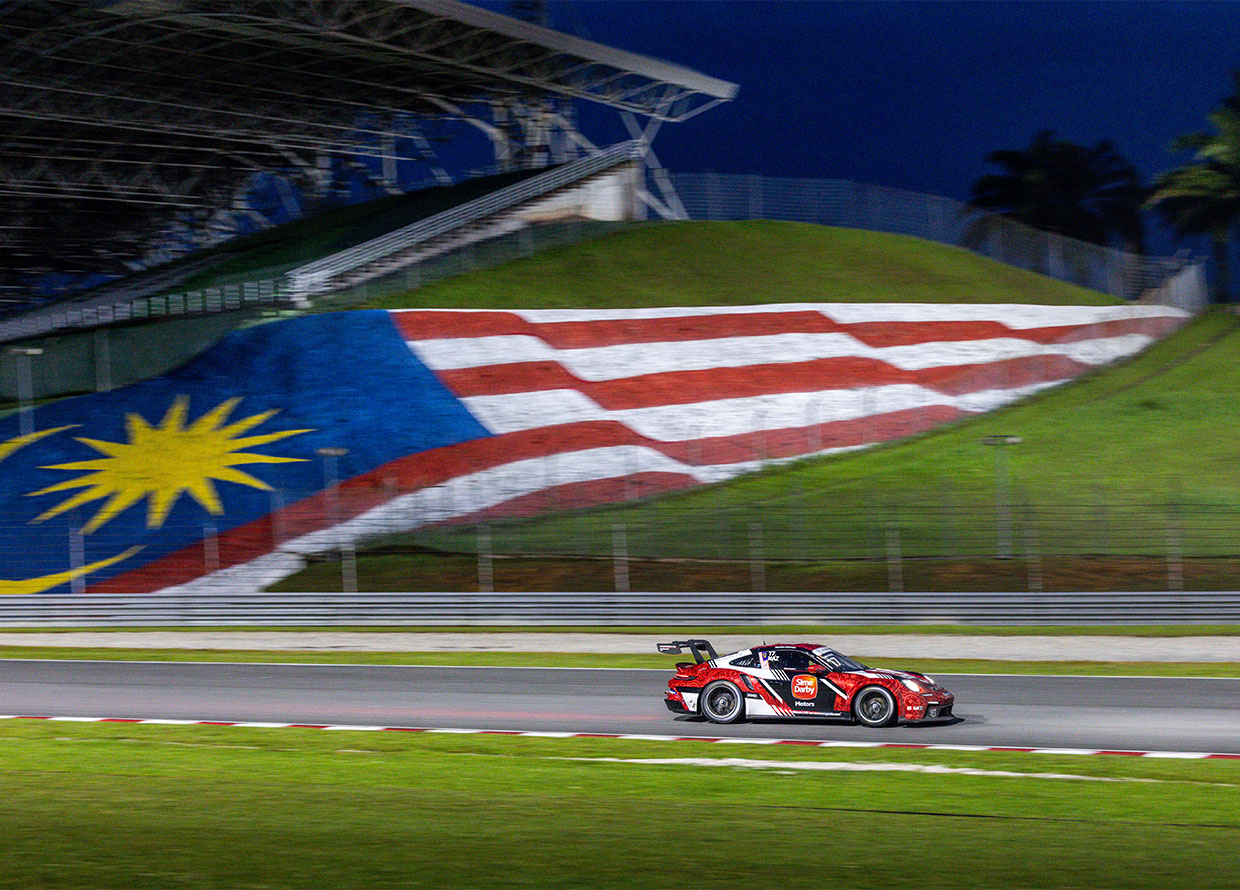 What are your thoughts on the motorsports industry in Malaysia and how do we compare to other countries in Asia?
NA: It is a niche sport in Malaysia; however, it has immense potential. Through our participation in PCCA, I hope this would create more awareness among Malaysians in the motorsport scene. While the popularity of motorsport in Asia is still growing, I look forward to seeing the demand and popularity to be as competitive as in Europe.
Do you have any advice for those who may be interested in picking up motorsports?
NA: You can start with karting and make your way up the ladder. Along the way, you will discover great connections and find the support you need to achieve your goals. Follow your dreams and stay passionate to pursue your goals. 
Keep up with Nazim's racing journey by following him on Facebook and Instagram. 
For more interviews like this, head here. 
| | |
| --- | --- |
| SHARE THE STORY | |
| Explore More | |