Career
How a young Malaysian female chef found her way into Michelin-starred restaurants
From boxed cakes to smoked ice cream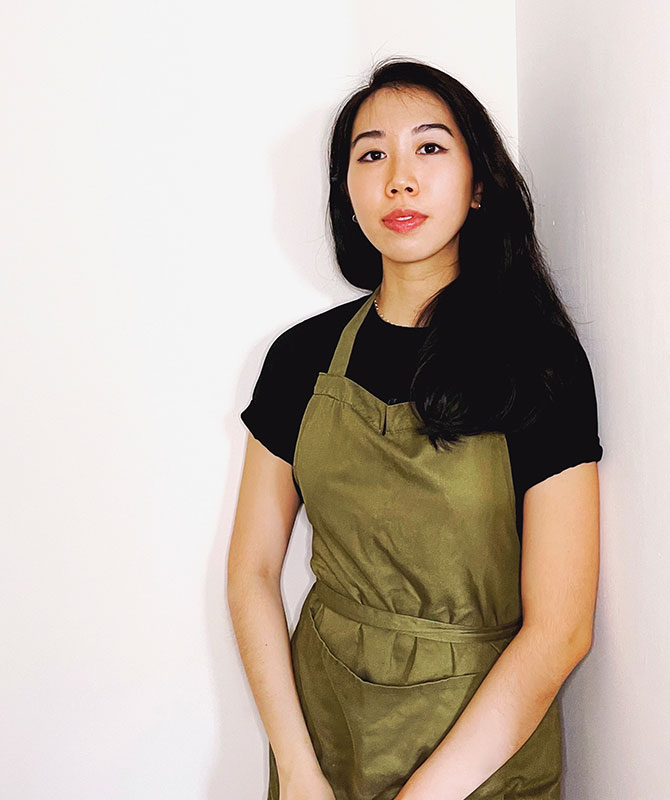 "I called my mom at work and I tried not to call her at work but that was a moment I was having. I was like, "Mum, I'm gonna be a chef." Nine-years-old, watching an episode of the late Anthony Bourdain's 'No Reservations', young Zoee Wong carved her future career into stone. She was going to work with food.
---
Now, years past her third-grade epiphany, Wong has graduated summa cum laude from the boxed cake mixes her parents bought for her after that frantic phone call. Her latest stint was at Birdsong, a Michelin-starred restaurant by husband-and-wife team Chris Bleidorn and Aarti Shetty Bleidorn in the heart of San Francisco. Wong's trek through the culinary world offers a glimpse at what the life of a young chef is made up of—a mid-twenties body aching like that of someone a few decades older thanks to the endless hours on their feet, connecting with fellow citrus enthusiasts in culinary school classes, consistently developing and tweaking that one personal recipe for years, and getting better and better at time management both in and out of the kitchen.
We're chatting about the beginnings of her career. She talks fervently about her experience in culinary school, the route she took instead of heading to a college or university, what others might coin as 'the traditional route'. "I sound so nerdy, but I would really enjoy being in school, so I would spend a lot of extra time helping out," speaking of her time as the culinary school equivalent of a teaching assistant at a university. "It really helped me even in terms of my approach to how I would do a job. It's like you're always thinking about the next step so that you could be a good assistant. You're absorbing it in one way as a student but when you're behind the demo counter, it's a different experience, so that was very formative for me aside from the actual learning."
But before she stepped through the doors of the world-renowned Le Cordon Bleu in London, Wong dabbled with the likes of boxed cake mixes, cupcakes, and other pastries your home oven is probably familiar with. Then came the El Bulli No Reservations episode. "It was just completely out of my understanding of what food was," says Wong, describing the impact that Anthony Bourdain's storytelling and Ferran Adrià's cooking had on her adolescent mind. From then on, Wong was all about food. "I just watched a lot of Jamie Oliver, Nigella Lawson, and I got really into that and my parents were really supportive. They bought cookbooks for every birthday and Christmas. They didn't cook a bunch but they were very encouraging and would always treat it very seriously even though I was young."
Wong took the undivided support from her family and her Bourdain-induced trance with cuisine and turned it into a Grand Diplôme Cuisine et de Pâtisserie and a Diploma in Culinary Management from Le Cordon Bleu, graduating in 2014. She enrolled the moment she could: right after her 18th birthday. "It was a little bit intimidating to start but I had a really nice group of classmates and everyone goes through the same, like cutting a fruit salad for your first class," says Wong on being the youngest in her class. "Most of them were in their 30s and I was like the baby of the class, which was both a good thing and something to get used to… I feel like I grew up a lot there."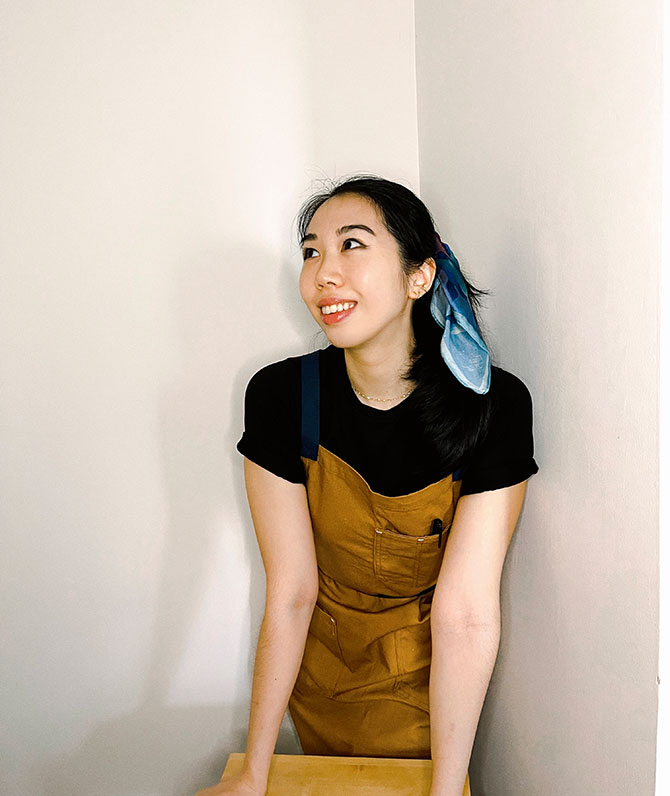 Though culinary school was a dream, not everything was a fairytale.
"Chocolate work. No offence to anyone who loves that, I just hated how messy it was. It's a great skill to have and I don't resent it. Just, ugh, aprons," recounted Wong on the one class she wishes she could've skipped.
On the other hand, the one class that Wong recounts as a personal favourite is reminiscent of a certain TV show some of us might be familiar with. "We used to have these mystery basket classes," Wong says about one of her most memorable classes. Sound familiar? "It's like MasterChef in real life—that's how I used to think about them. We would get these little baskets and you would kind of know some of the things that would be in there at the start but it was nice to be able to put things together on your own. It was also just really fun to see what everyone else came up with." That's not the only thing from her years in culinary school that could be compared to the show.
She was judged by highly respectable chefs, faced fierce competition in her classes and worked under immense time pressure to think up and execute a dish with whimsical ingredients. But unlike the competitive TV nature of MasterChef, Wong had no cameras around her documenting every bead of sweat falling onto her shoes.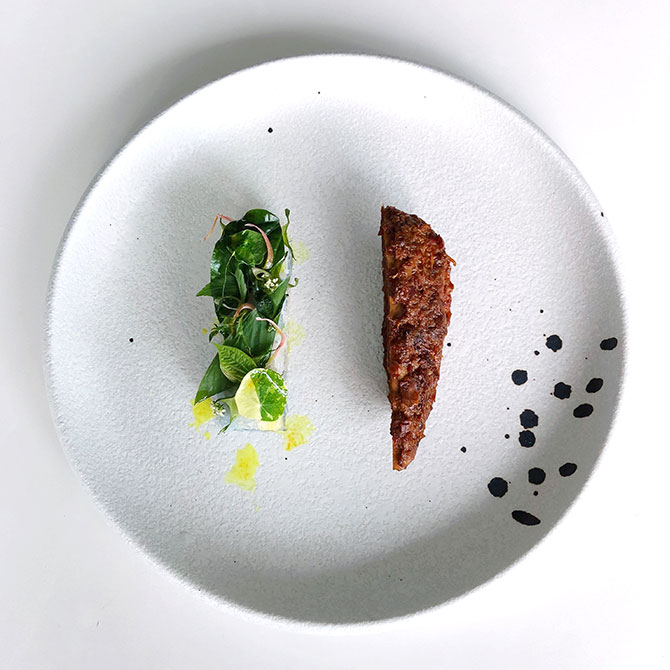 Wong is no stranger to drawing inspiration from her surroundings: her peers, mentors or cultural settings. Being Malaysian-Chinese has given Wong ample opportunity to soak up any and every drop of her vibrant heritage and upbringing. Meanwhile, her formal training provided for her experience with the flavours and skills from another corner of the globe. She speaks of curry chicken as if it were her prized possession, spice in her food as if it were a compulsory component and making kaya (coconut jam) toast as if it were therapy. Her multicultural palate is not only a source of inspiration when developing recipes but also the reason why she has a wealth of flavour profiles and techniques to use at her fingertips.
"I never really quite know how to answer the question when people ask me what kind of food I cook."
"Because you know, I grew up with this," says Wong, waving her hands around referring to her surroundings. We're on the outdoor porch of a local café on a rather humid day, but she means Malaysia's multicultural background, not the trees around us. "I want to claim all of them as my own because it feels like part of my heritage. Like curry, it's not Chinese but that feels very much part of my heritage and then I went to a French culinary school in London and then my first real restaurant was Modern American."
Ingredients and techniques are like a mix and match game for her. "I think that one of the great things about how fortunate I've been to be in different places in my career geographically. I don't have that mentality of 'Oh, this is a New American restaurant, I have to use a certain set of ingredients'. I'm very comfortable applying Asian ingredients but in a different technique," says Wong.
View this post on Instagram
While her friends from home earned their degrees and wrote cover letters, Wong was racking up Michelin stars and developed recipes in some of the world's most prestigious kitchens. Post-graduation, she immediately set off in the industry with guns blazing, working pastry at world-renowned chain Nobu, famous for its Japanese cuisine infused with Peruvian flavours and one of its signature dishes, their back cod with miso. Following Nobu, Wong then accumulated kitchen hours (and passport stamps) with stints at two-Michelin star Saison (though it's worth noting that it boasted three stars when Wong was part of the team) in San Francisco, Ed.ju Omakase in her home city, Kuala Lumpur, and one-Michelin star Restaurant Nouri in Singapore—just to name a few.
Not to mention, she's served Éric Ripert dessert before.
"I was trying to be just normal and it was a good service. I went to drop desserts at his table and as I was spieling the dish, he was like 'So, I've been observing you working all night,'" recounts Wong of the first time she remembers being starstruck. "He was like 'I have to say I'm very impressed' and I said 'Oh, thank you, chef". I walked away and then I ran to the dish room. It was very affirming as a young cook, and he doesn't remember who I am but that meant a lot to me at the time."
View this post on Instagram
What Ripert saw in Wong, many other head chefs saw, but she never let the praise amount to complacency nor did it slow down her relentless work ethic. "I think one of those aphorisms that I really like is that everything is a learning experience. It's very cliche but mistakes are also data," says Wong. "I think something that I've always thought, and I guess my parents instilled in me since I was younger, is to learn what not to do as much as you learn what to do." In every kitchen she's worked in, she's had to learn new lessons, skills, and flavour combinations. She's had to communicate with different chefs and work with new ingredients all while applying different techniques and teachings she's picked up along the way on her journey.
However, she is yet to master one skill considered essential in many, if not all, kitchens. "I still have to pay a lot of attention to breaking down meat, like fish," admits Wong. "Maybe I'm just trying to be extra conscientious because it's expensive." But while she might not be able to dissect a carcass as swiftly as she might like (though I'd bet she does a better job tha
| | |
| --- | --- |
| SHARE THE STORY | |
| Explore More | |