"I called my mom at work and I tried not to call her at work but that was a moment I was having. I was like, "Mum, I'm gonna be a chef." Nine-years-old, watching an episode of the late Anthony Bourdain's 'No Reservations', young Zoee Wong carved her future career into stone. She was going to work with food
---
Now, years past her third-grade epiphany, Wong has graduated summa cum laude from the boxed cake mixes her parents bought for her after that frantic phone call. Her latest stint was at Birdsong, a Michelin-starred restaurant by husband-and-wife team Chris Bleidorn and Aarti Shetty Bleidorn in the heart of San Francisco. Wong's trek through the culinary world offers a glimpse at what the life of a young chef is made up of—a mid-twenties body aching like that of someone a few decades older thanks to the endless hours on their feet, connecting with fellow citrus enthusiasts in culinary school classes, consistently developing and tweaking that one personal recipe for years, and getting better and better at time management both in and out of the kitchen.
We're chatting about the beginnings of her career. She talks fervently about her experience in culinary school, the route she took instead of heading to a college or university, what others might coin as 'the traditional route'. "I sound so nerdy, but I would really enjoy being in school, so I would spend a lot of extra time helping out," speaking of her time as the culinary school equivalent of a teaching assistant at a university. "It really helped me even in terms of my approach to how I would do a job. It's like you're always thinking about the next step so that you could be a good assistant. You're absorbing it in one way as a student but when you're behind the demo counter, it's a different experience, so that was very formative for me aside from the actual learning."
But before she stepped through the doors of the world-renowned Le Cordon Bleu in London, Wong dabbled with the likes of boxed cake mixes, cupcakes, and other pastries your home oven is probably familiar with. Then came the El Bulli No Reservations episode. "It was just completely out of my understanding of what food was," says Wong, describing the impact that Anthony Bourdain's storytelling and Ferran Adrià's cooking had on her adolescent mind. From then on, Wong was all about food. "I just watched a lot of Jamie Oliver, Nigella Lawson, and I got really into that and my parents were really supportive. They bought cookbooks for every birthday and Christmas. They didn't cook a bunch but they were very encouraging and would always treat it very seriously even though I was young."
Wong took the undivided support from her family and her Bourdain-induced trance with cuisine and turned it into a Grand Diplôme Cuisine et de Pâtisserie and a Diploma in Culinary Management from Le Cordon Bleu, graduating in 2014. She enrolled the moment she could: right after her 18th birthday. "It was a little bit intimidating to start but I had a really nice group of classmates and everyone goes through the same, like cutting a fruit salad for your first class," says Wong on being the youngest in her class. "Most of them were in their 30s and I was like the baby of the class, which was both a good thing and something to get used to… I feel like I grew up a lot there."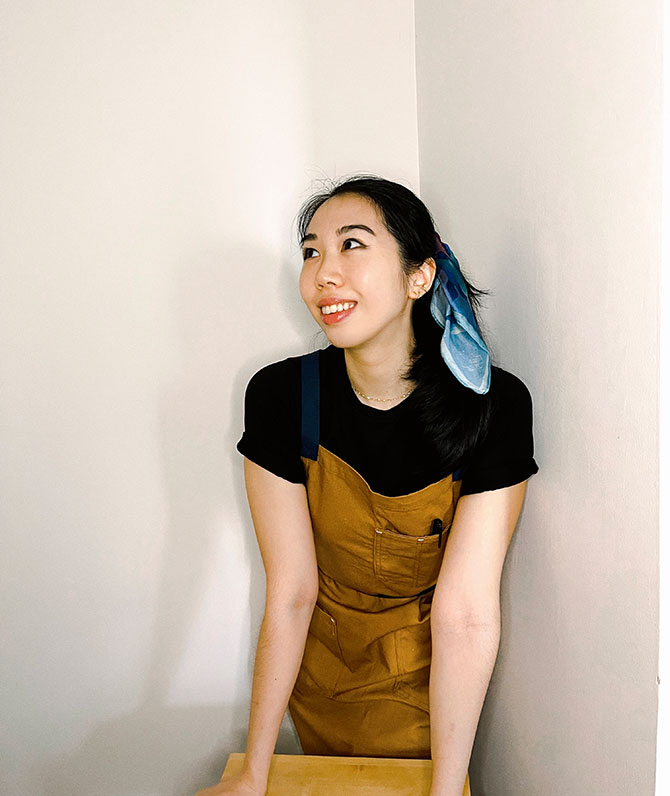 Though culinary school was a dream, not everything was a fairytale.
"Chocolate work. No offence to anyone who loves that, I just hated how messy it was. It's a great skill to have and I don't resent it. Just, ugh, aprons," recounted Wong on the one class she wishes she could've skipped.
On the other hand, the one class that Wong recounts as a personal favourite is reminiscent of a certain TV show some of us might be familiar with. "We used to have these mystery basket classes," Wong says about one of her most memorable classes. Sound familiar? "It's like MasterChef in real life—that's how I used to think about them. We would get these little baskets and you would kind of know some of the things that would be in there at the start but it was nice to be able to put things together on your own. It was also just really fun to see what everyone else came up with." That's not the only thing from her years in culinary school that could be compared to the show.
She was judged by highly respectable chefs, faced fierce competition in her classes and worked under immense time pressure to think up and execute a dish with whimsical ingredients. But unlike the competitive TV nature of MasterChef, Wong had no cameras around her documenting every bead of sweat falling onto her shoes.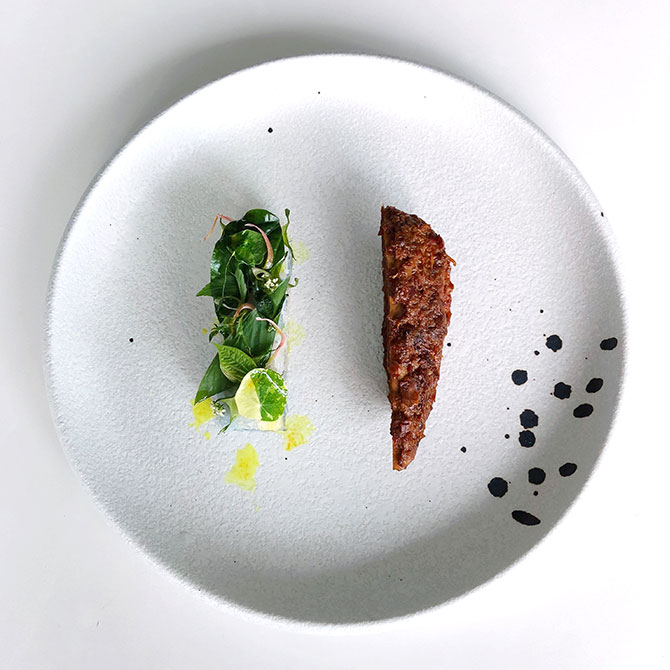 Wong is no stranger to drawing inspiration from her surroundings: her peers, mentors or cultural settings. Being Malaysian-Chinese has given Wong ample opportunity to soak up any and every drop of her vibrant heritage and upbringing. Meanwhile, her formal training provided for her experience with the flavours and skills from another corner of the globe. She speaks of curry chicken as if it were her prized possession, spice in her food as if it were a compulsory component and making kaya (coconut jam) toast as if it were therapy. Her multicultural palate is not only a source of inspiration when developing recipes but also the reason why she has a wealth of flavour profiles and techniques to use at her fingertips.
"I never really quite know how to answer the question when people ask me what kind of food I cook."
"Because you know, I grew up with this," says Wong, waving her hands around referring to her surroundings. We're on the outdoor porch of a local café on a rather humid day, but she means Malaysia's multicultural background, not the trees around us. "I want to claim all of them as my own because it feels like part of my heritage. Like curry, it's not Chinese but that feels very much part of my heritage and then I went to a French culinary school in London and then my first real restaurant was Modern American."
Ingredients and techniques are like a mix and match game for her. "I think that one of the great things about how fortunate I've been to be in different places in my career geographically. I don't have that mentality of 'Oh, this is a New American restaurant, I have to use a certain set of ingredients'. I'm very comfortable applying Asian ingredients but in a different technique," says Wong.
While her friends from home earned their degrees and wrote cover letters, Wong was racking up Michelin stars and developed recipes in some of the world's most prestigious kitchens. Post-graduation, she immediately set off in the industry with guns blazing, working pastry at world-renowned chain Nobu, famous for its Japanese cuisine infused with Peruvian flavours and one of its signature dishes, their back cod with miso. Following Nobu, Wong then accumulated kitchen hours (and passport stamps) with stints at two-Michelin star Saison (though it's worth noting that it boasted three stars when Wong was part of the team) in San Francisco, Ed.ju Omakase in her home city, Kuala Lumpur, and one-Michelin star Restaurant Nouri in Singapore—just to name a few.
Not to mention, she's served Éric Ripert dessert before.
"I was trying to be just normal and it was a good service. I went to drop desserts at his table and as I was spieling the dish, he was like 'So, I've been observing you working all night,'" recounts Wong of the first time she remembers being starstruck. "He was like 'I have to say I'm very impressed' and I said 'Oh, thank you, chef". I walked away and then I ran to the dish room. It was very affirming as a young cook, and he doesn't remember who I am but that meant a lot to me at the time."
What Ripert saw in Wong, many other head chefs saw, but she never let the praise amount to complacency nor did it slow down her relentless work ethic. "I think one of those aphorisms that I really like is that everything is a learning experience. It's very cliche but mistakes are also data," says Wong. "I think something that I've always thought, and I guess my parents instilled in me since I was younger, is to learn what not to do as much as you learn what to do." In every kitchen she's worked in, she's had to learn new lessons, skills, and flavour combinations. She's had to communicate with different chefs and work with new ingredients all while applying different techniques and teachings she's picked up along the way on her journey.
However, she is yet to master one skill considered essential in many, if not all, kitchens. "I still have to pay a lot of attention to breaking down meat, like fish," admits Wong. "Maybe I'm just trying to be extra conscientious because it's expensive." But while she might not be able to dissect a carcass as swiftly as she might like (though I'd bet she does a better job than any one of us could), she can make smoked ice cream using a Pacojet. For those unfamiliar, a Pacojet is an appliance that purees frozen foods into an unbelievably smooth texture, perfect for making ice creams, sorbets, sauces, mousses, you get the idea.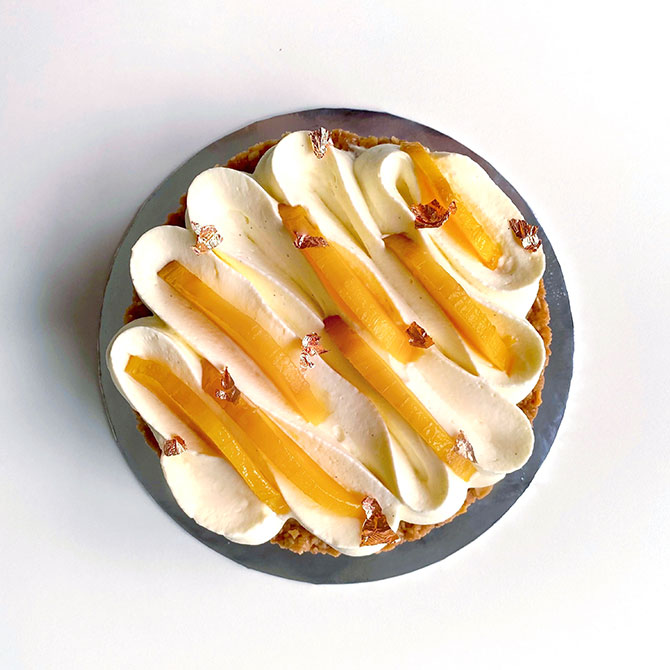 Wong's humility radiates throughout our conversation, laughing off praise, fake crying at the thought of her growing old (she's only 26!), recounting lessons she's learned from others she has worked with, and speaking fondly of her Malaysian roots. "The caveat is that I'm still young," says Wong, explaining her mindset when entering a new kitchen as a young chef. "There are lots of different kinds of kitchens that I haven't experienced, but I think just going into a new kitchen with the mindset that it is going to be hard the first couple of weeks that you're working, even at a new station, it will be hard… But kind of prepping myself for that and knowing that it is just part of the process of getting good at something, I will be bad at it to start and then figure out what are the little changes I can make to be better."
Internalising feelings and opinions is no new notion for many women in the industry, particularly women of colour.
Though mostly subconscious, much of our tendencies to not speak up when slighted or insulted has been instilled in us from an age so young it is almost innate. Many of us do so unknowingly and might have only noticed it this past year, as the world learned, unlearned and came face to face with traumas that had been suppressed for years. For Wong, such internalisation actually played an important part in her learning process and success in the kitchen. "I think it's in a way benefitted me as I was coming up. I was just ready to absorb things, but then that comes with good and bad things, right?" explains Wong. "But I think getting older, as you take on more roles or more responsibilities, you come to a point where you're able to bring your own perspective and your own accrued knowledge to a situation and it is partly your responsibility to be able to bring that into a job and knowing at what point it is most appropriate to do that. You need to eventually suck it up and be like 'Oh, I actually know this.'"
Travelling around the world to work in kitchens of fine dining restaurants, meeting and working with new chefs, and learning cuisines from different parts of the globe are all things Wong constantly expresses gratitude for and recognises her privilege to do so. However, on the flip side of things, the distance, both physically and culturally, from home comes with its difficulties. Not only is she usually away from her home country and being a foreigner whenever cooking abroad, but she is also adapting to new cultures, adjusting to new cities, exploring unknowns and more."I think I've felt [like I've had to work harder as a young female Asian chef], but I don't know if that was necessarily something that was a product of other people making me feel that way or just that 'outsider' mentality," explains Wong.
"It's also like I've had to prove things to myself, imposter syndrome and all of that and wanting to be able to keep up with older people, more experienced people. Broadly speaking, the system is just set up in a way that I've had to put in more time and more money and more effort into applying for a visa and moving to a different country to do the job that someone could just walk into a little bit more easily. So [I have] to be intentional about my career choices, if that counts as 'more work'."
The pandemic didn't particularly help with the trajectory of her career, as it threw a wrench into her plans.
On the other hand, it also challenged her to take her skills and knowledge to new heights and dimensions. Two weeks into her stint at Birdsong and having just moved to San Francisco, Wong was out of the kitchen and spending days sitting in her apartment, waiting for the stay-at-home orders to be lifted and not knowing restaurants would eventually have their doors sealed shut for months to in-person diners. "It was very hard for the first couple months to have the plans that I had [be] derailed very quickly," says Wong.
Eventually, once it was clear that dining out was out of the picture for the long run, Wong hopped on new projects with her restaurant to keep their heads (and her mental health) above water. She brainstormed business models and ideas for takeout boxes, developed new recipes, and made butter and kaya toast—not for work, but for comfort. "Everyone really tried to keep it together for each other and my bosses were incredibly supportive [and] wanted to keep us afloat," recounts Wong. "[They wanted to] give us some sort of income and just something to do. They took the approach of 'we still get to feed people'."
Reminding herself of why she does what she does and what her job all comes to carried her and her mindset through the tough first months of the pandemic: feeding people. She worked with charities and other organizations, feeding those in need, what her restaurant called "food relief". "It's not like I'm such a sunshine-y optimistic person. It's been a very difficult time for restaurants, a very difficult time for the industry, but the flip side of that is that it's brought up a lot of issues that have been sitting and getting mouldy in the corner for a long time," reflects Wong. "But every kitchen I've worked in is very clean so no mould anywhere."
"When I do the positive reframing of it, restaurants have had to rethink business models, have had to be a lot less rigid in the way that they organize themselves and their teams. People have more opportunities to explore their own pursuits in the sense that, you know, a lot of cooks were laid off and then had to land on their feet and do their own pop-up or do their own bake from home situation," says Wong, speaking of the complete roller coaster the restaurant industry, along with the rest of the world, was taken on in the eye of the Covid-19 storm. "Fine dining cooks are, to take Birdsong, for example, frying chicken. Food is food. You can see the bright side of that, which is we still get to feed people and that's a great thing and you're still working with food. So, it really strips away that 'Oh, we're putting tiny herbs on this thing' and you're serving people food and that's important."
Food transcends borders like it transcends languages, cultural barriers and political opinions—naturally. Aside from its obvious value in that it is literally the sustenance that we all depend on, its ability to tell stories, capture meaningful moments and somehow freeze frame even the most fleeting of moments is unworldly. That's also what sets chefs apart from other occupations outside the food and restaurant industries. They have to possess the ability to marry ingredients harmoniously, utilise ingredients at hand, and create experiences through the diner's palates. Food completes experiences and can leave people satisfied from the inside out. Food is thoughtful, no matter how long it takes to cook or develop a recipe. For fine dining chefs like Wong, dishes can take months to be developed and feedback is what these chefs run on. For the most part, they don't even get to taste the end product of their blood, sweat, and tears during a service. Well, that and the fact that their creations vanish into thin air (also known as diners' stomachs) within minutes. "I think everything that we do is so transient. You spend three hours making this thing and then in ten minutes, ten seconds, it's gone," explains Wong.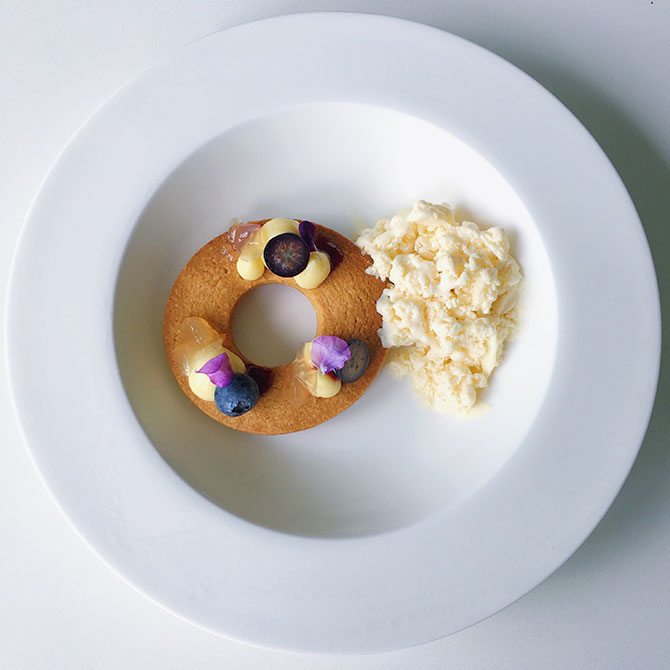 Since the start of her career, Wong was always on the younger side of her team. Her skills and knowledge of the kitchen, however, match that of someone who has been in the industry for decades. "I think people would look at my CV and be like 'She's gone to all of these places, how fabulous and wonderful' but it's a lot of work. It's a lot of time and personal deliberation of whether it's the right step for me, whether it's worth all of the effort, and just that feeling sometimes of it would be easier if I stayed in Malaysia," reflects Wong. "But then wanting to do the hard thing and knowing that I've earned it, I think people see the end result of you working somewhere and then not realising that there are a lot of steps in between to getting to that spot. Then you have to prove that you're special enough to qualify, you're not just having to be good at the thing, you have to shout it from the rooftops that you're good at the thing." And damn it, she IS good at the thing.
---
What's Zoee Wong up to now?
"I have a couple of hats on at the moment! Especially in light of the current state of our industry with restrictions and restaurant closures, I've been very fortunate to have had invitations to share my skills, experience and knowledge through platforms like online culinary demonstrations and talks, as well as through writing (vertical publications, websites, social media content etc). Also, I'm involved with some exciting menu and recipe development projects.
"I'm also grateful that the network I have as a chef has allowed me to organise a charitable initiative called Food Relief Project (FRP) which involves some of the best restaurants in the Klang Valley providing wholesome, high-quality meals to the hungry and underserved. As part of that, I'm a leading chef participant in Kek Untuk Kita, a fundraising festival for FRP involving top bakers and pastry chefs.
"In the pipeline is some work with Chef's Manifesto which engages chefs as advocates for improved food systems—a cause I care deeply about. I'm looking forward to engaging in that work here, as well as to bringing a Malaysian perspective to the larger, global Chefs' Manifesto community."
Follow Zoee on Instagram, Facebook and LinkedIn for more updates on her exciting culinary journey. Or head over to @kekuntukkita to see how you can contribute to FRP (and get some delicious cakes in return!).