We went off the beaten track to visit a natural dye factory close to Ubud to learn more about the process and try our hand at it
It's no secret that sustainability is one of our most passionate topics. Hence, while planning for the #BuroGetaway to Bali, we knew we had to dedicate half a day at Tarum. A small, humble factory (but also Bali's largest all-natural dye workshop) with a big heart for the environment, Tarum is one of the few (less than ten per cent) dye manufacturers in Indonesia which gets all its colourings entirely from nature. 
Founded by brothers Made and Andika in 2001, the enterprise today is connected to 30 local craftspeople and 70 weavers in Bali, Java and Lombok; and has a clientele of both international and local individuals and businesses around the world. Fun fact: Rihanna once wore an outfit from the Awaveawake's Spring 2016 collection which was naturally dyed by Tarum.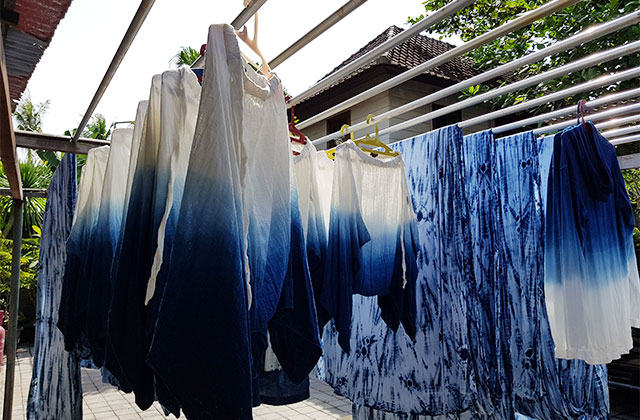 After a 45-minute ride from our villa and after passing by rows of Gianyar's rice fields, we finally arrived at the factory where Andika warmly welcomed us before commencing a detailed tour accompanied by a crash course of Tarum's natural dye processes. First off, where the colours come from - plants. The mesmerising sea of blue patterned fabric hanging at the entrance shows Tarum's primary colour, which comes from the plant the company is named after. Extracting the colour from the roots is where they'll be able to get the most vibrant shade but that meant killing the tree. Hence, the team chose to use its leaves instead at the cost of a longer dyeing process. 
The other base colours they use are yellow (mango tree leaves), brown (mahogany leaves), black ('umbrella' tree leaves) and red (the bark of secang trees). With these colours, the team is able to blend a large variety of other hues. The deeper it's desired of a colour, the longer and more times the fabric is dip-dyed in. 
Next lesson: The process. It's a long and tedious one, and yet, the Tarum team still managed to incorporate a sustainable method around it. Once all the leaves are collected from their plantations, they are finely chopped by a machine before being boiled with water for six hours. The remnants are used as compost while the leftover water from the dyeing process runs through a field of enceng gondok plants for filtration before it flows back into the river.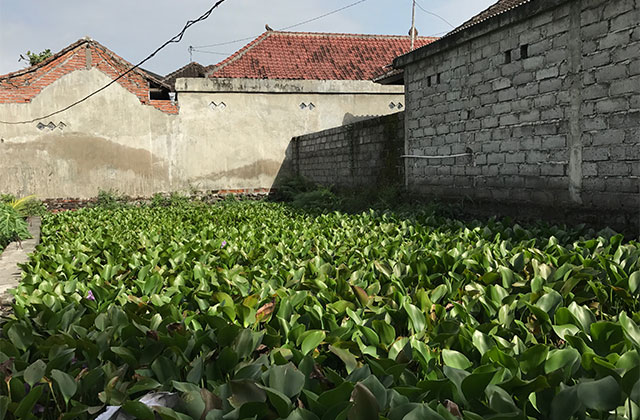 While many engage Tarum in dyeing their fabrics for them or sourcing ready-made dyed materials from them, Andika and Made have added one other venture to their portfolio of sustainable textile endeavours. They would collect leftover fabric and turn them into yarn to be handwoven into carpets or table runners, giving what would be waste material a second life. Some of these have been sought after by hotels such as Katamama and the Hyatt brand. 
Once the tour is over, it was time for a hands-on experience. Leaving three of us in a room with a piece of cloth each and rubber bands, we were told to create our own pattern by just tying the fabric however we pleased. No guides. No samples. Nothing. 
After that, it was back to the dyeing area where we put on gloves and dip our knobby-looking fabrics into warm water for five to ten minutes. Once they have been thoroughly soaked, we carefully transferred them to a vat filled with the natural indigo dye and kneaded them beneath the surface of the dye. 
One of the craftsmen then came to help us. After ten to fifteen minutes, he removed the fabrics, rinsed them in another vat of clear water and squeezed them dry. He told us the colours can be darker if we repeated the process another time and added more dye to the first vat. We did just that and true enough, the colours came out beautifully on our knobby-looking cloths. 
The next test is to see what patterns we've created from our rubber band ties. As it turned out, it was great that we didn't know what we were doing since all three cloths (which Andika said can be scarves if we just sew the seams) resulted in three very different designs. The possibilities are endless but unfortunately, it was time to leave. At least, we had a masterpiece to bring back and a vat-load of knowledge to go with it.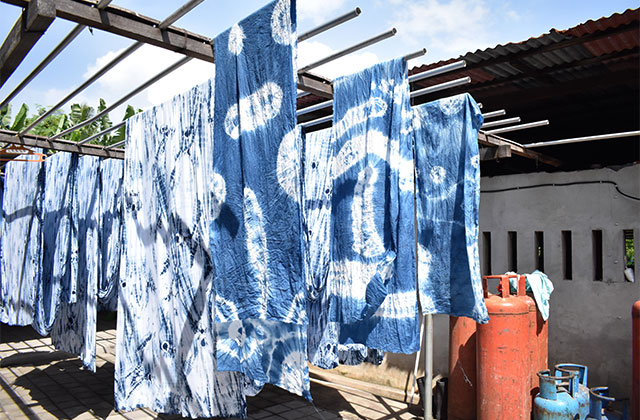 CV. Tarum Bali Sejahtera is located at Jalan Cucukan Lama gang Nusantara, No. 6 Medahan, Blahbatuh Gianyar. For more info, visit the website or Facebook.
Related stories:
#GoGreen: Kind clothing brands to buy now
About vegetable-tanned leather and the beautiful bags it makes
Buro Tries: Making an upcycled pouch with Biji-biji Initiative