From treats for the furry ones to an informative book about animal facts, check this list to explore your gifting options:
Christmas is meant to be celebrated with our loved ones, and that includes our furry family, too! This merry season, make a pawrent, a furkid, or an animal lover's day a memorable one. P/S: We recommend giving these to yourself (and your furry ones) too if you have a furbaby at home! See the naughty nice list below and get started on your shopping stat:
tadaa!'s Christmas Surprise Box for Dogs
This year, tadaa! curated a Christmas Surprise Box for Dogs to help pet parents and their fur-friends celebrate the festive season together. This advent calendar set is the perfect gift for your four-legged friend to explore unique treats with new tastes, preferences and textures — all in one box. The set comes with 24 packets of different treats and chews, and the best part is, they are all made from quality, natural ingredients! These snacks are suitable for all dog breeds and all life stages, too. Also, in collaboration with a stationery store, Stickerrific, each packet is designed with an adorable illustration of different dog breeds which also serves as the perfect ornaments for your Christmas tree! While the doggos get their treats, pet parents can also expect a personalised gift and a description card that informs you of the types of treats you're giving your little one.
Where to purchase:
You can visit tadaa!'s official website here; or visit Stickerrific at Jaya One
Adoption at Malaysian Dogs Deserve Better (MDDB)
If your special someone has been hinting, or eyeing to get a puppy or a dog, Malaysian Dogs Deserve Better (MDDB) is the place to go. This Christmas, do a good deed and rescue a puppy, or a dog in need of a loving home. These little ones have been through a lot such as cases of abandonment, homelessness, abuse, and severe injuries. MDDB is not only a canine welfare project, but also a non-profit organisation that actively uses Facebook as a platform to be transparent about what they do, and at the same time, allow the public to share and post information about rescued dogs in need of urgent care. If a potential pet parent is committed to adopt, make sure the individual is prepared and able to provide all the necessary care and attention for his or her furry kid. Alternatively, if adoption is not the right time now, you can also donate to MDDB in the name of the gift receiver; it's definitely a feel-good gift for both you and a passionate animal lover.
Side note: Do bear in mind that MDDB is not an animal shelter. Drop them a message on Facebook to ensure they're open before you pay a visit!
If you're interested in adopting with Malaysian Dogs Deserve Better, you can find them:
– Every first Sunday of the month at One City
Address: West Boulevard, Jalan USJ 25/1B, One City, 47650 Subang Jaya, Selangor
– Every third Sunday of the month at Jaya One, Petaling Jaya
Where: Block NB1, facing Station 1 and Old Town White Coffee
Other places to find kittens, cats, puppies, and dogs for adoptions:
If you're interested in adopting with Pet Finder, visit here.
If you're interested in adopting with PAWS Malaysia, visit here.
If you're interested in adopting with SPCA, visit here.
Toys from Waggy Woffie Store
As if our fur-ever friends aren't cute enough, this store offers a wide range of adorable and delicious-looking toys for your furkids; equally fun for cats and dogs. Some mouthwatering, calorie-free soft toys include a doughnut, a taco, a fried chicken, and a pancake. Drop the mummy or daddy guilt as these cuddly toys make a fun gift for when the humans are busy!
Where to purchase:
You can drop them a message here.
Healthy treats from Barkery Oven
As pet parents, it's only natural that we care about our furkids' health and diets, making sure that the food they consume are safe and nutritious. Barkery Oven produces a range of wheat-free, sugar-free, grain-free, and no preservatives treats for both cats and dogs. Their purr-fect treats for cats include air dried jerky such as ikan bilis, mackerel skin, beef lung, and rabbit liver jerky; and biscuit bites such as chicken and parsley bites, and mackerel and parsley bites. For dogs, their delicious treats include fudges and pawffins, namely Wheat Free Peanut Butter Pawffin, Wheat Free Pumpkin Pawffin, Salmon with Parsley fudge and Pork & Beetroot Fudge; natural dehydrated food such as Naturally Bilis, Naturally Porky and Naturally Chick-y; biscuits such as Wheat Free Mango & Chia Biscuit, Wheat Free Cranberries & Oats Biscuits, and Wheat Free Mackerel, Vegetable, and Herbs Biscuit. These gifts are definitely the way to keep one's fur-riend happy forever!
Where to purchase:
You can get these treats here.
Did You Feed the Dog reminder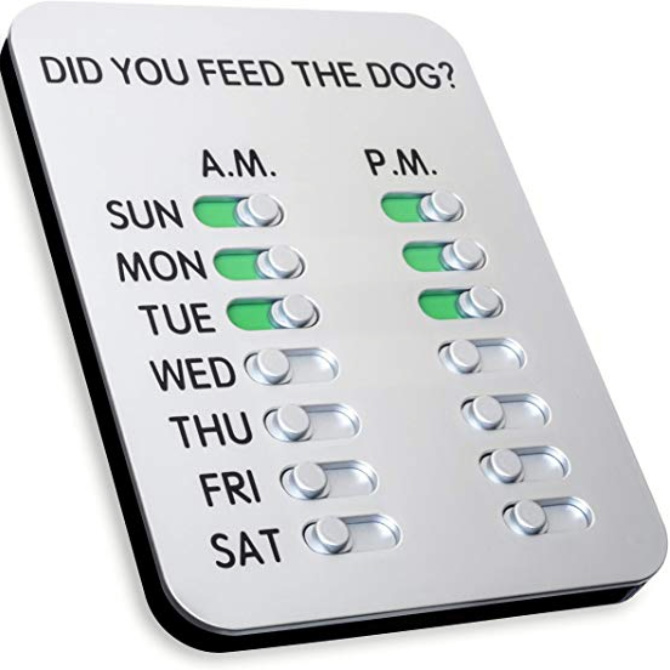 Have you ever gone through moments where you wonder if anyone in your family has fed the cat, or dog? If you're tired of having to text or call to check with everyone, this would be a helpful tool to keep track of your pets' feeding schedules. One thing about this gadget—it also works great for cats, fish, rabbits, guinea pigs—you name it. If you would like to DIY your very own "device", you can easily use a whiteboard, draw up three sections: morning, evening and treats into three columns horizontally.
Where to purchase:
You can get this item on Amazon here.
Sad Animal Facts by Brooke Barker
This New York bestselling book is anything but sad, it is filled with informative and entertaining facts about animals that will make you laugh. Author Brooke Barker's adorable, hand-drawn illustrations are paired with witty and hilarious yet sad facts about each creature. Swipe through the gallery above and see who you would want to gift this to.
Where to purchase:
For more holiday content, visit our Buro's Christmas Village, where you can find fun stories including Christmas giveaways and more gifting ideas.