Did you know May is (also) National Salad Month? Hence, we're starting a three-part series of salad video recipes by some of our favourite healthy cafes in town. First up is Nara Kitchen & Co. who we previously listed in our #BuroDiningGuide and whom would like to share the recipe of their Big Belly Salad. With hummus as the base, miso dressing to add an extra flavour, and featuring ingredients such as beetroot, quinoa, and orange slices, it's a wholesome salad that's perfect for a hot day.
Watch the video below on how to make the Big Belly Salad and scroll on for the full recipe.  
Big Belly Salad by Nara Kitchen & Co. — serves 6
Prep time: 20 minutes
Cooking time: 40 minutes
Ingredients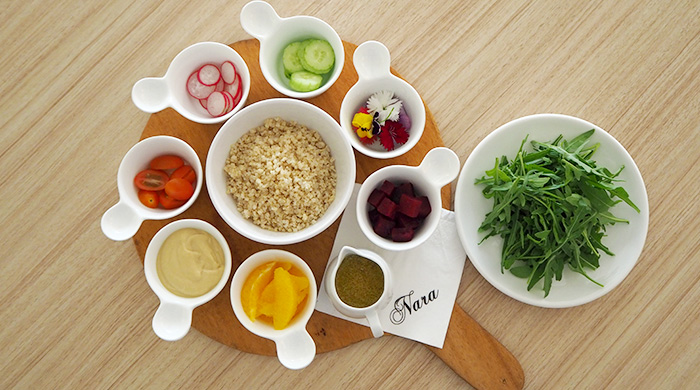 4 medium red beets
1 tsp olive oil
3⁄4 cup quinoa
1 1⁄2 cup water
2 cup arugula salad
1 1⁄2 cup orange segments / from 2 oranges
50 gm cherry tomatoes (cut in halves)
50 gm Japanese cucumber (peeled and sliced)
50 gm red radish (sliced)
Miso Dressing:
1 tbsp white miso
2 tbsp olive oil
1⁄4 cup fresh orange juice
1 1⁄2 tsp lemon juice
1 tbsp honey
Salt and pepper to taste
Hummus:
2 x 400g cans of chickpeas (reserved liquid from 1 can)
4 tsp tahini
2 garlic cloves, crushed
1 tsp crushed sea salt
6 tbsp quality extra virgin olive oil
Method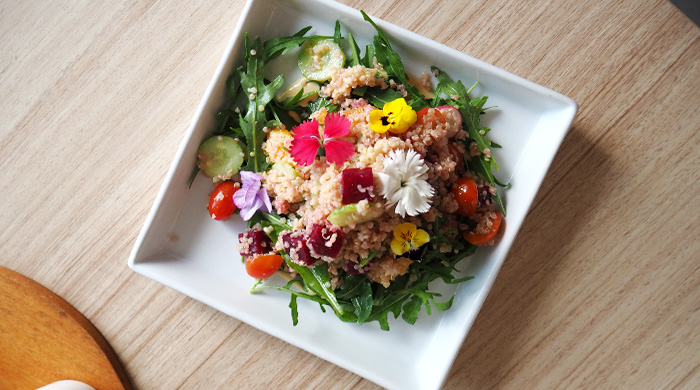 1. ROAST THE BEETS
Preheat the oven to 425 F /176 C. Peel and quarter the beets, then place in a medium-sized bowl and toss with the olive oil. Wrap the beets in aluminium foil and place on a baking sheet. Bake in the oven for 20-25 minutes — or until the beets are softened enough to be pierced with a fork but still have some firmness to them. Remove from the oven and set aside to cool. Cut into 1⁄2 cm cubes.
2. PREPARE THE QUINOA
Place the quinoa and water in a small saucepan. Bring to a boil over medium high heat, and then reduce the heat to low. Cover and cook for 12 minutes. Remove the quinoa from the heat and set aside to cool.
3. THE MISO DRESSING
In a food processor or blender, combine miso, olive oil, orange juice, vinegar, honey, salt and pepper. Blend until combined.
4. THE TAHINI
Rinse the chickpeas in cold water and tip into the food processor. Add the tahini, crushed garlic, salt, lemon juice and seven tablespoons of the reserved liquid from the cans. Turn on the food processor and slowly pour in the oil while it runs until is fully combined and smooth.
5. ASSEMBLING THE SALAD
Place the cooled quinoa in a large bowl and toss with dressing. Add the beets, orange segments, tomatoes, Japanese cucumber, red radish and arugula and toss gently to coat. Spread the hummus on the plate and place the salad on top. Optional: Garnish with edible flowers.
For more info on Nara Kitchen & Co., head over to their website or Facebook.
Related stories:
#SaladSundays: Healthy yet delish recipes
#SaladSundays: Healthy salad dressing recipes
| | |
| --- | --- |
| SHARE THE STORY | |
| Explore More | |