From silk tulles to airy chiffons and mesh, the chilly Autumn/Winter season has got nothing on these haute couture looks. Here are some of our favourites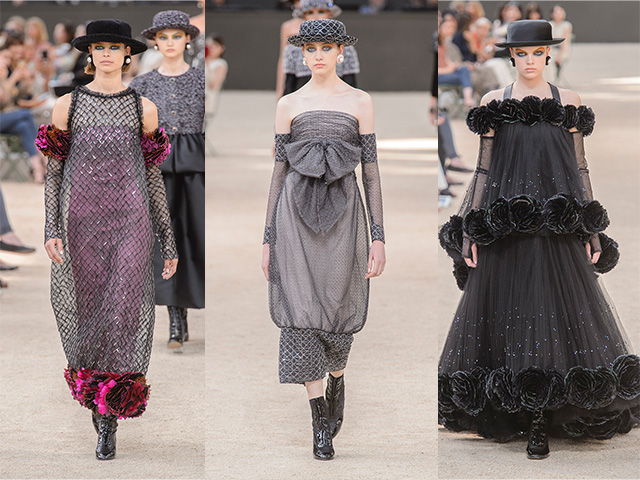 Chanel
Karl Lagerfeld paid an homage to Paris not only with a replica of the Eiffel Tower beneath the Grand Palais, but with models strolling through the Chanel Parisian parks in what Karl calls "a vision of a revived Parisian woman"—it's all about the cut, shapes and silhouettes. Aside from its signature tweed, materials such as charmeuse, chiffon, tulle and satin made a notable appearance in the line-up. Long sheath dresses are layered under a sequinned netting to add volume without compromising the silhouette, and embellished fingerless gloves reach new heights this season.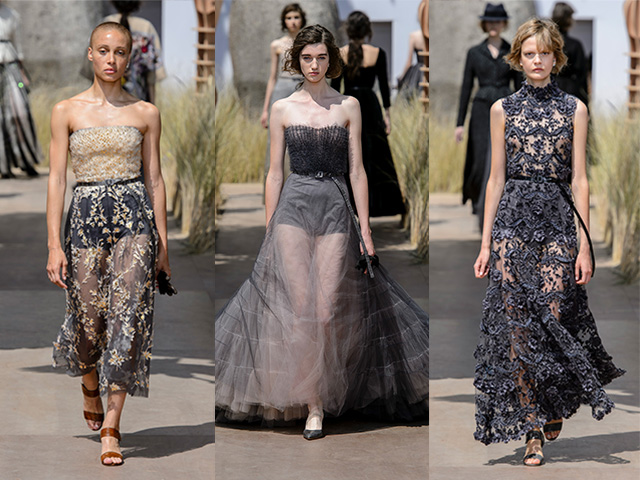 Dior
Maria Grazia Chiuri channeled Monsieur Christian Dior for the collection, citing his quote "a complete collection should address all types of women in all countries" in the show notes. This is reflected on the runway, with hints of sartorial menswear pieces that were surprisingly wearable. What caught our attention though, are the frocks in diaphanous chiffon or tulle that helped to break off the mostly covered-up looks. Spotted in the form of embroidered dresses that sway with your every move and an elegant tiered tulle gown that exudes a badass princess aura, the sheer pieces were mostly layered over high-waisted briefs that help to show off 'em pins.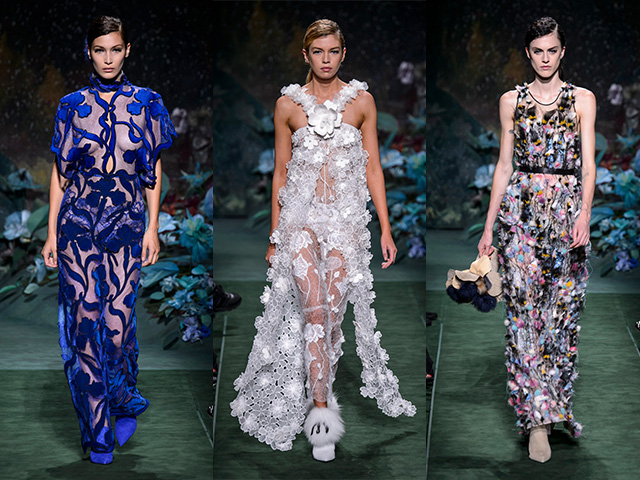 Fendi
Fendi's Haute Couture show—or Haute Fourrure, as the brand calls it, went technicolour this round, with bright and colourful hues sent down the forest decor. The pieces—echoing the theme of the show consisted mostly of fur-trimmed outerwear and dresses, but the sheer pieces which were embroidered with one-of-a-kind florals (as spotted on Bella Hadid), 3D florals and flower-shaped fur definitely helped breath a fresh air and break away from the full-mink outerwear and egg-shaped capes. They're the epitome luxe floral fantasy!
Giorgio Armani Privé
Unlike the other brands that opted to go down a (mostly) one-piece route, Armani opened its show with a variation of sartorial pantsuits and skirtsuits which were tailored to perfection. The see-through separates, on the other hand, were not any less eye-catching. From a beaded top (worn underneath a blazer) to heavily embellished numbers, even though the brand kept the silhouette "safe", the style ante was amped up with its intricacy.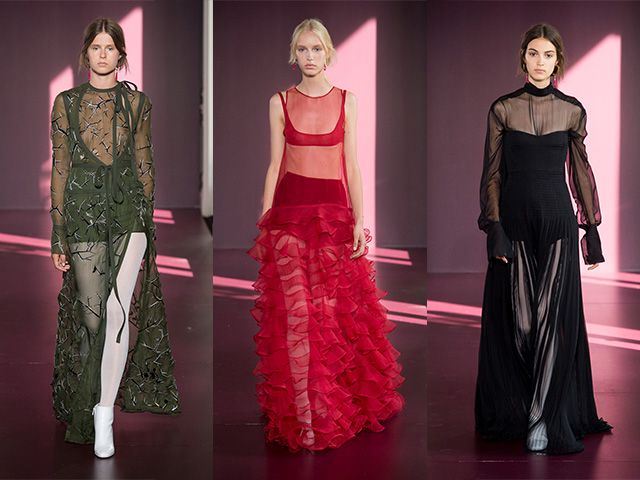 Valentino
A continuation from Resort 2018, creative director Pierpaolo Piccioli kept the sportluxe trend alive for its haute couture show with a dose of streetwear vibe injected into the looks. Knitted leggings were paired with pinted sheer dresses, and a tiered red mesh dress (One of our favourites, fyi) was paired with a tiny bralet and a high-waisted-brief-and-leggings combo. Also on our radar? The pleated maxi dress that gives off a hint of superhero flair. 
Related links:
Dior Haute Couture Spring 2017 is a fairytale come true
Karl Lagerfeld receives the highest distinction Paris can offer