Fashion
Taylor Russell is fashion's newest It-girl and she's dominating all the red carpets
Fashion feast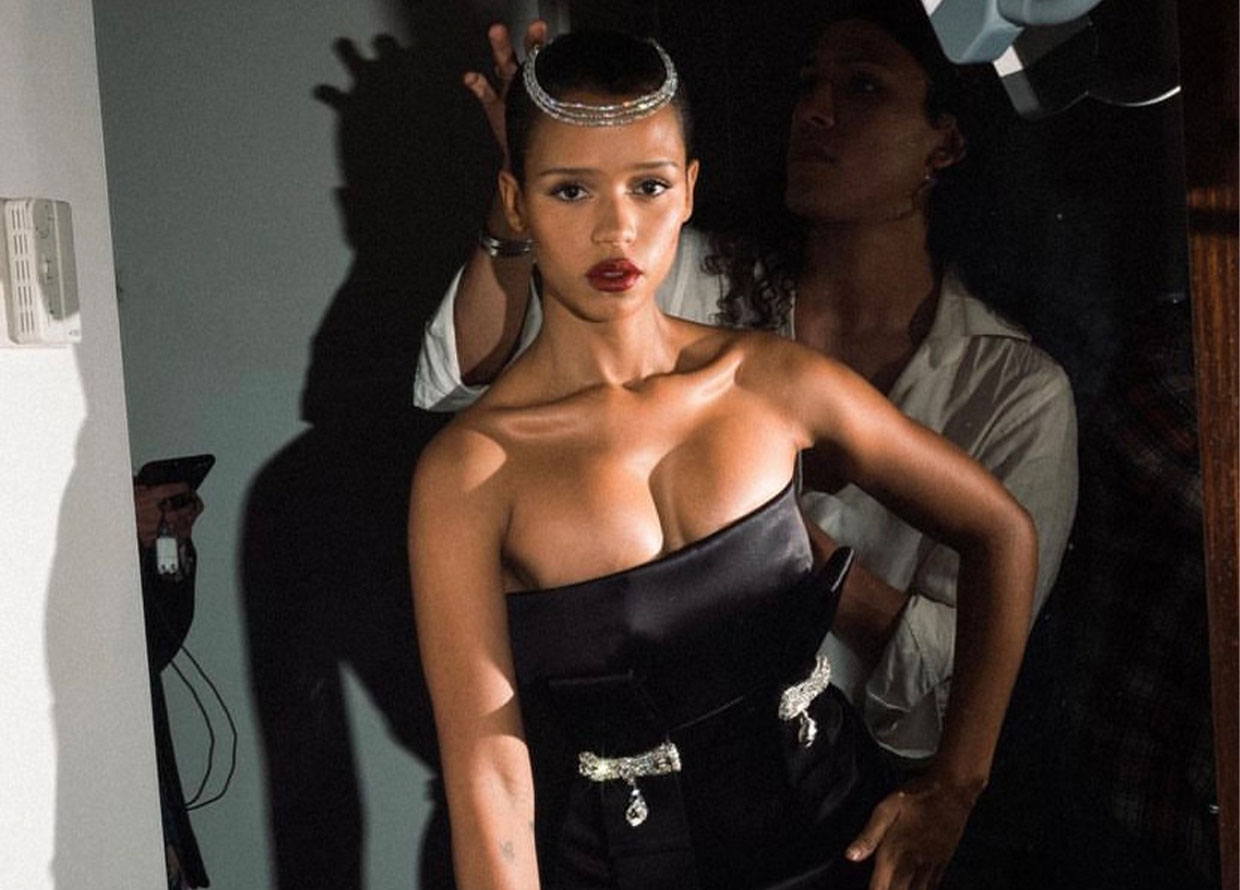 The Bones and All press tour has been nothing less than a thrilling ride for both cinephiles and fashion geeks, with the spotlight shining on a particular stunner that has dominated some of the biggest red carpets in recent months. Whilst perennial fashion icon Chloë Sevigny and heartthrob Timothy Chalamet certainly served flawless looks on the carpet, the spotlight lands on a lesser-known co-star and fashion's new favourite It girl: Taylor Russell. 
View this post on Instagram
The actor-to-fashion muse pipeline is no easy game—more so to open the runway for a prestigious fashion house at Paris Fashion Week—but it's an achievement that could catapult one's career to soaring heights, and the Canadian actress is right on track. Although the rising fashion icon undoubtedly knows her stuff, we couldn't applaud her show-stopping looks without crediting the man behind the impeccable wardrobe, the one and only Ryan Hastings. Surrounded by a slew of style icons and tastemakers, including Euphoria star Alexa Demie, it was only natural for the actress to be spotted in the most immaculate ensembles. 
Set to hit the cinemas in the coming month, you'll be glad to know that the Bones and All fashion parade is still ongoing, and Russell is on a roll. Meanwhile, as we wait with bated breath to catch the style marvel in her next jaw-dropping ensemble, we've listed her best killer looks on the carpet so far.
Venice baby
View this post on Instagram
Russell made her debut at the Venice Film Festival last September, donning look 54 from Balenciaga's 51st couture collection by Demna. Worn by It girl Bella Hadid on the runway, the dress gives an illusion of a gown in the anterior but reveals a minidress in the posterior—essentially formal in the front and party in the back. This was perhaps the show-stopping look that started it all.
View this post on Instagram
Needless to say, her second look in Venice did not disappoint either. After stealing the show on the red carpet, Russell was spotted at the photocall in yet another Balenciaga piece. The actress was dressed in an all-black ensemble made up of a catsuit and the brand's signature pantaleggings.
Second to none
View this post on Instagram
Earlier this month, Russell sent fashion geeks into a frenzy with her Schiaparelli couture look at the 2022 BFI London Film Festival. The head-turner graced the red carpet in an embroidered jacket that was accentuated by a pagoda shoulder contour, and cropped to reveal the silky champagne-coloured corset with a velvet-draped skirt. To top off the look, Russell wore a black boater hat tipped to the side for a touch of mystique. Without having to say a word, Russell was making it known that she did not come to play—and we heard her loud and clear. 
Celestial queen
View this post on Instagram
Looking as divine as ever in Prada, the actress glistened at the New York Film Festival donning a custom black satin dress with crystal-embellished bows across the front and completed with a Cartier diamond halo headpiece. "I'm paying homage to Audrey Hepburn in this very sleek look with a classic silhouette, because she is often my go-to inspiration," Russell explained to Vogue. 
Pure elegance
View this post on Instagram
With only the few looks that we've covered so far, it's clear that the rising fashion star has range. Although some pieces were simpler than others, Russell's graceful allure has a way of completing the pieces that she adorns as if they were always meant to be worn by her—which was especially evident with this Ralph Lauren Fall 2007 dress. Spotted at the Venice Film Festival's closing ceremony, the star received the Marcello Mastroianni Award for Best New Young Actress in a charming strapless dress with an oversized bow on the back. Some might've accessorised to elevate the simple look, but the stunner has no need for that.
Vintage icon
View this post on Instagram
When we thought it couldn't get more iconic after the Schiaparelli look, Russell donned a vintage dress from Vivienne Westwood's Dress to Scale AW98 collection at the London premiere of Bones and All. Distinct in its large orb buttons, the piece was a structured yellow dress that beautifully complemented her ravishing features. Best believe the fashion geeks could not shut up about this piece, and that includes me.
Sumptuous siren
View this post on Instagram
At the 2022 Academy Museum Gala that took place earlier this week, Russell stole the show yet again with the best look of the night. She opted for a much more risqué piece this round, wearing an open-back leather dress fresh off the runway from Alexander McQueen's SS23 collection by Sarah Burton. With minimal accessorising in true Taylor Russell fashion, the look was completed with black leather gloves, Louboutin pumps, and her hair styled in loose curls for a modern flair.
For more fashion stories, click here.
| | |
| --- | --- |
| SHARE THE STORY | |
| Explore More | |