Longing to check out a fashion exhibition but they, unfortunately, never reach Malaysian shores? Good news: Louis Vuitton's Time Capsule exhibition is here in Suria KLCC, and if you (still) need a reason to check it out, read on. Prior to arriving in KL, the time capsule started out in Hong Kong, and have been to Bangkok, Berlin, Singapore, Dubai, Melbourne, Jakarta, Taipei and more. While Louis Vuitton is known as an iconic luxury fashion house today, how much do you know about its history and its beginnings in 1854? The Louis Vuitton trunks, for example, have come a long way since its debut, and regardless whether you're a fan of the brand or not, you're all in for a treat, as archived pieces will be presented in the exhibit.
"With the 'Time Capsule' exhibition, we wanted to tell our history in a different way. We all know the Louis Vuitton trunks, we know about the 19th century, we know about travel, but what we do not know is how modern Louis Vuitton is. If our house is today a leader in the world of luxury, it is thanks to this modernity," said Louis Vuitton's chairman and chief executive officer Michael Burke in an interview with WWD during the Los Angeles stop last year.
The Time Capsule revolves around five key aspects:
Artisans room
Step inside the exhibit you'll be greeted with the Artisans' room, where a Louis Vuitton craftsman—specially flown in for the exhibit—works on the signature Petite Malle in front of your eyes. While you're there, take a closer look (and feel) at the brand's signature monogram and leather that the world can't get enough of.
The key to the codes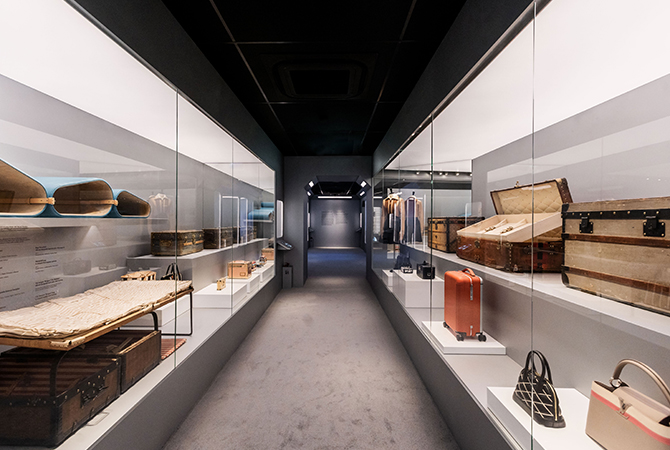 Next, discover "the key to the codes"—the fashion house's very first trunks and its distinctive design features that are not to be missed. Did you know: Louis Vuitton made his very first trunks with camphor wood, which is a natural termite-repellent.
Journeys around the world & Elegance in Motion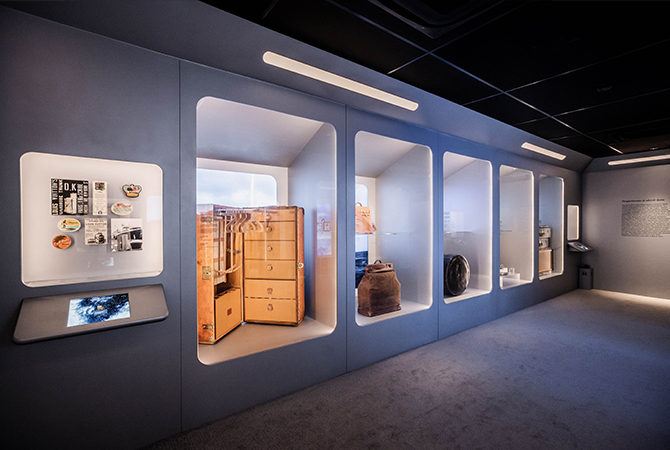 Louis Vuitton started out as a trunk-maker, and in this room, you can have a closer look at how the brand accommodated the different forms of transport, and how it has enabled its clients to travel in style. From the signature flat-top trunks, a round chauffeur case that stores a spare tire, to a wardrobe trunk that comes with hangers and six chest drawers, they are not to be missed. Also a must-see: A case specially created for a Playstation, Helmut Lang's vinyl trunk and more.
Louis Vuitton and the arts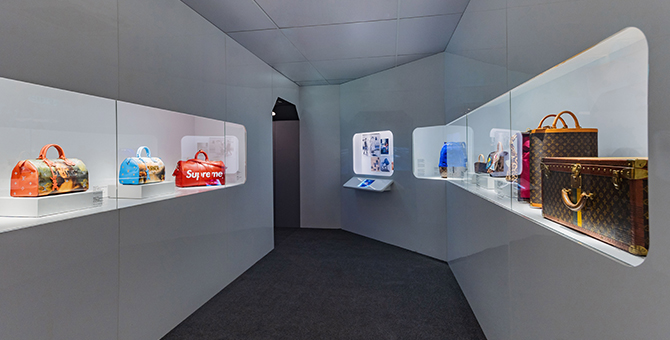 The French fashion house has collaborated with some of the biggest names throughout the years. In this room, check out the bags from Marc Jacobs' (who was the artistic director from 1997 to 2014) collaboration with Stephen Sprouse, Takashi Murakami and Yayoi Kusama; the LV x Supreme collection; and the Monogram project where Frank Gehry—the architect behind the Louis Vuitton Foundation—and designer Azzedine Alaïa were invited to reinterpret the signature print.
Magic Malle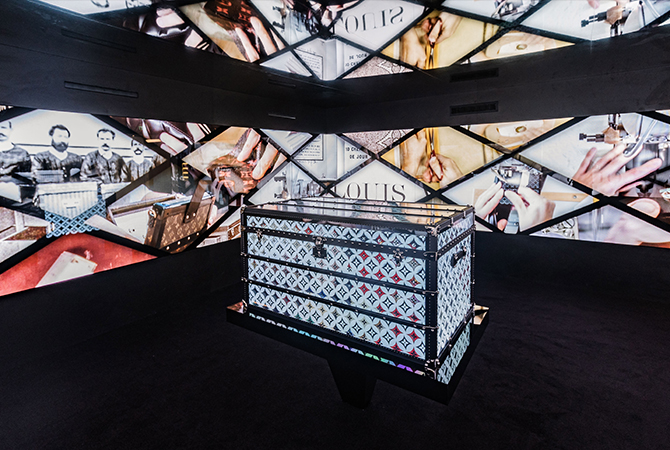 Lastly, step into the Magic Malle, where a supersized trunk is featured in the centre of a mirrored room. In there, videos that trace the history of the Maison are played on a continuous loop. A tried-and-tested tip: It's also a great #OOTD spot.
The exhibition at KLCC Park, Suria KLCC  is open from today onwards until July 28, from 10am to 10pm. Admission is free.