Gwen Ong, Deputy Editor: Victoria Beckham, Look 27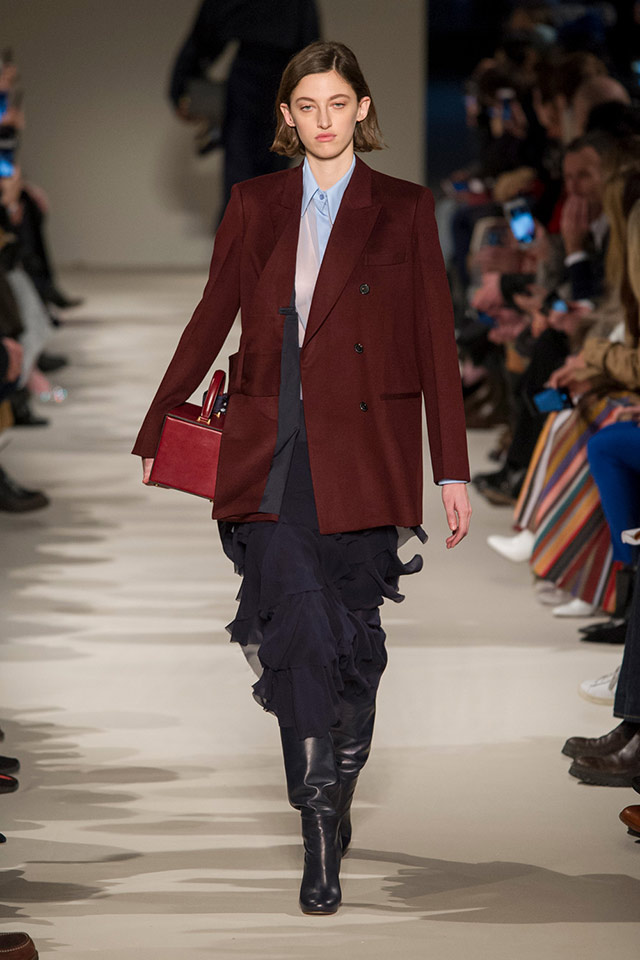 I've always loved admiring Mrs Beckham's sartorial choices. She has reinvented herself pretty well since her Spice Girls days. She's often spotted in slouchy dressing with baggy pants and structured shirt – the kind of things that I would gladly put on. So it is with no surprise that she has taken on this comfy polished silhouette for her NYFW runway show. Her collection features a finely executed elegance and detailed tailoring. I like this pairing of oxblood jacket with breezy chiffon skirt that seems to make a strong statement of her own. Who run the world? Girls! Can we also take a minute to appreciate that vintage inspired vanity case? Major love!
Jasmine Leong, Senior Fashion Writer: 3.1 Philip Lim, Look 35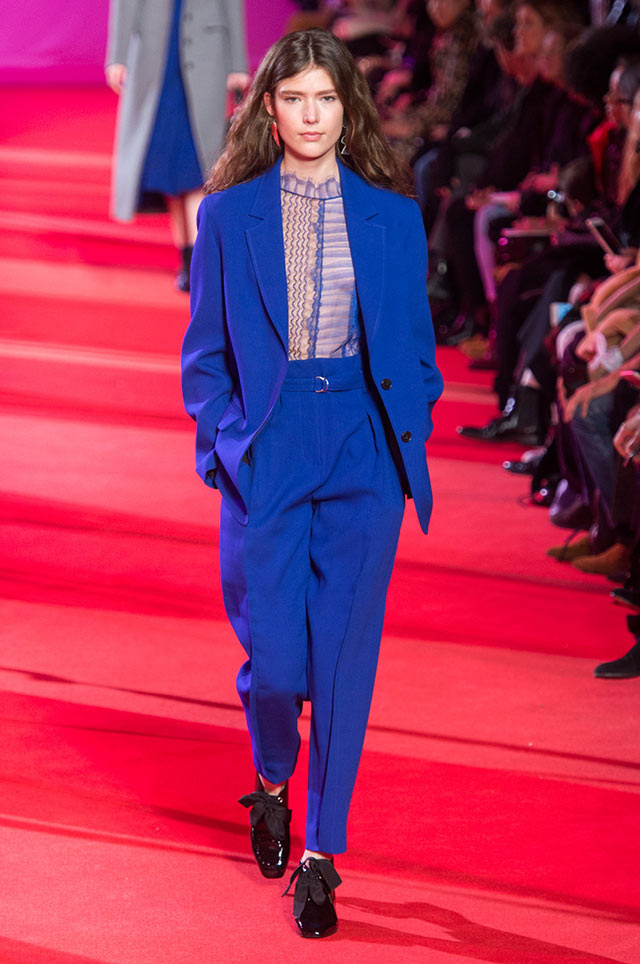 When I read that Philip Lim said in an interview backstage about "making clothes that women want" for the 3.1 Philip Lim Autumn/Winter 2017 collection, I just knew we were in for a treat. The show was full of clothes that women actually will want to wear, but the one ensemble that set my heart racing has got to be Look 35. Apart from the electrifying Yves Klein blue pantsuit, Lim mixed serious with quirk by pairing it with a mesh top—an on-trend piece I thought only reserved for "baddies" on Instagram. I picture myself donning this ensemble at the boardroom, except maybe not with the jacket unbuttoned for the benefit of everyone.
Rachel Au, Senior Lifestyle Writer: Carolina Herrera, Look 3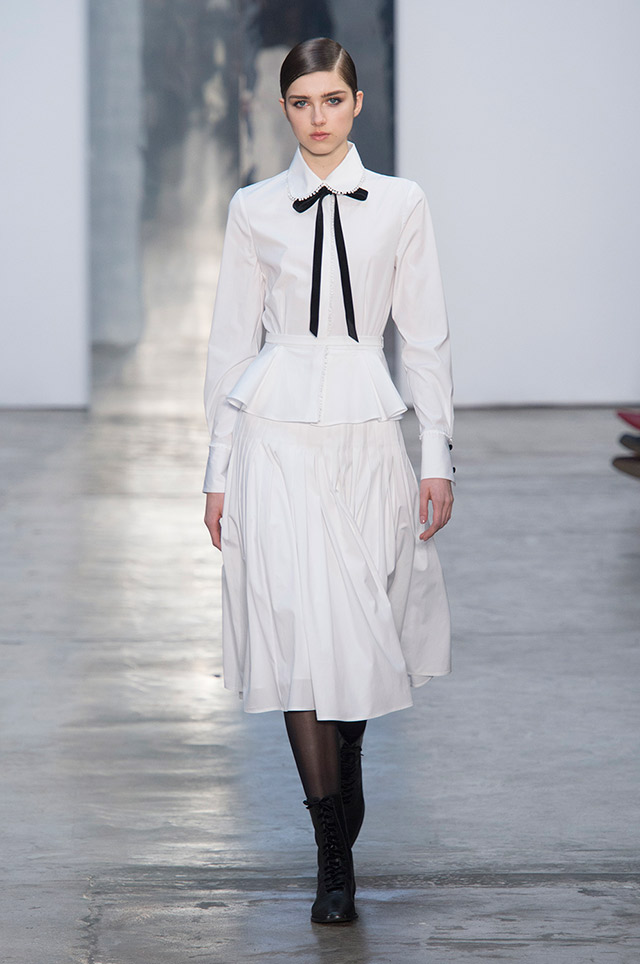 I'll always be a Self-Portrait girl but for the sake of choosing a different designer this season for my wishlist (and being less biased), I had to let my eyes wander and surprisingly, they were gazing at Carolina Herrera. It wasn't just one piece but more than a few that caught my attention. The clean cut silhouettes with a dash of girly details attract me. White blouses are given ribbons in different forms, tops came with tiny cotton pearls embroidered on the sleeves, and dresses had sequins, crepe, bows and more. Besides this one piece, I'll take all the dress shirts too please.
Loh Wei Yeen, Fashion & Beauty Writer: Coach 1941, Look 44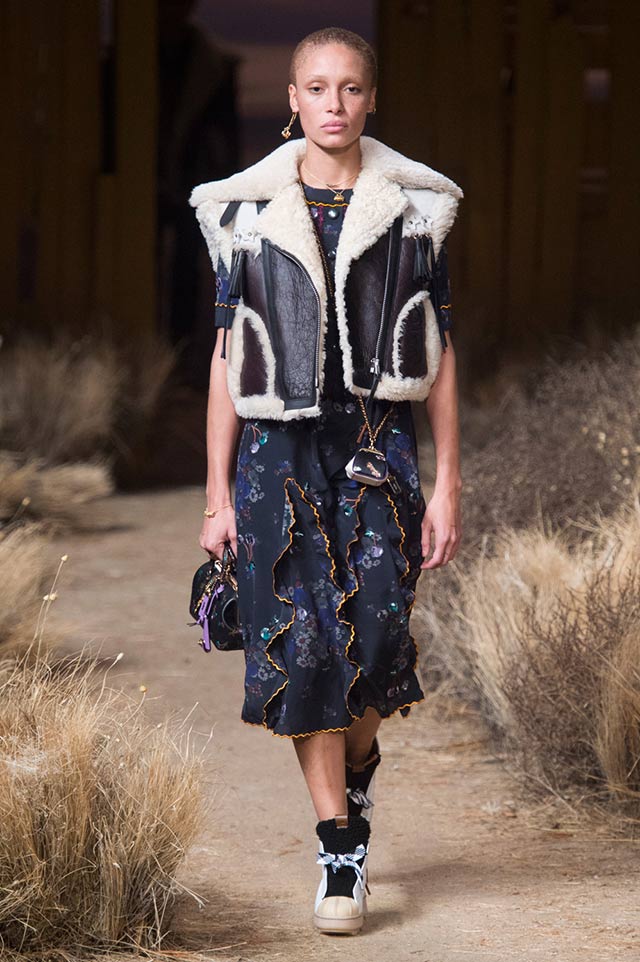 It was Little House on the Prairie meets '80s hip hop at Coach 1941. Stuart Vevers once again took Americana elements and reinterpreted them for AW17, incorporating shearling in basically everything, from the tall hats, oversized jackets, bejeweled flatforms and more. I've always wanted a luxe shearling jacket of my own, and Look 44 affirms my belief that I can wear one without eschewing a feminine vibe thanks to the floral frock beneath and ultra cute pint-sized accessories (that coin pouch has won my heart).
Tan Su Fen, Writer: Diane von Furstenberg, Look 2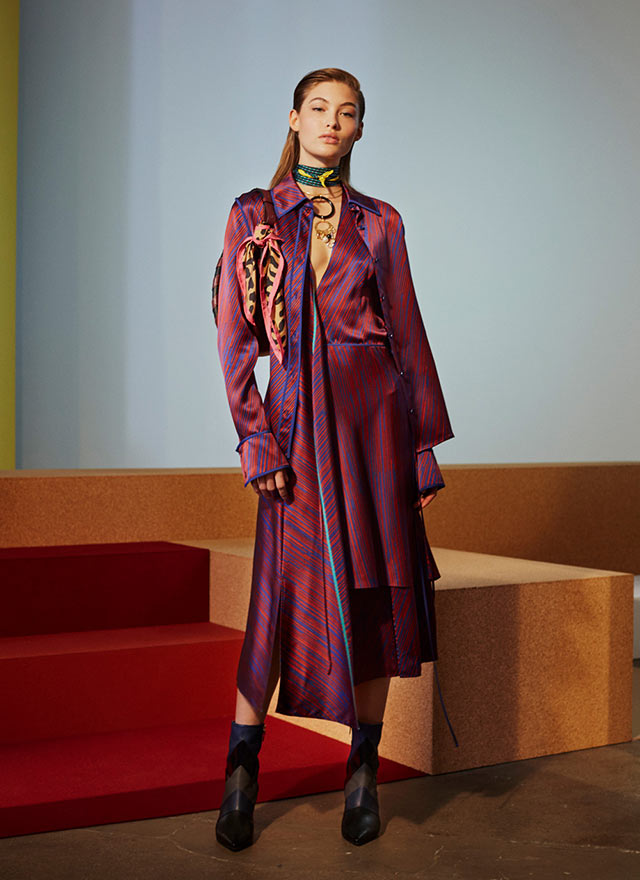 As someone who hardly settles for statement colours and prints, I find myself uncharacteristically drawn to the Diane von Furstenberg AW17 collection this season – where Jonathan Saunder pulled off his vivid use of clashing hues and eclectic patterns rather effortlessly, and with elegance. My favourite from the lot is this alternative take on the brand's iconic wrap dress, for its sumptuous colour combination and pajama-esque layering that work with the languid silhouette for a sophisticated sense of ease.
Alyssa Lee, Editorial Assistant: Proenza Schouler, Look 5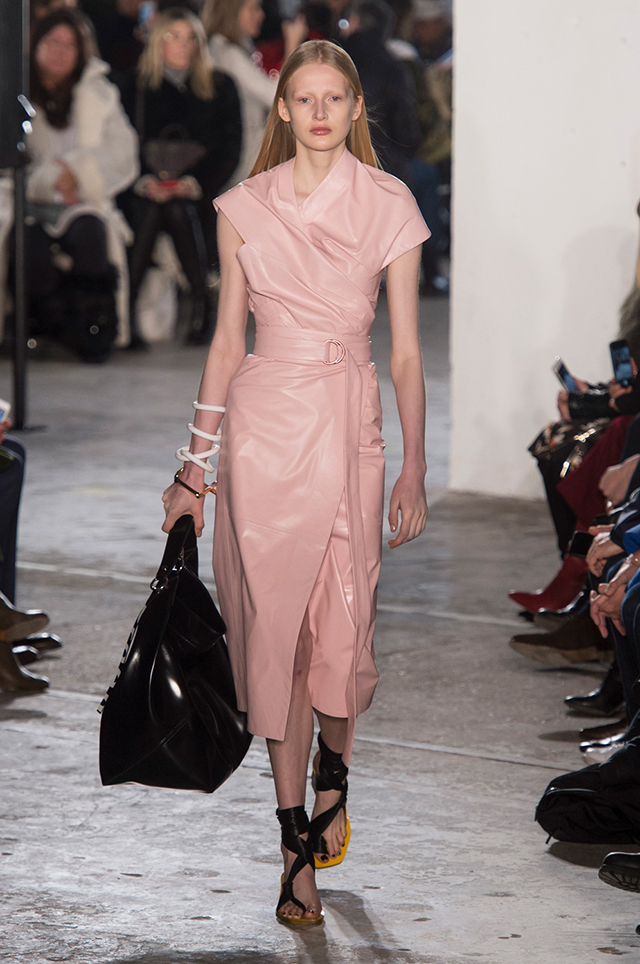 An off-kilter appeal rang melodically through Proenza Schouler's lineup. Although this show marks the tearful final runway before the brand's shift to Paris, the collection was robust and chock-full of new ideas for modern dressing. Look 5, my favourite, exemplifies that. A sleek, unfussy piece of outerwear drenched in fresh hue proposal for fall. The asymmetry and slight haphazardness of the way it's cinched and how it creases describes a busy urbanite—self-assured to a point of polished nonchalance. Let's also get the time-saving 'ain't-got-time-for-brows' look trending, every extra minute of sleep in the morning counts.
Related stories:
New York Fashion Week AW17: Highlights of Day 4
| | |
| --- | --- |
| SHARE THE STORY | |
| Explore More | |