This pandemic has a lot of us pondering on the future of fashion. Will fashion weeks stick to a digital format moving forward? What's the fate of department stores? Will up-and-coming designers make it through COVID-19? So many questions; so many uncertainties. But the one major topic that connects them all, is sustainability. Dries Van Noten—alongside a group of designers and insiders—has recently published an open letter calling the industry to reassess the fashion calendar, and one of his main aims was to be more environmentally and socially sustainable.
Whether the crisis will accelerate or decelerate fashion's sustainability goals remains to be seen, but a few companies have come up with an alternative solution in recent years that can be the answer to the problem—it involves clothes that don't actually exist. Enter digital fashion, aka 3D garments that look like the real deal, except you can't touch or feel it.
The process to purchase is all the same. You scroll through their site, add the piece of your choice to cart, and proceed to checkout. But instead of filling in your address for delivery, you're required to submit a photo of yourself. And instead of receiving your package, you'll get a picture of you "wearing" your new purchase in your inbox. You can now post it on your social media and let the likes come pouring in. The ones behind this, are the 3D designers who are responsible for creating the clothes and rendering them onto your body.
View this post on Instagram
Yes, we know it sounds crazy. Why would anyone spend money on something that isn't actually real? But think about it—I'm sure we're all guilty of wearing things just once. And for some influencers, often times, once a piece of clothing (#sponsored or not) has been photographed, they might not ever see the light of day. With the fashion industry being one of the major polluting industries in the world, owning new clothes that have zero environmental impact—no waste, no water, and no industrial emissions—doesn't seem like a bad idea.
View this post on Instagram
The two companies that have made waves for their digital collections in recent years are Norwegian company Carlings and Amsterdam-based digital fashion house The Fabricant. The former—that mainly offers "real" clothing on its site—launched its first limited-edition virtual line in 2018, and the 19 garments were sold out in a week. Priced at an affordable 9 to 30 pounds, the streetwear pieces are all statement-making on its own.
Its brand manager, Kicki Persson says: "In real life, these types of designer clothes cost thousands of pounds and will usually be worn on social media once because of their distinct design. By selling the digital collection at 15 pounds per item, we've sort of democratised the economy of the fashion industry and at the same time opened up the world of taking chances with your styling, without leaving a negative carbon footprint." The brand has plans to drop a second collection next.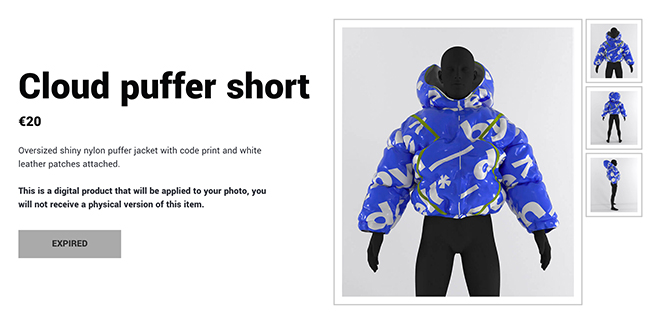 On the other hand, The Fabricant aims to make virtual luxury fashion happen. Its iridescent digital dress—dubbed the world's first "digital couture" piece—was sold at an auction for 7,500 pounds to businessman Richard Ma as a gift to his wife. In an interview with BBC, he said: "It's definitely very expensive, but it's also like an investment. In 10 years' time everybody will be 'wearing' digital fashion. It's a unique memento. It's a sign of the times."
View this post on Instagram
While we're not entirely convinced that virtual fashion will be the 'new normal' in 10 years' time—after all, the joy of fashion is in dressing up and getting to touch and feel the clothes—we get the reasoning behind embracing it. Aside from the zero environmental impact, this could give people the chance to "own" something they could otherwise not be able to afford.
And for those of you who have already spent hundreds of dollars on skins for your online game avatars (remember the League of Legends' skins by Louis Vuitton, and Moschino's The Sims capsule collection?), buying "skins" for yourself might just be the next It-thing. When it'll happen remains to be seen.
| | |
| --- | --- |
| SHARE THE STORY | |
| Explore More | |