The 4-1-1 on the biggest fashion headlines this week
1. Prada commits to using regenerated nylon by 2021
Following their announcement in May that they are choosing to go fur-free for their upcoming 2020 collections, Prada continues to exercise their social responsibility by committing to use only regenerated fibres for their nylon bags. By the end of 2021, you can expect all of their nylon products to be made from Econyl —a material that's made from regenerated nylon fibres recycled from discarded fishing nets and plastic waste found in the oceans—which can be recycled over and over without compromising its durability and strength. We're all for a more sustainable fashion system so props to Prada for putting in efforts to closing the loop.
---
2. Meghan Markle redesigns her engagement ring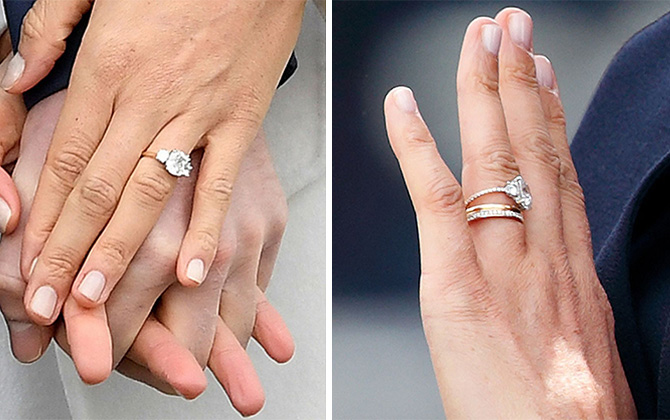 Fans of the British monarchy were shocked to find that The Duchess of Sussex changed up the design of her engagement ring to Prince Harry. The original was a timeless three-stone setting with a cushion-cut accented by two diamonds on each side, set on a classic yellow gold band. This week, eagle-eyed fans noticed the change as the Duchess donned the diamonds on a thinner micro pavé band, much to the dismay of loyal royalists. However, it's important to note that Meghan is not the first royal bride to redesign her engagement ring (read: Princess Diana and Queen Mary). There is currently no insight to the redesign, but either way, it looks beautiful on her.
---
3. Kim Kardashian releases a shapewear line called Kimono
A play on her name, Kimono is the reality star's take on "shapewear and solutions for women that actually work". The shapewear line appears to promote inclusivity by offering a wide range of sizes (from XXs to 4XL) and colours to suit everybody's own shade of nude. She revealed on an Instagram post, "I couldn't find shapewear colour that blended with my skin tone" and would often resort to cutting her shapewear to make her own styles. She continued, "I developed this style for all those times I wanted to wear a dress or a skirt with a slit and still needed the support". We applaud Kim's creation and we understand the name play behind the brand....but we're not sold on the use of an important Japanese attire that plays a huge part in their history and culture to be made into a pun to sell undergarments. Thoughts?
---
4. Coach releases a short film to celebrate fifty years of Pride

Titled "Fifty Years Proud", the 3-minute film features a diverse group of members from the LGBTQ+ community set against five decades—from the disco-glam fantasia of the '70s, to the larger-than-life techno '80s, fierce and grunge-filled '90s to the unapologetic boundary breaking-noughties and now. The cast is clad in studs and ruffles, leopard and leather as they strike a pose in Coach's latest wears.
---
5. You can now wear the identical Uniqlo designs that Roger Federer sports at Wimbledon 2019
Uniqlo launches replica game wear worn by their global brand ambassador and tennis pro, Roger Federer at this year's Wimbledon championships. The new designs were developed by the design team at the Uniqlo Research and Development Center in Paris, led by artistic director Christophe Lemaire, in collaboration with Federer himself. The sports wear ensemble comes in an all-white colourway to go with Wimbledon's age old dress code, and features a classic design with a cutaway collar that suits the traditional tournament and Federer's elegant playing style. If you love a good round of tennis, here's a look you need to add to your wardrobe. We can't promise that you'll play as well as he does though.
---
6. Heidi Klum and Tim Gunn reunite for a new fashion competition
After their departure from a long stint on Project Runway, the fashion duo are back with a brand new fashion show called 'Making the Cut'. The pair were in Paris on Tuesday to film the new series which is scheduled to air early next year on Amazon Prime Video, and plan to do so with a bang! The first runway challenge took place on an open air-stage in front of the Eiffel Tower, WWD reports. The new fashion series will bring 12 entrepreneurs and designers across the globe competing for a whopping US$ 1 million prize and the opportunity to turn their business into a global brand. For now, we know that Naomi Campbell, Joseph Altuzarra, Carine Roitfeld and Nicole Richie will appear as judges and guest judges on the first episode. We may not be able to enjoy Amazon Prime Video here in Malaysia, but we'll still have Alexa Chung and Tan France on Netflix!
7. Calling all women entrepreneurs, the Cartier Women's Initiative 2020 is now open for applications.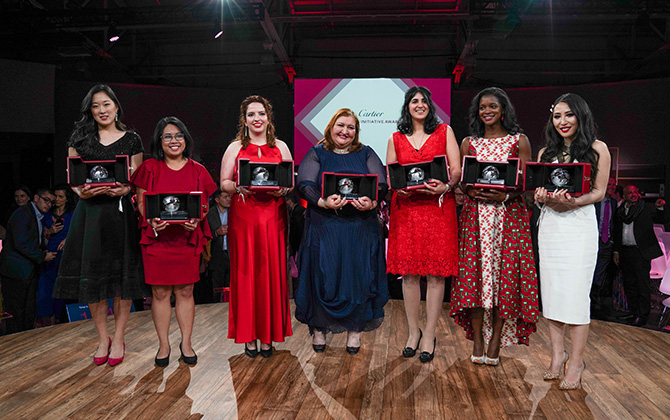 The 2019 Laureates - Yeon Jeong Cho (South Korea), Carmina Bayombong (Philippines), Liza Velarde (Mexico), Hibah Shata (UAE), Zineb Agoumi (France), Manka Angwafo (Cameroon), Ran Ma (USA)
Since its inception in 2006, the business competition is a platform that supports women entrepreneurs around the world, by providing funding, coaching and networking opportunities. This initiative aims to support exceptional women with their projects which are driven to make positive change. This year's list of finalists include work that provides eco-friendly renewable energy in Kenya, a student loan service that prioritises low income household's in the Philippines, and more.
Gearing up for next year's competition, Cartier is now calling for a new set of applicants. Submission deadline falls on 14 August 2019 at 2PM (CEST).