Velvet scarves, patterned knits and glossy jackets are a few of our must-haves from Milan Men's Fashion Week Autumn/Winter 2017
Gwen Ong, Deputy Editor: Prada, Look 18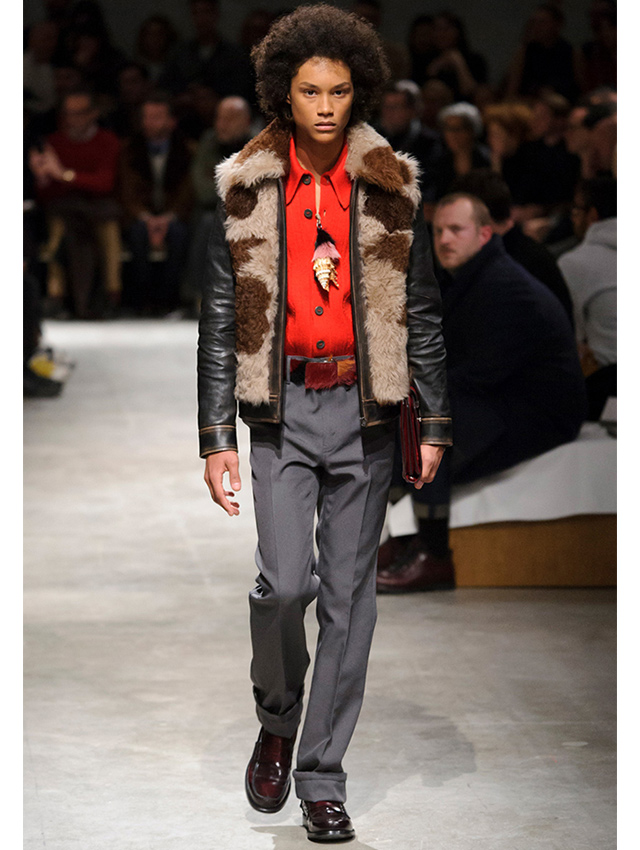 The '70s fascinate me for its heady youth culture, carefree spirit and strong opinions. It was a time when personalities and their voices are heard loud and clear. Even though Miuccia didn't intend to, it was evidently a '70s show for Prada's MFW presentation. Smooth corduroys, geometric patterned knits and plush jackets seem like the order of the day. I reckon this look is what you'd call swag gear — something that you'd see on the famous duo Starsky & Hutch. It has such a 'don't mess with me' vibe that makes me want to actually mess with him. 
Jasmine Leong, Senior Fashion Writer: Giorgio Armani, Look 93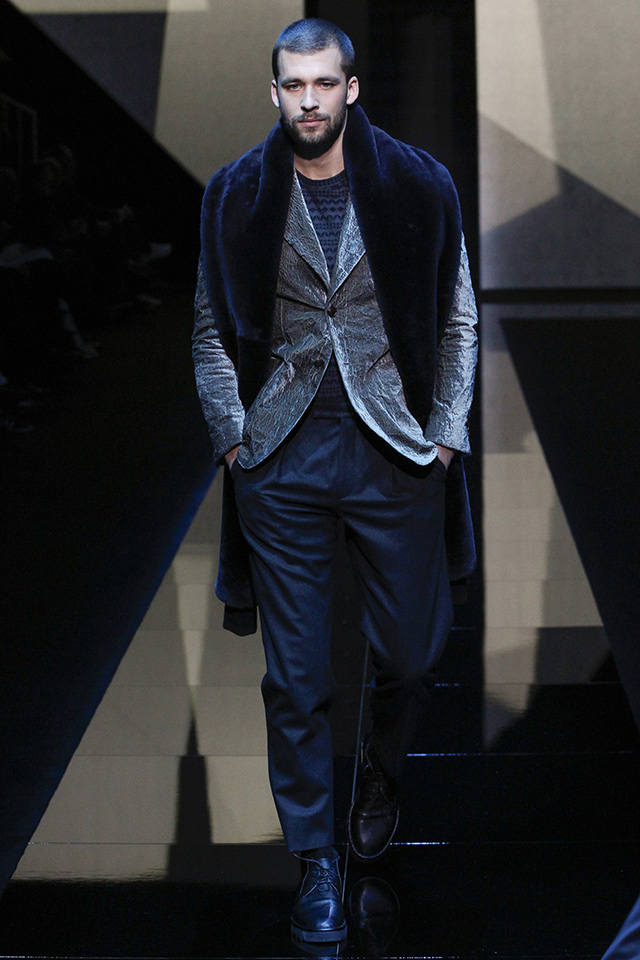 Giorgio Armani hits all the right notes with a collection inspired by comfort and cold-weather dressing. There's something refreshing about classics reinterpreted via a slew of textures (courtesy of the various materials used such as wool blends, jacquard, corduroy and more) and contrasting colours. A velvet plush scarf and textured jacket in a palette of midnight blue and metallic silver? This ensemble just about checks all the right boxes in my what-to-wear-to-keep-warm wishlist—not to mention, there's always room in my wardrobe for another scarf as chic as this one since I'm prone to feeling chilly all the time. 
Loh Wei Yeen, Fashion & Beauty Writer: Salvatore Ferragamo, Look 35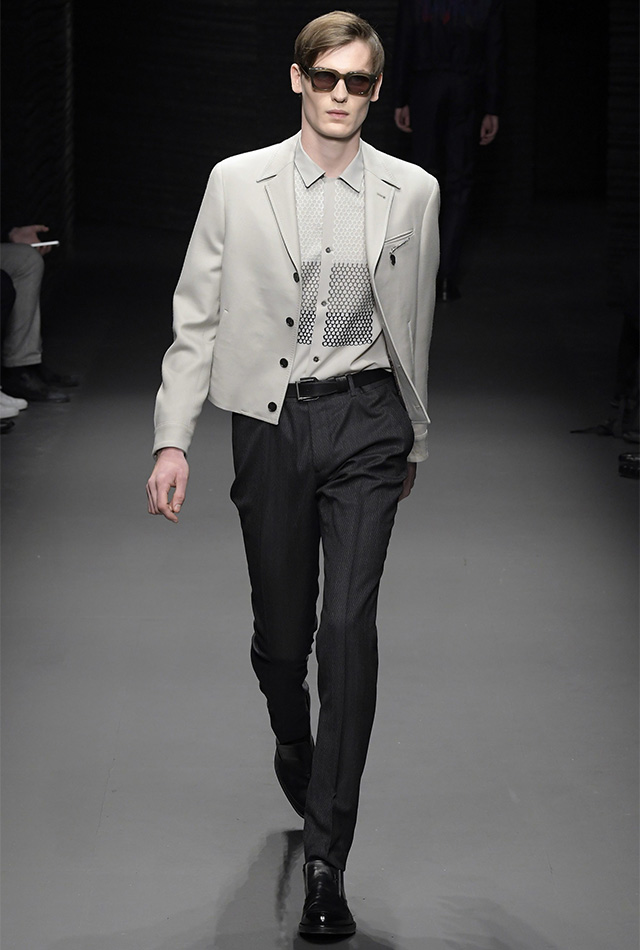 Newly appointed menswear creative director Guillaume Meilland served plenty of Italan savoir faire in his debut collection for Salvatore Ferragamo. His forte lies in bridging the gap between contemporary aesthetics and old-school tradition, as such he has demonstrated his keen eye in knowing what the young urban male would want (without straying too far). The littlest details are what I enjoy picking out from this look — from the shortened jacket hemline to narrow, cropped pants that offer a retro-leaning vibe to this outing. Swoon-worthy yet with a sleek edge? Check.
Rachel Au, Senior Lifestyle Writer: Ermenegildo Zegna, Look 22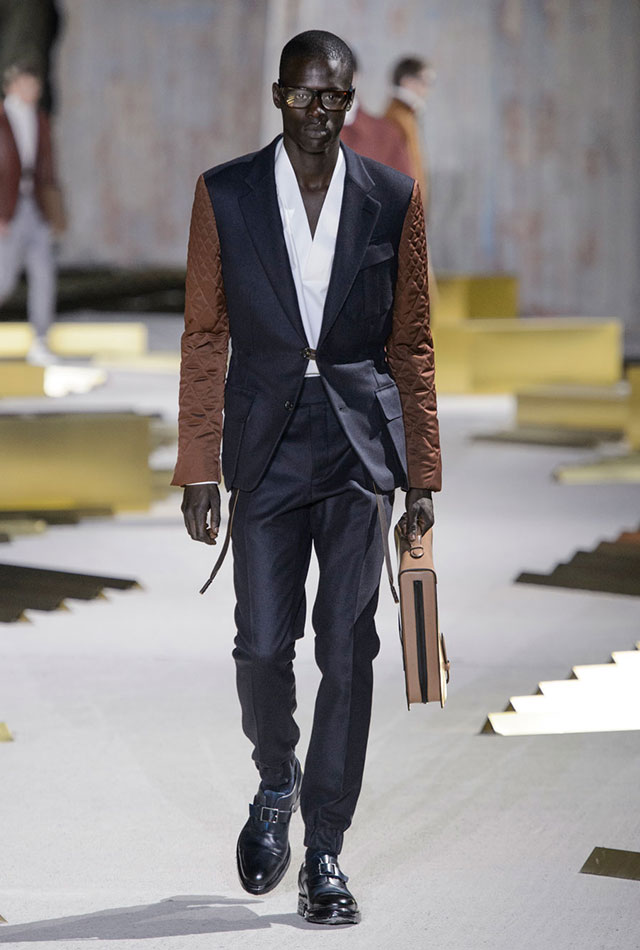 While I have yet to fulfil my 2017 style resolution, I am, however, at the very least, showing some signs of change with the looks that tickle my fancy. Out of all the recent menswear shows in Milan, it's Ermenegildo Zegna that has my heart. Known as a luxury brand defined by tailoring, the runway saw piece after piece, and look after look that fully represented its core vision with a modern twist by Alessandro Sartori. Utilising neutral tones and featuring various fabric textures, the common suit is less formal yet not casual, sports-inspired attires were borderline semi-formal such as the loose tracksuit-style trousers. It was a collection that was one of the hardest to just pick a single look for a wishlist but this hybrid blazer with its quilted sleeves and a makeshift belt ultimately resemble something I could spend a lifetime with. 
Alyssa Lee, Editorial Assistant: Versace, Look 40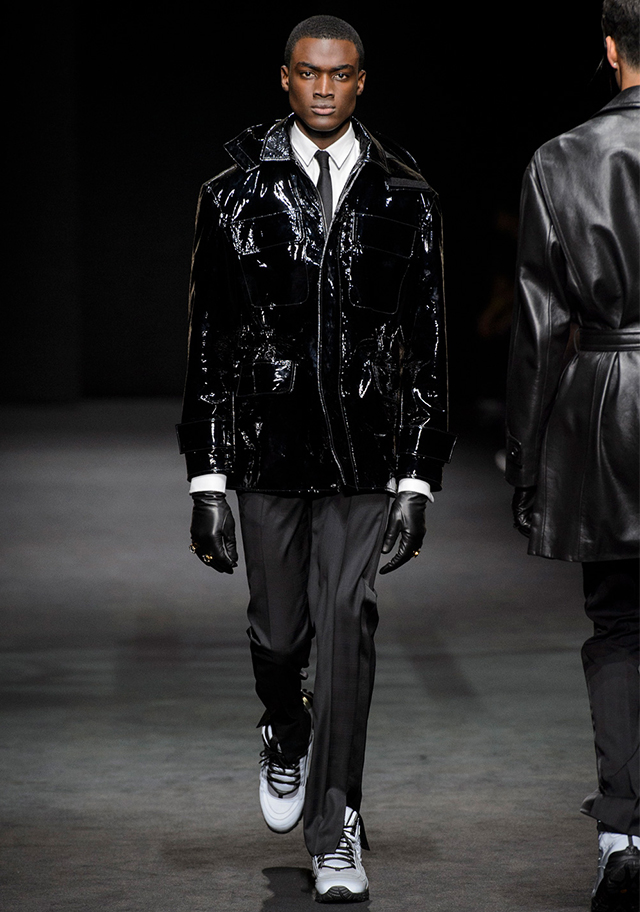 It's when shows push boundaries to veer towards the distasteful that our ideologies are challenged and expanded — that's how fashion progresses. The overt fabrications of tartans and patents go beyond being eye-catching to serve as more of an eye-opener. It intercepts an echo from our inescapable maximalist future. But if flamboyance remains too attention-starved in your books, the shine from the glossed patent material of this jacket coupled with the seemingly prosaic black suit and tie (save for the trendy stripe along the side seams of the pants) exemplifies how one could attempt new trends without blinding any eyes or making heads roll. I guess you could say taking style risks is "to err on the side of fashion."
You may like...
#WednesdayWishlist: LFW Men's SS17 outerwear that stole our hearts
The best scarf game spotted on the streets of Milan MFW AW17