Men's
Love the ketupat? These woven accessories will elevate your Raya OOTD while subtly paying homage to the Malaysian dish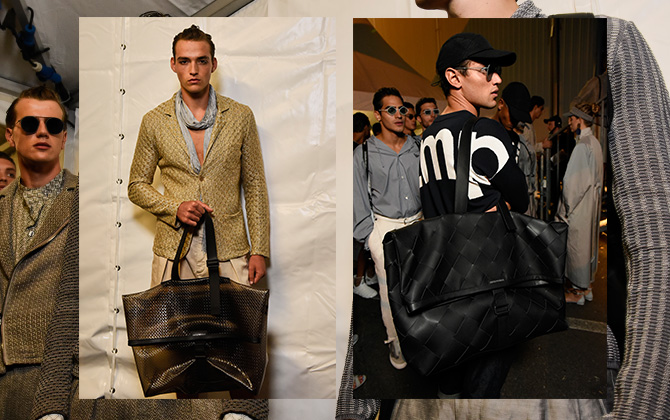 We've seen for ourselves the amount of work that goes into making a ketupat. Its diamond-shaped pouches are made from interlacing coconut leaves in a specific pattern (they're basically leave-woven mini handbags filled with rice!) and are quintessential to every Raya celebration. Its strict and intricate process is a definite art form. Is the ketupat your favourite Raya dish? Pay homage to the art of the weave while elevating your Raya OOTD with Emporio Armani's collection of weaved accessories.
The leather backpack with the maxi interweave is an obvious choice with its oversized weave motif. The top-fold padded backpack has a diagonal weave body that bears a striking resemblance to the criss-cross style of the ketupat. Sturdy, versatile and functional, the buckle closure and zipped side compartment enables quick and easy access while being the perfect size as an overnight 'balik kampung' companion. If you're the exhibitionist type, the see-through polyurethane backpack with the embossed weave effect lets you have the best of both worlds.
No doubt the single-shouldered backpack in smooth, interwoven leather wins major street style points. Hit the hands-free bag trend right on the mark with this updated version of the fanny pack, and wear it across the shoulder. The dual-toned leather layers add a pop of colour to your Raya ensemble. Bonus: The drawstring closure lets your store your 'duit Raya' with ease.
Swipe for more woven picks from Emporio Armani:
{insert gallery tpl="slide-freesize.tpl" id="[Стандартная] Emporio Armani woven trend" rid="7228″ order="a_tstamp"}
| | |
| --- | --- |
| SHARE THE STORY | |
| Explore More | |