Founder of The Haute Pursuit Vanessa Hong shares her must-travel spots across the globe along with her favourite new-season accessory from Jimmy Choo
Put a bevy of beauties amidst a backdrop of glistening azure of the Indian Ocean and you'll get Jimmy Choo's summer vacation in Maldives along with a host of digital influencers across the globe. While last year's choice of destination was the magical Rajasthan in India, 2017 is all about the island life—perfect for the rebellious spirit who loves nothing more than to bask in the sun on the pristine shores with the sounds of lapping waves. We scored an exclusive interview with the ultra chic Vanessa Hong of The Haute Pursuit to find out her favourite part of the Maldives experience with Jimmy Choo, packing tips for an island getaway, and a fashion trend she's obsessed with at the moment:
1. Share with us the Maldives experience with Jimmy Choo. What was your favourite part of the trip?
The whole experience was unforgettable. I've never been to Maldives before and have always dreamed of going. Needless to say, when I got to my room I was screaming and jumping in excitement! The most memorable experience was probably waking up first thing in the morning and diving off from my deck into the beautiful, crystal clear waters.
2. Where is your favourite place in the world, and why is it so special to you?
For the best food spots, I like Fes in Morocco, and Los Angeles for the best vegan eateries. I love Sydney too, because everything there is ridiculously fresh. Shopping wise, I think Marrakech has the best markets, while Paris has a wide variety of shopping spots. Tokyo also has a great vintage clothing scene.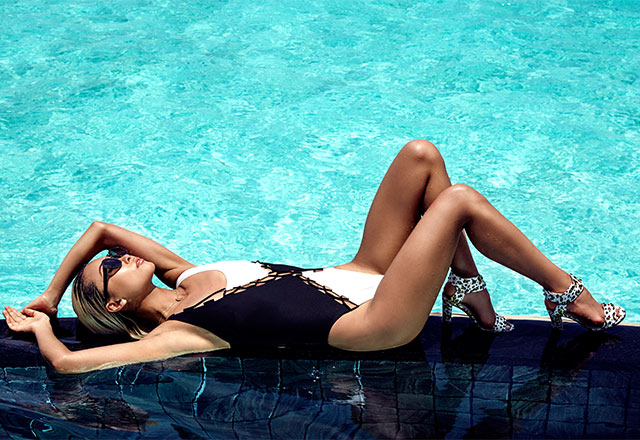 3. What is currently on top of your bucket list?
Peru, Costa Rica, Berlin, and India. The top of my list is probably India — it just seems magical to me!
4. What is one packing tip or trick that always works for you when you globetrot?
Zip lock bags — they are clear and great for organising all your toiletries.
5. What are your must-have shoes and bags that we can find in your luggage?
I'm loving the Finley mini bags from Jimmy Choo — they fit just what you need and the shiny leather adds a rebellious touch. My style is really subtle so I like mixing it up with 'maximimalist' accessories like the Marine sandals — I can see myself wearing them with jeans or a pair of leather skinnies.
6. Do you have any style tips for summer that you'd recommend our readers?
I think a casual straw bag is essential — it's great for going to farmers markets or the beach. For outfits, I always wear a lot of white in the summer to highlight my tan. Because it can get very warm, I wear more natural fibres like silk, linen and organic cottons. I always have a slip dress on hand — I think that's become a trademark of mine! 
7. Your favourite pair of sunglasses right now is... 
A pair of cat eye sunglasses.
8. A fashion trend you can't get enough of?
Borrowing from the boy's closet. I've always loved the juxtaposition of masculine pieces with more feminine shapes. 
9. Who is your go-to style inspiration?
Right now I'm really inspired by Jackie O. She was always so simple in her tastes — restrained, yet endlessly stylish. A timeless style is what I'm invested in.
10. What's your definition of a perfect vacation?
Lots of sunshine, great food, and culture.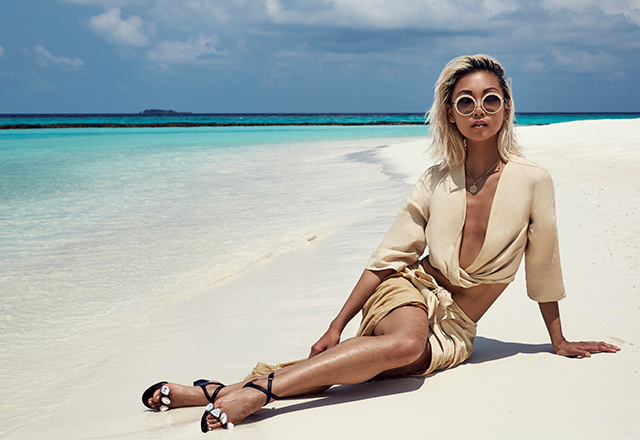 Related stories:
Dakota Fanning stars in Jimmy Choo's SS17 Style Diary
Aimee Song on travelling with Jimmy Choo