The talented designer of ultra-cool street-style inspired pieces shares his aesthetic behind his collection and show during Joe Chia Episode 02
Joe Chia is going places. Since the inception of his namesake label in 2012, his very minimalistic yet chic clothing is currently stocked in 10 countries worldwide from Berlin to Shanghai, and he also recently showed during Vietnam Fashion Week—no mean feat for an award-winning Raffles alumni born and raised in a small town in Kelantan.
Before his Episode 02 show, we caught up with the humble designer who shares his experience in Vietnam and what he's most thankful for throughout his career:
Congratulations at showcasing during Vietnam Fashion Week! How was your experience like?
It was great! Surprisingly the outcome was satisfying. It was our first time showcasing at Vietnam Fashion Week and I am very happy and grateful to be part of it. We showcased the Episode 02 collection alongside a few international designers from Singapore, Paris and London. Everything went according to plan and it was quite well thought-out too, from the accommodation to the event and after-party. It's a good experience for us to be at an international fashion event outside of KL; we did showcased at a few places outside of Malaysia but this was a whole new experience entirely.
Tell us more about your latest collection—from the colour to the silhouettes.
When we do colours, we include it in subtle ways as we don't use bold colours. This collection has earthy neutral hues such as beige and different shade of grays. We always have hints of colour in every season, it probably isn't that obvious.
Did the gender-fluid silhouette trend take place as well?
We've always wanted our clothes to be like that from the very beginning. Initially when I introduced my collection, it was unisex and it actually conflicted with fashion show schedules because it's either you present menswear or womenswear on different weeks. But our clothes come in seven sizes, from XS women to XL men. This is really what our DNA is, since we first started out.
Did you have an inspiration for this collection?
We try to experiment with different silhouettes. But there's no one inspiration or specific idea. For me it's more of a process, from the previous chapter to this and also to the next. We think about how we can improve after showcasing a collection, whether mistakes we've made or slight imperfections. To us, our collections represent a continuous journey as it's all inter-related. Ever since I was in college, the things that I like are in the same category but these things evolve as time goes by.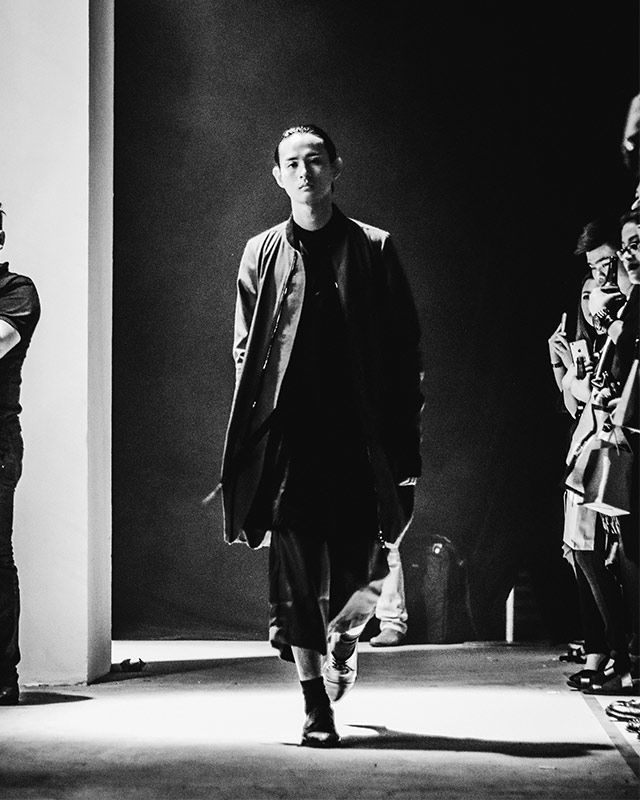 How would you describe Joe Chia the label?
I would like to describe it as timeless yet experimental. It's very street-style inspired. We like to experiment with different hand-stitching and materials. So I think it's quite sophisticated. But at the end of the day, I hope the audience would tell us what they think about the collection, instead of me telling them what my vision is.
At Vietnam Fashion Week's after-party, someone told us that they liked our collection and that they saw "freedom" in it, and I had never thought about it from the perspective before. So how the audience feels about our clothes is more important to us. Others saw urban-military nuances, and even uniform-inspired elements. We try to improve season after season, so we don't really think about what our collection represents in a broader concept. But our aesthetic and core values remain rooted in every collection.
One designer you would love to meet?
Yohji Yamamoto, definitely. He's an iconic designer who had inspired me from the first magazine I flipped through when I was in high school (back in Kelantan). I also really admire Rei Kawakubo. I had no idea what fashion was all about at that time, and when I saw what Comme des Garçons was all about, I realised that fashion can be done in so many different ways. It isn't just about red carpet or couture fashion, but there are different ways to express your work and yourself. I think that's how I became interested in fashion and pursued it later on. People who have their unique, personal style and views always catch my attention.
What's next for your label?
So far, the label is growing very organically and slowly, which is a good thing. We're very happy with the results as well. We only started four years ago but now we are already selling in 10 different countries, and I'm really grateful. We're open to all kinds of opportunities. When it comes to the next step, we'll do what we like and stay firm on our own feet. We'll join Paris Fashion Week in June. We have a showroom in Paris now so we actually go there twice a year. We travel to mostly Paris, Hong Kong (where our suppliers are at), and Malaysia (where production is carried out). It's always great to travel and then come back and see my family again.
We have a very small team of eight, including production. There are plans to expand but we don't want to grow it too fast. I don't think we can cope with it—I'm not from a business or management background, and I love what I'm doing as a designer. I'll leave the expansion plans aside but we're always open to discussion. We finally have our online store ready to go. It took me more than two years to get it up and running! From the layout of the site and everything else—it's not really good from a business point of view [to delay the launch of our online store], but we finally got it up and it will be ready in June. That will be our main focus this year. We're going to Paris in January again as well. In between fashion weeks we have six months, where we'll dabble with other projects in mind.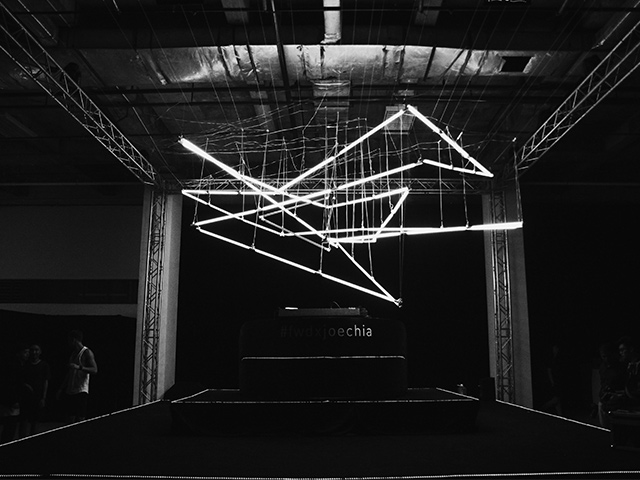 Was there a certain inspiration behind your set tonight?
I do have a certain direction, but we like to give freedom to artists and people that we collaborate with. Jun gave us the LED light inspiration and he recently also showed his star sculpture in Penang. I love that we combine good ideas together for a show and to have a great time. This matters the most to me. Even Xu (from Lapsap) told me that he didn't feel that the music during Vietnam Fashion Week suited my collection well enough. So he said, "Let me create something with different rhythms for you." And it's these things that people won't see if they aren't from the industry, as these professionals can tell you what they feel/think is best. I feel thankful when they share their advice, so I told him, "Go ahead, do what you feel is best!" 
You may also like...
#BackstageBeauty: M.A.C Cosmetics for Joe Chia Episode 02