H&M is on a roll with their designer collaborations. Hot off the heels of their partnership with Sabyasachi (which was almost instantly sold out!) comes another exciting collection with Japanese cult brand Toga. For the unfamiliar, Toga is a Tokyo-based independent luxury label founded by Yasuko Furuta in 1997. The designer and her brand have garnered a dedicated fanbase for its avant-garde character that meets wardrobe classics. The results are genderless and timeless. You would easily find a couple of signatures in a Toga piece with the use of cut-outs in unexpected places (for that peekaboo effect—or not) and the choice of materials. Furuta's unique art comes from her heritage in Japan as well as her education and exposure in Paris. She studied fashion design and patterning at Esmod Japan before moving on to Esmod Paris. As per its name, the Toga Archives x H&M collection will be giving Toga's archival hits a reinterpretation and refresh for both men and women—although as per the label's signature, the pieces work for all.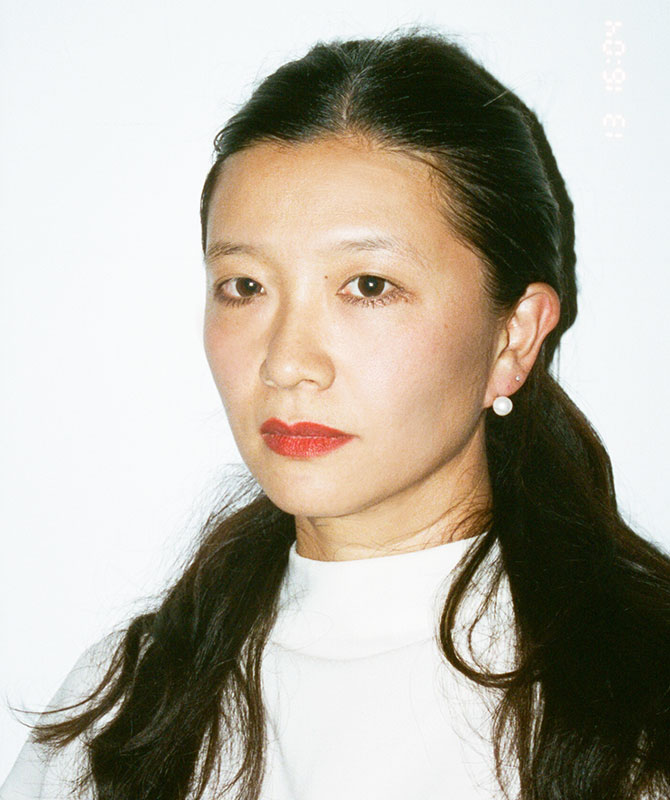 BURO: Hello Furuta-san! Congratulations on the upcoming Toga Archives x H&M collection. It's immensely exciting and inspiring. Your work has been known to be avant-garde and is distinctive with its interesting use of cut-out holes, fabrics and silhouettes. But how do you think your approach to fashion has changed over the years?
Yasuko Furuta: "The fashion business is based on a very fast-paced schedule, a very demanding schedule—but the other side of that is that we can reflect social needs very quickly. In that sense, I believe that fashion can kind of project into the future in any age, certainly in recent years when problems of discrimination based on gender, sexuality, race have become an urgent issue. It's always been an issue, but it has been increasingly highlighted. I've always been interested in being critical of any discrimination but also I try to spread opinions that have historically been seen as minority opinions. To that end, I'm very interested. I've always worked towards borderlessness."
BURO: The pandemic has been challenging to most. In terms of fashion, WFH fits became quite popular where people either dressed in loungewear or go all out in their best outfits, regardless. What was your WFH fashion like?
Yasuko Furuta: "When I am getting dressed, I don't think of it as an experiment. But I do take my mood seriously, and the occasion I am dressing for. Fashion is a way to express yourself, even before communicating verbally. So, for me, it's important that I'm wearing something I feel comfortable in, and that it fits well."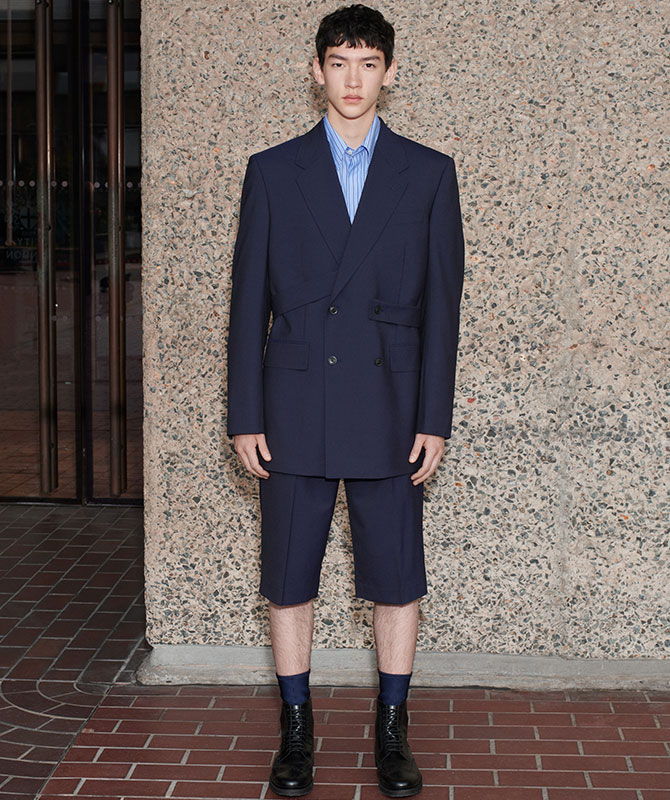 BURO: Food is a universal language, as is fashion. Just like how French-trained Japanese chefs would develop a unique hybrid of heritage and techniques, you too have that background. But precisely what aspects of your Japanese origins and teachings/experience in Paris did you pick to form your own unique style for Toga?
Yasuko Furuta: "In Japan, fashion is sometimes used to conceal and stoke the other's imagination. In Europe, fashion is an expression that appeals directly to the eye. I'm interested in both and want to strike a balance between the two."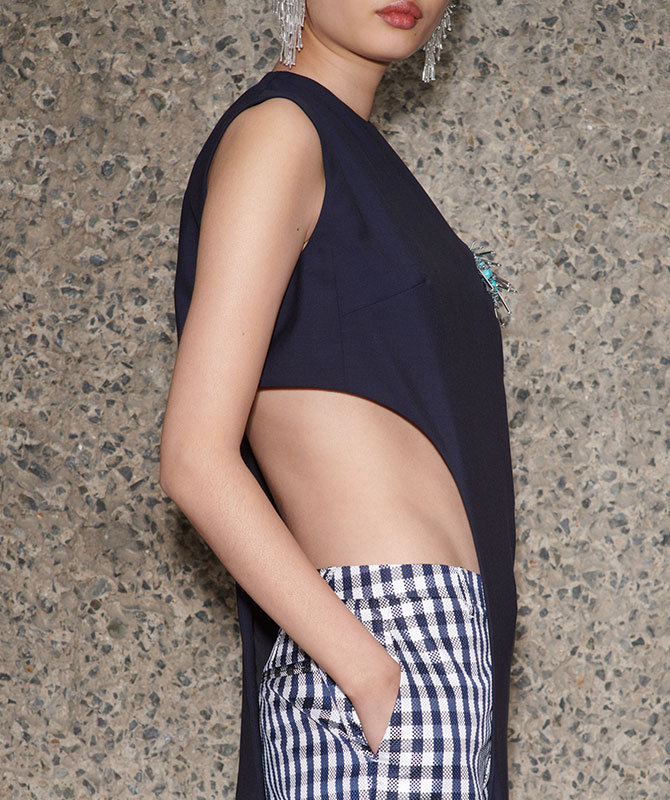 BURO: Let's talk about the upcoming Toga Archives x H&M collection. What are some of the interesting materials that you have used for it?
Yasuko Furuta: "We have made sure the Toga Archives X H&M collection has been produced to the highest standards possible, ensuring durability and long-lasting quality design. The collection includes a mix of fabrics including more sustainable materials such as Naia™ Renew acetate (an innovative yarn produced from 60 per cent sustainability sourced wood pulp and 40 per cent certified recycled waste plastics), Responsible Wool Standards knitwear, recycled polyester and recycled zinc for accessories."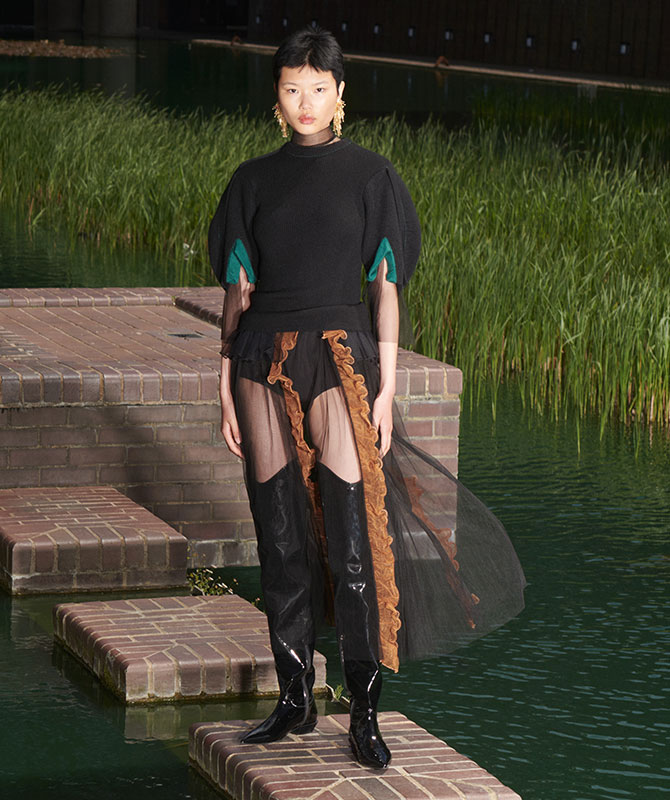 BURO: What are some interesting behind-the-scenes stories that you can share from creating the Toga Archives x H&M collection?
Yasuko Furuta: "Communicating and producing this collection remotely in a global pandemic has been a huge challenge. Things have changed very, very fast in terms of the business of fashion since the outbreak of the pandemic—I prefer to see the opportunities and the positives in this situation, but it's true that there are difficulties working remotely."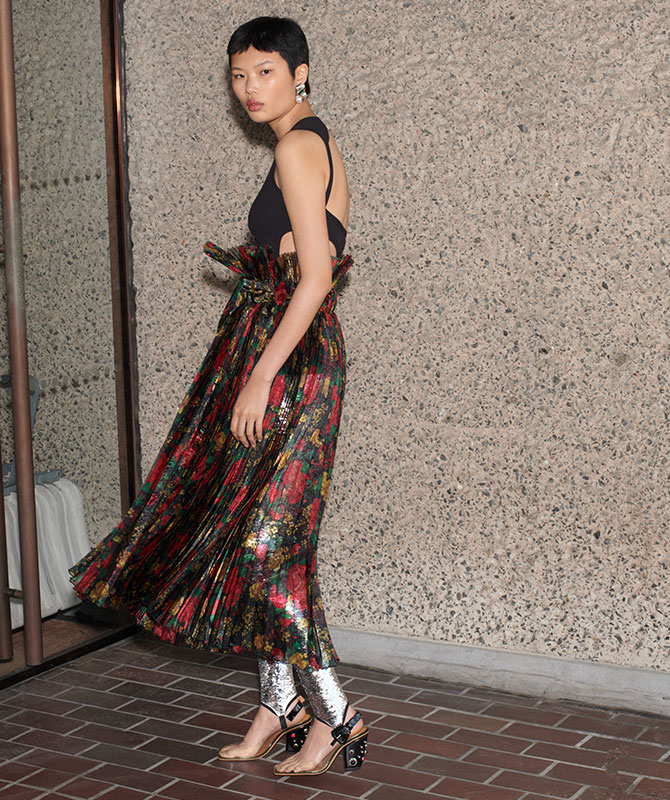 BURO: One of your design signatures is that it's genderless. The wearer gets to decide how much skin they would like to show and interpret it however they like. But what are some of your favourite ways to style the pieces from the Toga Archives x H&M collection?
Yasuko Furuta: "The key pieces for me are the skirts with the cut-outs, as well as the tailored jackets with the apertures through which beads and scarves are exposed.
"I do think that if a person was to take a chance and incorporate a Toga item into their wardrobe, it would change the way they see their entire wardrobe—in a positive way. My hope is that, through H&M, that transformation will happen for a broader range of people than we have been able to reach so far."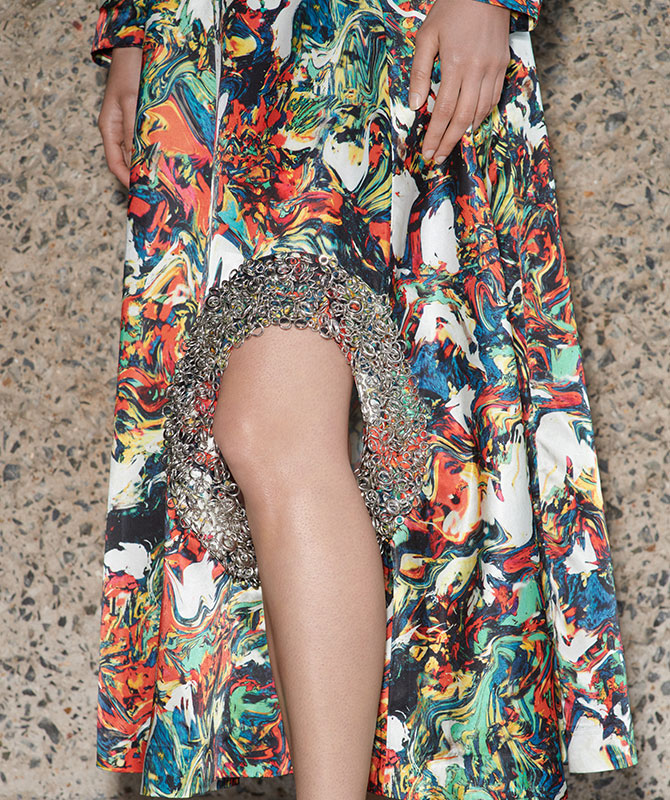 BURO: Lastly, we love what you said about sustainable fashion: "I imagine that TOGA garments will be the vintage fashion of the future." What was the thought process for creating such pieces when faced with the challenge of ever-changing trends? Think of this question as advice for aspiring fashion designers who also wish to create everlasting pieces like that.
Yasuko Furuta: "As makers, I think we'll increasingly be expected to indicate our philosophical and political positions. Consumers will determine whether they want to wear an item based on whether they agree with the maker's position.
"Superficial branding and ornamentation will be considered unnecessary, and fashion will be seen as a support for people who are interested in controlling how they are perceived."
The Toga Archives x H&M collection will be available on H&M.com from 3pm, September 2 onwards.
| | |
| --- | --- |
| SHARE THE STORY | |
| Explore More | |