Features
5 Most legendary designers who revolutionalised camp fashion
Extravagance on another level
Images courtesy of Getty Images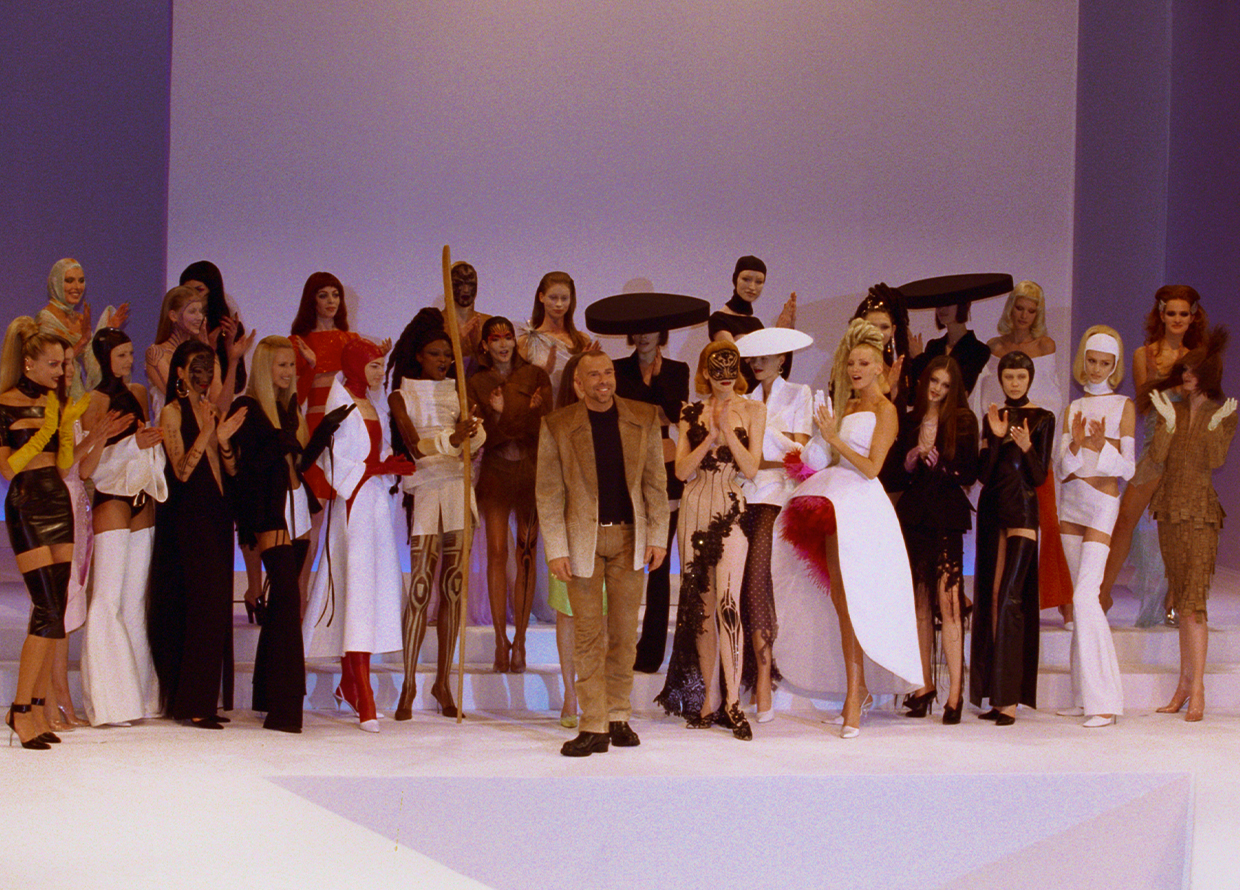 Fashion is many things. A medium for self-expression, an instrument of empowerment, a method of storytelling, a visual encapsulation of societal changes—the list goes on. At its core, fashion is a playground for experimentation and limitless creativity, considered to be one of the most innovative forms of art. Unlike any other art form, the wearable aspect of fashion as an artistic expression gives designers the ability to reimagine our sense of being by escaping into fantasy and bringing their wildest imaginations to life—they can create anything. This freedom to turn fantasies into exquisite tangible items is the central point of fashion's most outrageously glamorous concept, camp.
The whimsical concept is unfamiliar to none, especially following the 2019 Met Gala, which was themed Camp: Notes on Fashion. Whilst camp fashion has existed for ages—originated from queer culture as a rebellion against oppressive forces—having the prestigious affair shine a spotlight on the concept has definitely pushed it mainstream and encouraged the celebration of the outlandish. That said, we can't celebrate camp fashion without honouring the legendary avant-garde designers who fearlessly embraced the concept when it was perceived ludicrous in the elitist world of fashion, inspiring many subsequent designers to push the boundaries and create art without the confines of orthodox expectations.
So, who are these designers? Read ahead to find out!
Elsa Schiaparelli
View this post on Instagram
Hailed as one of the leading designers in haute couture during her time, Elsa Schiaparelli was known for her eccentric and whimsical approach to fashion, both in her style and creations. She loved putting things where they shouldn't be, often incorporating unusual, playful elements in her designs to challenge the conventional notions of beauty and femininity.
View this post on Instagram
Her designs were undoubtedly quirky, yet they evoked an air of timeless sophistication through a marriage of simplistic elegance and the bizarre—a signature modus operandi that made her work the foundation of camp fashion. Schiaparelli's most iconic design, the revolutionary 'lobster dress', is just one of her many pieces that are forever cemented in the history of fashion, inspired by none other than surrealist painter Salvadore Dali. Blurring the lines between art and fashion, the designer's idiosyncratic creative vision was simply way ahead of its time.
Thierry Mugler
View this post on Instagram
Of course, we cannot talk about the most legendary camp designers without mentioning the King of Camp, the one and only Manfred Thierry Mugler. Everything about Mugler's works was nothing but non-conformist high fashion camp, including his shows, which had anyone from porn stars to drag queens strutting down the runway.
View this post on Instagram
The ever-iconic designer embraced camp in the most glamorous fashion, creating extraordinary pieces that can only be described as otherworldly. From the unforgettable SS92 cowgirl ensemble to the AW95 Chimera dress masterpiece, Mugler had a penchant for bringing fantasies to life with drama and extravagance—there was no such thing as being "too extra" in Mugler's world, which is what camp is all about.
Franco Moschino
View this post on Instagram
The distinct identity of Maison Moschino has been synonymous with camp since its inception, rooted from Franco Moschino's penchant for adding humour in his creations to subdue the stern nature of fashion. He was heavily inspired by Schiaparelli, and was believed to be the carrier of her legacy as his creative vision had a similar fusion of surrealism, art, and a playful charm that pushed the boundaries of fashion.
View this post on Instagram
Moschino was a free spirit who was driven by the provocative and the unconventional, "there is no creativity without chaos" was his maxim. His designs were classic yet contemporary, accentuated by striking colours and whimsical details, such as gowns decorated in cartoons and hats with airplanes. All things considered, there was a bigger picture behind all the fun. Each collection had a message that tackled subjects like racism and sustainability, demanding change with a satirical approach.
Rei Kawakubo
View this post on Instagram
Rei Kawakubo, the mastermind behind Comme des Garçons, spent her entire career challenging the norms of the fashion industry, known as the ultimate "anti-fashion" designer. She explored all things flamboyant and exaggerated, creating pieces that were purposefully abnormal with extremely oversized silhouettes and excessive embellishments. There were garments that resembled desserts, deconstructed gowns with layers upon layers of fabric, as well as voluminous dresses with enormous sleeves—there was nothing she wouldn't do.
View this post on Instagram
Kawakubo's creations encapsulate the very essence of camp; her AW18 collection was even titled 'Comme des Garçons Camp'. Her groundbreaking conceptual collections were deliberately designed to completely rip up the traditional expectations of fashion, embracing the beauty in "bad taste" to set herself apart from the conventional.
Viktor Horsting and Rolf Snoeren
View this post on Instagram
Power duo Viktor Horsting and Rolf Snoeren have been renowned for their unparalleled brilliance in creating wearable art since they entered the fashion scene in 1993, often described as artists rather than designers. They're undisputedly the masters of camp couture, always walking the line between fashion and art with innovative craftsmanship. The pair's designs are anything but ordinary, with some even considered controversial due to how ridiculously odd they were.
View this post on Instagram
For Horsting and Snoeren, fashion is never just about creating clothes—it's about escaping from reality, which is the heart of camp. Their imaginative creative visions have brought upon some of the most avant-garde designs the fashion world has ever seen, such as ballgowns with glitch-like askew proportions, deconstructed dresses made of framed artworks, and duvet coats that resembled a bed complete with pillows.
For more fashion reads, click here.
| | |
| --- | --- |
| SHARE THE STORY | |
| Explore More | |