Architect-turned-designer, Josep Font, has been working wonders at Madrid-based brand, Delpozo. When the brand's founder Jesús del Pozo passed away in 2011, Grupo Perfumes y Diseño bought the Spanish house with the intention of preserving its heritage, handing over creative direction to Font. Font's first step in breathing new energy into the much-loved Spanish house was to deliver it to an international audience (del Pozo was a household name in his native country but never quite achieved similar acclaim outside of Spain). The brand exploded onto the scene with Font's magical rendition of a new female: soft, romantic, vibrant and sensual. His background in architecture is evident in the sculptural forms his dresses take: fabrics are treated and embellished to couture levels and his mix of colour and print are fresh and full of joy. Delpozo is stocked in more than 20 countries as well as a variety of online retailers and is now the buzzword on the industry's lips and Font, the man responsible for maintaining the thrill. Fresh off the back of an extremely successful presentation in New York, Font sits down with Buro to discuss his passions and inspirations for S/S'16.
Summarise the key aspects of your latest collection in less than 5 words:
Passion and bohemia.
What was your main inspiration for the collection?
I was inspired by Federico Garcia Lorca's poetry collection, Gypsy Ballads, in which he depicts the Spanish culture and women; and Emilie Flöge, muse, friend and lover of Austrian painter Gustav Klimt. She was a couturier in her own right with a very defined aesthetic.
What has been the biggest challenge so far in designing this collection?
I feel each collection is difficult. I'm a perfectionist so I would keep on working on my collections if it weren't for the calendar limitations.
What aspect of your brand do you think is most unique?
Delpozo is a very special brand. It's very hard to choose what makes us unique, but I think the modernity of the craftsmanship.
What is your favourite fabric to work with?
It is so hard for me to choose a favourite, whether it's a fabric, a colour or a look of a collection. I love to research different fabric and applying them in innovative ways.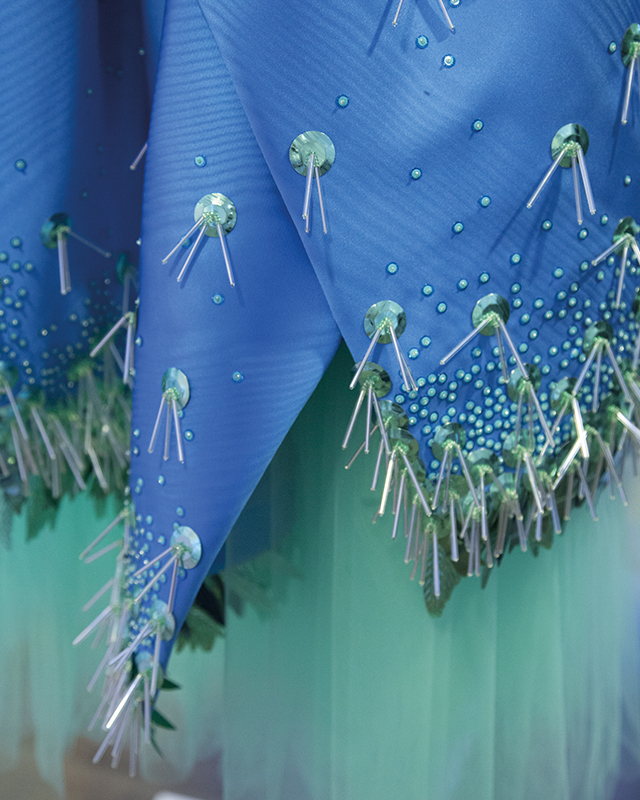 What is a fashion saying you live by?
Less is more. Always.
If you could showcase your designs anywhere in the world other than NYC, where would it be?
I can imagine it would probably be Paris.
What is the first thing you do on the morning of your show?
Have a fresh squeezed juice of vegetables and fruits. It gives me the energy I need for the day of the show.
Who is the first person you want to see after every show?
My team are the people I want to celebrate with.
Who is your current fashion muse?
Jean Seberg.
Name a trend that you feel has been overdone:
The use of animal skins.
Name an artist you would love to collaborate with.
Andrey Remnev, he is a painter I referenced for A/W'15. I would love to work on something with him.
If you had to incorporate one print into all your collections, what would it be?
A floral or organic type of print.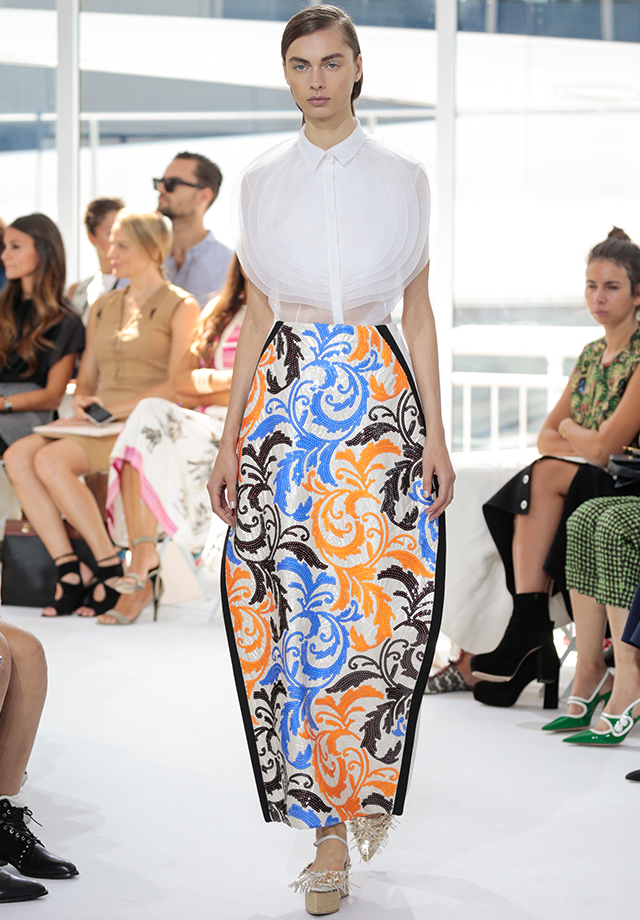 In your opinion, what is the most flattering silhouette on a woman?
Depends on the shape, each body is different which makes it so powerful to work on different silhouettes in my collection. Like colours, each woman is unique.
Where would you like to see your brand in five years?
Hopefully, in five years, we will still be showing collections and growing as a brand. We just launched accessories for spring and this pre-fall we are starting pre-collections. It is a very exciting time for Delpozo.
Describe the ideal 'Delpozo' woman.
She has no age, nationality or profession. She is a global woman with a defined attitude towards fashion and life.
Favourite artist?
Basquiat.
{insert gallery tpl="slide-freesize.tpl" id="Delpozo interview" rid="3564″ order="a_tstamp"}
| | |
| --- | --- |
| SHARE THE STORY | |
| Explore More | |