Features
Style hacks to refresh your wardrobe for the new year, according to fashion influencer and TikTok star Jessica Wang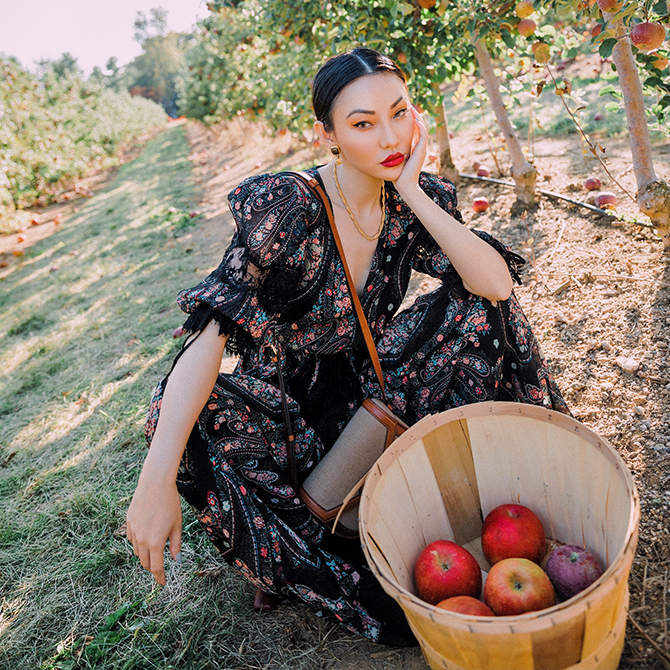 Think of TikTok and addictive dance challenges and fun comedy skits will come to mind, but ICYMI, the breakout social media platform of 2020 is also a gold mine when it comes to style tips and fashion hacks. One of the top influencers who are leading the pack is none other than NYC-based digital content creator Jessica Wang, who has amassed 4.8 million followers on TikTok in just six months. Her secrets to success? Ingenious photography hacks and fashion tips that actually work. If you think that they're all just for #content, think again—trust us when we say that she practices what she preaches.
Check out the style hack video she's compiled for BURO below:
View this post on Instagram
Below, we speak to the fashion influencer on her success on TikTok, her favourite style videos, and more:
Describe your style in three words.
Spontaneous, luxe, and bold.
View this post on Instagram
Tell us more about your content-creating process.
I take a lot of inspiration from pop-culture, movies, fashion and tech. I'll write down ideas as they pop up and work through them as they make sense for the time, season, or current events. Although I consider myself a planner and strategist, I never work too far ahead in advance because anything can change at any moment in this industry. I'll sometimes have to cater my content to brand sponsorships or collaborations coming through the pipeline.
Why do you think fashion content works so well on TikTok?
Fashion has taken the format of still photos for so long and I think people were ready to see something fresh, especially when it comes to how to wear something or styling inspiration. It seems natural to me that fashion would do well on TikTok since it's so visual-oriented, and since it's such an interactive platform, these content can be even more enticing.
Style hack for oversized shirts or pajamas. Comment to let me know what you wanna see next! #learnfromme #fashion #stylehacks #loungewear
♬ original sound – Jessica Wang
You have amassed over 1.6m followers on Instagram and 4.8m on TikTok. How different do you think the fashion community and your followers are on both platforms?
TikTok definitely has a younger audience, and it's where I share more casual and relatable content. I love that with Instagram, I still get to create beautiful editorial and inspirational image, but can also share practical tips on Reels with my audience.
How long do you usually spend working on one video?
Fashion hacks are generally quick since these are the things that I already know and do myself. It's the styling videos or transition videos that take hours. Anyone who's created multi-look styling content will tell you that the aftermath and cleaning up is not fun.
Did I miss anything?
Which is your favourite fashion hack video?
Based on my followers' reactions and comments, the 'bunny-ear shirt' video has helped millions haha!
how to tie a button front shirt, super easy! #styletips #fashionhacks #shirtchallenge #fyp #stylingideas
♬ original sound – Jessica Wang
Aside from fashion hacks, you also give tips and tricks on photography. What's the one video that got the most reactions?
My panorama video hack where you can take better landmark and travel photos has accumulated almost 50 million views on TikTok—and the number continues to increase!
#iphonephotography #iphonetricks #fyp #photomagic
♬ original sound – Jessica Wang
What are your thoughts on the fashion scene right now, especially in the current pandemic?
It was really mind-boggling at first, but I think that there's a sense of normalcy now. Mirror selfies and at-home photoshoots have become the New Normal and I think it has really opened the doors for creativity. Brands have also become more creative with their new collections, focusing on comfortable work attire.
How do you juggle being a wife and a mom of two, and handling a blog and two social media accounts with such high followings?
It's definitely not easy, but being a mom helps you become smart with your time especially when it comes to what and who to invest your time in. It's all about time management and routine is so important. I start my days pretty early and allocate blocks of time to content-planning and creation, and then also to being mom to my girls.
Day to night looks by @monnalisa_official . Which look is your favorite?#Monnalisa #MonnalisaNewYork #ad #outfitchange #outfittransition
♬ Afterhours (feat. Diplo & Nina Sky) – QUIX REMIX – TroyBoi
Do you have any advice for those who'd like to grow their TikTok followings?
My strategy for increasing and growing a following is to not obsess over it because it's easy to lose your creative energy when you're caught up in the numbers. I would advise placing a higher value on creating great content, developing new ideas, and building great relationships with your followers.
Styling tips every girl should know. #stylingideas #styletips #poweryourstyle #fyp
♬ original sound – Jessica Wang
What's the ultimate goal in your career?
To create something that I can look back on and be proud of, and to inspire my girls to be the best versions of themselves while also making a positive impact in the world.
| | |
| --- | --- |
| SHARE THE STORY | |
| Explore More | |