Features
Spill the Splurge: Nellie Lim on hunting down fashion investment pieces, her impulse buys, and more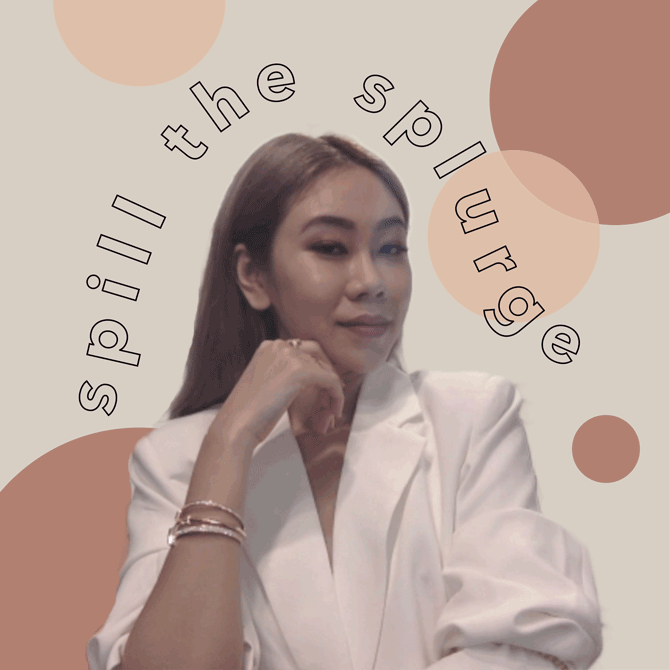 Following our first Spill the Splurge episode with Nana Law, our second installment features Nellie Lim, one of the top fashion influencers in Singapore. A regular during New York, Milan, and Paris Fashion Weeks pre-pandemic, the digital creator (who recently welcomed twin girls, Harper and Harley!) is well-loved for her bold yet chic personal style.
As travels take a backseat in the current climate, we hopped on a Zoom call with Nellie to talk about all things fashion (and shopping), from her favourite pieces to the brand that's on top of her list when it comes to fashion investments. Also, find out what's her one regrettable purchase.
Watch the video below:
---
Hi Nellie! How are you?
I'm good, I'm staying safe in Singapore. How are you?
Good, thanks for asking! Let's talk about style. Can you describe yours in three words?
Bold, colourful, and experimental?
View this post on Instagram
What is your ultimate favourite fashion investment piece?
Christian Dior's Diorage patchwork boots that I actually hunted down—they were sold out everywhere. These are so special. That's why when I saw them, I had to make sure I can get my hands on them.
View this post on Instagram
Why are they your favourite?
For this particular collection—I think it was in 2018, it was either the Summer or the Fall/Winter collection—Maria Grazia Chiuri, the designer, was actually on a quest to rejuvenate the brand, and she really integrated her personal life into it. Because she's Southern Italian, she said that her grandmother actually loved making patchwork, so she brought that into the collection.
Where did you buy them from?
So because it was sold out everywhere in my size, I actually found it on Vestiaire (Collective). They don't just have secondhand items, sometimes, you really chance upon brand new items. This pair of boots was actually brand new, and I got it from someone all the way in Italy. I was so happy.
What are some of your other favourite pieces?
#1 I do actually invest a lot in Dior pieces that have stood the test of time. When Dior brought back their iconic logo, the Oblique print, I actually found this, and this is actually a vintage piece. It's very reminiscent of Carrie Bradshaw's Sex and the City saddle bag.
#2 My Dior tote bag. I got my name embroidered on it. I didn't get the iconic Oblique print, I got it in the Toile de Jouy print. So you can really see the animals on it, and I think it's a collector's item.
#3 You know Dorateymur? This pair of red leather boots is from them. I love that they have an elephant on it. So, special fashion pieces like that, I really, really fall in love with.
View this post on Instagram
What are some of your tips on buying luxury secondhand pieces?
I would say to be very specific about what you want. And be very clear about the style that you like. For example, for vintage items, I would either go for iconic statement or classic pieces that can really stand the test of time. And whenever I shop, I already have what I want in mind. So I'm really just hunting down that particular item.
Where do you usually shop overseas?
I'm quite a purist in terms of buying from the original brand's stores, because I think that the shopping experience that you get from the original brands is unparalleled.
Do you still remember your very first designer item?
Yes, it is my Balenciaga City bag in this bright neon yellow. I bought it with my first paycheck. Back then, Balenciaga City bags were all the rage, everyone had them, and I needed to have one too.
What are the things to know before investing in a luxury piece?
I think you really need to know what's your style. If you're into classics, don't just blindly follow the trends that every brand is pushing out. Be very sure that there's always a value to whatever you're buying. For me, before I invest in a piece, I sit on it for a week before actually making the purchase. That's to prevent myself from making impulse buys. I've done it so many times in the past and I always end up being so upset with myself, so I always give myself a one-week buffer to decide if I really want it, and then I'll be like, ok, I've thought about it for long enough, I'm going to buy it.
View this post on Instagram
If you could only carry one bag for the rest of your life, what would it be?
I would say it would be my Hermès Herbag. It's Hermès!
Do you have a designer purchase that you regretted?
Yes. Unfortunately, it is my very first Balenciaga City bag. It's because I bought the wrong colour. Even though, yes, my style is very bold, since it's in bright neon yellow, it was very hard to match with a lot of stuff that I was carrying.
How do you store your designer bags and shoes?
I don't believe in keeping everything in dustbags or even glass cases. I have my bag wardrobe out in the open, but I have humidifiers in the room to help maintain the integrity of the bag, and also to ensure that the leather doesn't crack. I stuff all my bags with stuffing and their own dustbags. I just want to see my babies as they are.
As for my shoes, likewise, I also just stuff them to make sure they don't lose their shape. They're just all on display. I feel that if you store shoes in a confined space they will start to smell. So I rather air them out and just do light dusting once a month.
View this post on Instagram
What's next on your to-buy list?
The Dior Bobby bag. That's going to be a classic. It feels more like a saddle bag compared to the Dior Saddle, and I think that's actually a lot more wearable because of the size and the shape. I'm really dying to get one in the classic Oblique print.
View this post on Instagram
---
Check out our Spill the Splurge series with Nana Law here.
| | |
| --- | --- |
| SHARE THE STORY | |
| Explore More | |