As Malaysia has eased lockdown with the implementation of CMCO, for those of you who are eager for some retail therapy, shopping in the 'new normal' definitely needs some getting used to. Aside from regular sanitisation, mandatory face masks, and social distancing measures, customers are not allowed to use fitting rooms for the time being due to hygiene reasons. Shopping online isn't exactly better either—while boxes can be sanitised and disinfected, there isn't an answer as to how long the COVID-19 virus can remain on clothes. And unless you've decided to keep them, you can't exactly wash them first.
Below, a few simple ways on how to shop for clothes and get the right fit without trying them on (or having to go through the hassle of exchanging them in-stores):
 Know your size
While this is a no-brainer, with different size systems in different countries, it's important for you to know them all, especially those that are commonly used locally such as European, UK, and US sizings.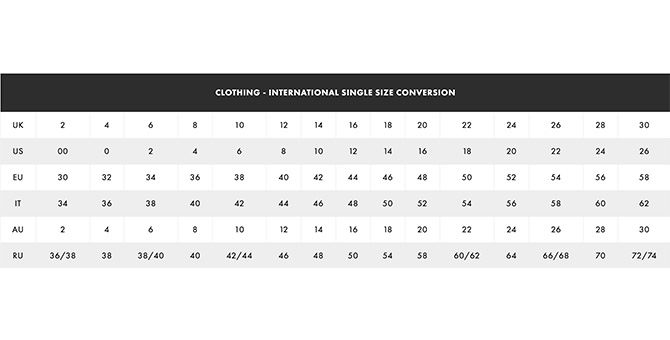 Make notes on the brands you've shopped before
Clothing sizes differ from one brand to another. If you think it's tricky for you, the easiest way to go is to stick to buying from brands you've bought from before (for now), as you're already familiar with the cut and sizes they offer, down to the specific styles that work for you.
View this post on Instagram
 Bring a measuring tape
Measurements don't lie. A measuring tape is the next best way to ensure you get the right fit, and it doesn't take up a lot of space in your bag. Make sure to measure your sizing beforehand, or note down the areas that are important to you based on the pieces that you own. For example, If you prefer tops that are a little longer, get the length measurement from your favourite blouse; or if you're petite but busty, make sure to know the sizing of your chest area beforehand. When you're measuring in-store, make sure you're doing it the same way you did with the clothing from your closet for consistency.
 The neck trick (for jeans)
When it comes to jeans, an ingenious trick to get the right fit is to measure the waistline around your neck. If both ends of the trousers meet comfortably at the back of your neck, it'll fit. Make sure the jeans are buttoned before trying this.
View this post on Instagram
 Stick to fail-proof silhouettes
If you're planning to purchase clothing from a particular brand for the first time, try opting for easy-to-wear silhouettes, be it oversized tops and outerwear or shift dresses that flatter almost all body shapes. By placing a lesser focus on the fit, your purchases will be fail-proof.
View this post on Instagram
 Opt for stretchy or adjustable materials
Shopping for bottoms without trying them on may be tricky for some (especially pear-shaped ladies), but stretchy materials or details such as an elastic waistband or an adjustable belt truly help.
Related story: 'Real talk: Is it okay to shop during a pandemic?'
| | |
| --- | --- |
| SHARE THE STORY | |
| Explore More | |