Features
Recap: Sheena Liam on how social media is changing the modelling landscape and tips on how to take a great portrait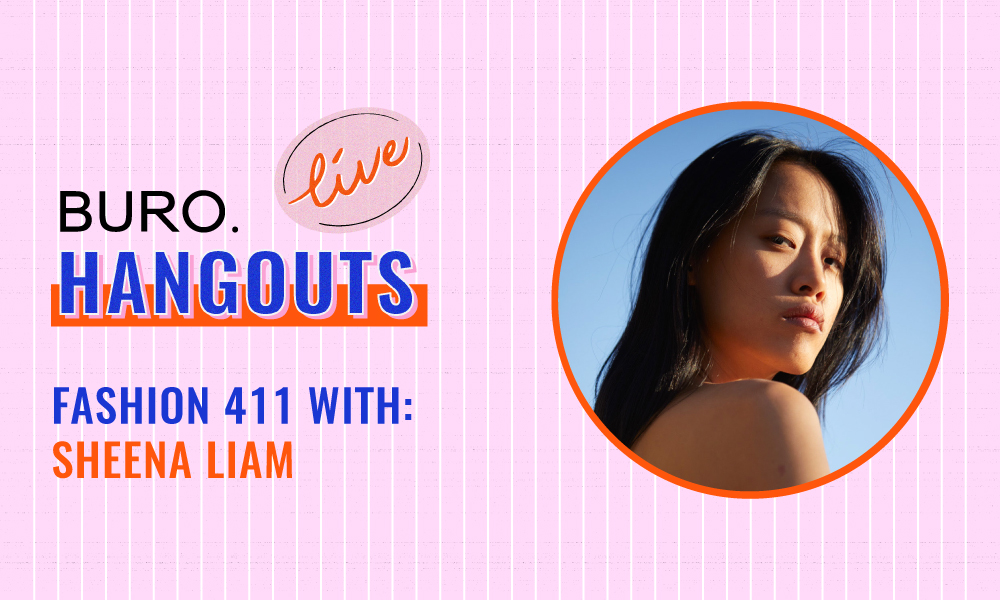 After winning Asia's Next Top Model Cycle 2 in 2014, Sheena Liam has become a household name and pride for Malaysia. Shortly after winning the competition, she made her fashion week debut at London Fashion Week Spring/Summer 2014, walking for Simone Rocha and Mariana Jungmann. Her other notable runway credits include Diane von Furstenberg and Opening Ceremony.
Since then, the model has continued to produce an illustrious career locally and overseas, being on the cover of magazines and the face of countless fashion campaigns. When she's not lending her likeness to fashion, she works on her other passion, embroidery and shares her art on Times New Romance, which now has 315k followers on Instagram. For BURO Hangouts Live, we talk to the model about how the current pandemic is affecting the modelling scene, how social media is changing its landscape and how to take the perfect portrait in three simple steps.
Watch the interview below!
How has COVID-19 affected the modelling industry?
Obviously we can't travel as much, and that has stopped a lot of jobs which is really sad, but I guess there's something way bigger at hand happening. I had a lot of shoots cancelled, which is disheartening because I want to travel and start working again but I'm unable to do that at all.
Were the shoots that you turned down based in Malaysia?
I had one in Singapore and one in London, but I couldn't travel for both. It was right at the moment when everyone was really confused whether we could travel or not. A lot of things were already booked, I had my tickets, hotel and everything, and it's just cancelled!
Jacquemus shot a campaign via FaceTime for his Spring/Summer 2020 collection. Did any photographers approach you to do something similar?
Actually, I just had a shoot this afternoon with a friend, Lenne Chai from Singapore, but it's more of a passion project. There hasn't been any big shoots. A shoot takes a lot of equipment, clothing, but everything is on hold. So I guess it's just passion projects for now.
I was pretty shocked by the photo quality for Jacquemus. It looked pretty good!
Yeah, the [photo] quality is really good on FaceTime if you have good WiFi. I was looking at some photos from my shoot, and I was like "Wow, I didn't know iPhone were this high quality".
What are the key tips to taking the perfect photo?
Lighting is always important, so face the light. If you take photos with lighting from the side, then all the imperfections get amplified. When a camera comes up, even at parties, people tend to lean away. But you should go against that instinct and lean in.
People tend to carry a lot of tension in their face, and if they see a camera, they become something else and make a face, with a duck lip or a tenseness in the eyes. Honestly, people are most beautiful when they're just themselves. So train yourself when a camera comes up to just look over. 
Can you clue us in on how and when you started modelling?
When I was fifteen, I was scouted by Seventeen magazine for a cover girl search. But I didn't end up joining it because my mum was strict. But the magazine called me back for a couple of editorial shoots, and then [the progression] was pretty natural.
I would get a shoot once in every eight months when I was a teenager. When I was in university, I could drive, so I ended up picking a lot of odd, random jobs. And then I joined the [Asia's Next Top Model] competition, and then it escalated.
What are the biggest modelling lessons you learned on AsNTM?
If you don't like the picture, never show it on your face. I remember taking a shot and going, "Oh my god, I look terrible!", because I'm so self-critical. But when you say something like that, it insults so many people on set, like the makeup artist, the lighting, the photographer. So instead, I learned to just say, "Thank you!". It's good to be self-critical, but not to verbalise it and put it out in the world.
What was the most random modelling job you've done?
Last year in Italy, I got booked on a really strange job. It sounded dodgy at first, like this guy came in and he had to see us in our underwear, and measure us, like every single part had to be measured. I was already like, "Hmmm, what's going on?".
But I ended up getting the job and was flown to Nice [in France]. It was actually a facility that makes mannequins! They wanted to make a new line of mannequins that were true to Asian sizes, because we're a bit more petite. I was full on body scanned, they scanned my face, everything! It was a pretty cool job, it's crazy to think there are thousands of replicas of my body out there!
Describe the process to us.
First, there was a room completely covered with cameras, like every angle possible. It would take about three thousand photos in one shot, and then piece it together to make a 3D model.
The second was a handheld scanner, which picks up places that are hard to scan, like the insides of your palm when you're standing. They did that separately. It was pretty cool! Imagine in the olden days, they would have to sculpt everything by hand, and now everything is a photograph! 
What are some of the things people may not know about the modelling industry?
Visa and taxes, and all the paperwork people never think about. The career always sounds so glamorous, but we have to have a Visa for every city. It's a lot of money put upfront, and you have to prove yourself, that you're a capable working model, that your talent cannot be found in anyone else, and you're one of a kind.
I would've thought the modelling agency would handle all the paperwork.
They do, but you are the one who has to go to the embassies, do the interviews and write the letters. It's a lot of work on your part as well, and costs a lot of money, which is so stressful. Also, taxes and agency percentage, it's not fun to talk about but it's the reality of working as a model. If you come [into the industry] with a scout, five percent of your pay check will go to them for the rest of your life.
What was the biggest surprise for you when you joined the modelling industry?
How hard it was to take a good photo, it took me a long time, to train myself to take good photos. I used to carry a lot of tension in my mouth. You're never used to how you look like on the other side of the camera. You're used to seeing yourself in the reflection, seeing a photo of you can be quite jarring.
If you could change anything about the industry, what would it be?
There's still a white-washed ideal of beauty that is prevalent in the industry. The girls that work well are the ones with more European-centric features, that's why Pan Asians work so well. I'm not against [them], they're obviously beautiful, but there's a cultivating self-hatred for how you look ethnically.
Girls who have curly hair are encouraged to straighten it, girls with different lips, noses, eyes don't work as well as the ones who have double eyelids and tiny noses. It's not self-hatred, but we look so much to Europeans for standard of beauty, and we're missing a lot of what's beautiful. The number of girls who are pressured to get double eyelid surgery and nose reductions, that's really sad. No one should feel that.
Whose responsibility do you think it is that these perceptions continue to perpetuate?
I think it's a lot of the ad[vertising] men, and their criteria when they look for things that could sell to people. Those people are kinda gatekeeping the industry, but now with social media, there are people who are coming in and making their own name, and having a style that's strong, is really changing the mindset.
I think social media has definitely changed the landscape for that. How do you feel?
So many people s**t on these Instagram models, but these are the girls that are taking things into their own hands. Like curvy girls, showing the world that "We're still badass, sexy and we still love ourselves, no matter how many skinny girls you cast in these ads". I really like it, it's open the doors to anyone to make something of themselves if they really work hard. 
What are the unseen challenges that came along with the career?
For example, in Paris, we have this certificate that is renewable every six months. And we have to go through a verifiable doctor and get a little slip that [certifies] that we're not anorexic, healthy and sound in the mind, despite being skinny. You need to have this certificate at every casting. Despite all of this, the client will still request a skinnier girl. They'll say, "We like her, but she needs to lose two inches in the waist". It's not something that a certificate, or law or bureaucracy can overcome, it's a mindset.
Which I can imagine would lead some girls to having eating disorders.
It's definitely still there. But now, girls are going towards another thing which is overworking out, which can also be unhealthy. Working out is good for you, but the over-fixation in the mindset, like "No carbs, no sugar", is another form of limiting yourself. I don't know if that's good for a mindset, to be constantly pressured like that.
Comparing to when you started your career at fifteen, do you think the modelling industry has changed for the better? And how?
Definitely a lot more representation now. When I was younger, seeing all the magazines, it was always one sort of girl. Now, secondary markets have opened up as well. Fashion isn't luxury and this unattainable thing anymore. So it's allowing more people to come in and be a part of the community. 
What do you wish you knew about the modelling industry before you joined it?
Every week, models receive a statement from the agencies, where they update you on what you've spent on and earned, and you have to pay the debt back. I was too shy to question a lot of the expenses. At the end of my first placement, I looked at my statement and I was like, "Oh s**t, I didn't earn a single cent!". Because I was being charged for all these things but I didn't have the b***s to ask, "Hey why am I being charged for this?". I didn't dare to speak up for myself, or question why things are done this way. 
If you could pick models from anywhere in the world, who would you like to work with?
All the Asian supermodels like Liu Wen, Tao Okamoto, Sora Choi, Hyun Ji Shin.
What advice would you give to people who want to make it in the modelling industry?
You need to have a lot of self-confidence and awareness. If someone were to tell you that you would look better if you lost weight, you can always say no and disagree with them. Don't question yourself! You need to have a strong sense of self to be in an industry where everyone is always commenting on how you look or how you could look better.
Don't take things too personally, cause in the end it's a career based on what you are and how you look as a person. If you don't get the job, don't take it as a major insult, there could be so many reasons why you weren't chosen. If you don't get a job, it's not a personal attack. It's fine, just chill out. Take things easy!
| | |
| --- | --- |
| SHARE THE STORY | |
| Explore More | |