Features
Recap: Izrin Ismail introduces Innai & Co, and talks about Innai Red's first Raya ready-to-wear collection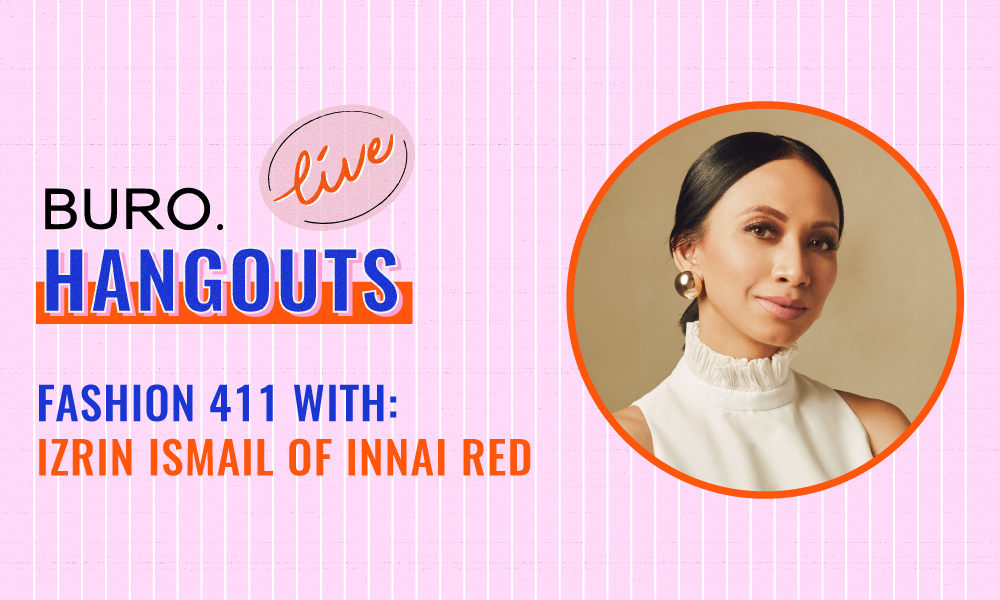 Sometimes things don't go according to plan, and that's alright! The silver lining to the MCO for Izrin Ismail and her team? Pushing ahead with plans to go online and launching Innai Red's first ready-to-wear collection in time for Raya 2020, despite the pandemic. Also more exciting news, what was formerly known as Innai Group (which consisted of brands Innai and Innai Red) is now known as Innai & Co, with a whole new look, too. In fact, she pushed up the launch and announcement, just in time for our BURO Hangouts Live session! Listen to her break the news to us below.
View this post on Instagram
We hear you have a big announcement to make today. Tell us more!
We've improvised our logo, and now we're called Innai & Co! It's pretty much just a new platform for us. Previously, we called ourselves Innai Group for our social media handle. So now, we're calling ourselves Innai & Co, to consolidate Innai and Innai Red. Also, we'll be launching our first e-shop very soon. (Edit: They are now live at innaiandco.com!)
Previously at Innai and Innai Red, the brand has always been about exclusivity and the experience of shopping in our store. So now [because of COVID-19], we have to go digital in some way, and we need to have a presence online. We're pretty much far behind, so it's about time! It's amazing how this MCO has got us all to get everything sorted, and in a few days time, we're launching the website.
Can you tell us more about the logo redesign?
The Innai & Co logo will only be for our social media and e-shop, because we're gonna have Innai Red and Innai on board. We also have the new Innai and Innai Red logos that were tweaked as well, and will be debuted soon. They're pretty much on the same chapter as the Innai & Co logo.
The news just came out today, too!
Yes, just today (21 April). To be honest, we were supposed to launch it and make the big announcement by Friday, but because we're doing BURO Hangouts Live today, I thought might as well get it all started and excite a little bit.
What else is Innai & Co up to now?
Innai Red's on board with MODA Malaysia, so we're producing and sewing PPE for our frontliners. In the first week of the MCO, I was considering to help out, but I didn't know where to source the materials and didn't know who to connect with, until I saw Melinda [Looi] reaching out to designers and getting people on board.
A quick text to Melinda, and she responded almost immediately. She said, "I need you to get on board! I've got the materials, I'll pass it to you in an hour!" And the very next day, I asked my team to come in, but we work in rotations. My team consists of twenty staff, but obviously have to play our part in social distancing. We've got two separate workshops, so I can get four to six staff in one, and four to six in another. The fear is there, I wouldn't want to jeapordise anything.
But within staff, they feel so comfortable. So it's quite hard for them to remember to practise social distancing, because you're so used to seeing your colleagues everyday. Seeing a colleague in a small space, you tend to act like things are normal, so I remind them to sanitise, stock up on sanitisers and masks. But it's beyond my control what my team does after work hours. Everyone's an adult, people should be responsible for their own actions. [As a business owner], what I can do is inform them to take these precautions.
Are there other challenges in the workplace in the time of COVID-19?
Melinda said, "Izrin, be sure that your staff wear gloves [while working". I said, "I'm sorry but it's so hard to wear gloves and sew!" So I make sure that my staff are properly sanitised with their hands.
From high fashion to medical-grade PPE, how has the major switch been like?
It's quite straight forward to sew the PPEs. Even my husband, Marcus knows how to sew one! He's been sewing as well. For my workforce, we've got our departments. So we've got the cutters, the seamstresses and the finishing department who normally do beadwork and embroidery. They too, took their part and to be honest, they have not touched a sewing machine in probably ten to fifteen years, so this was the time for them to pick it back up. However, because it's so straightforward, they were able to. The first two days, [productivity] was on the slow side, but later on, they were really fast. And I'm happy they took this challenge because everyone in my workforce is playing their part, it's such a noble cause.
As a business owner, what was your first reaction like when you heard bout MCO? And what's the biggest lesson you've learned during this difficult period?
I was concerned in the first two weeks. As an employer, I wasn't sure what we could do and what we couldn't. And when the stimulus package came out, we brainstormed and found the best solution. Sales aside, know that it's gonna be bad business for everyone. But how to sustain and keep my staff and retain them, that was a fear for me. I need them and still want them to be with us, so we had to do a quick mapping on what would benefit them and what we [as the company] could do, that's one of the biggest challenge.
I think I take it with quite an ease because these things are out of my control. I can only pray to God, and hope things will get better. But I think we've found a good track for now. Because at first we didn't want to launch our Raya collection. We thought nobody was gonna be buying, and perhaps save it for later. I felt that the hard work that the team has been given for this collection, it needs to launch regardless.
So even if it's MCO and almost impossible for me to launch, because Innai Red Luxe is a bespoke label. Normally our customers come to the store, they choose the materials and go through rounds of fittings. I thought it was impossible for me to do online or virtually! But I felt even with that hardship, we managed to manouevre our way and [realised] that it was possible.
We got it rolling, I've blasted out e-lookbooks to our customers and regulars. I feel very blessed that we've got our supporters who keep coming back and ordering their baju Raya even if it is going to be celebrated at home. I'm so happy we went ahead with the launch, we made a right choice. Also, we had a great muse to work with this year for the Raya campaign, Zahirah Macwilson.
Can you tell us more about the Innai Red Luxe Raya 2020 campaign?
Every year, we have a muse. This is our ninth Raya campaign so far, and we chose Zahirah because she recently got married. I also think she's an ideal woman to represent the Innai Red brand. She's so poised and elegant, it's really nice to see her donning our Hari Raya garments.
To be honest, [the campaign] was such a last minute thing. Sometimes you'd like to plan things earlier on and things just don't go in the right track. Sometimes last minute work tends to work wonders!
Was the campaign shot during the MCO?
It was shot a week before the MCO, perfect timing!
Can you tell us about the key trends found in the newest collection?
There are two separate collections, there's Innai Red Luxe as well as ready-to-wear. This RTW launch is new, Innai Red has never done a Raya RTW collection before. It's Raya so it's baju kurung, but the cuts are a bit more modern. We play a lot with shoulders and exaggerated sleeves with our Raya RTW collection which will be available on our website.
What is the price range for the RTW collection?
It starts from RM580 until RM780, and they're all really beautiful! I was like, I need to launch this [during the MCO] by hook or by crook!
How are you faring with video consultations?
For our regulars, we already have their measurements. But some of them want to make [baju raya] for their children, so we show them how to take their measurements. Some of them don't have measuring tape, so we post it to them! So similar to what we're doing now via video conferencing, we guide them on how to do it.
It works for us, we have been doing that previously actually, because we've got customers from overseas. We've been taking appointments virtually via Zoom, Facetime and Houseparty.
You mentioned possible collaborations. Do you have anything in the pipeline already?
Not yet. We were supposed to collaborate with a bag brand, but it didn't make it in time unfortunately. Because when China was under lockdown, I guess production was on the slow side. So unfortunately we couldn't launch that but hope to launch just after Raya, hopefully in June.
London Fashion Week announced that they'll be going online and gender-neutral. What are your thoughts on this?
I guess it's a very innovative way to take things. The next LFW is in June, so they get to plan that early, too. They've got a good one month plus to plan that out. And I think going gender-neutral is best, because you've got everyone focused. I think the consolidation is great. For obvious reasons, I think other fashion weeks will go the same way as well. There's nothing to lose.
Back to Raya, how do you envision Ramadhan and Raya to be like this year? How will you and your family be celebrating it?
I think we'll still be under MCO, or just been lifted, I'm not too sure. But I feel that there's not gonna be any grand celebrations or any large congregations. I don't think we'll be able to gather like how we normally do, and that's going to be the same with my family as well. If the MCO is lifted, we'll go to my mum's place and keep it small. I think everyone will take it very simple this year and celebrate it very modestly as well. A very humbling Hari Raya this year.
For Innai Red Luxe, there's been a decline in sales but we also have the RTW. So I do hope that my customers will channel themselves there, if they're not wanting to pay for something so premium, we have an extension with a RTW line. So we have options for those who really want to go for something luxe, and for those who don't, too.
How has COVID-19 affected production?
We're working to make PPEs in the workshops, but the [fashion] orders that we've been getting, they're all sewn at home by my team. So obviously, if they work from home, the process is going to be longer because there's a lot of back and forth, from the cutter to the seamstress, and then on to finishing, and then quality control, and then finally the customer. The process is tedious and long, but we just gotta hustle.
It is a difficult time, especially during a festive season. What is your message to fellow Malaysians?
Everyone should take this moment to reflect and do good deeds as much as you can. I think it's God's way of telling us not take things lightly and it's a challenge for us. I feel that we should keep being positive, hopeful and taking it one day at a time. We should spend as much time as we can with our family and keep it simple. It's definitely going to be very different, but we should embrace this New Normal. Feeling blessed with what you have, it's also the time for you to give and help. With every hardship, there comes ease.
We've got a whole new line-up next week. Starting with a chat with model and embroidery artist, Sheena Liam! Click here for our schedule.
| | |
| --- | --- |
| SHARE THE STORY | |
| Explore More | |