Features
5 Most groundbreaking runway shows in fashion history
The blueprints
Images courtesy of Getty Images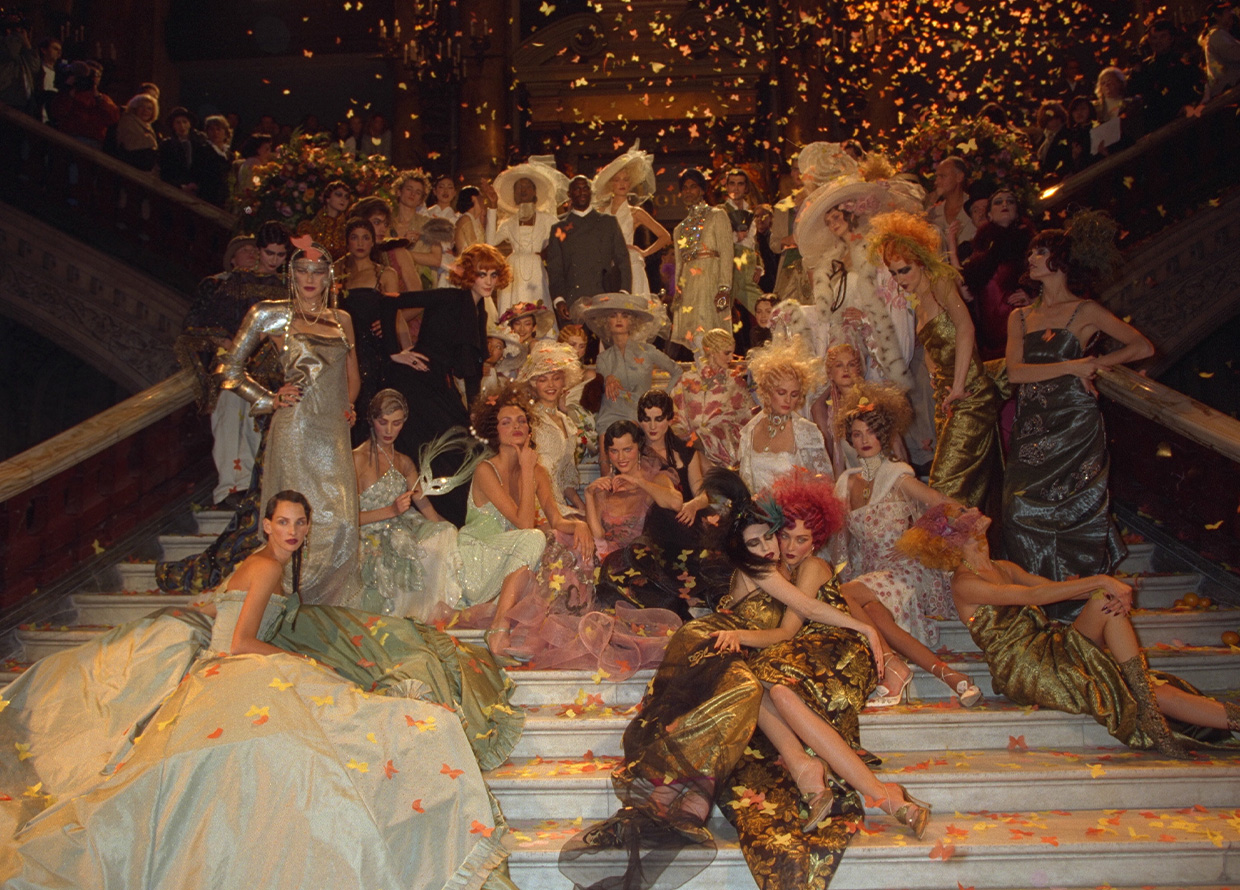 From Coperni's unforgettable SS23 spray-on dress spectacle to Gucci's phenomenal SS23 Twinsburg runway, fashion shows have become a moment of their own in recent years, some of which were arguably even more memorable than the collections themselves. That said, creating an iconic runway moment is one thing, but putting on an impactful show that will still be fervently talked about decades later is a whole different discussion.
With that in mind, ahead, we revisit some of the greatest runway shows of all time that have paved the way for many of the spectacular shows that we see today.
Alexander McQueen SS99
Of course, to make a list of the most iconic runway shows of all time, it's only appropriate that we start with the one and only Alexander McQueen—who pioneered many of the runway trends we see today. Since his debut show in 1993 with the infamous SS94 Nihilism collection, each runway that McQueen presented has changed the game forever, from AW98's Joan to SS01's Voss and many more. That said, amongst all of his groundbreaking runways, SS99's No. 13 was perhaps his most historic show that the fashion world can never forget.
Aimed to pay tribute to the Arts and Crafts Movement through a radically innovative lens, the show opened with wheelchair-bound Paralympic athlete Aimee Mullins wearing a pair of exquisite wooden prosthetic legs that were nothing short of extraordinary. Like all of McQueen's shows, No. 13 closed with a jaw-dropping bang as supermodel Shalom Harlow stumbled onto the runway, taking centre stage on a circular platform between two mechanical paint machines.
Then, the platform began to revolve, and the machines came to life, defacing Harlow's voluminous white chiffon gown with paint while she spun around in a melodramatic dance. McQueen's shows and their soul-stirring spectacles would often move his audience to tears, but No.13 was "the only one that actually made me cry," he said.
READ: Remembering an icon: Why there will never be another Alexander McQueen
Dior SS98 Couture
Another legendary (and very controversial) designer who's known for his spectacular runway shows and extraordinary theatrics is none other than John Galliano, whose highly-acclaimed 15-year reign at the House of Dior is hailed as one of fashion's most glorious eras. As there were no other haute couture houses that would allow the eccentric designer to fully express his love for the dramatics than Dior, his tenure at the French Maison was undoubtedly the pinnacle of his creative oeuvre.
In particular, Dior's SS98 couture show is considered to be the ultimate culmination of Galliano's fantastical artistry, with extravagant Italian heiress Marchesa Casati as his central muse for the collection. Staged along the grand escalier of Paris' historic Opéra Garnier, Galliano transported the audience to a ritzy 19th-century ball, where an orchestra and a band of tango dancers lit up the room while models in ornate hoop skirt gowns, swanky mink fur-trimmed opera coats, and glamorous picture hats paraded down the marble steps of the lavish opera house.
For the finale, a shower of colourful confetti butterflies rained down on guests, closing off the magical spectacle in true John Galliano exuberance. While the designer was eventually ousted from his role in 2011 due to his problematic behaviours, SS98 is undeniably still amongst Dior's most phenomenal runway shows.
Martin Margiela SS89
For most designers, launching a label and making a significant impact on the fashion industry can take ages to achieve—but that wasn't the case for Martin Margiela. When the enigmatic designer hosted his debut show in 1989, the audience instantly knew that it would become a historic game-changer as soon as the first model stepped on the runway, wearing nothing but a pair of unfinished white trousers and the unmistakable Tabi boots.
Rather than captivating the audience with striking colours and ostentatious details, Margiela introduced a minimalistic approach to fashion that emphasised unique silhouettes and cuts. Garments were constructed to be worn backwards, seams were exposed, and hems were left unfinished in a bizarre yet innovative fashion. The show as a whole was unique, raw, and daring in ways that the fashion world has never seen before.
READ: Maison Margiela: Why people love the cult fashion house
Mugler AW95
To describe Mugler's AW95 show—or even Manfred Thierry Mugler's entire career in general—as iconic would be an understatement. The theatrics and extravagance in each of his runway shows were simply on a whole other level, extending far beyond anything the fashion world has ever seen. Having grown up as a prodigious ballet dancer, Mugler saw his career as a designer through the perspective of a performer, turning his catwalks into a theatre that would take the audience on a glamorous joyride into his very own fantastical universe. That said, the AW95 show was particularly extraordinary.
In celebration of the label's 20th anniversary, the designer upped the ante for AW95 and took the audience on an hour-long fashion extravaganza that featured a whopping 300 looks, many of which are known as his finest works. The runway was graced by pretty much all the top supermodels of the '90s and numerous renowned celebrities in the entertainment scene, including Kate Moss, Naomi Campbell, Linda Evangelista, Shalom Harlow, Claudia Schiffer, Jerry Hall, Julie Newmar, as well as Tippi Hedren, just to name a few.
While seeing all the '90s elites strut down the runway was certainly an unforgettable moment, it's safe to say that the one-of-a-kind collection outshined the star-studded line-up as the most spectacular part of the show. From the legendary 'Birth of Venus' dress to the show-stopping 'Robot Woman' metal bodysuit, each look was an otherworldly masterpiece. The show was truly unlike any other.
Hussein Chalayan AW00
Amongst all the brilliant avant-garde designers in the history of fashion, Hussein Chalayan is undisputedly one of the masters of innovation and cutting-edge craftsmanship. His highly-acclaimed AW00 show is just one of the many examples of his revolutionary vision—a show that still has a powerful impact even over two decades later.
Inspired by the refugees of war who were forced to flee their homes, Chalayan explored the concept of displacement by fusing fashion and furniture for his AW00 show, titled After Words. Set on a living room-like stage—which was complete with chairs, tables, a flat-screen television, as well as vases and pots—the presentation saw models transforming a wooden coffee table into a skirt, chair covers into dresses, and chairs into suitcases, leaving the audience speechless. The show was beyond just a display of clothes. Rather, it was a sartorial performance that told a meaningful story of human survival and the painful challenges of immigration. Needless to say, it was one of the most momentous runway shows to date.
For more fashion reads, click here.
| | |
| --- | --- |
| SHARE THE STORY | |
| Explore More | |