Features
K-Fashion Future: 13 Korean fashion labels to have on your radar
On another level
Images courtesy of Miss Sohee, Skoot Apparel, and MinjuKim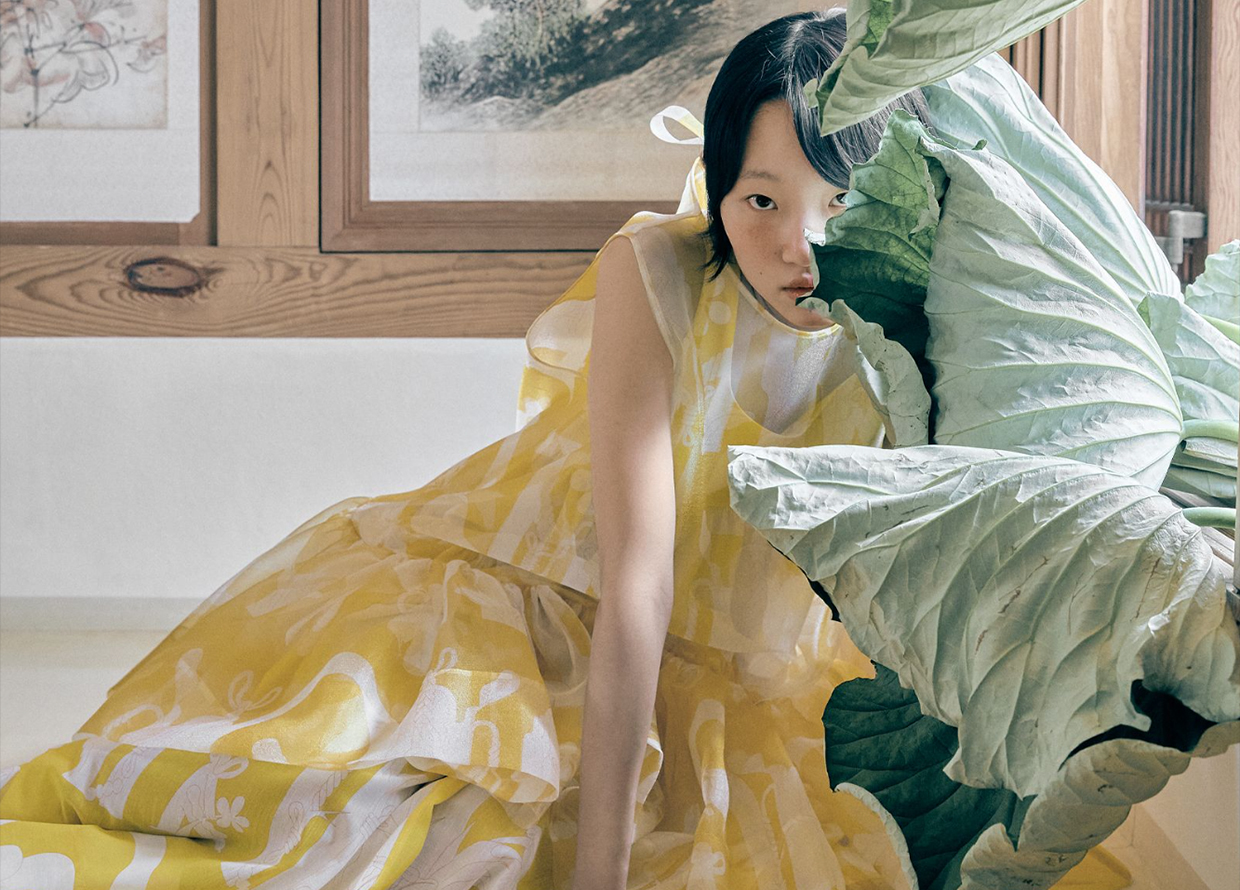 From K-beauty to K-Pop and K-Dramas, South Korea's influence on global pop culture and the beauty world has only grown more immense by the minute, thanks to the many brilliant Korean creatives. As such, it's no surprise that the country's league of designers are also among the fashion industry's best visionaries. Take couturier Miss Sohee or minimalist must-know label Andersson Bell for example; what sets Korean fashion apart is its propensity for experimentation and the unconventional, atop an appreciation for all things timeless and classic.
Read on for our round-up of the best Korean brands—both emerging and established—you need to follow, stat: 
READ: Style in the city: What's trending in Seoul, South Korea
Miss Sohee
View this post on Instagram
Loved by Bella Hadid, Cardi B and Gemma Chan, London-based brand Miss Sohee creates delicately beautiful demi-couture pieces from deadstock and recycled fabrics. Often adorned with sequins, pearls and embellishments, her ethereal gowns carry a sense of old Hollywood glamour underscored by her signature ultra-feminine flair. Her velvet Swarovski-encrusted custom ensemble worn by Gemma Chan during the Eternals premiere in Rome was one of the most talked-about red carpet moments of 2021.
Hyein Seo
View this post on Instagram
Consider yourself a bit late to the party if this is the first time you're hearing of the eponymous label Hyein Seo. The designer was a star of her class at the Royal Academy of Fine Arts in Antwerp and was generating buzz within the fashion world before she had even graduated. Dystopian with an edge of adolescent rebellion, the experimental label champions the counter-cultural expression of the young generation to present technical silhouettes, elaborate string ties and convertible hoodies with a playful yet widespread appeal. Her latest collection features intricate yet distinct drawings of multidisciplinary artist Somnath Bhatt.
We11done
View this post on Instagram
What happens when former Girls Generation member Jessica Jung and G-Dragon's sister Dami Kwon come together in the name of fashion? You get the highly-successful brand We11done—an in-house line to the pair's renowned concept store Rare Market—that boasts an enviable global fanbase including the likes of Billie Eilish, Angelababy and Kylie Jenner. A mix of streetwear and tailoring, the brand's offbeat designs offer modern interpretations of bygone silhouettes that reference the early aughts and have appeared at Paris Fashion Week since 2020, as well as on top global retailers such as Net-a-Porter and Saks.
Andersson Bell
View this post on Instagram
Scandinavian design principles meet trend-forward Korean sensibilities through Andersson Bell to offer clean lines and timeless silhouettes created for the contemporary moment. From pressed pleats to knitwear in subtle pops of colour, the Seoul-based label embraces fluidity and individuality via a neutral selection of garments that are meant to be passed down for generations to come.
MinjuKim
View this post on Instagram
Since being crowned the winner of Netflix's Next in Fashion series at the beginning of 2020, Minju Kim has established herself as one of fashion's global rising stars. The namesake label combines youthful playfulness with the craft of couture via delightful frou-frou smocked dresses, poplin-sleeved tops and charming cardigans adorned with abstracted graphics.
TheOpen Product
View this post on Instagram
It-girl favourite TheOpen Product has appeared on everyone from Kendall Jenner to Peggy Gou. The buzzy South Korean brand challenges outdated womenswear tropes via a distinctive approach to design that highlights individual expression through unique, modest creations. Wardrobe staples are updated with bold cut-outs and vibrant colours in tonal shades, while handbags are presented in irregular proportions to unveil a vision of time-proven silhouettes that disrupt the status quo.
Osoi
View this post on Instagram
Osoi is the place to go if you're on the lookout for timeless, thoughtfully-created accessories. Lifting its name from the Japanese word for "unhurried", the 2016-established brand reinterprets staples with a fresh, minimalist approach, offering a versatile mix of sculptural leather bags, multifunctional hardware and puffy platform slides that combine designer Heejin Kang's architecture background with technical craftsmanship.
Kimhekim
View this post on Instagram
Paris-based label Kimhekim befittingly takes its name from an ancient royal family in Korea in their creation of couture that draws on traditional Korean costuming. Having honed his skills at Balenciaga, founder Kiminte Kimhekim is known for his play on volume and scale—balancing feminine detailing with avant-garde silhouettes in elevated simplicity. Think Hanbok-style shapes, exaggerated bows, and Renaissance art motifs on statement blazers, dress shirts and trench coats that offer a refined take on wardrobe classics.
Goom Heo
View this post on Instagram
London-based, South Korean designer Goom Heo creates menswear that challenges the conventional through collections that are genderless, individual and daring. The Central Saint Martin's and Fashion East alumni was the first to be awarded the venerable L'Oreal Professional Award twice—first for her BA collection in 2017, and again for her MA collection two years after—with good reason. Her intelligent cutting and confident graphic language is accentuated by meticulous construction that's since expanded into womenswear for her AW21 collection––think layered T-shirts, sportswear tropes and tons of bold colour.
Skoot Apparel
View this post on Instagram
Founded in 2016 by the ever-talented MLMA (MeLoveMeAlot), Skoot Apparel has been worn by some of the biggest artists that are dominating the music industry, including Billie Eilish, BTS, Rosalia, and Blackpink, amongst many others. The streetwear label offers manga and anime-centric garments unlike any other, most of which are genderless. Each piece boasts striking prints and unique silhouettes that are an amalgamation of streetwear and punk styles in the most fantastical fashion. Perhaps the perfect way to describe the brand's distinctive aesthetic is simply MLMA—bold, eccentric, and cooler than anything you've ever seen.
Goen.J
View this post on Instagram
After graduating from the prestigious Studio Berçot in Paris with a degree in fashion design, Goen Jong returned to South Korea to launch her eponymous label in 2012, and it has since become one of her country's representative global brands, recognised by the likes of Opening Ceremony and Harvey Nichols Hong Kong—all without any marketing or runway shows. The brand elevates simplicity with a fresh and contemporary perspective, creating a harmonious blend of architectural silhouettes and delicate femininity in each design.
Moon Choi
View this post on Instagram
Walking the line between masculinity and femininity, Moon Choi offers beautifully tailored formals that are designed to be layered but are just as stylish when worn alone. The brand's founder and designer has swept numerous accolades under her belt for her sublime works, including winning Portfolio of The Year and Designer of The Year in Womenswear after graduating from Parsons School of Design, being selected as a semi-finalist for the VFiles Academy Prize and the CFDA Liz Claiborne Design Scholarship Award, as well as coming up as a finalist for the CFDA+ 2016 Design Graduates.
Rokh
View this post on Instagram
Rok Hwang has had quite a journey in fashion. He pursued his studies in fashion design at the prestigious school of Central Saint Martins in London, where he graduated with a BA in menswear and, later, an MA in womenswear. Phoebe Philo herself recognised his talents in womenswear, leading him to join her team at Céline for three years before freelancing for Chloé and Louis Vuitton. It wasn't until 2016 that he launched his own label, Rokh, which was awarded LVMH Prize's Special Prize only two years later. Hwang takes classic silhouettes and reconstructs them into a whole new design that can be worn in various ways with detachable elements, allowing its wearer to personalise the look to their liking. Each collection is always different from the last, with his latest featuring a line-up of intricately tailored "office essentials" that are nothing less than remarkable.
For more fashion reads, click here.
| | |
| --- | --- |
| SHARE THE STORY | |
| Explore More | |