Features
Recap: Khoon Hooi on his namesake brand, the Malaysian fashion industry, and invading Hollywood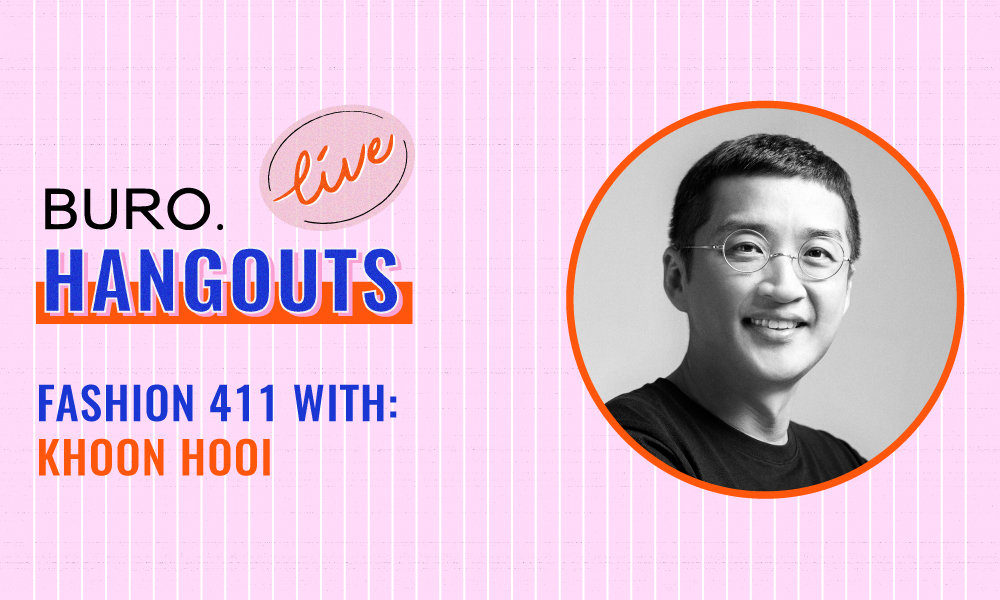 Check out what the veteran designer has to say about the effects of the COVID-19 pandemic on the fashion industry and his eponymous label
Khoon Hooi needs no introduction. Having been in the Malaysian fashion industry for over 20 years, the veteran designer knows the ins and outs of the industry like no other, and his collections—from festive Chinese New Year and Raya, to his seasonal collections and Demi Couture—are a huge hit among fashion fans, his clientele, and recently, even Hollywood celebrities.
In this current pandemic, along with Celest Thoi and Izrin Ismail, Khoon Hooi is also one of the first few designers who are tirelessly contributing to MODA Malaysia's PPE-making initiative spearheaded by Melinda Looi. During last week's BURO. Hangouts: Live session, we spoke to Khoon Hooi about his current plans for his namesake brands, the future of fashion, and if he's open to doing a menswear collection in the near future:
View this post on Instagram
How has the MCO affected your brand?
As you know, March and April are busy periods for the wholesale business, and it's the time where we deliver our Spring/Summer 2020 collection, but in this current pandemic, a lot of buyers have put a pause on deliveries. Half of them have yet to pick up their orders, and those stockists are from Middle East and Europe. I foresee either a delay or cancellation for Autumn/Winter 2020 collections as well. We really don't know what's going to happen at this moment, but it's not good news for us.
What measures have you taken to overcome the challenges?
We're focusing a lot on business-to-consumer (B2C) right now. It's important for us to keep a good relationship with customers via social media, and for our Raya and Spring/Summer collections, we'll be offering a service where we deliver the selected pieces to customers via Grab to try on in the comfort of their own home, and they can send it back to us within 24 hours. But this can only be done in Klang Valley at this moment. My staff are dealing with the customers, and some of them will even take pictures and let us know if they want to alter certain length or details. Thankfully we've set up our e-shop last year, so we're still getting enquiries from overseas.
Please tell us more about your PPE-making experience.
When MCO started, the first few weeks I felt very anxious cooped up at home. But not long after, I saw Melinda [Looi] posted on her and MODA Malaysia's social media asking for donations for the PPE materials, and also for designers' help to make them. I texted her immediately, and two days later, we already have the materials in my workshop—she's amazing. I initially only ordered one roll of materials which can make around 600 gowns, but in the end, I received an extra roll to work on too.
We also got a permission letter from Hospital Kuala Lumpur which allows us to travel to and from the workshop, and I separate my team into two groups which will come in to work on the PPE on alternate days. Joe Chia, who's based in China most of the time now, isn't allowed to travel at this moment, so he volunteered to help too. There are a lot of work, from making them to folding and packing.
View this post on Instagram
Has the pandemic changed your perspective on fashion?
The fashion industry definitely won't ever go back to normal after this, but I think we have to look at the bright side. We never stop creating—every season and every festivities. At least now we can pause and take a breather, and have the time to properly think of how to restructure our strategy in business, and also creative-wise, what we should do next. We never stop, and sometimes I do feel very tired.
What are your advice for some of the smaller fashion brands when it comes to surviving the impact of a pandemic?
Cash flow is very important—save whatever you can. Secondly, think of those who work in production—it's not easy, but try to keep as many of them as you can if business goes back to normal. And thirdly, maintain your good relationship with suppliers, and also your own clients because they play very important roles in your business.
If you're just starting out, it's still easy and you have the freedom to do what you want to do. You don't have a proper SOP now, so you can set the rules as you go. I've been in the industry for 20 years and everything has been locked down, so even though it's hard, we still have to think outside the box when it comes to the business. We've been too comfortable and we took things for granted for so long.
You released a ready-to-wear collection earlier this year. Do you foresee an expansion into RTW moving forward?
We might make a comeback again next year because we had a good response for the RTW. But I don't think we can continue at the moment because I don't want to hold too much inventory which will really hurt your business. We're currently focusing on bespoke lines for our local customers—it's our bread and butter.
View this post on Instagram
Ramadhan has started and you've unveiled your Eid and Raya 2020 collection online. Tell us more about it.
For our Raya collection this year, I trimmed it down to only 11 pieces for this year's SKU, as the festivity is not a big season for us—our clients are mostly our regulars and one or two new customers. Our Baju Kebaya is one of our stronger pieces based on the past collections, so 9 of the designs are that, but with a modern spin. I'm inspired by the Italian Renaissance, so there's a lot of print-on-print this round.
View this post on Instagram
As for the Eid collection, it's mostly targeted to our Middle East clientele, and we've actually already shown the collection last October during Paris Fashion Week. But as I mentioned, half of the stockists and buyers have yet to pick up their orders as they're currently on lockdown as well and shops are not allowed to operate.
What are the styles that are popular in the Middle East?
The stockists that buy from us are quite modern, and the clients love occasionwear so that's where we fit in. They want colours, embellishment, poofy silhouettes and luxurious materials. More-is-more is what they're looking for—'less-is-more' doesn't exist in their style vocabulary (laughs).
Hollywood actresses Ginnifer Goodwin and Karen Pittman wore your designs to the Golden Globes earlier this year, and Katy Perry and Camila Morrone were also spotted in your pieces late last year. How did that come about?
After being in the business for so many years, we feel that this is the next step we should venture in. We can't be doing only trade shows—we need more international media interest, and more people to see and know the collections. When we were in Paris for our Spring/Summer 2020 presentation last year, we met up with this PR agency from Los Angeles, and since it's where all the important awards are held, it's perfect for us. We signed the contract with him in October, and it didn't take too long for a stylist to pick up our designs for the celebrities.
We love Karen Pittman's dress! Tell us more about it.
It's a demi-couture piece from my Spring/Summer 2019 collection, and the gown took two weeks to finish as the feathers were sewn by hand. We also had to discuss with suppliers on how to dye it from a light to dark colour. Shipping was also a concern as we could only ship the dress in one huge box.
How different do you think the fashion industry is today compared to when you started out over 20 years ago?
There's definitely a big difference. Now, customers are more aware and more open to local designers, and that's a positive thing. We can see so many up-and-coming brands in the fashion industry, and everyone's doing very well with their own clientele. But one thing I want to share with the newcomers, is that fashion is not only about being creative—we also have to look at the finance and the business side, and how to maintan a good relationship with your clients. Those are all equally important.
What are your hopes for the Malaysian fashion industry?
I hope our creations will be more well-received by the locals. But most importantly, for me, it's education. Fashion colleges should hire the best talents to nurture the future generations. Give them the right information on what is happening in the real industry. Secondly, the Malaysian Ministry of International Trade and Industry also plays a very important role. I believe we have a lot of talented designers in Malaysia, but our collections are not seen by people.
It's not easy to go abroad for shows, but the government can help us to achieve that. I've been participating in Paris Fashion Week for years, and I noticed that South Korean fashion is always very well-received, why? Because the government fully supports them to show overseas to expose their brand. I hope our government will treat fashion as a real business—they do support but it's not enough. We can't get any grants or loans from them, so it's very hard for us to make a name for ourselves internationally.
What are your thoughts on our local fashion weeks?
For those who are starting out, your local customers are important as they can support the brand and launch you further. You need the finance backup to continue to run your collections. So to start off, I think the platform is a free stepping stone for them, to show their collection among all the other designers and to expose their brand to a bigger audience.
You've shown in Paris Fashion Week for 10 years. Do you think that's something you would continue doing when everything returns back to normal?
We have our own clientele now, and we have quite a stable relationship with the overseas buyers, so for the past four seasons we've left Tranoï and started organising private presentations instead. We'll rent one of the hotel suites in Paris and invite our own guests—it's more intimate and we can serve them better. If this Septemer's Spring/Summer 2021 Fashion Week will not go on as planned, we'll probably rely on technology and come up with a virtual alternative.
What's the future of fashion shows?
I'm very traditional—to me, the show must go on. It's not only to showcase your collection—it's the energy, the people coming together to make it happen, the experience, the 10-15 minutes of light, music, ambience, and fashion that can give us that special feeling. For me, that is fashion, so fashion weeks have to go on.
You used to work in Isetan. Seeing how the big department stores such as Neiman Marcus, Macy's and JC Penney are filing for bankruptcy, what do you think they can do to survive?
Their overhead is huge. I don't know their numbers, and I don't want to know (laughs), but I don't think even going digital is a feasible choice. I don't know how they're going to survive. I think they'll all close down for good eventually—that's the new normal for everyone and the new era for fashion industry.
Any plans to venture into menswear?
I'm only focusing on womenswear at the moment. I always believe that you should focus on something, and be successful at it before you venture into other things. Let me do better at that, and we can look into menswear next—be patient! (Laughs).
Actually, for the past two years, I've always brainstormed with my team—other than clothes, what can Khoon Hooi do? Maybe we can make souvenir, furniture, or maybe even open a café. But with this lockdown, it'll take another one to two years.
| | |
| --- | --- |
| SHARE THE STORY | |
| Explore More | |