Features
Fashion influencer and journalist Monica Ainley on how the pandemic and pregnancy influenced her style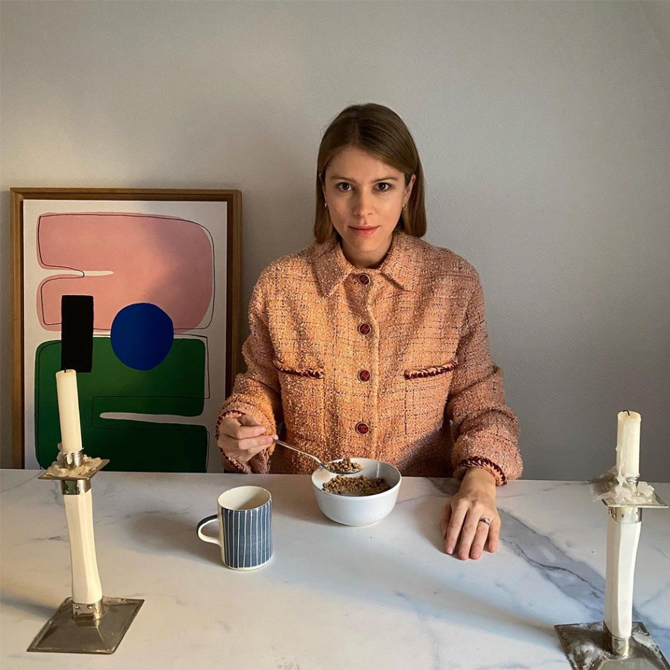 I used to spend time trying on clothes. Some nights I'd lay in bed going through different outfits in my head, falling asleep only when satisfied I'd come up with something smashing for the next morning. On weekends, my husband would come into the room I'd commandeered for my closet, to ask what on earth I was up to. I'd be mixing and matching of course, reaching for old vintage gems that had been relegated to the back of the rail, or coming up with something entirely new, based on a personality piece bought on a whim. Fashion was a creative outlet I could embark on from the comfort of my own lair, before leaving the house feeling ready to take on the world, cloaked in a daily renewal of self.
After a year of on-off lockdowns, pregnancy, and, at the time of writing this piece, seven weeks of life as a new mom, the days of hanging out in my closet are over. For starters, because it is now my daughter's room. But also because these days, if an occasion requiring presentability arises, I must find somewhere to deposit a sleeping baby, dash to the designated corner of the apartment where my clothes now live, and reach for something–anything!– to pull onto the bottom half of my body, hoping it fits. If successful I proceed to reach for a top and hope it doesn't clash horribly with said bottom. Then, if the baby's still asleep, I run to the bathroom and indulge in the luxurious beauty ritual of washing sick out of my hair.
Before I had my baby, forward-thinking friends and advice blogs alike told me to have a bunch of pre-made food in the freezer, though no one prepares you for the reality of needing ready-made outfits too. For me, the most wearable among these have proved to be white t-shirts and blue or white 'dad jeans' (which fit more like high waisted mom-jeans at the moment but hey, I'm just happy they close at all); menswear shirts from WNU and khaki-style trousers (LoulouStudio do a great pair with an elastic waistband); and of course, sportswear (check out AlexEagleSportingClub for the chicest vintage-inspired tracksuits) with a well-cut, fuss-free blazer or jacket thrown overtop to add a hint of structure.
This doesn't mean I no longer dream about frivolous fashion. In my current recurring daydream, I picture myself laughing, as a waiter hands me a drink at sunset, on a terrace overlooking the sea (always overlooking the sea), in an exquisitely cut suit or open back dress, my hair tied back in an elegant chignon (always an elegant chignon). The sound of jazz fills the air, laughter emanating from a party. My husband wears a crisp blue suit, my daughter is there too, in a winsome French smock dress. Aside from the fact that my recurring fashion fantasies have strangely intertwined with a Fitzgerald novel, they're also, I realise, inextricably linked to travel.
And travel again we will, the scenes and colours of our mind's eye bursting into reality, suddenly requiring imaginative fashion to go with. But until that day, my regular wardrobe requirements have shifted perhaps irreversibly, with the importance (necessity?) of a tried-and-true wardrobe taking on new importance. Everything in my capsule collection, which believe me, is less considered than its name suggests, must go with everything. No outliers! For now, I no longer have the bandwidth for obscure pieces that go with, well, practically nothing, and require me to piece an aesthetic puzzle together.
Comfort has obviously taken on a new importance for us all too during the pandemic. Itchy scratchy fabrics, constricting cuts or ergonomically incorrect heels I would, on occasion, endure for a fancy lunch or night out pre-March 2020, have since been bestowed upon my husband's fashion-forward younger cousins.
I have often referred to the writer and general style genius Joan Didion's "To Pack and Wear" capsule wardrobe as a travelling reporter, which appears in her 1979 collection of nonfiction The White Album. We once read it out on the podcast I co-present called 'Fashion: No Filter'. Yet its relevance in a world without travel has been strangely magnified. At the end of her brief list of elegant essentials, Didion writes of how she'd go on the road with all the items listed but not a watch or single means of telling time, reflecting "this may be a parable, either of my life as a reporter during this period or of the period itself."
The other day I sifted through my pregnancy clothes–I'd purchased the bare minimum, but some buys are absolutely necessary. Could I integrate any into my new wardrobe? I will not miss leggings–and needing to wear them as a base for nearly every outfit in view to create some semblance of order in my third trimester (though I can recommend a great pair for those pregnant and in need.
I am not, however, ready to give up trainers. Pre-pregnancy I hadn't worn them much outside the gym or tennis court. I had a couple of cool pairs I'd occasionally don on weekends, mostly to make a low-key Sunday statement, but was generally more partial to the low heeled boot —a more elegant, flattering option, as I saw it. But as my centre of gravity shifted during pregnancy, so did my once staunch view on trainers as sportswear, and as many a reader will no-doubt attest, once you're in the sneaker habit, it's near-impossible to break. My limited-edition Nike No.354s with breathable sides continue to take centre stage.
In my old life, I'd also forgone tracksuits. Sure, they were comfortable and looked cool on some people, but every time I had actually considered wearing them out of the house, the late Karl Lagerfeld and his quotable but catty quip "sweatpants are a sign of defeat" would make me shudder. "You have lost control of your life so you bought some sweatpants," said Karl. Well, in 2020, we all lost control of our lives in ways we never imagined possible. So, we bought sweatpants, but we never gave up and as far as I can tell, we haven't been defeated.
| | |
| --- | --- |
| SHARE THE STORY | |
| Explore More | |