Features
In conversation with Gillian Hung: The Malaysian fashion virtuoso and her passion for inspiring others
"Fashion is everything"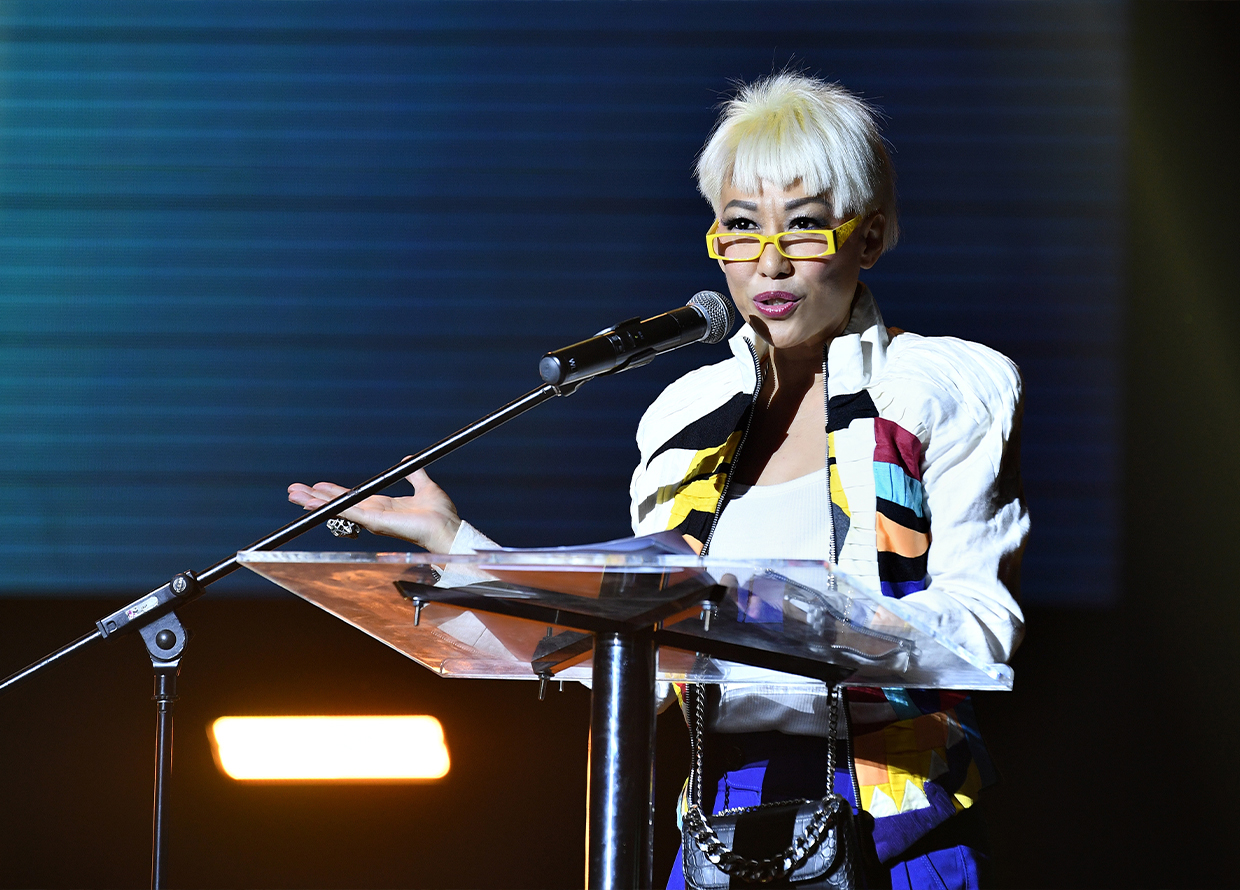 Gillian Hung, who many may know as the esteemed Mama G, is many things. Having pursued her passion for fashion design at The Fashion Institute of Technology in New York (one of the top fashion schools in the world), won the first-ever ASEAN Young Designers' Competition in 1989 that eventually landed her on the Malaysian Book of Records, becoming Isetan Japan's Fashion and Design Director at only 24 years young, and being heavily involved in runway shows and major fashion affairs around the world, the industry veteran has swept countless accolades under her belt just within her 20s and gained substantial knowledge on the immensely competitive industry throughout her journey.
In the few interactions that we had the pleasure of having with Mama G, it was clear that beyond many of her ambitious undertakings, she's committed to inspiring young designers, honing their skills, and guiding them to reach their best potential in efforts to transform their dreams into reality. As a designer herself who has experienced all the highs and lows, trials and tribulations of the coveted career, as well as having extensive insight on the industry across several major fashion capitals, she is passionate about using her expertise to provide a stepping stone for aspiring designers and shine a spotlight on their talents, which led her to launch the Hung Innovation Awards that was held on the 25th of November 2022, in partnership with Samsung, Malaysia Airlines, Kevin Murphy, The Glam, and M Resort Hotel Kuala Lumpur.
View this post on Instagram
Across ten teams—each complete with a designer, hairstylist, makeup artist, and pairs of models—contestants were required to create full runway looks inspired by the Samsung Galaxy Z Fold 4 device, along with upcycled designs using MAS uniforms. Set to be held annually, the competition unites young creative talents from both the fashion and beauty industries to innovate and create together as a crew.
Recently, we sat down and had an enlightening chat with the fashion aficionado as she gets into detail on her competition, as well as her illustrious career and honest thoughts on the fashion industry. Scroll down ahead to get in on the conversation!
Tell us more about the Hung awards! What made you want to launch a competition?
View this post on Instagram
GH: "Because I came from a competition. I won the first ASEAN Young Designers' Competition in Singapore—the first ever, in 1989. It was a big deal as it was a very high-level competition, and I was only 24. From there, I gained an extreme amount of knowledge on designing among other countries' top designers. I won because I'm a ready-to-wear designer all the way, I don't do made-to-measure—so I was able to answer a lot of questions on casting and how to sell a collection. That is why, through my career journey of 36 years now, I want to give back to the industry and inspire a new group of designers, giving them a platform to learn and create just like I was able to. So, when I became the president of the Malaysian Official Designers' Association (MODA) in 2005, I launched the MODA Young Designers Awards in 2006, and later, the Hung Innovation Awards in 2022."
Aside from skill, what do you look for when picking out the next big designer?
View this post on Instagram
GH: "A lot of students can be very good in drawing, talking, and being a visionary—but that doesn't mean that their product will be great. When it comes to execution, you can fail badly. It's a process, you see. So, it really comes down to whether or not they are willing to experience the process, and whether or not they are able to handle the stress that is part of the process. It's all about the discipline that makes a good designer."
From your observations throughout the entire competition process, where do you think our local fashion industry will be in 10 years?
GH: "I lost 10 years here, because I spent 10 years in China, so I have a clearer picture of its market. The truth is, after coming back home, I really don't know—but I know that it's going to be very tough. Here, competition for ready-to-wear designers against international retail and e-commerce stores is gruelling. It's sad, really, but that's the truth."
What advice do you have for the younger generation who are thinking of pursuing fashion?
View this post on Instagram
GH: "If you can die for fashion, then you can pursue fashion. Meaning, you must be extremely hard working, willing to go through hardships and have full perseverance, because the industry is not easy. You need to listen, don't be arrogant. There are no short-cuts; it's all about working hard."
What sparked your interest in fashion?
GH: "For me, I already knew that I wanted to be in fashion since I was eight years old. I would upcycle my mum's old clothes, and I learned how to sew from my grandmother. I loved it, it's very therapeutic. I found that making clothes calmed me down. It was also because my mum loved visiting the tailor, so I had the chance to design what I wanted and have it tailor-made. I was inspired by all the clothes I saw on TV as well."
Many people view fashion as just all things glamour and luxury, and while it is, there are a lot of unglamorous hard work behind the scenes. What are some of the hardest challenges that you've faced in your career in the fashion industry?
GH: "Designing a collection that nobody's buying—that's the hardest part. The reality is, not every design that you put out there will be liked and bought. So, you learn from your mistakes. You must know your customers well to do well. You can have everything it takes to be a good designer but still, your customers may not appreciate the pieces you put out."
Fashion is many things. To some, they're simply just clothes on our backs, and to others, it's a form of art. What is fashion to you?
View this post on Instagram
GH: "Fashion, to me, is everything. Fashion evolves into our daily lifestyle. Fashion is a lifestyle, and an expression of who you are."
With the competition now over, what's your next big project?
GH: "Currently, I'm venturing into corporate design, which takes a lot of skill and knowledge. I'm also working on my label, MMG (Master Mind Gen)."
For more fashion reads, click here.
| | |
| --- | --- |
| SHARE THE STORY | |
| Explore More | |