Features
11 Local fashion designers reveal the common mistakes brides make when designing their wedding dress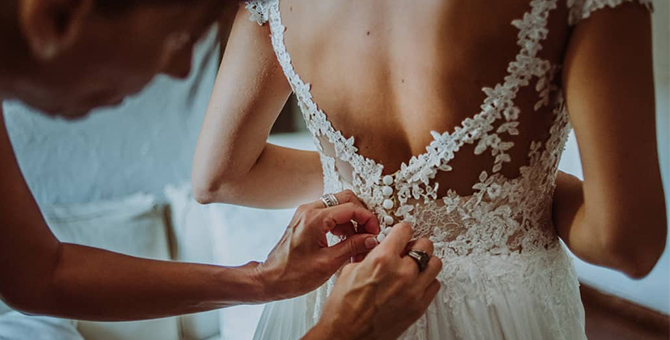 Shopping or designing your wedding dress is undoubtedly one of the most exciting things to look forward to if you're a bride—you're that much closer to the dream gown you've always imagined walking down the aisle in!
But here's the hard truth: it can also be a nightmare if you're not prepared for the process. The right dress should make you feel beautiful, but still yourself on your big day. Below, we spoke to the experts in the field about the common mistakes brides make, and what you should avoid doing before saying yes to the dress:
"When they reference images from Pinterest and assume that the dress will look the same on them without considering their body shape. Also, showing hundreds of photo references to us doesn't mean that we can actually combine all the details into one dress!" — Celest Thoi
View this post on Instagram
"When they are too fixated on following bridal trends—certain colours and styles may look outdated in years to come. Also, not understanding their body type—some silhouettes won't work on certain body shapes. It's just how it is and it's our job to make sure you look amazing on your big day!" — Fizi and Kai of Fiziwoo
"Sometimes the bride wants to have all their dream details on her dress, resulting in a design that's just too much. And then there are also the quiet brides who don't voice out and end up letting their mothers decide on everything for them." — Alia Bastamam
View this post on Instagram
"The biggest mistake is bringing too many people or an entourage to make decisions for them. The differing opinions will confuse the bride, especially during the fitting. Also, many brides can't seem to make up their mind and continuously look at photos and references even after the designs are confirmed. I always advise them to stop once the decision is made. Otherwise, it will be a never-ending story." — Melinda Looi
View this post on Instagram
"When they are too trend-driven—they should be focusing on the designs that will look good or complement their body shape." — Tengku Syahmi of Tsyahmi
"Brides who come to the studio with a very specific reference and expect us to design an identical look. Be prepared to accept feedback from us and make necessary adjustments for your best interest!" — Khoon Hooi
"Not knowing what works for their body, and letting opinions from others get in the way. Understanding your style and being confident with it are the ultimate keys to own your look." — Jovian Mandagie
"Brides who come in without a single idea of the style they want, and those who aren't open to suggestions from the designer they've hired." — Nurita Harith
View this post on Instagram
"When they don't listen to the designers and are too adamant about the design they want. We are the professionals—we know what neckline complements your face structure and shoulders, and the silhouette that suits your body shape." — Carven Ong
When they buy fabrics before consulting their designer(s) and end up buying too little, too much, or the wrong type of fabric!— Alvina Krishnan of Innai Red
I understand that it's an important occasion in their life, and that the dress needs to be stunning and memorable, but brides should avoid over-bedazzling their dress. Always remember that less is more, and sometimes a minimal design is better than one with elaborate embellishment. — Eddie Cheow of Innai Red
For more bridal content, click here.
| | |
| --- | --- |
| SHARE THE STORY | |
| Explore More | |