Features
Catherhea Potjanaporn on the importance of fashion photography that challenges societal standards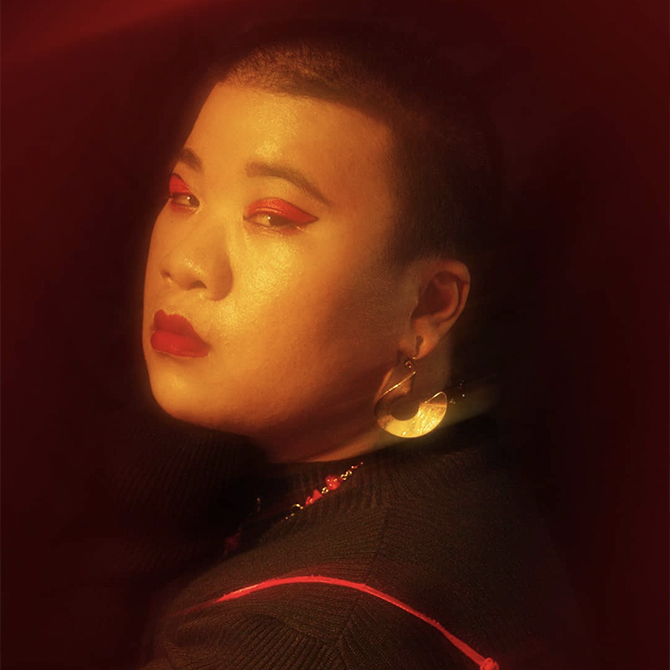 "Naturalistic, dreamy portraits that portray a realistically optimistic outlook"––that's how Kuala Lumpur-based photographer and visual artist Catherhea Potjanaporn describes her approach to photography. Intimate yet tender, her work strives to address the gap of representation in mainstream media through images that bring visibility to underrepresented communities and their stories. In doing so, they celebrate diversity in all shapes, colours and forms––and, in her words: "this includes "fat, dark-skinned, queer and disabled bodies". It's no wonder that Catherhea was one of the five women awarded the Generation Change award at last year's MTV European Music Awards.
Ahead, we caught up with the young creative about their work, creative process and what real representation in fashion, and beyond, should mean (and look like):
BURO: How did you get into photography? What was your first project/first photo you took?
Catherhea: "School was quite a struggle for me, so I was fortunate that my mother had the insight and resources to push me in talents outside of academia. She got me my first camera at 16. However, I only truly began embarking my creative journey with my best friend Melly Ling when I was 19. Our many experimental shoots together became the foundation of my photography work today."
BURO: Could you talk us through some of the overarching themes in your work and why they're important to you?
Catherhea: "It simply began as me wanting to show my friends that they're so much more than their insecurities––if I could photograph their beauty the way that I see them, it may help them with their confidence a little. Lately, I've outgrown the idea of redefining beauty, and instead look to headlining marginalised bodies and questioning desirability politics. With the audience that I have now, I feel that there is an urgency in creating conversations beyond skin-deep appreciation."
View this post on Instagram
BURO: What is your creative process like? Do they differ between personal and more commercial projects?
Catherhea: "Given how my brain functions, it's really like that saying: trust the process. On the surface it's very ragtag, but the end result eventually makes sense. This usually isn't very feasible with commercial photography projects, and I've had a hard time balancing that until very recently. This has resulted in me becoming more selective with clients, so that I'm allowed to produce my best work."
BURO: How would you describe your relationship to fashion?
Catherhea: "As a plus-size person (albeit on the smaller spectrum), I can only probably describe it as pretty fickle. I love the way fashion can almost immediately shift moods and energy, but unfortunately representation in fashion and available clothing is very much still in its infancy and limited. This is especially true concerning marginalised bodies––plus-sized, disabled, and dark skin people."
BURO: Your images disrupt and dismantle harmful stereotypes to celebrate diversity, community and personal identity. What was it about photography/fashion imagery particularly that felt like the right medium in which to express your ideas?
Catherhea: "No particular reason, honestly. I just went with the flow with the resources I had at the time, and the influence of people I met along the way. I kept doing it again and again until I got here."
View this post on Instagram
BURO: What do you look for when casting models?
Catherhea: "I don't do this very well quite yet, but I try to be inclusive. I build my ideas around the individual themselves and make them the centre of the vision. However, the most important thing they need to bring to the table is mad creative energy, and hella enthusiasm. It makes creating together so much more fun!"
BURO: Who inspires you? This can be locally, globally or across mediums.
Catherhea: "Nicole Byer, Lizzo, Trixie & Katya, Alok Menon, and Tiffany Haddish––from thriving fat women, to being unapologetically outspoken, to utilising the platform one owns to bring others to the table. It's everything I want to become, as a person.
"
View this post on Instagram
BURO: What's the biggest challenge about doing what you do in Malaysia? And what changes would you like to see take place within the local fashion scene?
Catherhea: "Not being able to fully implement a vision of inclusivity in my work due to certain restrictions, and not being compensated financially despite any event of hype. Everyone wants your say on something, but will not pay for your labour, nor will they start practicing the concept of inclusivity into their infrastructure. Most people see inclusivity as a trend but not as a pragmatic solution to revitalise the economy whilst empowering an entire community."
"I'd like to see brands and corporations put their money where their mouth is, especially when they claim to champion inclusivity and empowerment. Literally, pay up. As for the local fashion scene, I wish they'd take more risks. The fun part about fashion is that you get to start a whole new trend. Everyone's just taking inspiration from the European runways and putting it on the same, tired silhouette, and then calling it revolutionary. Nah. I wanna see clothes that look good on fat and super-fat people. Clothes that are super accessible and super chic for the disabled. All kinds of colours on dark skin, and photographed without whitewashing. Fashion photographers need to learn how to photograph and/or colour grade dark skin."
BURO: What's next? What ambitions do you have for the near future?
Catherhea: "I hope to eventually branch out more, outside of photography. Take on more of a backseat role, and highlight individuals and their voices directly, rather than just in my own photography. Maybe explore a completely different industry, and then retire and retreat into a lively seaside town while running a cosy dispensary-cafe with my life partner and family of friends. We'll break slightly more than even every month, blissfully ignorant of any capitalistic expectations!"
View this post on Instagram
Read more stories on fashion insiders here.
| | |
| --- | --- |
| SHARE THE STORY | |
| Explore More | |