Features
#BuroBossGirl Vivy Yusof on her time at Stanford, and how she's shaking things up at FashionValet
Hard work, and sheer determination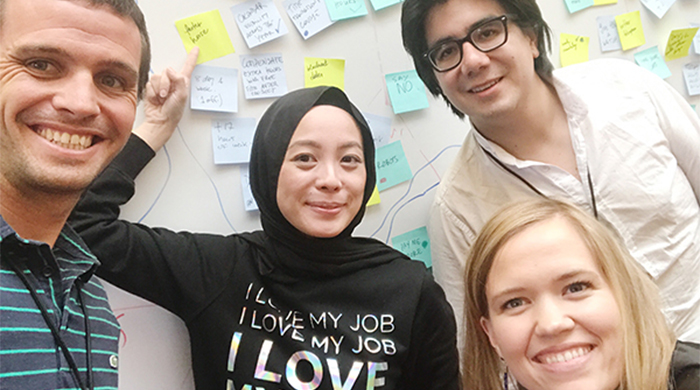 Cai Mei: Hi Vivy! Can you please tell us a bit more about the course you just completed at Stanford Graduate School of Business?
Vivy Yusof: It was a one-week course organised by Endeavor (a global network of high-impact entrepreneurs, of which only 12 companies in Malaysia have been selected, one of which being FashionValet). They have courses like these at Harvard and Massachussetts Institute of Technology (MIT) too but I chose Stanford as I wanted to experience life in Silicon Valley. The course is about innovation and growth, and they taught us so many things from partnerships to types of ventures, business challenges, fundraising, design thinking, and how to keep company culture intact.
CM: What was the experience like?
VY: We discussed real-life cases involving the likes of Google, Facebook, Apple, and eBay, and had guest speakers who were either funders from these companies or venture capitalists (VCs) themselves so we had first-hand knowledge, which was pretty mindblowing. Our professors too were either entrepreneurs or VCs themselves so when they spoke, you could really see the passion they had for the subject.
We also had to role play a pitch from the point of an entrepreneur to a VC, and the VC gave us his insight and feedback on our pitch, which was really helpful for some of us who were fundraising, and even if we weren't, it helped tremendously in honing our presentation skills. Not only were the speakers and professors so knowledgeable and respectable, what made the experience even more unforgettable was meeting entrepreneurs from all over the world. Although our businesses were different, the challenges are really quite similar so it was nice to bounce off ideas with strangers in the same boat.
CM: Top 3 things you learnt in your time there?
VY: 1) That I am not alone in my entrepreneurial ups and downs—entrepreneurship can be a lonely journey especially when times are hard. Meeting other entrepreneurs made me realise no matter where you're from, you face the same challenges. It's good to surround yourself with peers so that you can learn from each other, or sometimes just be an assurance to one another.
2) That it's always good to ask someone neutral about their feedback on our projects, ideas or challenges—often times we ask people around us like family, colleagues, or best friends, whose views might be skewed to what we have been telling them. At Stanford, we had to explain our business, and challenges we faced to a group of peers—when your audience has no emotional connection or prior knowledge about your or your company, they help you see things from outside the box. It's easy to miss the bigger picture when we are immersed in our work. So it's always good to put yourself outside of it and see things from a bigger perspective.
3) That I need to learn to let go a bit and let my management team do their jobs more independently. I've been focusing too much on every aspect of the business and spending less time on strategy and looking at the bigger picture. Entrepreneurs usually do everything when they first start their company, so it's hard to let go as the company gets bigger. But the fact is that leaders need time to think about the company as a whole, so leaders cannot be bogged down day in day out with every single detail. I also need some time allocated in the week just for research and uninterrupted strategy-planning.
CM: Your biggest takeaway from this course is…
VY: To always think of business in cycles—you will grow consistently but soon you will plateau if you don't innovate. Everything has its life cycle, you will be up one day and then you will come down. So before coming down, you need to think of ways to create a new cycle. Never be comfortable thinking that it's all good because the future awaits and it's never bright for people who think they're too good.
CM: Did you enjoy staying on campus?
VY: Actually I really did! Back when I was at university at the London School of Economics (LSE), I stayed in my own apartment so I missed out on all the crazy, fun, university life with my classmates. So I guess this was a taste of campus life, and it was nice. Fadza and I got separate rooms but being the clingy couple that we are, he would come to my room at night, and have to do the 'walk of shame' in the mornings *laughs*
Staying on campus also meant that we could hang out with our coursemates at breakfast, or in the common room till late, so I got to know them better. Even though we are all back in our own countries now, all 50 of us are in a group chat so we still keep in touch.
CM: Best part of your trip?
VY: Coming back with a new confidence and seeing FashionValet in a much brighter light.
CM: Worst part?
VY: San Francisco is full of salads, and people cycle everywhere—not so good for me because I don't quite know how to cycle…
CM: What are some of the changes, or improvements you hope to implement at FashionValet after having been through this course?
1) More brainstorming sessions with the team. At Stanford we were given a problem to solve and we had to brainstorm different ideas for different scenarios. There were so many creative ideas that came out of it that we eventually solved the problem. This was part of the design thinking method.
2) Better meeting system. Meeting too often just mean less time for actual work. I'm the sort that likes to involve a lot of people in a meeting so everyone's one the same page, but I realise now that it's a waste of time for some people when they can do other more productive things. Effective meetings need to be quick and in smaller groups.
3) More culture building within the team. I find that it's hard to keep the close-knit culture as the business scales. We have 150 people now and Fadza's and my schedules are so packed that it gets harder to bond with our team. After Stanford I realise more than ever that my team is my asset and they need to feel close to us too, so we are going to have more activities together and things that are going to be tradition moving forward.
4) Better time management for Fadza and I as leaders. There's so much to do, so many departments to supervise, so many hearts to manage, and we have to do our own work too, while thinking about the next strategies for FashionValet. I no longer feel the desire to waste time mulling over small things and I feel more motivated than ever to go all out with my work as there's still so much to do. I've always been a motivated person with passion for my work, but after Stanford I realise that I need to manage my time better and to have a more routine system of working.
CM: It's been 7 years since FashionValet was founded. What has been the biggest challenge in growing the brand?
VY: Scaling up to go regional. Our business is about local brands; it's hard to expand local brands to other countries, and to accept non-local brands. Asian countries are more protective of their brands than in the West, so we have pivoted our strategy to take FashionValet to greater heights, and it's going to be very interesting. Watch this space.
CM: Where do you see FashionValet in the next 3 years (at your 10th anniversary)?
VY: OMG we're going to be a decade old?! I can't believe I've been in the game for that long; feels like just yesterday I was picking up stock from the boot of our car. Currently we're in the midst of our next round of fundraising by a big investor so 3 years from now, you're going to see FashionValet triple or quadruple our growth. We're looking at more curated brands, more awesome campaigns, more tech features and enhancements, and better integration between our online platform and brick-and-mortar stores. Overall, we want to be the hub for local brands, and that vision hasn't changed since day 1.
Never be comfortable thinking that it's all good because the future awaits and it's never bright for people who think they're too good.
CM: Which entrepreneurs are you inspired by?
VY: Steve Jobs, for growing a brand that is so strong, and so profitable. Mark Zuckerberg, for always innovating, and constantly coming up with new features and partnerships in order to stay on top of the game. Jessica Alba, for turning her fame and influence into an empire valued over USD1billion with The Honest Company. I really want to learn how she scaled up so fast, and how she still keeps up her Hollywood persona so seamlessly.
CM: A motto you live by?
VY: My husband, Fadza, is right in front of me and when I asked him what my motto is, he said "I'm never late, people are just early" *laughs* I need to work on my tardiness. But on a more serious note, I truly believe that we should fear nothing but God. I think this belief has kept me through the darkest times of FashionValet because I knew that only God decides whether I should fail or succeed, not my competitors. A lot of smaller e-commerce players in Malaysia die when big competitors with multi-billion dollars come, but FashionValet is one of the few who not only have stood strong, but have doubled and tripled in growth year after year. Apart from hard work, I really believe it's because of God's blessings.
Related stories:
#BuroBossGirl: Interview with FashionValet co-founder Vivy Yusof
10 Malaysian BossGirls that will inspire you
#KLFWRTW2017: FashionValet celebrates local talent with #IAmHomegrown campaign
| | |
| --- | --- |
| SHARE THE STORY | |
| Explore More | |