Features
#BuroBossGirl: Innai Group's Izrin Ismail on growing the local fashion scene
Made to measure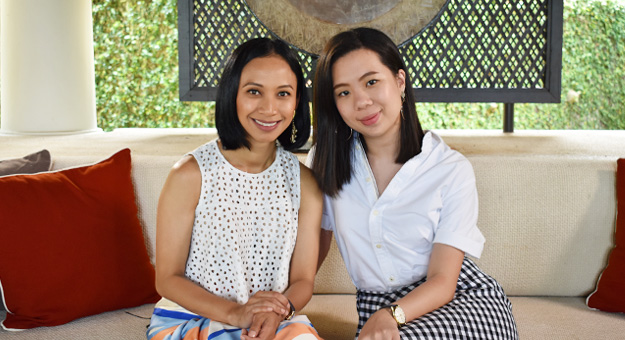 Mention Innai Red and you'll immediately think of the elegant and polished gowns and separates, and at the centre of it all, is its founder and managing director, Izrin Ismail. While Innai—founded by her mother—was born out of her love of batik, Innai Red is a bespoke fashion label that is driven by its design philosophy of "creating a new, contemporary femininity". Izrin, along with her innate sense of style, truly reflects the aesthetic of her brand, and as the face of the labels, she stresses the importance of knowing your label inside out.
Acknowledging that she's a people person—thanks to her bubbly and talkative personality, she spent a few years working as a fashion PR before diving into her family business to learn the ropes from her mother, Aishah Saleh, and took over its operations soon after. In 2012, after she saw that there's a huge market for made-to-measure services, she took the plunge and launched Innai Red. The label—known for its feminine silhouettes coupled with intricate embellishment—revolves around Innai's quiet elegance. After hiring designers Arene P.Khairudin and Juliani Jamal who are in charge of the creative aspect, the all-girls team never looked back ever since. Innai Red is now one of the go-to labels for different occasions such as Raya and weddings (they just recently launched their new Bridal collection called Modern Grace), and for the first time ever, a Chinese New Year collection was also introduced early this year. On our last episode of our #BuroBossGirl 2018 series, we talked to Izrin on her love for batik, the pros of working with your other half, and her proudest achievements of Innai Red thus far.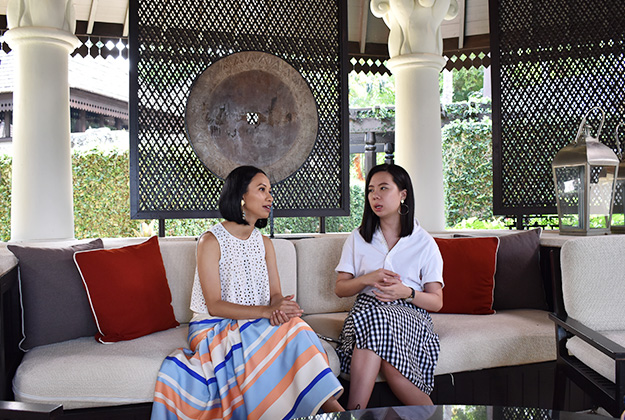 On how she started working at Innai:
"I never thought I'd land in the fashion industry, to begin with. I do a lot of talking, to be honest, so I thought one day I'll become a TV host or a presenter—or even something to do with public relations. In 2008, after my studies, I worked elsewhere in the fashion line just to get an idea and understanding of the industry. I knew that there'll be a point of time where I need to take the business over. In 2008 is where I full-fledged, took it over from my mum."
On her love for batik:
"It's pretty much like a painting, like when a painter paints a picturesque picture. How you should treasure a piece of batik is just like how you'd treasure a piece of painting that you hang on your wall—one that you value."
On Innai Red's beginnings:
"After I took over Innai I saw there was a very strong presence in ladies customising their clothes. Malaysians tend to customise our baju kurungs or dresses for different events so there's a huge demand for getting your pieces made to measure. This year, we launched our Chinese New Year collection as well as we had a lot of enquiries for cheongsams for weddings and tea ceremonies previously. I just wanted to see the public's response, and I have to say, it has been really great."
On her hopes towards the local fashion industry:
"I think you need to find the unique essence of your product and make sure you stay focus and try to market as best as you can. I feel that what we have now is a saturation of the same thing, so it's a bit diluted."
On her proudest achievement:
"I guess my proudest achievement is to see how the company has grown, and how Innai Red has grown for the past seven years. Even the Queen of Selangor noticed us and we dressed her for a lot of occasions. For a very young brand, being strong locally is the best start. I just hope that in the long run, we'll get to step out from our comfort zone, and see where we can fit in internationally."
On the working dynamic between her and her creative designers, Arene and Juliani:
"When I started the brand, I wanted it to be an all-girls team. We do have two boys on the team—my husband, Marcus and a tailor. But apart from that, they're all girls. It's nice because we're women dressing for women. So we understand our body and our customer's bodies more, but not just knowing what looks good on them and what doesn't. It's more of that emotion and personality understanding. The working dynamic between Arene and Juliani has been great because they refer themselves as yin and yang as they balance each other well. They're slightly different in terms of their design essence but they complement each other very well."
On working with her husband, who is the CEO of Innai Group:
"Marcus joined Innai, I would say when we started Innai Red. And he has been such a great addition to the company, to be honest. He's handling accounts, he's the HR, he does payrolls, he does everything. He is very diligent and organised that sometimes when there's something to blame, it's always on me. I guess sometimes you just need that kind of person. Very rigid and systematic. He instils that in the brand."
On being a working mum:
"I have to say that what motherhood and work have both been a beautiful journey. The essence is time. Apart from having a good help, my mum also helps to look after my son. So that helps a lot. I am very thankful that my working time is quite flexible. I start a bit late during the day but I work until slightly later than the rest because I know it's crucial for me to bond with my son in the morning and prep him before he goes to school. We send him to school, and in the afternoon we fetch him from school. You just need to find the time."
On her beach getaway essentials:
"My batik pieces, of course. Pareos are very versatile because you can wear it as a sarong and it also can also do it as a dress. Kaftans are great too because they give you that airy and flowy feel when the wind blows. Sunnies too of course. I'll bring two or three every time for options."
On the skill-set necessary for a boss girl:
"Always maintain a good interaction with your team members, be organised with your time and be very focused on what you do. Make sure you push your product, and most importantly, believe in your product. That's how you can go far. In any industry you go into, it's not just about the fun and the glamour of it. You need to build your label and your team. And you know, it's making sure that it's a team effort. Whatever you're doing needs to speak on its own and you, as a boss girl, need to be the voice of your brand."
Find out more about Innai and Innai Red on their Instagram or website. The boutique is located at C-0-10 & C-1-10, Plaza Damas, Jalan Sri Hartamas 1, Sri Hartamas, 50480 Kuala Lumpur.
Our 2018 instalment of #BuroBossGirl was shot on location at The Estates at Pangkor Laut Resort, with special thanks to Lexus Malaysia.
| | |
| --- | --- |
| SHARE THE STORY | |
| Explore More | |